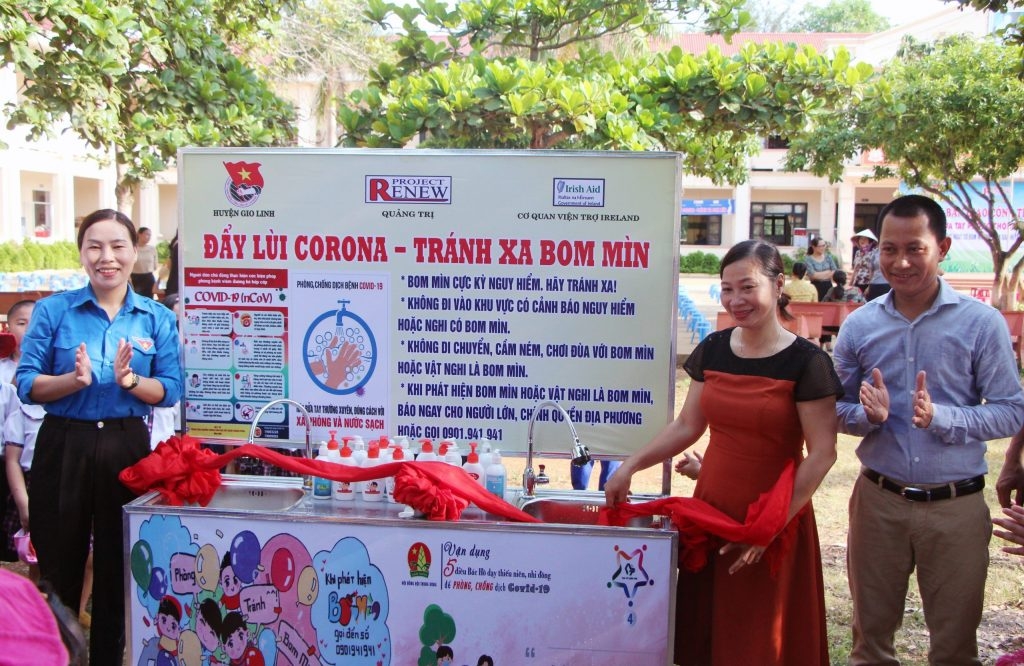 Representatives of Project RENEW and Gio Linh District Youth Union hand over the washbasin to Gio Linh Primary School principal.
Project RENEW and Gio Linh District Youth Union on May 27 organized a handover ceremony to present a wash basin with sanitizers for prevention of the COVID-19 to the Gio Linh Townlet Primary School (Quang Tri province).
Before the handover ceremony, over 900 students and teachers of Gio Linh Primary attended an UXO safety session.
This event also marks the resumption of RENEW's Mine Risk Education Program funded by Irish Aid after nearly four months of suspension due to the COVID-19 outbreak. In the context following the Government's permission to reopen schools in early May after the social distancing period to fight against the pandemic, school administers and parents share a similar concern about safety for the children and prioritize completion of education to end the school year.
Project RENEW had consulted local partners, beneficiary groups and other stakeholders to make timely adjustment of the Mine Risk Education after Vietnam declared a new "normalcy" status.
Accordingly, in 2020, Project RENEW will install 40 wash basins in coupled with UXO safety messages and COVID-19 precautions at 40 schools in Quang Tri and Quang Ngai – the location of replication of RENEW's Mine Risk Education model in collaboration of the Red Cross Association. In addition, extra-curricular education activities at the Mine Action Visitor Center, grassroots football games and summer camping events will be organized in the subsequent months.
"With the key message: "Fight off Corona – Keep away from UXO" being clearly printed on the wash basins, communication standees and the loudspeaker system by the children troupé, it is our hope that not only schoolchildren but their parents will access basic guidelines to prevent the COVID-19 as well as to reinforce their awareness of UXO risks," said Nguyen Thanh Phu, Project RENEW Mine Risk Education Officer.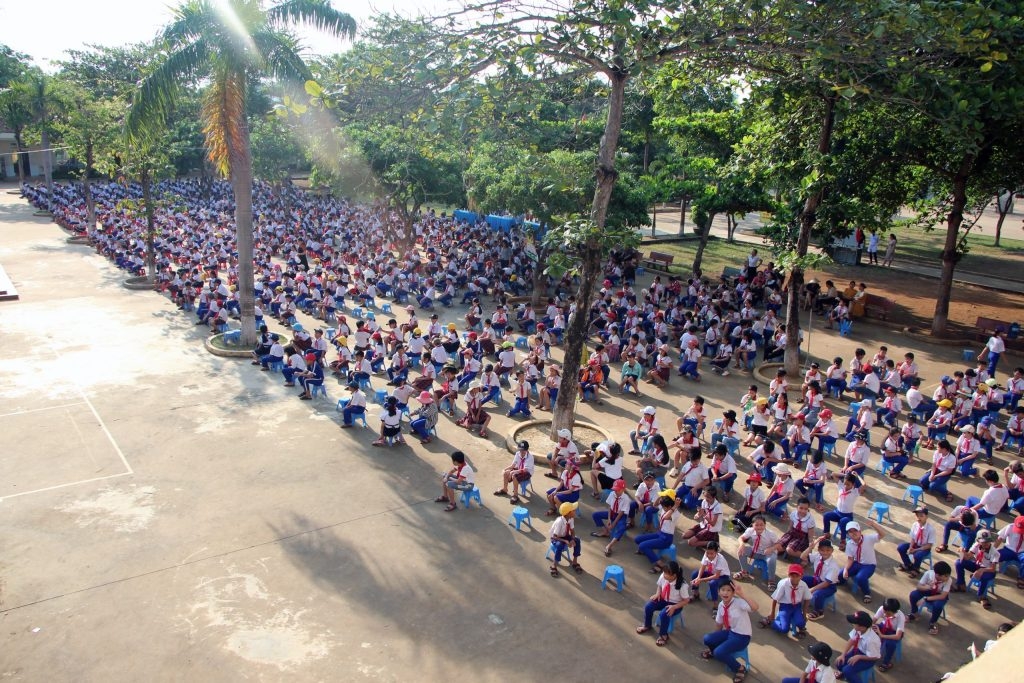 Gio Linh Primary students attend a UXO safety session before the handover of the washbasin.
Local children continued to be the priority target of Project RENEW's Mine Risk Education program with funding from Irish Aid through the Irish Embassy in Vietnam. As a result, over 39,000 schoolchildren, 51% of them schoolgirls, participated in different mine risk education sessions organized by Project RENEW and local Youth Unions with the aim of raising their awareness of explosive ordnance (EO) risks and equipping them with safe behavior guidance.
With persistent exposure to EO safety messages, children, as well as adults in Quang Tri, have become the "eyes and ears" of the mobile teams, by providing lifesaving, accurate information about locations of UXO for timely and safe removal.
In 2018 and 2019, there were zero accidents in Quang Tri – the first time since the end of the war.
2019 also marked the initial replication of Project RENEW's Mine Risk Education best practices in Quang Ngai Province in partnership with Quang Ngai Red Cross Association. The objective of the pilot MRE project is to raise awareness of local people of explosive remnants of war (ERW) risks and provide them with safety guidance.
The project was implemented in Ba To District, one of the six mountainous districts of Quang Ngai Province, with majority of the population being the H're ethnic group./.
Hannah Nguyen