Absorbing scene of dawn in some areas of Vietnam
The moment when the sun appears in the valleys, mountains, hills and the sea is taken by a Vietnamese photographer who travelling along the S-shaped country.
Muong Hoa valley
The morning sun on the clouds flowing in the Muong Hoa valley, which is far from about 8 kilometers from Sapa town, Lao Cai. The valley is famous for terraced fields nestling on the mountainside. There are villages of Ta Van, Hau Thao or Ban Ho, the settlements of upland ethnic peoples.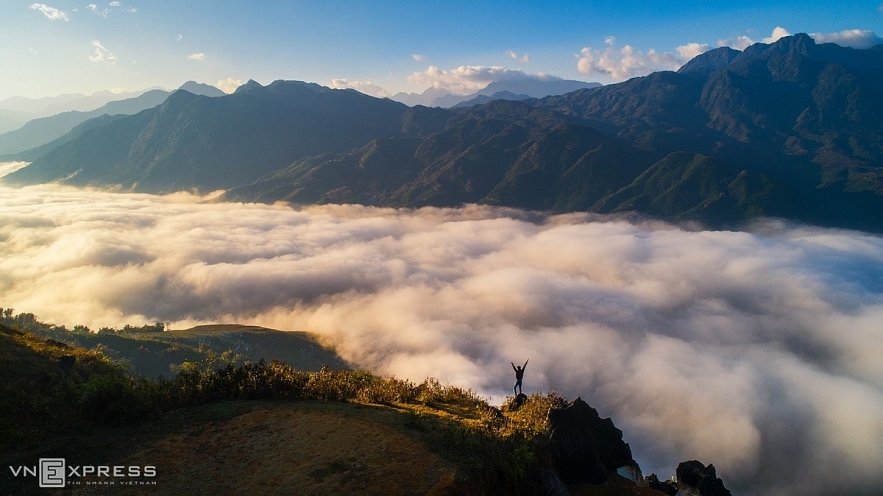 Photo: VNE.
Long Coc tea hill
Dawn at the Long Coc tea hill, Tan Son, Phu Tho, which is far from about 125 kilometers from Hanoi and about 70 kilometers from the center of Viet Tri city.
These oases make Long Coc be known as "Ha Long Bay in the midland". Dawn at the time of fog is the best time to take photos of tea hills.
The photo belongs to the series "The beauty of dawn along Vietnam" by Pham Huy Trung - a photographer of Socom Media. He spent many years going from South to North to catch the beauty of Vietnamese landscapes.
The series of photos was summitted to VnExpress, in the context that Vietnam's tourism industry is implementing stimulus programs, encouraging Vietnamese people to travel domestically.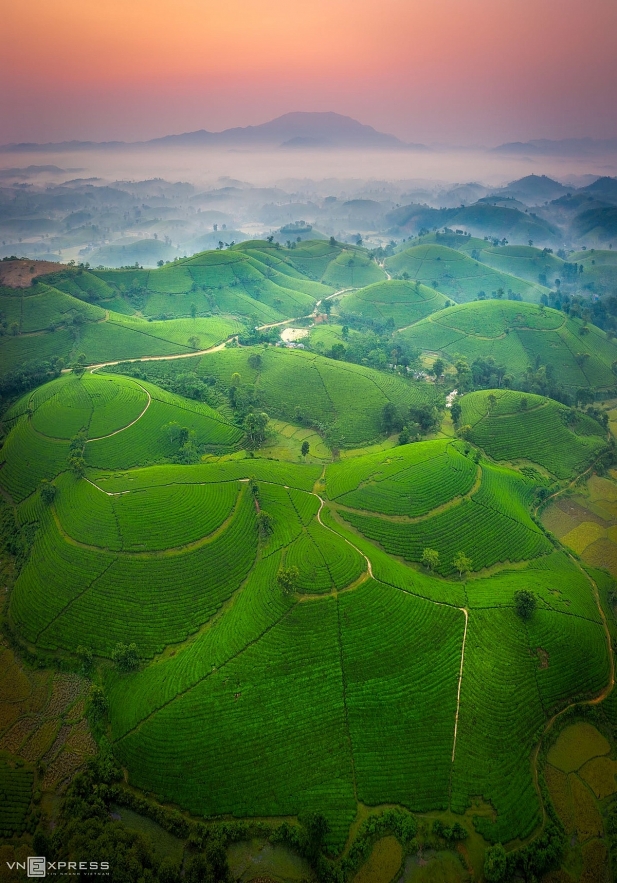 Photo: VNE.
Tam Giang lagoon
The sunrise coated on Tam Giang lagoon, whichs is far from about 12 kilometers from Hue City. Tam Giang lagoon is about 52 kilometer squares in area, stretching about 24 kilometers from O Lau estuary to Huong estuary. This is the place where people make a living by catching and aquaculture.
"I and my colleagues often make tours across Vietnam to take photos aiming to promote Vietnam's beauty," the author shared, the S-shaped strip of land still has many beautiful destinations that many people have not yet explored.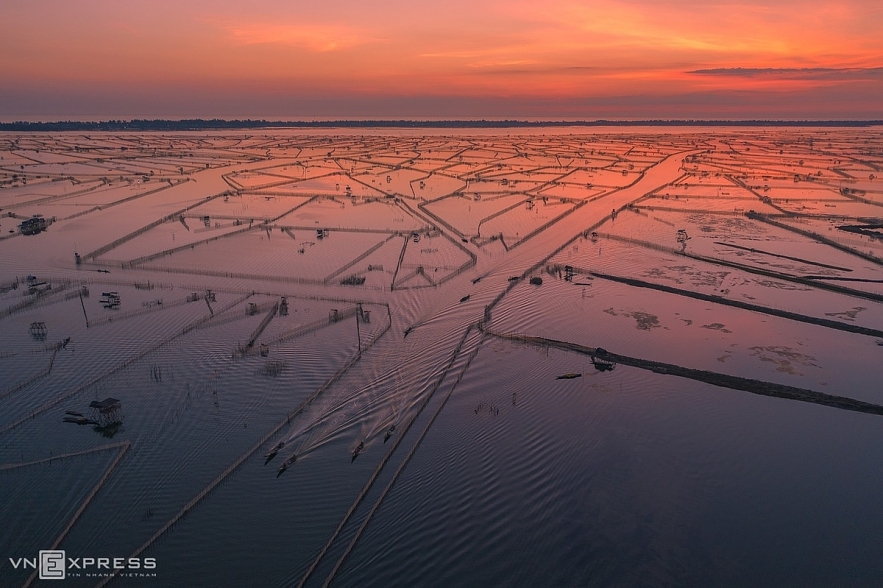 Photo: VNE.
Hoi An ancient town
Dawn in the ancient town of Hoi An, one of the most attractive destinations attracting many domestic and foreign tourists. Hoi An was recognized by UNESCO as a World Cultural Heritage site in 1999. The ancient city was also voted by the Travel and Leisure Magazine as the top of 15 best tourist cities in the world in 2019. As can be seen from below, Hoi An appears as a picture, with a layer of ancient mossy tile roofs and Hoai River, a gentle Thu Bon River flowing through the city.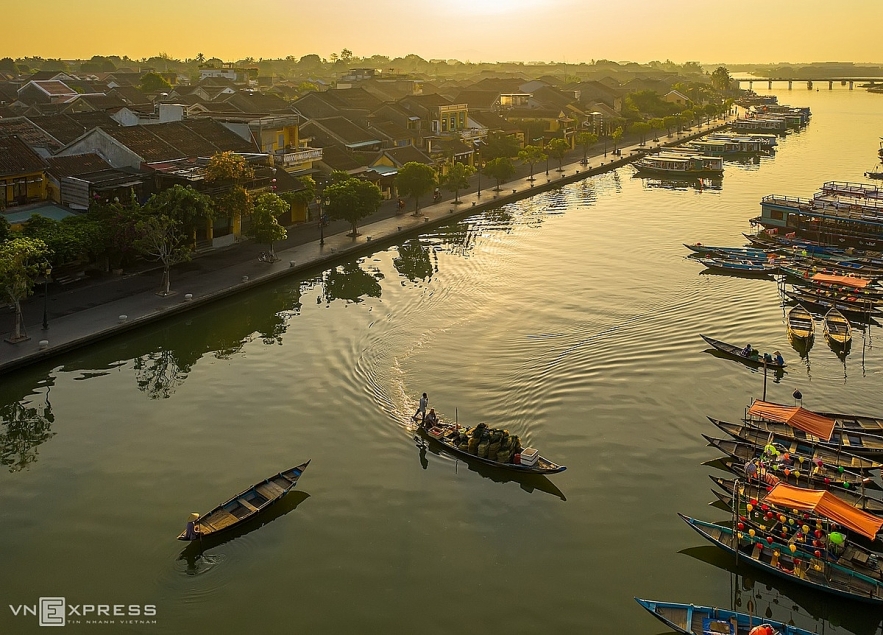 Photo: VNE.
Coastal fish market in Quang Nam
The pace of life gradually becomes bustling at dawn at the coastal fish market in Binh Minh, Thang Binh, Quang Nam. When the boat has just come arrived, traders come to take shrimps and fishes to deliver to markets.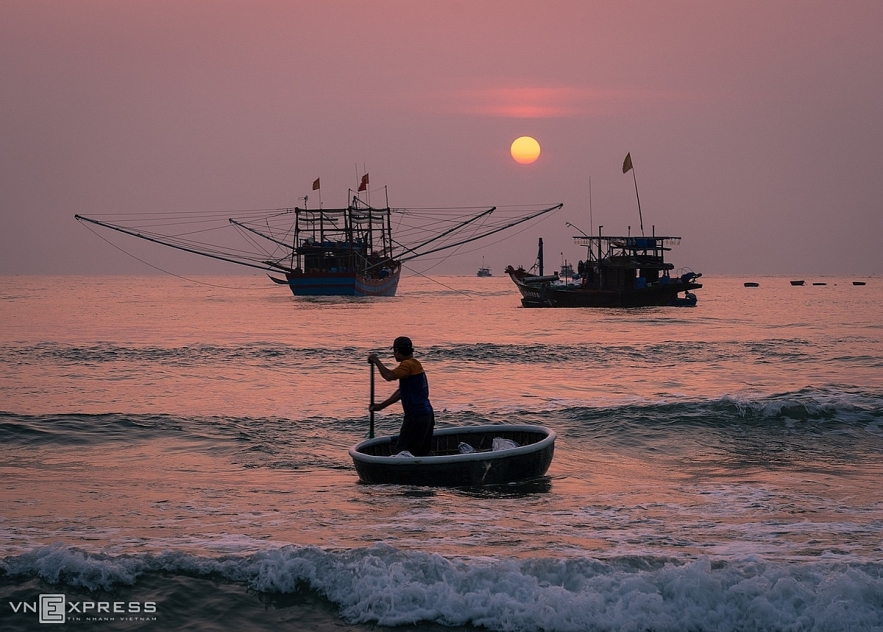 Photo: VNE.
Mui Dien Lighthouse
Mui Dien Lighthouse (or Mui Dai Lanh) is the easternmost point, the place to receive the first sunrise on the mainland of Vietnam. It located about 35 kilometers from Tuy Hoa City, Phu Yen.
This is a place where tourists often camp overnight to watch the moment the sun rises from the sea, a must-go destinationwhen coming to Phu Yen.
This lighthouse has a cylindrical block with 26.5 meters in high compared to the foundation and 110 meters in high from the sea surface. It still holds many vestiges that French built nearly 130 years ago. From the light tower, visitors can see the whole beach of Bai Mon.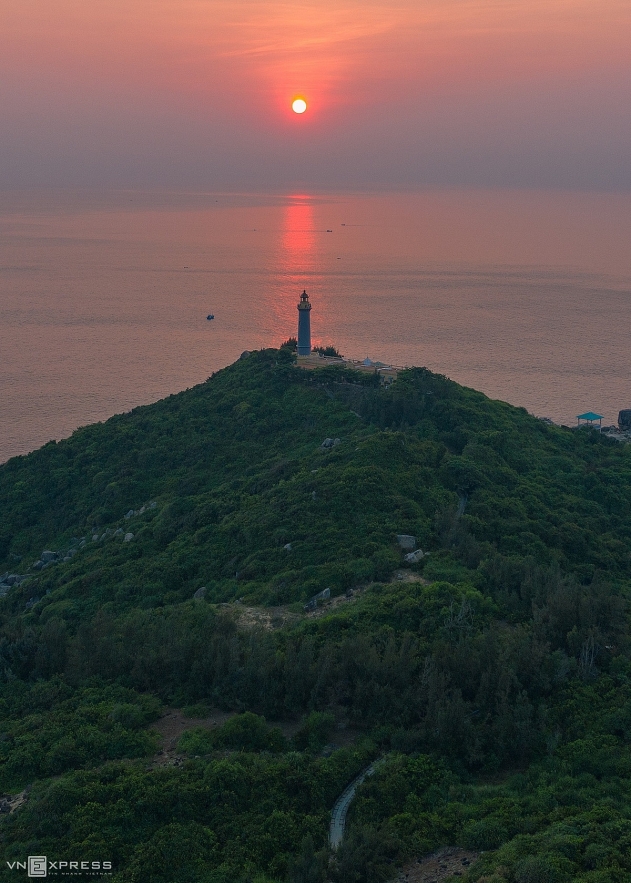 Photo: VNE.
Nha Trang
Panoramic scene of Nha Trang, Khanh Hoa at dawn, with shrimp farming fields and high-rise buildings, new urban areas. Nha Trang, one of the most beautiful bays in the world, is considered the "pearl of the East Sea". It is the combination of mountains, rivers, seas, lagoons, islands and fields, which is a oustanding tourist destination of the South Central Coast.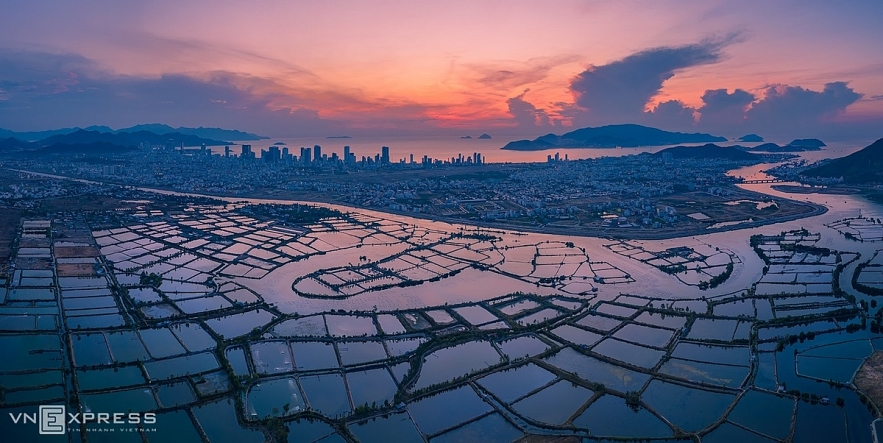 Photo: VNE.
Tuyen Lam lake
Tuyen Lam lake in Da Lat is dim in dawn and cloudy fog. This is the largest freshwater lake in Da Lat, which is about 7 km from the city center in the direction of Highway 20 to Prenn Pass. Part of an area on Tuyen Lam Lake is a flooded cypress forest. It attracts many tourists who love photography with the scene of lonely ferryman in the mist.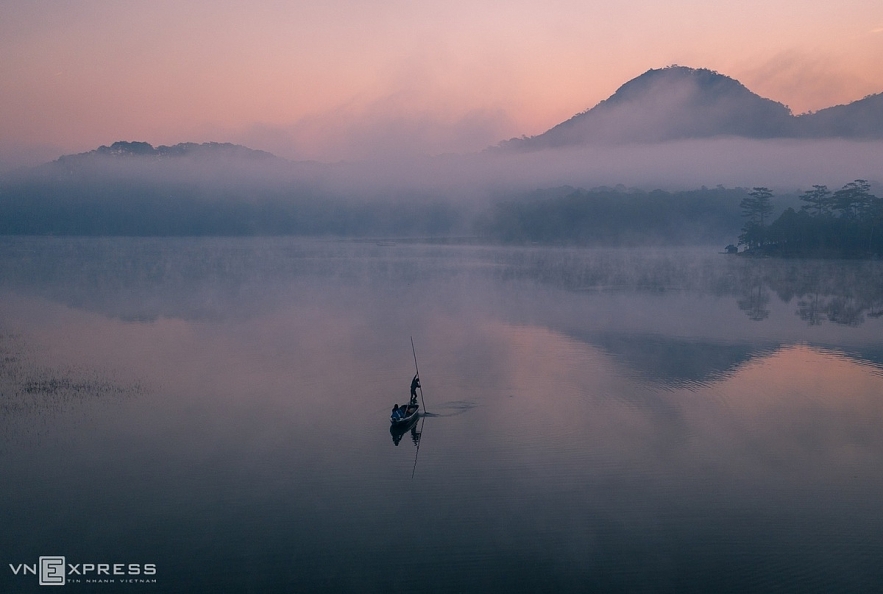 Photo: VNE.
Pine forests in Bao Loc
Cloud fog covered the pine forest and Thanh Xa church, Loc Nga commune, Bao Loc city at dawn. This plateau city is about 110 km from Da Lat, located on the two axes of Highway 20 and Highway 55. After arriving here, visitors can visit the tea hills, Bao Loc church, Bat Nha Monastery, Dambri Waterfall or Linh Quy Phap An pagoda.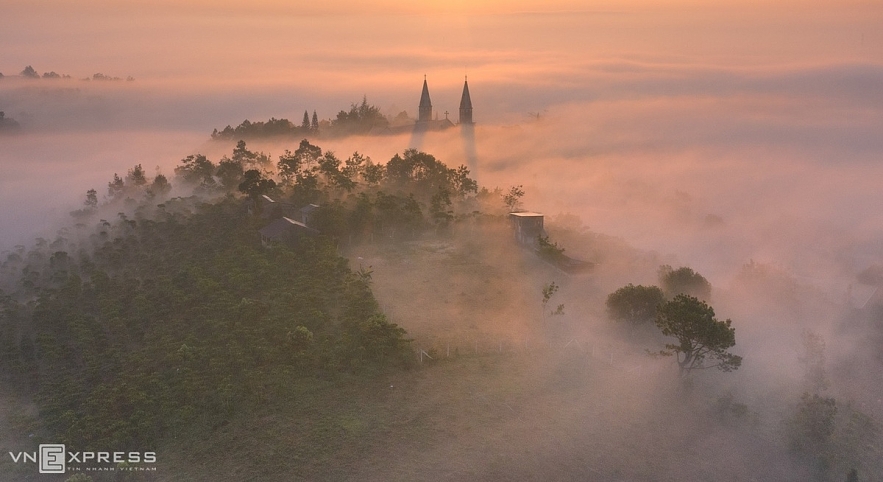 Photo: VNE.
Phan Ri Cua
Dawn on salt fields in the coastal town of Phan Ri Cua, Tuy Phong, Binh Thuan.Tuy Phong, which is located about 90 km from Phan Thiet City and has many beautiful and pristine beaches such as Bai Thach and Doi Duong; red clay Ghenh Son, sand hills and historical relics of Cham Po Klong Monai tower. Its economy has been developed thanks to aquaculture, wind power, salt making and goat and sheep breeding.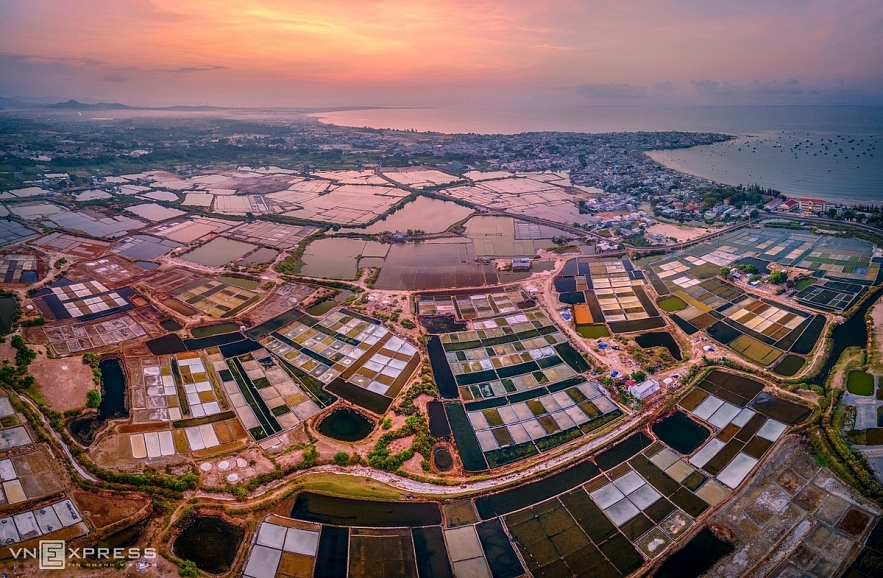 Photo: VNE.
Mui Ne beach
Yellow sunshine when the sun has just risen on Mui Ne beach. This is considered a tourist and resort paradise of Phan Thiet City with long white sand beaches, blue sea and soaring coconut trees.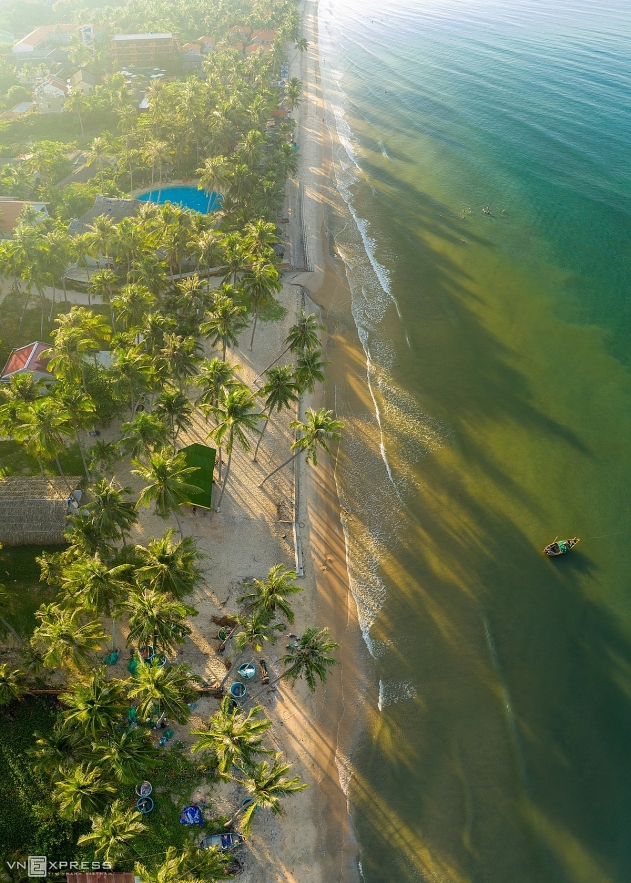 Photo: VNE.
Ta Pa
Trees clustered in the morning sun on the fields of Ta Pa, An Giang. The main road is like a silk thread, interspersing with green and yellow fields when viewed from the air. This destination attracts tourists all year time, especially the ripe rice season in August and November. Travelers who prefer the experience can camp on Co To Mountain, stand at the high point of Vo Hoi and have a panoramic view of the rice field Ta Pa.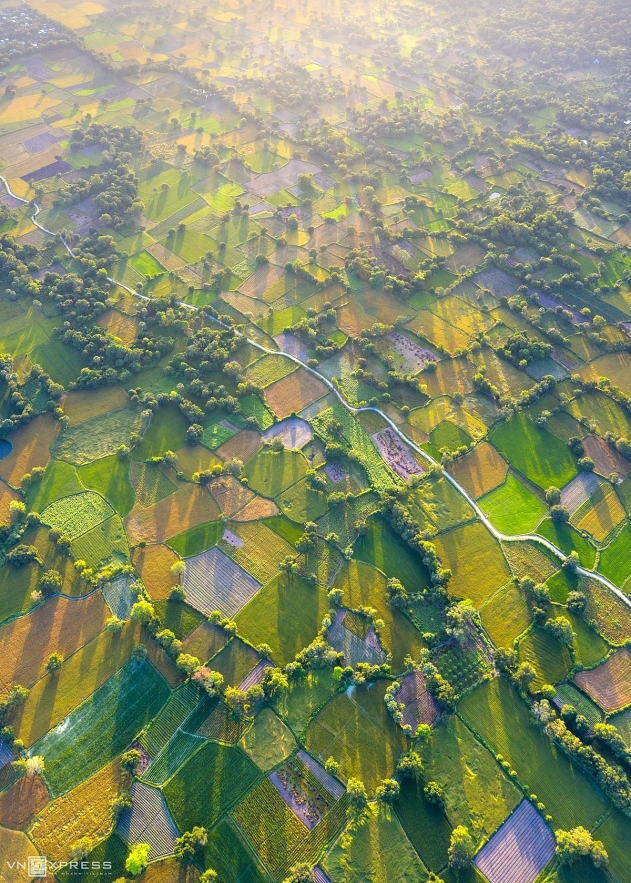 Photo: VNE.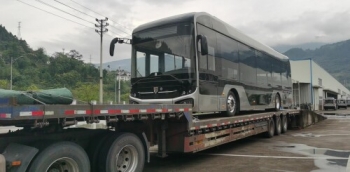 Economy
Ev Dynamics (Holdings) Limited is a pioneer and a prominent player in China's new energy commercial vehicles market, as well as a whole-vehicle manufacturer of specialty passenger vehicles and new energy passenger vehicles.