Recipe: Vietnamese perch spring rolls [video]
How to make spring rolls perch to change the taste of summer days.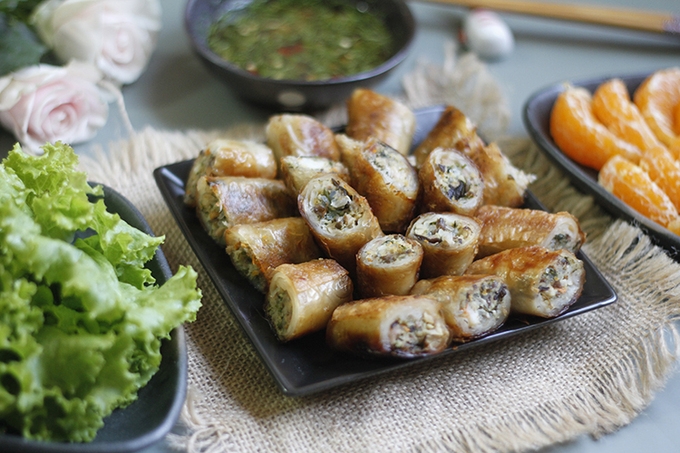 When ready, serve with dipping sauce. Photo: Bui Thuy/VnExpress
According to VnExpress, perch spring rolls have a golden, crispy shell, spring rolls with soft and sweet fish mixed with a little fat of meat and shrimp, the filling is not dry, bringing up the aroma.
Fried spring rolls are a familiar dish in every family on every occasion of reunion and Tet (Lunar New Year) holiday from the North to the South. From the original version with pork, depending on the taste and season, there are many different types of spring rolls such a: chicken and mushroom spring rolls, snail spring rolls, seafood spring rolls. This article introduces the making of perch spring rolls for hot summer days.
- Total time: 40 minutes (preparing 15 minutes, cooking 25 minutes)
Servings: 4-5 people, but you can easily increase the ingredients accordingly to make more.
- Total calories: 2097 kcal
Ingredients
- 800 gr of perch fillets.
- 200 gr of grounded lean pork shoulder (with a bit of fat).
- 200 gr peeled shrimp.
- Wood ear, shiitake mushrooms, cellophane noodles (Vietnamese mien).
- Carrots, green onions, dill, bean sprouts, dried onions, ginger.
- One egg
- Spring rolls
- Two limes
- Seasons (sugar, fish sauce, salt, chili, garlic)
Instruction
- Sprinkle perch fillets with salt, rubbed with lime and washed.
- Boil the fish with a few slices of ginger, smashed dried onions, and salt. Take out the fish fillets, soak in ice cold water and set aside.
- Shiitake mushrooms, wood ear, cellophane noodles soaked in warm or hot water, washed, drained and chopped.
- Vegetables (carrots, green onions, dill, bean sprouts) washed and chopped.
- Devein shrimps, then diced.
Rolls:
In a large mixing bowl, add perch meat, minced pork shoulder, and diced shrimp. Add chopped vegetables, wood ear mushrooms, shiitake mushrooms. Add egg, seasoning satl, pepper, a little cornstarch (to create adhesion as well as help the spring rolls to dry). Add 1 tbsp of onion lard to make spring rolls more delicious, then mix.
In a small bowl, add 1/2 cup of water, 1/2 a lime, 2 tbsp of sugar and stir until dissolved. This mixture helps to make rice paper rolls crispy and create beautiful color when fried.
To assemble rolls, use a clean towel to dip a mixture of lime juice and sugar, squeeze out some water to moisten, and then wipe the surface of the rice paper until soft, then place on a cutting board.
Use a spoon to scoop out the right amount of filling in the centre of the rice paper. Fold both ends over the ingredients, then roll them up.
Frying for the first time: Put the right amount of cooking oil in the pan, fry the rolls on medium heat. When the surface of the spring rolls is slightly firm, take it out and let it cool.
Second frying to help crispy spring rolls and drain the oil: When spring rolls are golden crispy, take them out and place on a few layers of paper towels to absorb the excess oil.
Dipping sauce:
In a small bowl, put 1 tbsp sugar + 1 tbsp lime juice + 3 tbsp water. Stir the sugar completely, then add 2 tbsp of fish sauce and garlic, minced chili, and dill (note that the sugar will dissolve to help the chili garlic and dill rise to the surface). The sweetness can be adjusted according to taste.
- Presentation:
+ Cut perch spring rolls into bite-sized pieces, next to them are your favorite raw vegetables and a bowl of sweet and sour garlic dill sauce.
+ Requirements for finished products: Crispy yellow spring rolls with soft and sweet fish mixed with a little of pork and shrimp. The filling is not dry, just burst with flavor once dipped into the fresh sauce. Perch spring rolls eaten with hot rice or vermicelli.