Recipe: Lotus petals spring rolls with video
Spring rolls has unique faint scent of lotus, naturally sweet meat interspersed with a little grain of wood ears and shiitake mushrooms.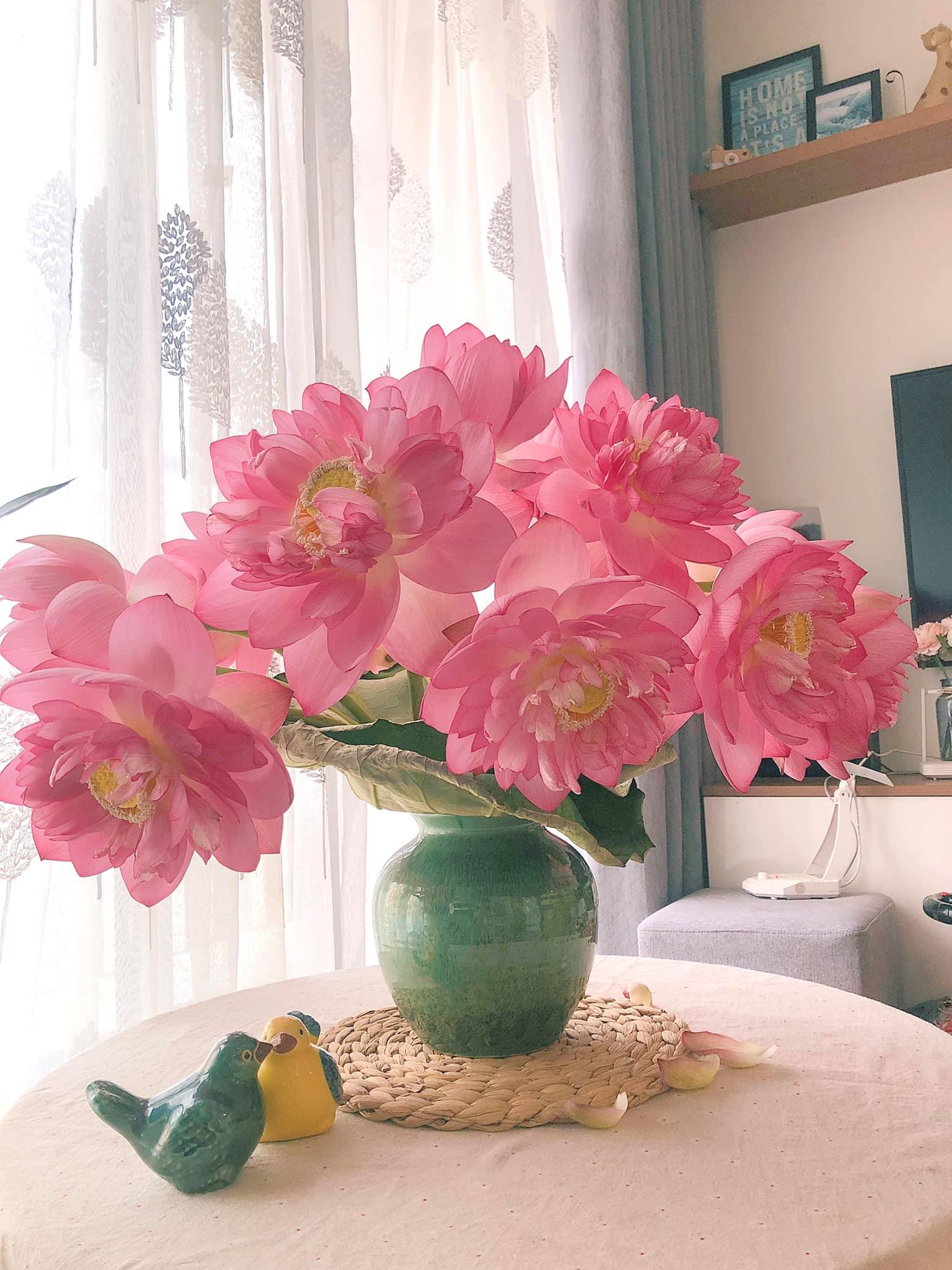 The lotus is regarded by Vietnamese as one of the four graceful flowers and plants, along with the pine, bamboo and chrysanthemum for a reason.
The Lotus flower, in Vietnam, is well-known as the national flower. But have you ever imagined lotus petals.. on your plate?
To Vietnamese people, the lotus is more than just a flower. Lotus, despite being nurtured in mud, still grows up to be pure and glowing, like morning dew from early morning or water in springtime. It is also the symbol of purity, commitment, and optimism for the future. The elegance of the lotus is often cited in the Vietnamese folk songs and poems.
In addition to its delicate beauty, lotus plants also play various roles in Vietnamese cuisine. Many delicious and nutritious dishes from lotus parts are put on the menu such as lotus petal spring rolls, lotus leaf steamed chicken, sticky rice with lotus seeds and pineapple leave, lotus tea, according to VnExpress.
This week we would like to introduce a delicious dish of Hanoi: Lotus petals spring rolls.
- Total time: 40 minutes (preparing 15 minutes, cooking 25 minutes)
- Servings: 4-5 people
- Total calories: 2097 kcal
Ingredients
+ 400 gr lean minced pork (with a bit of fat)
+ 200 gr shrimp
+ Shiitake mushrooms and wood ears
+ 1 egg
+ 1 tablespoon cornstarch
+ 1 tablespoon lard or cooking oil to help keep the patties from drying out
+ Some lotus flowers
+ Spices: Salt, seasoning
- Dipping sauce:
+ 1 tbsp sugar
+ 1 tbsp lemon juice
+ 2 tbsp fish sauce
+ 3 tbsp of filtered water
+ Minced garlic and chili
+ A little lotus stamens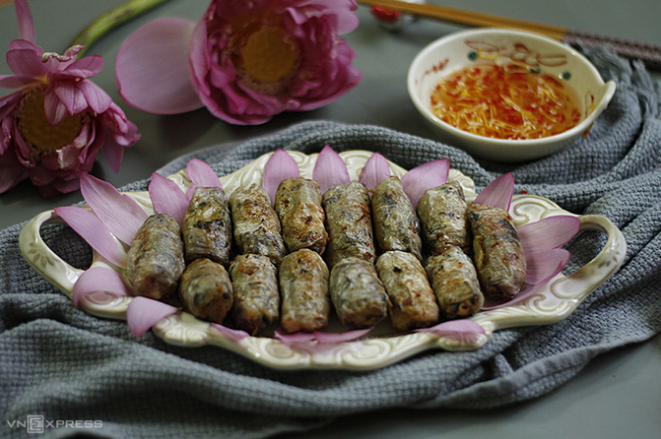 Lotus petals spring rolls. Source: VnExpress
Instruction
+ Choose large lotus petals. You should pick lotus buds that are about to bloom because they retain a lot of fragrance, making the dish more delicious.
+ Petals soaked in diluted salt water, then washed. Large lotus wings (second layer of wings from the outside) are used to wrap rolls. The small lotus petals inside are finely chopped with lotus stamens to put in the filling.
+ Wood ears, shiitake mushrooms soaked in hot water then washed and chopped.
+ Shrimp peeled and diced.
- Put the ground lean pork, diced shrimp with finely chopped lotus petals, lotus stamens, wood ears, and shiitake mushrooms and mix well with the spices (1 tsp salt, 1 tsp seasoning, 1 tbsp lard, egg, 1 tbsp cornstarch). Marinate for about 10 minutes.
- Spread lotus petals on the palm of your hand, place the curved part of the wing upwards. Ladle the right amount of filling and then gently roll it by hand.
- Put the right amount of cooking oil in the pan, fry the rolls on medium heat. When the rolls are golden and fragrant, turn off the heat and place it on a few layers of paper towels to absorb the excess oil.
- Make the dipping sauce: In a small bowl, add 1 tbsp of sugar, 1 tbsp of lemon juice, 3 tbsp of filtered water, and stir to dissolve completely. Then, add 2 tbsp of fish sauce, stir well. Finally add garlic, minced chili and a few lotus tassels.
- Presentation: Arrange the rolls on a plate, garnish with lotus petals to highlight. This dish is served hot with rice, dipping with sweet and sour sauce.
- Requirements for finished products: Fragrant rolls with lotus flavor, naturally sweet meat, a little lumpy of wood ears, shiitake mushrooms, not dry but very flavorful.