Easy-to-follow recipe of rolled Pho with salmon, salt & lime filling
Rolled Pho (Phở cuốn) is loved by many thanks to its simple recipe, attractive taste and healthy ingredients.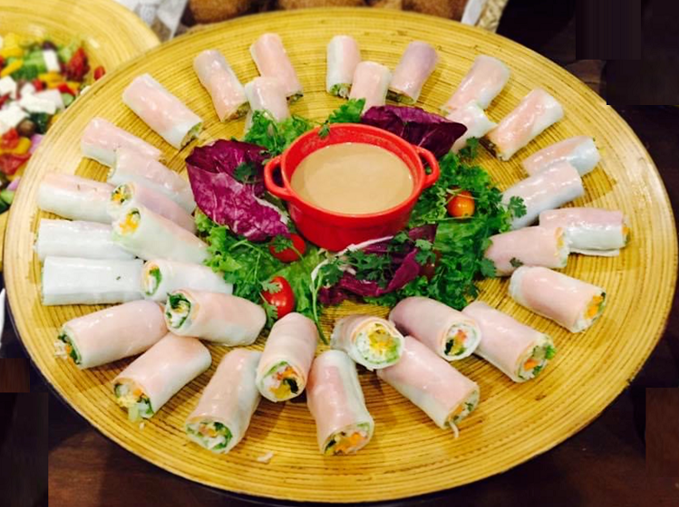 Photo: VN Express
With the main ingredients of salmon - healthy food that assists the digestive system, helps renew skin, hair organs, provides essential vitamins and supplements for the body, this recipe of rolled pho is for sure the best summer dish.
Ingredient for 4 servings
A. Marinating salmon:
- 250 grams of salmon fillets
- 2 lemons or limes
- 30 grams of chopped ginger
- 30 grams of salt
- 20 grams of sugar
- 5 grams of grounded pepper
B. Other ingredients for the rolls
- 500 grams pho sheets
- 100 grams of shredded carrots
- 50 grams of thinly sliced purple onions
- 50 grams of lettuce
- A bunch of cilantro (to taste)
C. Dipping sauce
- 30 grams of fish sauce
- 5 grams of wasabi
- 20 grams of lime juice
- 10 ml of drinking water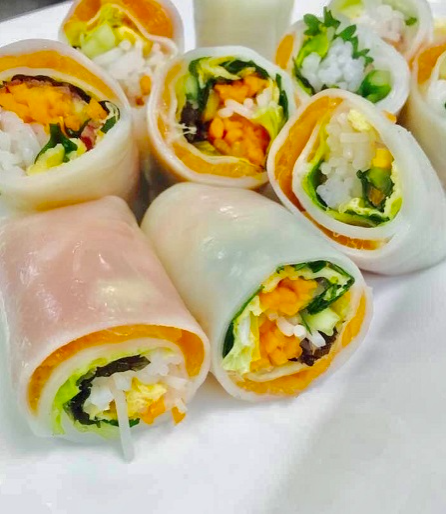 Photo: VN Express
Instruction
- Mix ginger, salt, sugar, and pepper then pour over salmon fillets.
- Put the marinating fish in the refrigerator for about 5 hours.
- Remove the fish from the marinating sauce, dry it with clean towers then slice the fish thinly into the pieces of 5 cm x 3 cm.
- Add fish sauce, wasabi, roasted peanuts, lemon juice, water in a blender, and grind for about 20 seconds to make a dipping sauce.
- Mix carrots and purple onions with vinegar, sugar, fish sauce, and keep them marinated for 10 minutes, then squeeze them to leave out the water.
- Put lettuce, carrot, purple onion, coriander, and 2 slices of salmon in the middle of a pho sheet.
- Fold the sides of the sheet cake and slowly roll it up.
- Cut the roll into pieces about 5cm long, then put them on a plate with the dipping sauce.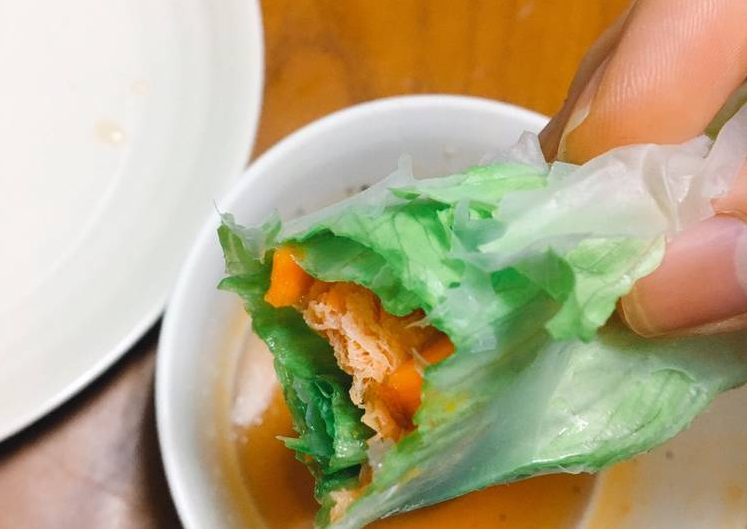 Photo: Cookpad
Requirements
- No pho sheet breaks during the rolling process
- The dish has a balance of taste, including the fatty flavor of salmon, gentle sour from vegetables, and the spicy from wasabi.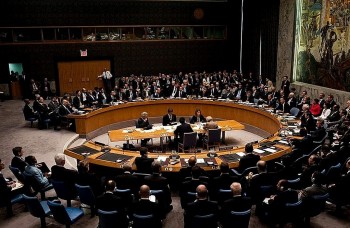 Friendship
The "International Day of Women in Diplomacy" is recently adopted by the United Nations (UN), which is to be celebrated every year on June 24. UN General Assembly Abdulla Shahid said that the resolution opened the door to discuss the challenges of women in diplomacy face, to celebrate women in diplomacy and to inspire the next generation.