Riots in America: GoFundMe started for Vietnamese restaurant burned down
"Saigon Bay Vietnamese Restaurant" in Tampa, Florida was burned down on May 30 by rioters who were out protesting the death of George Floyd, a black man who died after he was pinned to the ground by a police officer. A Gofundme was set up on behalf of its owners.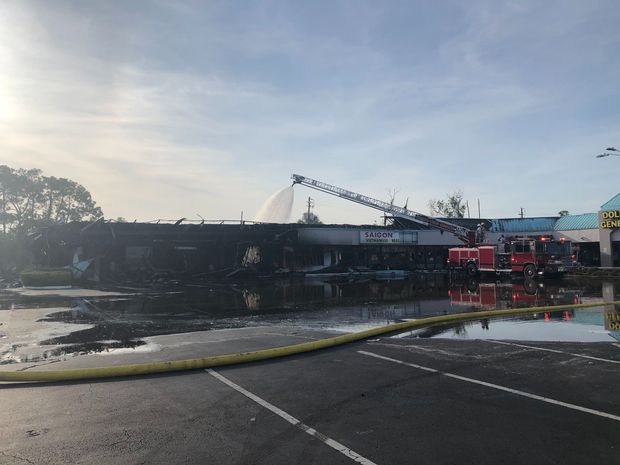 Fire crews work on May31 morning on the Fowler Plaza South where the Champs Sports store and Saigon Bay Vietnamese Restaurant are. Photo: AMY HOLLYFIELD | Tampa Bay Times
Hundreds of people gathered on May 30 in Tampa to protest the death of George Floyd. Protests broke out across the US this weekend, fueling an ongoing conversation about police brutality against minority communities.
Although Tampa saw a peaceful protest in the daytime with its Mayor and Chief of Police marching with protesters, as the evening approached the protests became more intense and led to several cases of looting including a burning of a gas station and then a fire at a Champs Sports store.
The owners, Thanh Son, 50, and his wife Savy Lam, 44, were inside the restaurant when the protests were peaceful. But when they arrived the next day, their business was burned to the ground, said the Tampa Bay Times.
Son went back to his restaurant from his home around 1 am (local time) but couldn't get close to it. He went back home, got little sleep, and went back to the restaurant around 7 am to see the destruction.
Son couldn't believe his business was burned down during lockdown hours because he saw police standing outside his store before he left for home the prior day.
Son and his family took over the Saigon Bay Vietnamese Restaurant four years ago after running a restaurant in Kansas City, Missouri for 15 years. University of South Florida students and staff, as well as those from the area know it well as a great place to enjoy a bowl of pho.
According to WFLA, a GoFundMe has been started on behalf of the owners of the Vietnamese restaurant after it was destroyed.
The fundraiser, started by Anna Jensen and Bryan Huynh on behalf of Son, has raised over USD 30,000 in less than 24 hours, WFLA reported on June 1. Huynh's family started the business before selling it to Son and his family.
"As you may know Tampa got out of hand last night," Huynh wrote. "My parents owned and built this restaurant from the ground up ever since I was born. We sold it a few years back to some wonderful owners that took the restaurant to another level."
"This business is their livelihood to support a multi-generational family," the GoFundMe states. "They did not deserve this setback. They are so kind, welcoming, and inclusive to everyone. Please support them during this time."