Protests in America update: Minneapolis city council is looking to move funding from police
Protests in America update: Minneapolis city council is looking to move funding from police, New York City curfew lifts early following peaceful protests, army secretary said "to not cross the line" with protesters in Washington, DC, remains of George Floyd arrive in Houston and homeland security secretary says there is no systemic racism in police are remarkable news today.
Protests in America update: Minneapolis city council is looking to move funding from police
Minneapolis City Council President Lisa Bender told on June 7 that she is looking to move funding from the Minneapolis Police Department and instead invest some money in community-based strategies, CNN reported.
Bender said that she and her co-city council members did an analysis of the nature of 911 calls made by constituents in Minneapolis, and found that most people are calling for mental health services, as well as health, EMT and fire services.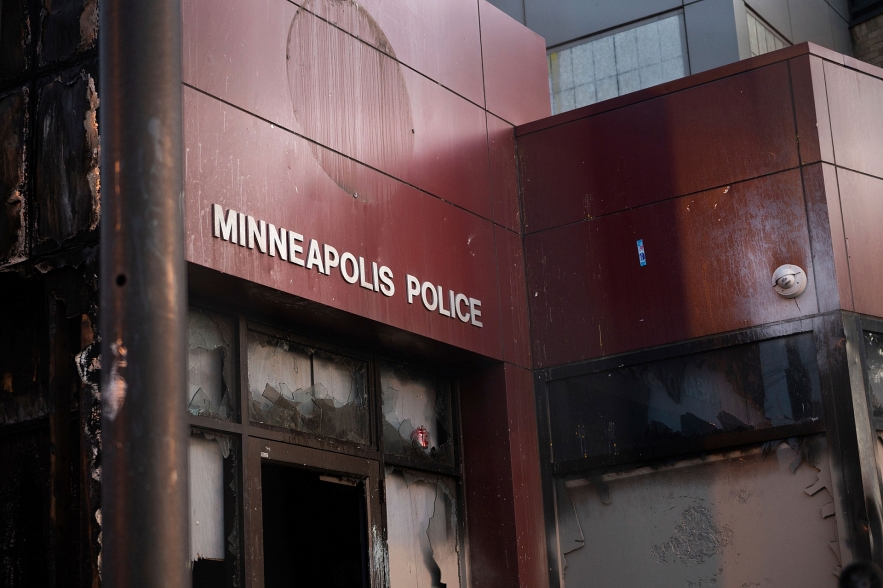 The Minneapolis Police Department 3rd Precinct after being destroyed by protesters n May 29.
Photo: Zach D Roberts/NurPhoto/AP
Bender said that the solutions lie in the needs of the community and she said that today's commitment from her co-city council members shows an acknowledgement that the system is not working. "We need to listen, especially to our black leaders, to our communities of color, for whom policing is not working and to really let the solutions lie in our community," Bender said.
The Guardian reported that a veto-proof majority of the Minneapolis city council has announced its intent to dismantle the city's police department and invest in community-led public safety, a move that would mark the first concrete victory in the mounting nationwide movement to defund law enforcement agencies in the aftermath of the police killing of George Floyd.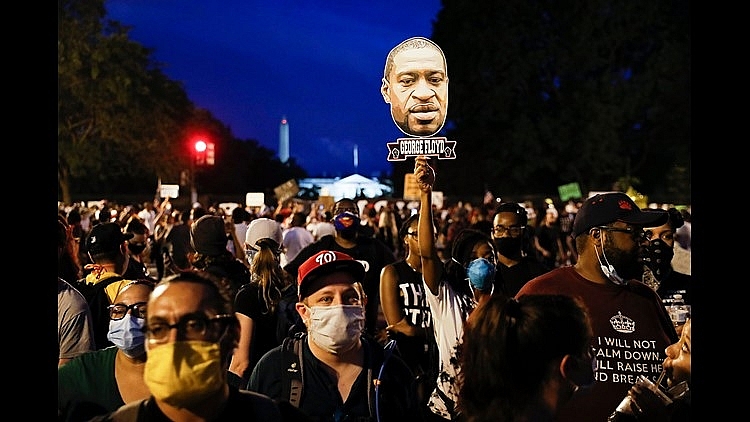 Protestors near the White House over George Floyd's death. Photo: AP
Nine of the council's 12 members announced their pledge to create a new system of public safety before hundreds of demonstrators at a rally at Powderhorn Park in south Minneapolis on Sunday afternoon. "This council is going to dismantle this police department," councilman Jeremiah Ellison said.
Protests in America update: New York City curfew lifts early following peaceful protests
Police moved barricades Sunday so protesters could approach the Trump International Hotel and Tower in midtown Manhattan as thousands continued to march against police brutality -- this time without a curfew looming in the night, Associated Press reported.
Mayor Bill de Blasio lifted the city's 8 p.m. curfew ahead of schedule Sunday after a peaceful night Saturday, free of the clashes or ransacking of stores that rocked the city days earlier. "I want to thank everybody who has expressed their views peacefully," de Blasio said Sunday morning. "I made the decision to end the curfew. And honestly, I hope it's the last time we will ever need a curfew in New York City."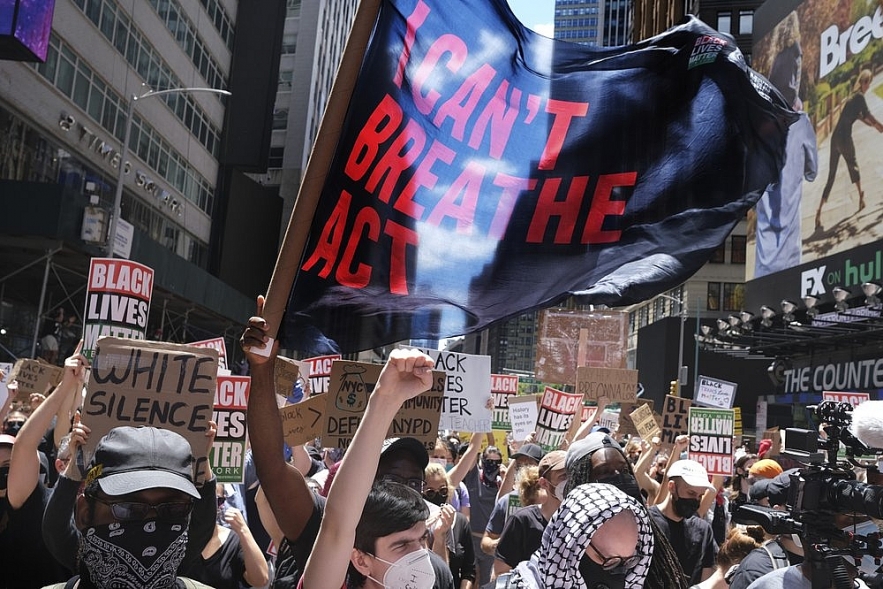 Protesters rally near the edge of Times Square in New York, Sunday, June 7, 2020. New York City lifted the curfew spurred by protests against police brutality ahead of schedule Sunday after a peaceful night, free of the clashes or ransacking of stores that rocked the city days earlier. (AP Photo/Seth Wenig)
The curfew, New York's first in decades, had been set to remain in effect through at least Sunday, with officials planning to lift it at the same time the city enters the first phase of reopening after nearly three months of shutdowns because of the coronavirus. The mayor said a decision hadn't been made yet on whether to lift a ban on vehicles in Manhattan south of 96th Street after 8 p.m.
The move followed New York City police pulling back on enforcing the curfew Saturday as thousands took to the streets for another day of marches and rallies sparked by the May 25 death of George Floyd at the hands of Minneapolis police. Peaceful protests continued Sunday with thousands of protesters, most of them wearing masks, walking through Manhattan chanting "Black Lives Matter" and "George Floyd."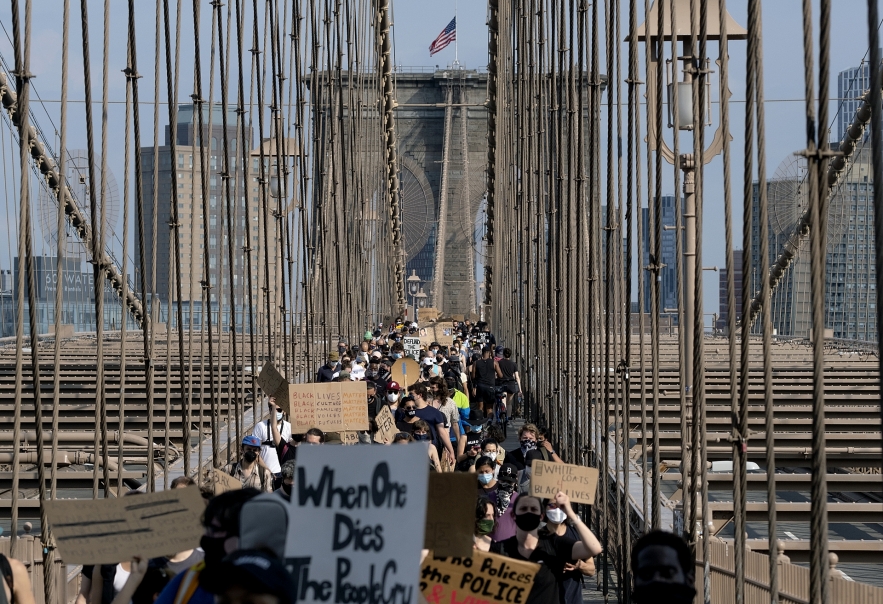 Protesters and activists walk across the Brooklyn Bridge, Saturday, June 6, 2020, in New York. Protests continued following the death of George Floyd, who died after being restrained by Minneapolis police officers on May 25. (AP Photo/Craig Ruttle)
More than two hours after the curfew had passed Saturday night, groups of demonstrators continued to march in Manhattan and Brooklyn, while police monitored them but took a hands-off approach. Local politicians and civil liberties advocates had called for an end to the 8 p.m. curfew, complaining that it causes needless friction when officers try to enforce it. But de Blasio had initially insisted the curfew would remain in place throughout the weekend.
Civil liberties organizations had threatened to sue if the curfew was extended beyond Sunday. The end of the curfew comes as New York City prepares to begin reopening some businesses Monday, including manufacturing and construction companies, wholesalers and retailers. Between 200,000 and 400,000 people are expected to head back to the workplace Monday in the city.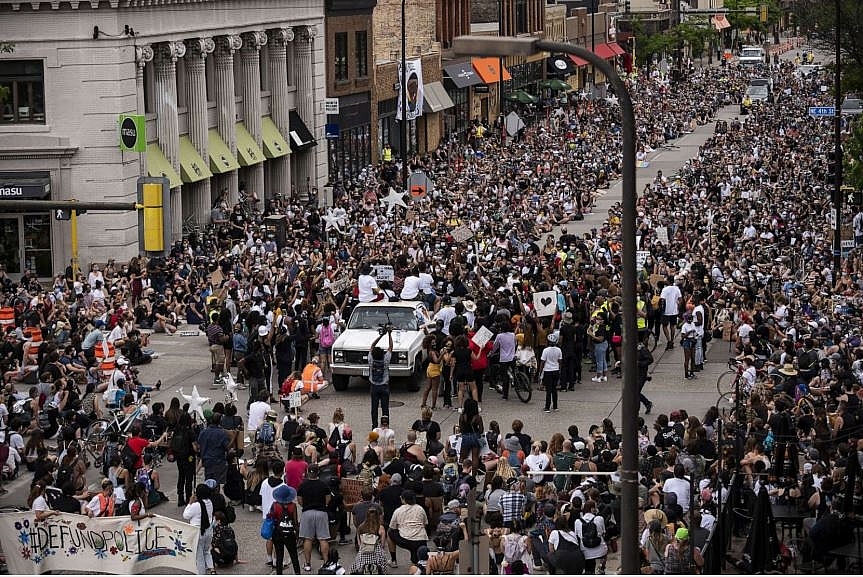 Demonstrators calling to defund the Minneapolis Police Department pause on Hennepin Avenue on June 6, 2020 in Minneapolis, Minnesota.
Protests in America update: Army secretary said "to not cross the line" with protesters in Washington, DC
The Secretary of the Army Ryan McCarthy said Sunday that the Pentagon did not want to use active duty troops to subdue protestors in the nation's capital last week but that the invocation of the Insurrection Act, which allows the president to use active duty military forces to quell unrest, was "heavily discussed" within the Trump Administration, CNN reported.
"They were on the outskirts cause we didn't want to do it. The Department of Defense didn't want to do it because we knew once we went to that escalation, it's very very difficult," McCarthy told reporters on a phone call, referring to the some 1,600 active duty soldiers that that had been flown to bases in the DC area. "We did everything we could to not cross that line."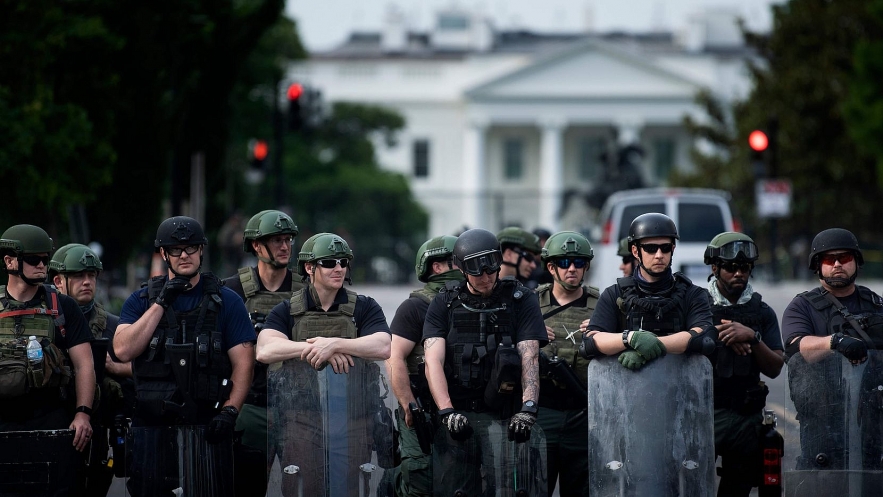 Members of the Federal Bureau of Prisons and other law enforcement block 16th Street NW near the White House as protests continue June 3, 2020. The United States has erupted into days and nights of protests, violence, and looting, following the death of George Floyd after he was detained and held down by a knee to his neck for nearly nine minutes.(BRENDAN SMIALOWSKI / AFP via Getty Images)
McCarthy also confirmed out of state National Guard will start going home Sunday at 5 p.m. "Effective 5 p.m. this evening we will begin redeploying the out of state Guardsmen starting with the state of Mississippi...as well as the state of Florida, Utah and Indiana," McCarthy said. The departure process for those contingents is expected to take no more than 24 hours. The DC national guard will continue to support federal elements as well as local police.
President Trump wrote on Twitter earlier Sunday that he had ordered National Guard troops in Washington, DC, to return home. McCarthy said the controversial National Guard helicopter flights that flew over protestors Monday night were still under investigation. The commanding general of the DC National Guard Maj. Gen. William Walker said that "There was no order to disperse the crowd" with the helicopters.
Troops and protestors in the US. Photo: aitnews24
Remains of George Floyd arrive in Houston
The remains of George Floyd arrived in Houston, Texas, on Saturday evening, according to a statement from the public relations firm handling the memorial and funeral. Floyd's remains arrived at "IAH Airport with the help of Eagles Wings Air and Delta Airlines," the statement said.
"At the request of the family, his entry was made private. He was led to Fort Bend Memorial Planning Center by Houston Police Department," the statement said. "Mr. Floyd will be buried directly next to his mother on Tuesday."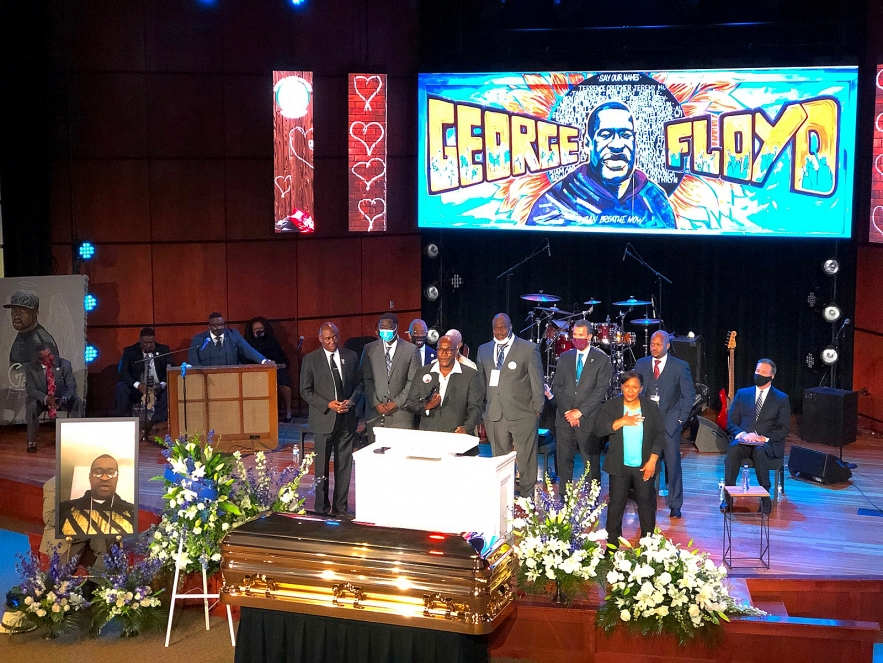 Mourners to Floyd's death. Photo: CNN.
Former Vice President Joe Biden plans to travel to Houston to meet with the family of George Floyd and will provide a video message for Floyd's funeral service. A Biden aide on Sunday described the plans of the Democratic presidential candidate. They did not include attending the service.
Biden expects to give the family his condolences, said the aide, who discussed Biden's plans on condition of anonymity. Funeral services Monday will follow a six-hour viewing for Floyd, who was raised in Houston. Burial is set for Tuesday in the Houston suburb of Pearland.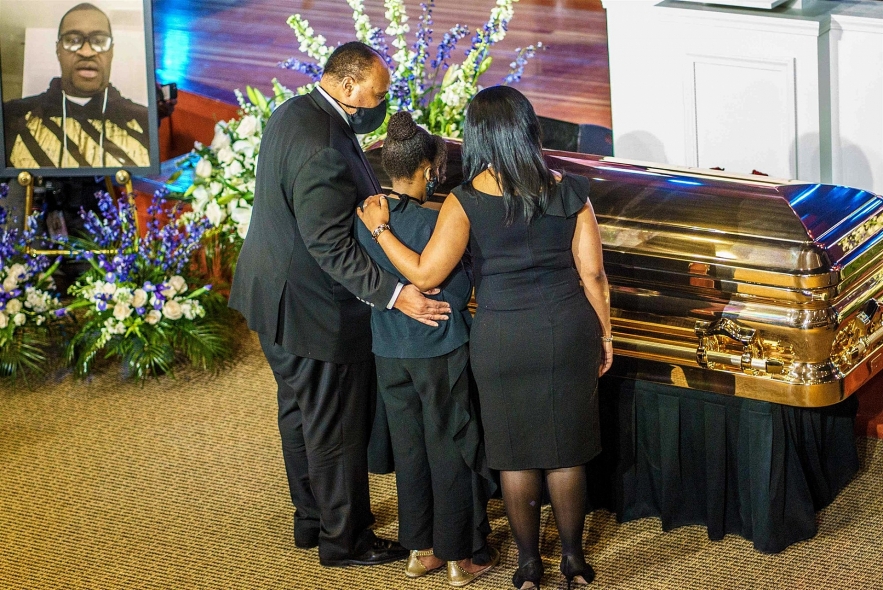 Floyd's family mourning him. Photo: CNN
Homeland security secretary says there is no systemic racism in police
According to The Guardian, Chad Wolf, the acting homeland security secretary, says he does not belief there is systemic racism within US police. Wolf was asked the question on ABC's This Week on Sunday, by host Martha Raddatz, who pointed out African Americans are killed by police at twice the rate of white Americans.
"I do not think that we have a systemic racism problem with law enforcement officers across this country," said Wolf. "Do I acknowledge that there are some law enforcement officers that abuse their jobs? Yes. And again, we need to hold those accountable. And I would say that there are individuals in every profession across this country that probably abuse their authority and their power.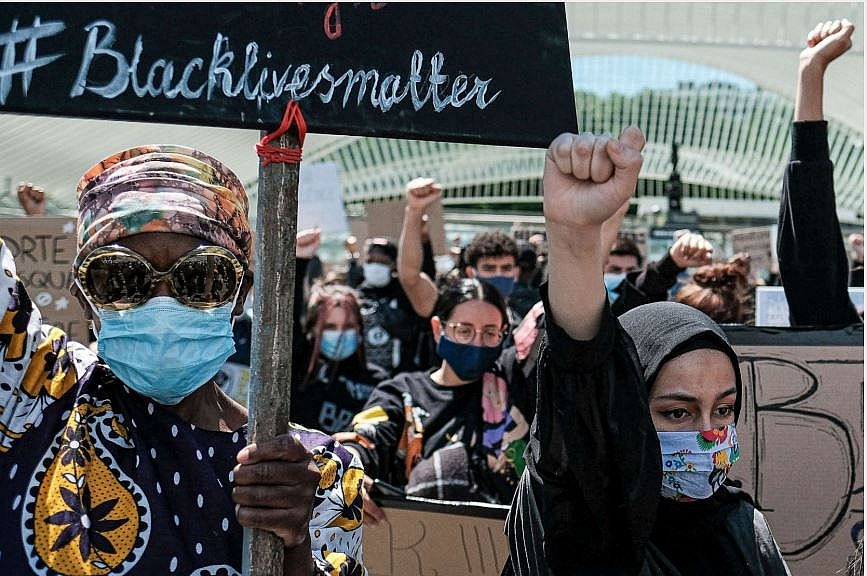 Protesters take part in a demonstration in support of the ongoing protests in the United States after George Floyd's death, in Liege, Belgium, June 6, 2020.
"I think painting law enforcement with a broad brush of systemic racism is really a disservice to the men and women who put on the badge, the uniform every day. Risk their lives every day to protect the American people, to protect them so that they can go to school. They can have a business and come home safe to their families. So I think we need to keep that in mind as well."
Florida congresswoman and former Orlando police chief, Val Demings, was also on the show and disagreed with Wolf's comments."If we're going to solve some of America's toughest problems, we've got to be painfully honest about what those problems are," she said. "And we know that we have been fighting systemic racism in this country for 400 years. We know that it has found its – or reared its ugly head in law enforcement agencies, in housing, in education, in – in too many other places. And so while I heard what the secretary said, we have a lot of work to do. And systemic racism is always the ghost in the room."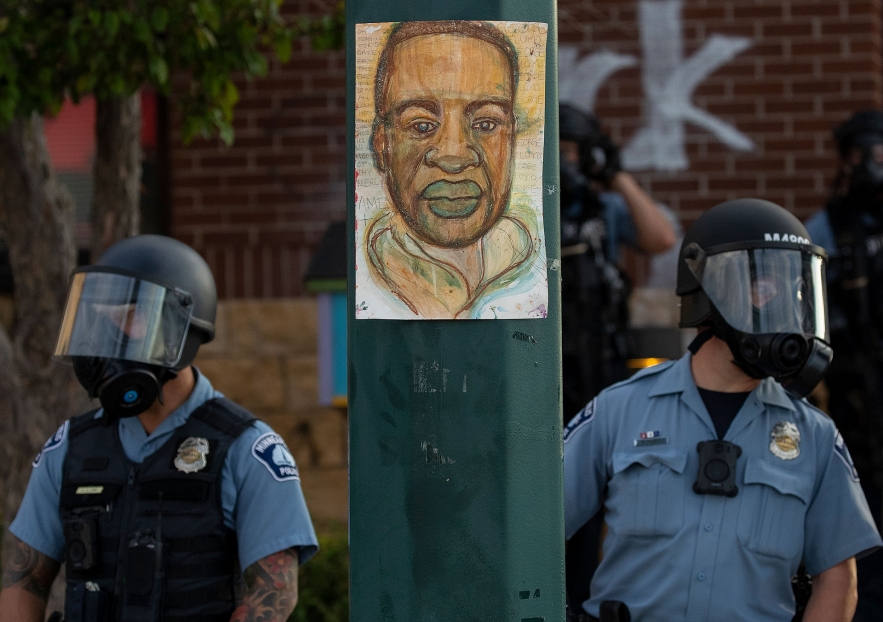 Minneapolis police officers watch demonstrators protest outside the Minneapolis Police Department's Third Precinct on May 27. Carlos Gonzalez/Star Tribune/Getty Images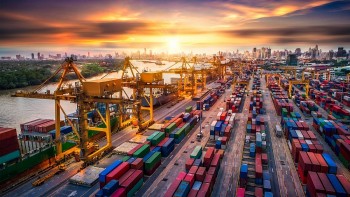 National
Vietnam, a rising star in the global supply chain, has the potential to become a new tiger in Asia, economist Brian Lee Shun Rong at Maybank - Malaysia's largest financial services group and the leading banking group in South East Asia – has reportedly said.