Expert Underlines Significance of Learning, Teaching Vietnamese for Children in Australia
Families play a crucial role in teaching the mother tongue to Vietnamese children abroad, said Dr. Tran Hong Van.
Dr. Tran Hong Van from Charles Sturt University of Australia, is in charge of the program "Maintaining Vietnamese together" broadcast weekly on the SBS Vietnamese channel to provide Vietnamese families in Australia with information on how to teach the mother-tongue language to their children.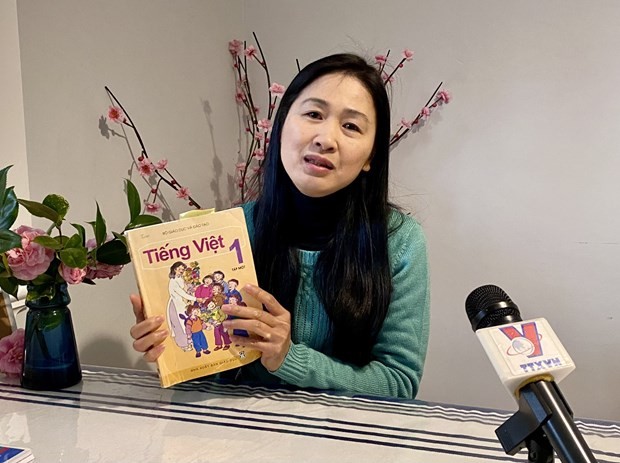 Dr. Tran Hong Van from Charles Sturt University of Australia. Photo: VNA
In an interview with the Vietnam News Agency correspondent in Sydney, Dr. Tran Hong Van, said that families play a crucial role in teaching the mother tongue to Vietnamese children abroad, and propose a number of practical measures, contributing to strengthening the cohesion between generations, preserving traditional culture and connecting among the young Vietnamese generation living outside the home country.
With more than 300,000 people, the Vietnamese community currently accounts for more than 1.2% of Australia's population while Vietnamese is one of the four most spoken languages in this country, ​​besides English.
However, like the languages ​​of other immigrant communities, the use of Vietnamese in Australia tends to fade away from the second generation onwards.
In areas where many communities live, families often speak Vietnamese with their children and there are a large number of Vietnamese speakers, so the children speak the mother-tongue language relatively well. Meanwhile, in other places, they mainly speak English, so it is difficult for them to communicate daily with grandparents living in the same house or with relatives at home.
The Australian government has supported the community in maintaining their mother tongue through Vietnamese language schools, including Vietnamese language learning session one a week in schools.
According to Dr. Tran Hong Van, it is not enough, because to learn a language well, whether it's a mother tongue or a second language, people always needs a daily practice environment.
On the other hand, the Vietspeech research project, conducted by Charles Sturt University with funding from the Australian Research Council (ARC), shows the important role of parents in teaching Vietnamese to the future generations born and raised abroad.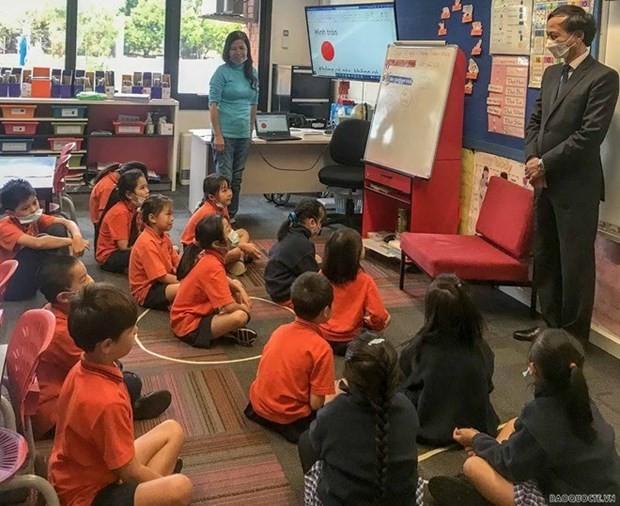 At a Vietnamese class in Australia. Photo: Baoquocte.vn
However, in many Vietnamese families in Australia, parents are too busy with daily jobs and tasks to have time to teach their children, comments Dr. Van, Moreover, the children still have to study and participate in extracurricular activities in English, the older they get, the less priority they give to learning Vietnamese.
Another problem is that many parents living abroad, even though they really want to, don't know how to teach their children Vietnamese, where to start and how to teach them.
Therefore, following the above research project, linguists from Charles Sturt University have published a book titled 'Vietspeech Multilingual Children' to provide Vietnamese families living in the country to teach their children Vietnamese at home.
Dr. Tran Hong Van shared that after participating in the Vietspeech, she was concerned with the thought of how to raise awareness and spread the desire to keep the mother tongue for generations of Vietnamese people in Australia.
With this in mind, Dr. Van has decided to be in charge of the program titled "Let's maintain Vietnamese together" which is broadcast weekly on SBS Vietnamese from October 2021. This program is designed to provide Vietnamese families in Australia and other countries with information on methods of teaching Vietnamese to their children and the benefits of learning Vietnamese.
So far the program has carried out more than 30 episodes, introducing the example of second generation children in Australia who speak Vietnamese fluently, participate in community service and connect with the homeland. In addition, the program also introduces the beauty and uniqueness of Vietnamese.
In the near future, the program is expected to organize a speech contest in Vietnamese for children in Australia.
The program will award prizes to the children with the best speech to encourage and motivate them as well as their families to participate.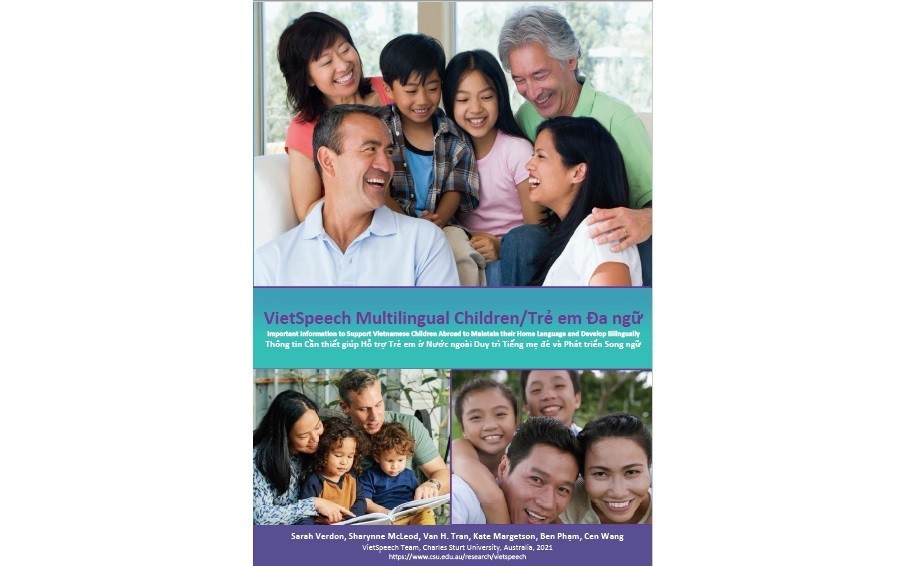 Titled "VietSpeech Multilingual Children", the book is the product of research on pronunciation and language for Vietnamese children in Australia funded by the Australian Research Council. Source: csu.edu.au
Assessing materials for learning and teaching Vietnamese to children abroad, Dr. Tran Hong Van said that there are many textbooks teaching Vietnamese in Australia as well as in many other countries, but there is no distinction between books for children in the country and abroad. Choosing which type of book to suit the language level of children living abroad is also a difficult problem for teachers and parents.
The Vietnamese government has had many projects to compile Vietnamese language teaching materials for overseas Vietnamese communities, she said. This is a very positive policy, bringing encouragement to expatriate families.
In addition, Dr. Tran Hong Van suggested that the government should consider and develop a program that focuses on home teaching. Parents have a key role in this activity, but not everyone is a foreign language teacher or educator, so they need materials and practical methods.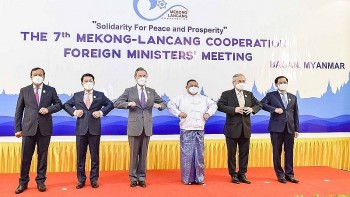 National
Foreign Minister Bui Thanh Son led a Vietnamese delegation to the seventh Mekong-Lancang Cooperation (MLC) Foreign Ministers' Meeting that was held in Bagan, Myanmar on July 4.