Sa Pa authorities recommend tourists not to buy goods from local children
Authorities in Sa Pa town is calling on tourists not to give money or buy goods from local children, as a way to prevent child exploitation.
Sa Pa is a famous destination in northern highlands however, local children being pressed to pester tourists, begging or selling goods is a long-standing problem in this area.
A clip of an officer of inspection team in Sa Pa town using the loudspeaker to inform tourists about how children on the streets were being manipulated and forced to sell things in the cold weather is attracting attention among netizens recent days.
"In Sa Pa on freezing cold days, there are children being forced to beg and sell goods. This an act of profiteering on child labors, violating the law on children's rights. We hope that, visitors to Sa Pa please object to this child exploitation by not giving money or buying goods from local children. By this, we have contributed to protecting children's rights. Fat mothers are sitting on park benches, around the church area, waiting for their young children who only 1,2,3,4 years old but have been forced to go begging on cold winter days.
Each of us should prevent this issue by real action: no money and no buying goods. Birds also know to feed their children. But these parents are profiting on their own offspring. This is an act of conscienceless", the officer said said.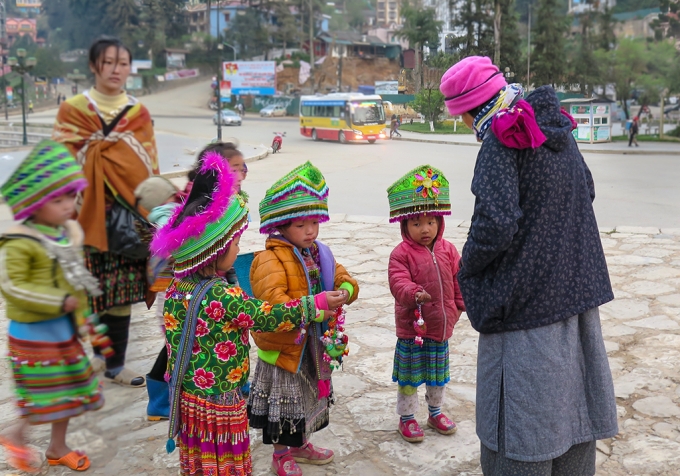 Children in Sa Pa being forced to beg or sell trinkets and other items to tourists.
Vuong Trinh Quoc, the Sa Pa town's chairman, said Monday that local authorities have not been able to address a long-standing issue of local children being pressed to pester tourists, begging or selling trinkets and other items, Vnexpress reported.
He said the phenomenon has cast a shadow on Sa Pa's tourism industry.
"Recently, amid the weather of three degrees Celsius, children have been pushed to go out and sell things. Adults are taking advantage of tourists' compassion for small children, which is pitiful. We have requested parents not to let their children do it, but it has not worked so far," he said.
"Only the last New Year's holiday, Sa Pa receives about 65,000 tourists. The town is expected to welcome more than 3 million domestic and foreign visitors yearly.
Trying a different tack, authorities are now using loudspeakers mounted on vehicles to ask tourists in the vicinity not to purchase things from children. The content announced on the loudspeakers was prepared by the town's culture and communication department," he added.
However, Quoc said that several tourists still bought goods from the kids out of sympathy, reinforcing such behavior. Parents will keep sending their children out to the streets if they see the money coming in, he added.
"Education is a child's right and pushing them to sell goods on the street is a violation of that right. We hope that tourists will support and cooperate with us to put an end to this practice," Quoc said.