Scorpio Monthly Love Horoscope: December, 2021
Scorpio Monthly Love Horoscope, December 2021: In this month, you should let go of everything that bothers you and just spend a nice time with your family.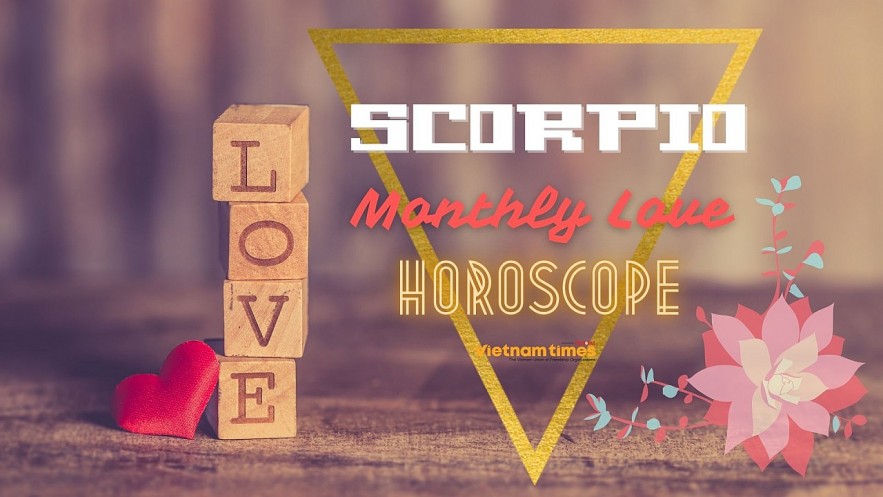 Scorpio Monthly Love Horoscope December 2021. Photo: vietnamtimes.
Scorpio's Love Style
As reported by horoscope, ruled by fiery Mars and destructive Pluto, a Scorpio in love has one mode for relationships—and that's full-on. Scorpio loves romance and passion, including up-all-night fights. Scorpio never does anything halfway, and believes that true love comes with true fights.
Flirtatious, seductive, and mysterious, Scorpio loves playing hard to get initially, and may look like they never take the lead. This isn't true, though. Scorpio can pull the strings, relying on body language and subconscious cues to make their potential partner do exactly what they want them to do. Scorpio loves the chase, and loves the drama and pageantry that comes with initial dates. They love going all out with outfits, reservations, and candles and truly want to be the best date you've ever had.
While Scorpio may seem like they're well-versed in love, and they love seduction, they can be cautious when it comes to settling into an LTR. That's because water sign Scorpio hides a lot of emotion underneath their surface, and when they open up to a significant other, they want it to be for life. When a Scorpio does let their guard down, it's a big deal, and a sign they truly want the relationship to last.
Venus in Scorpio love is intense, loyal, passionate, deep, focused, private, dark and obsessive. They experience extreme, consuming feelings in love. People with Venus in Scorpio love so deeply and so intensely that they have a difficult time finding a partner who's love matches their level of depth. Only another Venus in Scorpio can match their level of intensity. These lovers long for "soulmate" bonding, the undying union of souls like that of Romeo and Juliet, or Heloise and Abelard.
According to astrolibrary, you may not know when a Venus in Scorpio likes you because they hide it until you surrender at their feet. Venus in Scorpio lovers don't win your love by courting you. They lure you in with their mysterious animal magnetism. The victim, I mean the object of their affection, will not know how or why, but cannot help falling under their spell. How do they do this? Venus in Scorpio lovers are intuitive and able to penetrate deep into your psyche, discovering all your secrets as they observe you. They can see into your soul.
When Venus in Scorpio loves you, they focus only on you, not having eyes for anyone else. They are intensely loyal and passionate. Scorpio's passion is not "showy" like the fire signs; Scorpio passion is a silent, deep well of never-ending commitment and loyalty. But even if they love you, they will not open up to you easily. They remain mysteriously reserved until they decide to trust you. If you earn their trust, they are capable of deep tenderness and open intimacy. If Venus in Scorpio loves you, they will risk anything, even their own life, for you. They are extremely protective of those they love. Scorpio is a water sign, so they express love on an emotional level. They have deep emotions.
Venus in Scorpio men are attracted to women who are mysterious, silent, confident, in control, and powerful. They are attracted to a partner who is capable of deep emotional intimacy. When it comes to physical looks, they are attracted to sexy women who exude sexual magnetism subliminally, but not attracted to flirty types.
The Venus in Scorpio lady is very sexy, not necessarily pretty. She is mysterious. She may prefer to dress in black. She only reveals what she has premeditated to reveal.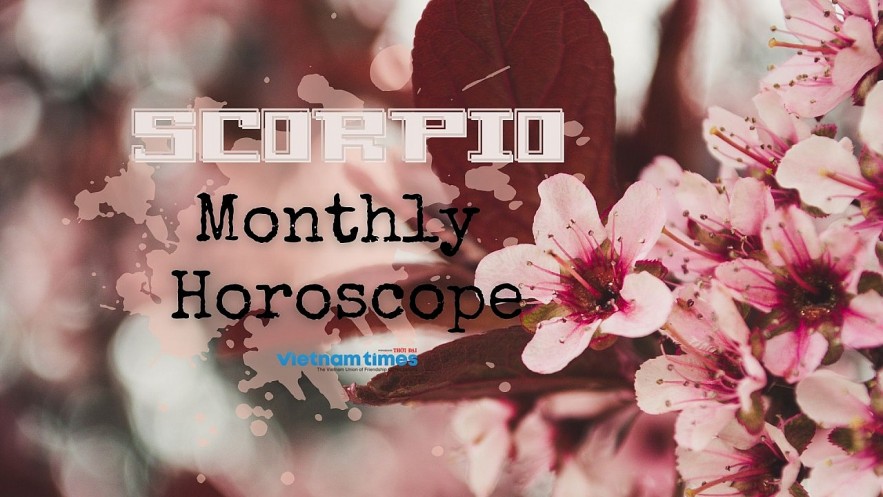 Scorpio Horoscope December 2021. Photo: vietnamtimes.
Scorpio Monthly Love and Relationship Horoscope
Scorpio Love Horoscope
According to sunsigns, Scorpio compatibility will be excellent this month. There will be romance and bliss in love relationships. The end of the month will bring more happiness and all the problems will be resolved. When it comes to your partner, you should be careful about your behavior. Although single Scorpios can seem confident and the opposite sex won't let them alone for a moment, the taken ones may show jealousy and demand exaggerated devotion from their partner in December.
Some important development is happening in the love life. Venus, your love planet, makes a station (she camps out) for an unusually long time on Pluto, the ruler of your Horoscope. This is happy. Something serious is afoot, but again we must ask, how stable will it be? This should not stop you. Enjoy love for what it is.
Marital life will be full of sensuality and the marital bond becomes stronger with the birth of a child. Whatever plans both of you make for the happiness of the family will come to fruition by middle of the month. Single persons get into love relationships this month if they are more emotional. There will be some surprises in the existing relationships. Being a victim will bring some words of encouragement from others.
Married Scorpio natives have to remain a little careful as the presence of Mars and Ketu in your ascendant can make you aggressive and domineering in your approach, which may not go down well with your partner, leading to ego clashes and temperamental differences.
The movement of the cruel planet, as reported by sunsigns, the Sun in your second house may make you a bit straightforward and rude in your speech leading to some arguments between you and your better half. So, maintain proper decorum while speaking with them, if you want peace to prevail in your domestic environment.
This can further be fuelled by Venus in the third house, which may make you a little flirtatious and may tempt you into having extramarital affairs. However, you are suggested to avoid them as this may provide some negative impact on your family life. The single natives will be in for a surprise as they may get a proposal from the person whom they may consider as a friend till now.
Those expressing their feelings to the person they like are likely to be reciprocated by the positive response during this month. Committed couples may have to be a little careful and aware as a third person may try to hamper your relationship by misleading you. So, have full faith in your partner and having open communication with your beloved is always necessary.
The field of love is favorable. You do not have to fight to make your ideas heard. Around you, everyone is understanding, you receive expressions of affection, you are very happy. The arrival of the Christmas holidays gives you a balm for your heart. Small pleasures begin to overcome your anxieties. It's the return of passion for couples. After some time that was a little complicated, you come back in full force. Your relationship is consolidated, you are moving in the right direction. With your partner you dream to share and realize new projects, towards the 17th your wishes are granted. Unexpected changes point the tip of their nose. By letting yourself be tamed, you gain the sympathy of some people. By exposing your feelings, there are many chances that you will be loved. It's a nice revenge for a shy person like you.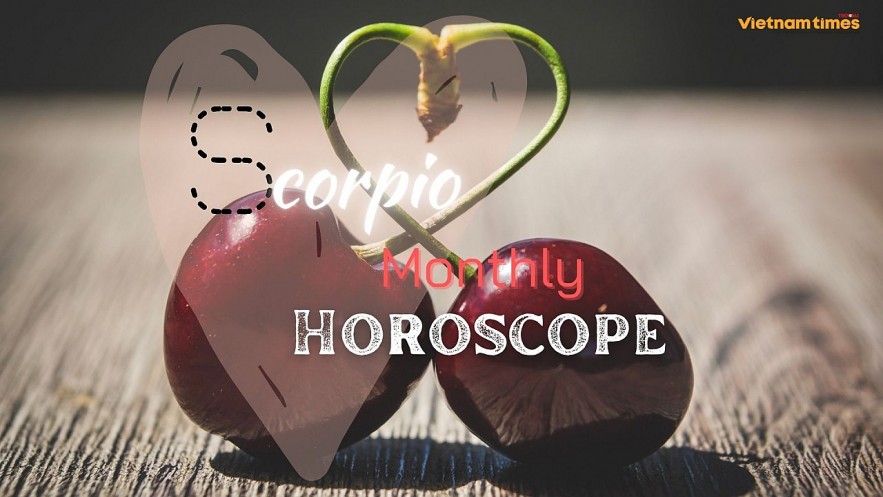 Scorpio Monthly Horoscope December 2021. Photo: vietnamtimes.
According to spirit navigator, for representatives with this sign the period will be hot and sometimes even wild, your expectations for love will be high, you want everything now and immediately. The period's significant planetary aspect may make you confused about your feelings. Don't be aggressive if you're challenged to a political dispute because others can provoke you on purpose easily right now. Just be a bit more patience and everything will work out fine. The stars suggest a trip somewhere exotic and expensive. Extend your thoughts a little and start to analyze the possibility of a new direction. If you have any plans that you have been thinking of putting into action, then get them moving right now without waiting a single second. Consider how to make the necessary changes to your life happen smoothly. Do not run away from reality and don't trust unverified information.
Scorpio Relationship Horoscope
Monthly horoscope 2021 are average for family matters. You fail to muster the support of the planets and there will be distress and disharmony in the family surroundings. Relationship between members will be a little sour. Family finances will be under pressure and good budgeting will be required to make both ends meet. The adverse family situations will negative impact the progress of children in their studies and other activities. Astral configuration is not helping either. Students of commerce will fare badly in their courses. Some of them will be prone to injuries. Parents should curb their unnecessary enthusiasm and guide them properly in their studies and other engagements.
The presence of the second house lord Jupiter in your fourth house throughout the month indicates that bliss and harmony will prevail in the home environment. Any differences between the family members are likely to get resolved during this month.
This position of the planets also indicates that you may spend your most part of the income on the well being of your family members, resulting in strengthening the bond. This planetary alignment also denotes that you may plan a small picnic or get together for your family members, which may provide you with a great opportunity to spend quality time with them. You will get more close to your mother and your relationships will take a new dimension.
The position of the Sun in your second house from 16th December indicates that you may receive good gains and support from your father or father like figures, which may provide you with the necessary impetus to grow in your life.
The position of the Mercury also in your second house along with the Sun indicates that you may also receive ample support from your elder siblings and friends during this period. Also, you will be seen making efforts to know your neighbours, which will help enhance your name and fame in the society.
At the beginning of December, as reported by skyhoroscope, Scorpios will not rest for even a moment as their indomitable energy will fuel them all the time. In this month, you should let go of everything that bothers you and just spend a nice time with your family. Christmas is the best time for strengthening relationships with your family, so do not let this opportunity pass. Calm your restless mind and focus on your inner peace. This will be good for you and also for people around you. At the end of December, you will be carried away by the atmosphere of Christmas, and you will enjoy a peaceful holiday with your loved ones.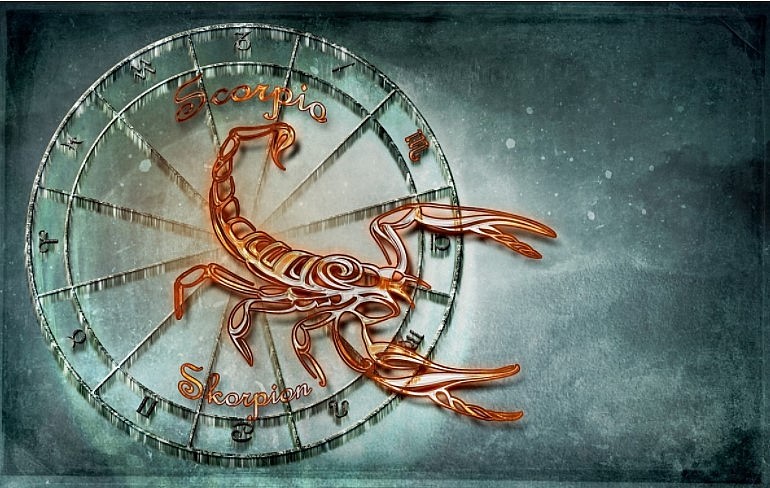 Scorpio zodiac sign. Photo: horoscope2021.
According to pandit, your family may have rough going during the coming twelve months because the stars are not too favourably placed. You all may not do too well financially and things may come to such a pass that some of you may get, into serious debt. Expenses should be carefully placed well in advance so that such a possibility may be averted.
The family atmosphere would also be vitiated by strife and discord. There is the likelihood of serious differences with your maternal relatives. In such an atmosphere, children would tend to behave in an ill-tempered manner and also not perform too well in their studies and other extra-curricular activities. Supervise their activities closely, giving more time and energy for this.
A month during which little of a favourable nature emerges out of the augury from the stars in so far as your children's affairs are concerned. There is a distinct possibility of some of you getting injured or afflicted by some other physical trouble. This would apply much more to the adventurously inclined. Therefore, parents should see to it that such among their wards do not take unnecessary risks.
The performance of most of the wards of you people would tend to be below average. Those studying any branch of accountancy may face particularly adverse circumstances. Parents should closely monitor their projects.
Best Days Overall: 1, 2, 10, 11, 19, 20, 21, 29, 30
Most Stressful Days Overall: 7, 8, 14, 15, 16, 22, 23
Best Days for Love: 5, 6, 14, 15, 16, 24, 25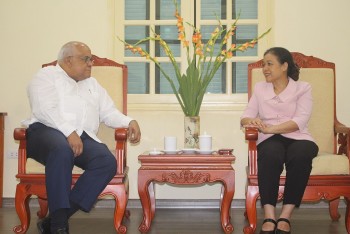 Friendship
Ambassador Nguyen Phuong Nga - President of the Vietnam Union of Friendship Organizations had a meeting and worked with Cuban Ambassador Extraordinary and Plenipotentiary to Vietnam Orlando Nicolas Hernandez Guillen. The two Ambassadors agreed to work closely in organizing solidarity and friendship activities.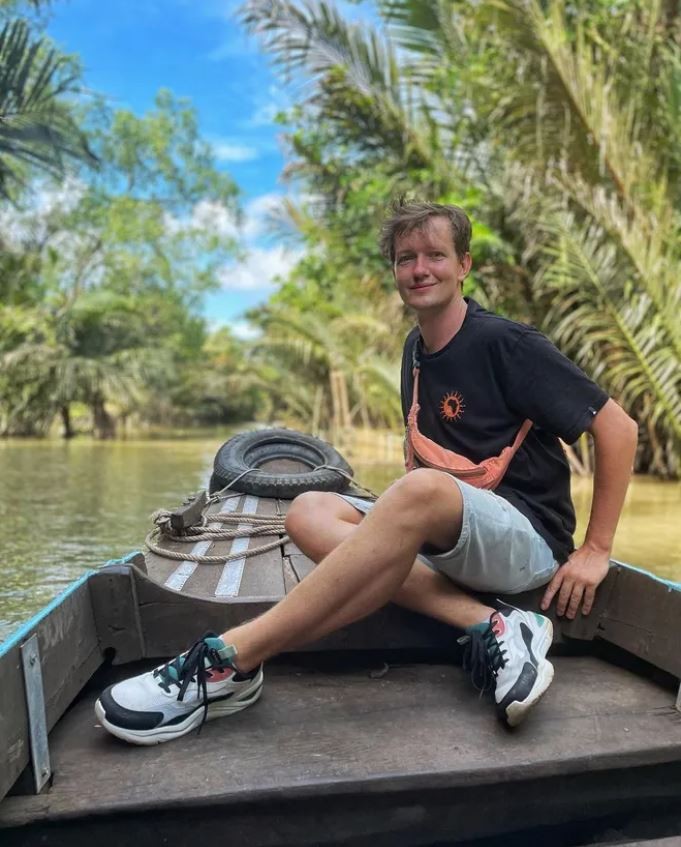 Multimedia
Besides famous products from coconuts, Ben Tre still has many interesting places with unique Mekong River Delta styles waiting for you to discover.
June 22, 2022 | 08:10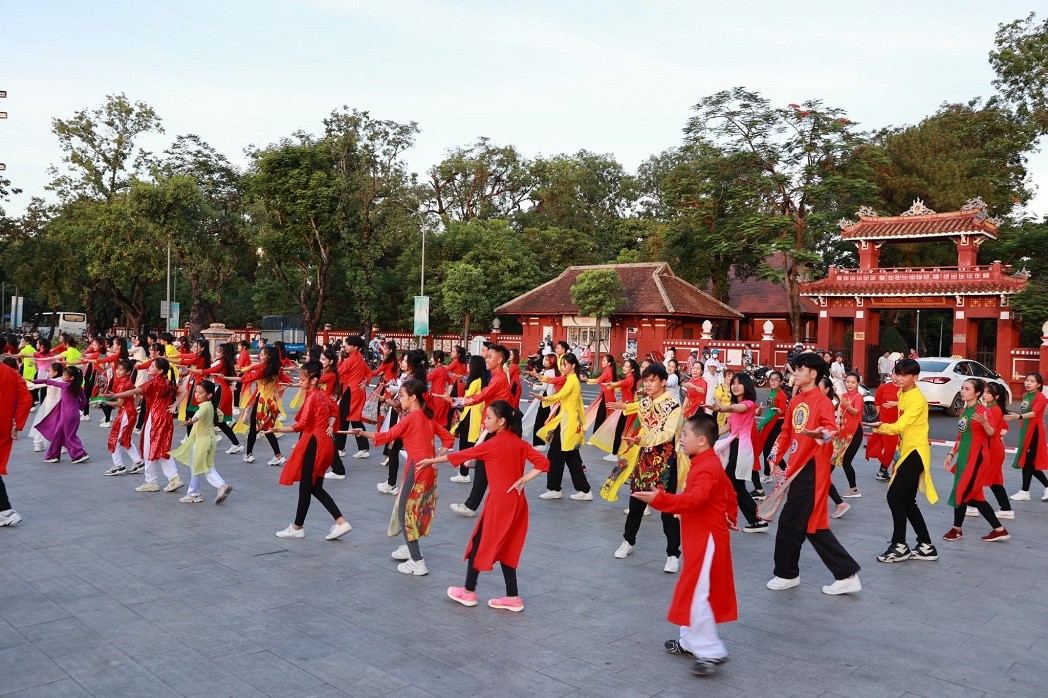 Handbook
Get all the basic info, check the lineup, discover festival highlights
June 22, 2022 | 06:19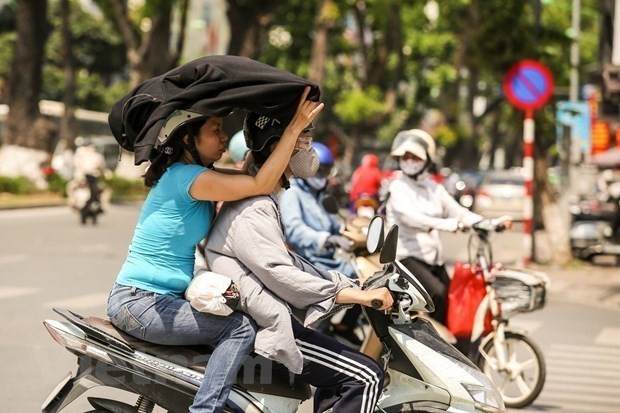 Handbook
Know the signs of dehydration and heatstroke to keep you and your family safe this summer.
June 21, 2022 | 19:02
Handbook
The Danish Film Week will delight audiences in Hanoi, Hue, Da Nang and Ho Chi Minh cities
June 18, 2022 | 07:00