Seven Beautiful Locations in Cam Pha for Tourists to Take Photos
Bai Tu Long Bay, Cua Ong Temple, The Vang Island, and the Vung Duc tourist compond are places that are not only endowed with charming scenery but also rich in cultural values that allow visitors to freely take pictures and live their 'virtual life' from every angle.
Cam Pha is a city located in Quang Ninh province, 20km from Ha Long, about 200km from the center of Hanoi, possessing hilly natural scenery, and poetic and majestic beauty of mountains and forests.
In recent years, Cam Pha has not only attracted groups of tourists and family tourists, but it is also a favorite place of many young tourists with a passion for taking photos, checking in, and recording many impressive images in their travels.
Here are 7 Cam Pha tourist destinations with wonderful natural scenery but also rich in cultural values that everyone should check in at least once:
Bai Tu Long Bay
Bai Tu Long Bay is a natural wonder of the world that those who love sea and island tourism should not ignore. It is located in the Gulf of Tonkin, in the Northeast region of Vietnam. Bai Tu Long Bay consists of a sea area of Ha Long city, Cam Pha city, and Van Don island district. There are many large and small islands, most of which are large and inhabited.
When tourists come to Bai Tu Long, they can rent a yacht to visit the Bay with charming nature and catch the sunset that is hard to find anywhere else.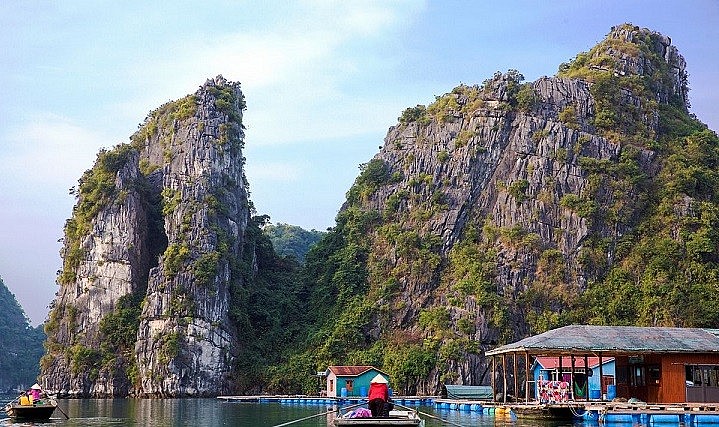 Photo: vivuhalong
Cua Ong Temple
Cua Ong Temple is one of the spiritual tourist attractions in Cam Pha with long roots with more than 700 years of history. This temple is located on a high hill northeast of Cam Pha, adjacent to Bai Tu Long Bay. When tourists come here, they will be able to admire the ancient and timeless beauty of the temple amidst the beautiful scenery of the sea nature.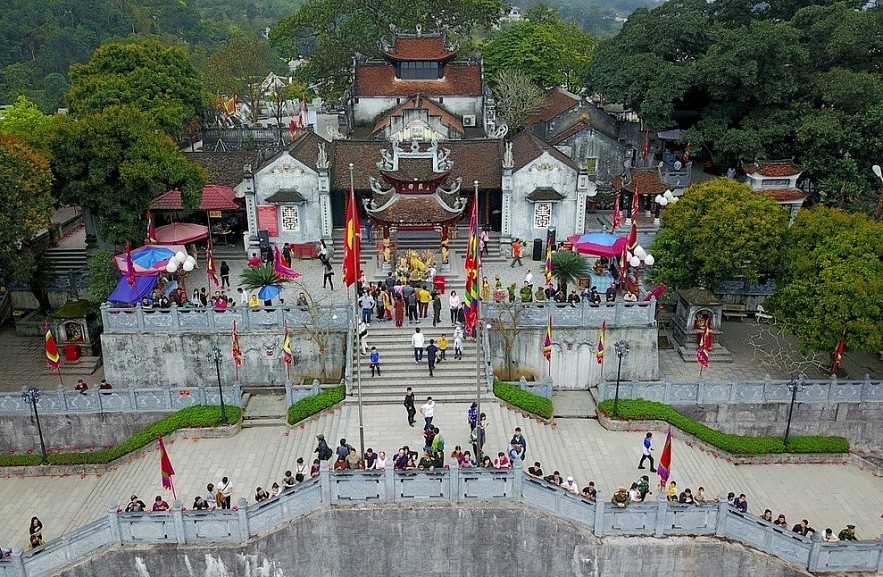 Photo: haisanquangphong
The Vang Island
This island is part of a group of relatively new destinations in Cam Pha that have become popular recently. On the island, there are wild features and lush green forests. Tourists will be immersed in the beautiful scenery in the ancient world, peaceful with birds and green forests.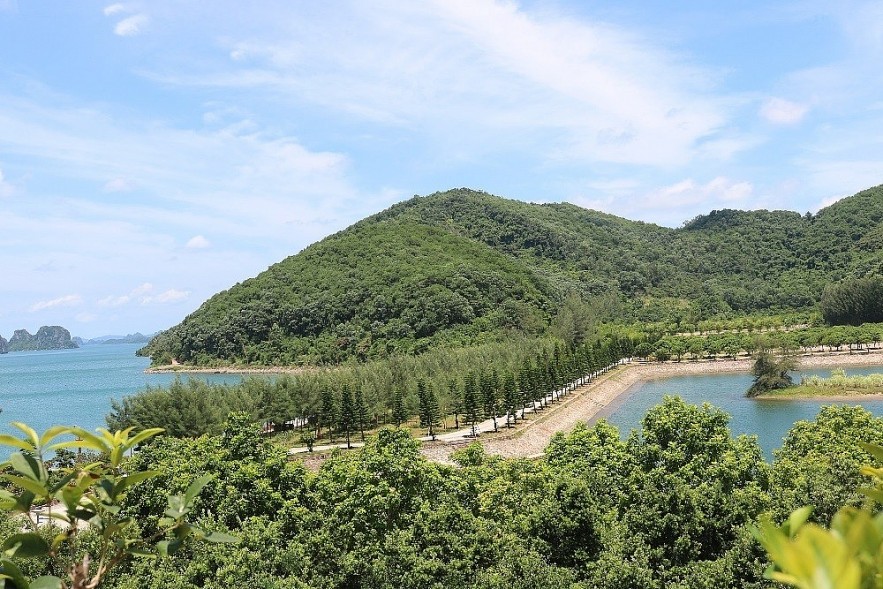 Photo: baoxaydung
Vung Duc tourist compond
Vung Duc's historical and scenic area is a new tourist destination that attracts many visitors. It is located right in the city center and very convenient for commuting. Vung Duc is located at the foot of Ban Co mountain, next to Bai Tu Long Bay, known as one of the attractive destinations for tourists when they come to Cam Pha City.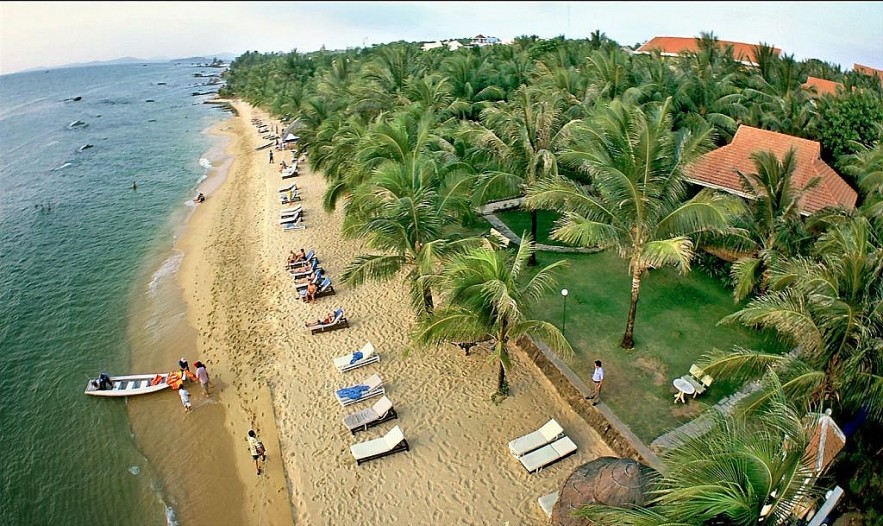 Photo: wikisao
Luong Ngoc Beach
Luong Ngoc beach is part of Tuan Mai Resort, located about 3km from National Highway 18A. It has become a familiar address for people in the mining area, without going far. This is a new beach and has been recognized by the Provincial People's Committee as a standard tourist beach. This place is known as a paradise beach on the beautiful Bai Tu Long Bay.
This beach is very peaceful, with white, smooth sand that stretches and embraces the beautiful Bai Tu Long Bay. The air is very fresh, with lots of mountains, trees, and beautiful natural scenery, making visitors have the most relaxing moments, after stressful working days and hours, being immersed and struggling under the water. Green, cool, and beautiful- what could be more wonderful?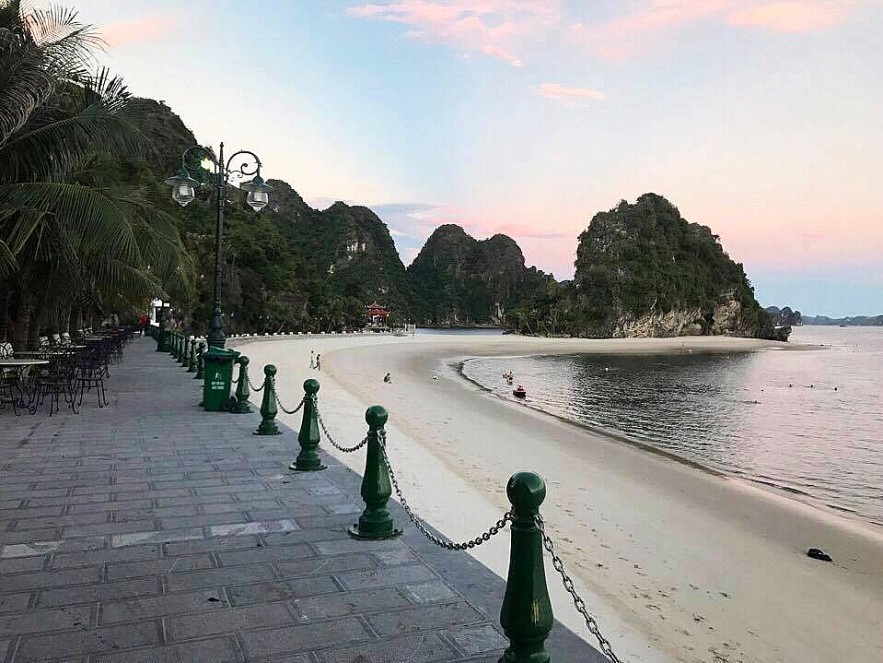 Photo: halongwave
Reu Island (Monkey Island)
Reu Island, also known as Monkey Island, is located in Bai Tu Long Bay and is far from Vung Duc Port, City. Cam Pha is about 3km. The island is considered the kingdom of monkeys with many rare varieties of golden monkeys. Island Reu decided to invest in a monkey farm by the Ministry of Health for scientific research and manufacturing of vaccines.
As a small island about 600m from Bai Chay, Reu Island is likened to a "miniature Dubai" with many impressive highlights. Nature, beautiful plants, and a variety of birds, animals, typical animals, and monkeys bring a unique experience space.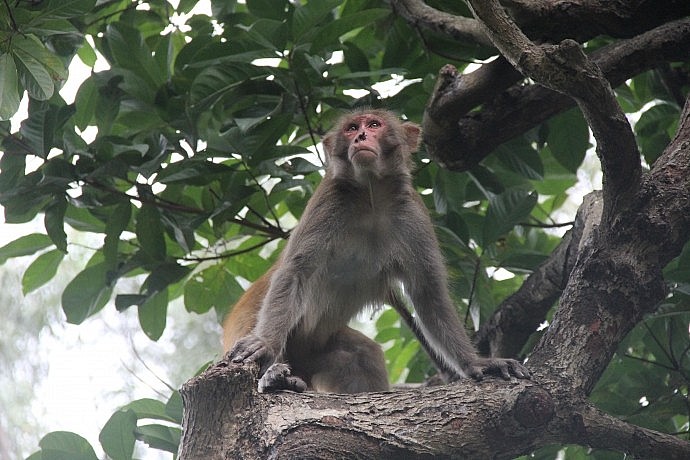 Photo: baogiaothong
Quang Hanh Hot Springs
No need to go to Japan to bathe in hot springs, right at a tourist destination near Ha Long, in Cam Pha city, is Yoko Onsen Quang Hanh, an emerging Japanese-style resort space. The village and many therapeutic services, mineral baths... More specifically, Yoko Onsen Quang Hanh also has the advantage of mountains, and extremely beautiful terrain, worthy of being the top resort paradise of Quang Ninh today.
Photo: mustgo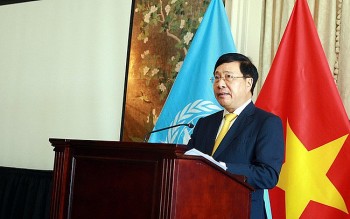 Friendship
Deputy Prime Minister Pham Binh Minh has asserted Vietnam's strong support for and commitment to the UN's role in leading and coordinating multilateral efforts to respond to global challenges.
Multimedia
The image of the small Mam Xoi hill in Mu Cang Chai, with the color of ripe rice, will enchant any traveler looking for dreamy views.
September 23, 2022 | 12:48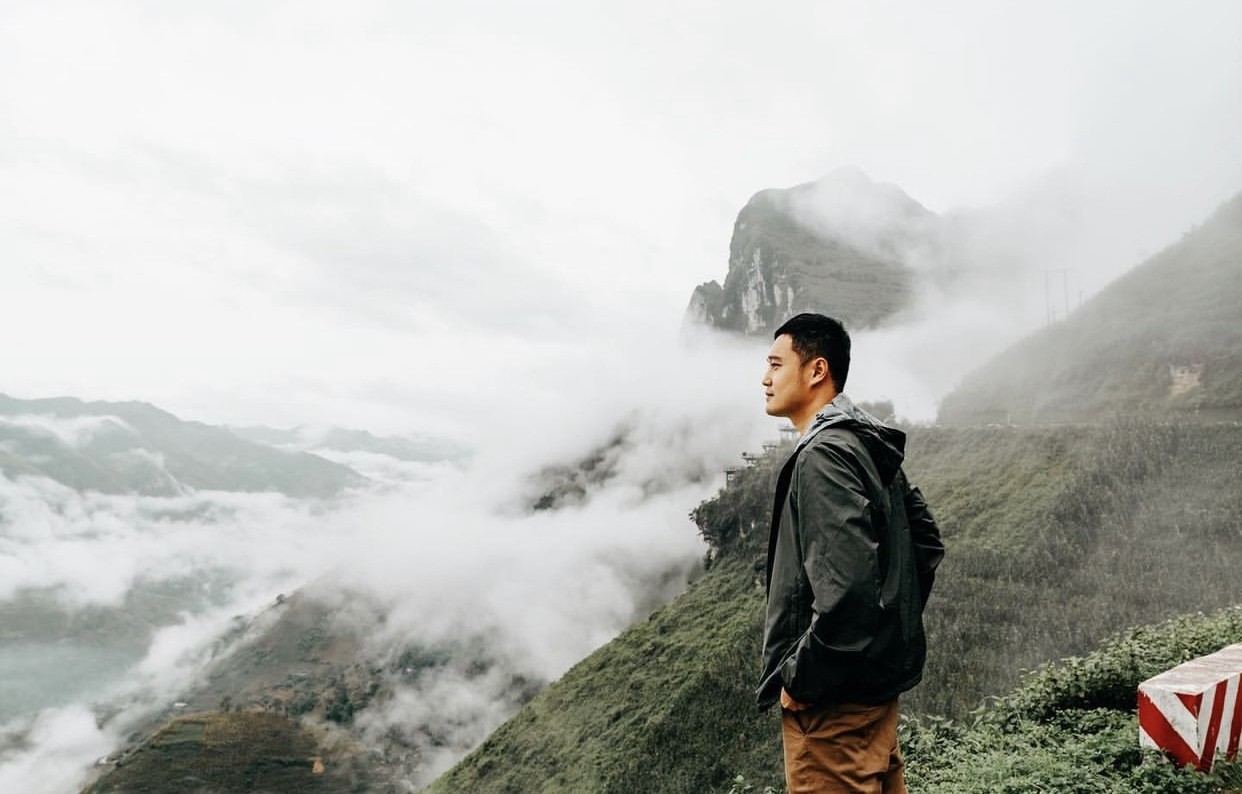 Travel
If you are looking for a thrilling yet romantic and adventurous experience, cloud-hunting in Ha Giang is definitely a must-try.
September 21, 2022 | 09:35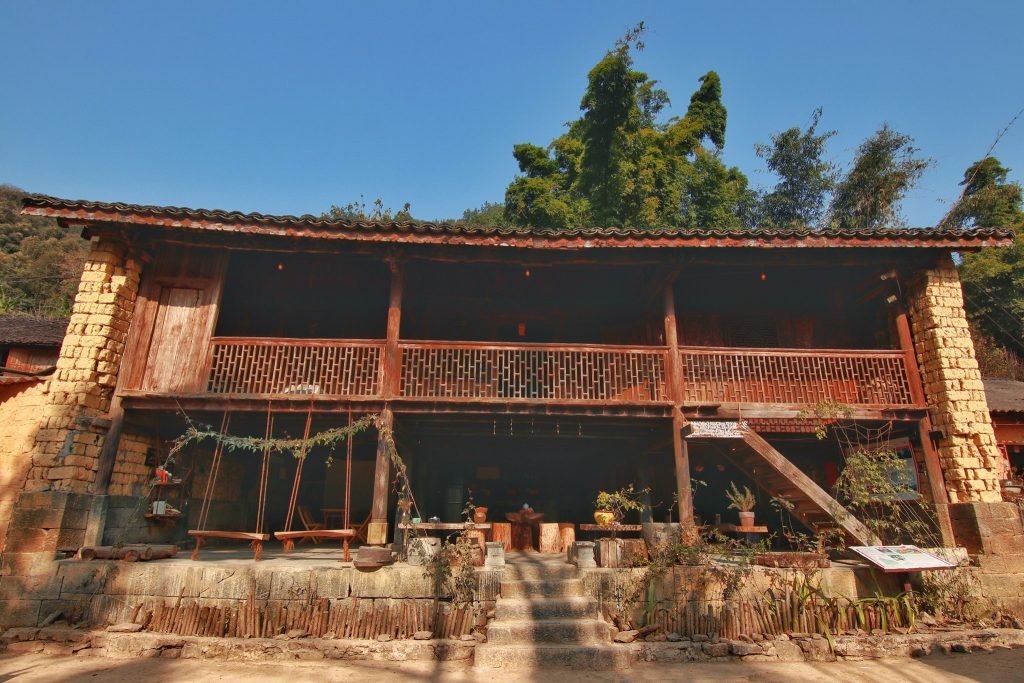 Travel
During this autumn time, Meo Vac is one of the most famous traveling destinations in Vietnam for tourists.
September 21, 2022 | 07:56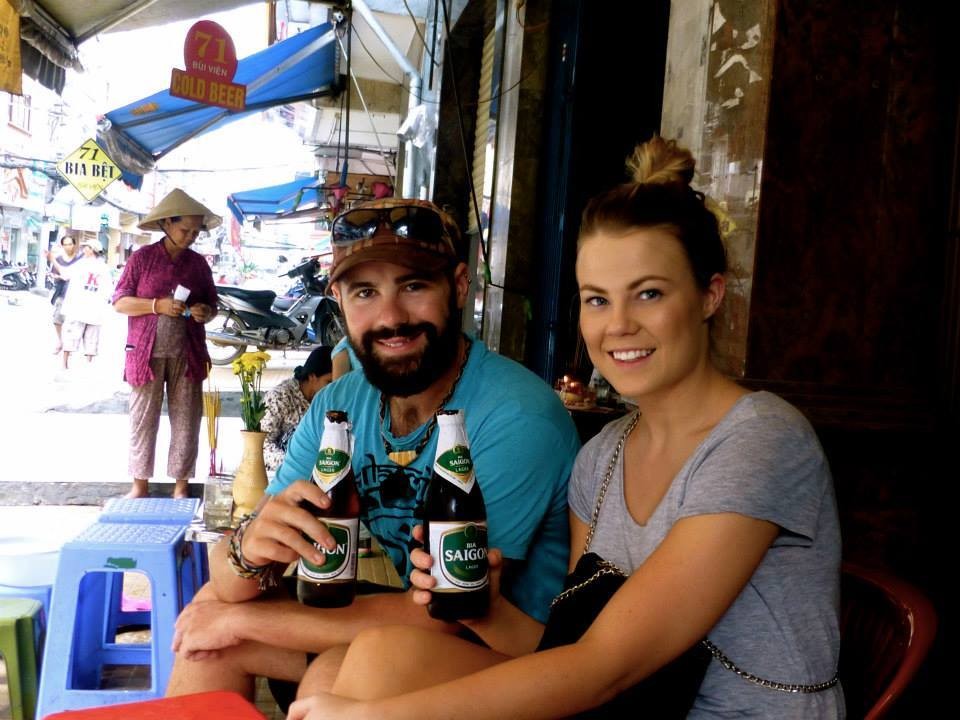 Travel
An Australian couple Alesha Bradford and Jarryd Salem (NOMADasaurus - Adventure Travel Couple) say that they have travelled all around the world for more than a decade and found Vietnam to be their all-time favourite country to visit in the Southeast Asian region.
September 20, 2022 | 13:00