Sixth vaccine endorsed as Vietnam seeking to expedite inoculation programme
The Vietnamese Ministry of Health on July 15 conditionally approved the Johnson & Johnson Covid-19 vaccine for emergency use, the sixth to be endorsed in Vietnam so far.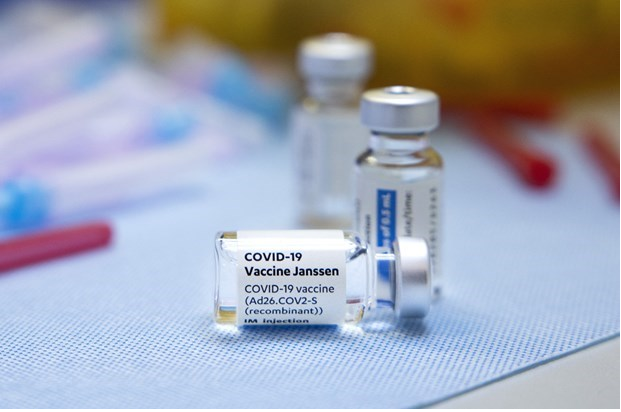 Janssen of Johnson & Johnson is the sixth vaccine endorsed in Vietnam so far, after Astra Zeneca, Sputnik V, Pfizer, Vero Cell and Moderna. Photo: AFP/VNA
The Vietnamese Ministry of Health on July 15 conditionally approved the Johnson & Johnson Covid-19 vaccine for emergency use, the sixth to be endorsed in Vietnam so far as the country seeks to expedite its inoculation programme amid its worst outbreak so far.
The Johnson & Johnson (J&J) company in Vietnam had proposed the vaccine for approval earlier this month, providing data on its safety, quality and effectiveness, VnExpress reported.
The ministry's approval of the vaccine is dependent on the developer guaranteeing its safety and quality, providing further data when requested, and cooperating in distribution, administration and risk management.
Previously, Vietnam had approved five other Covid-19 vaccines, namely AstraZeneca, Sputnik-V, Pfizer, Moderna and Sinopharm.
Unlike the aforementioned vaccines, the J&J vaccine requires only one shot instead of two. Clinical trials around the globe with 44,000 volunteers have revealed an efficacy of 66 percent.
The J&J vaccine has already been approved by the WHO on March 12 and is now available in 24 countries and territories.
Vietnam expects to procure Sputnik V vaccine this month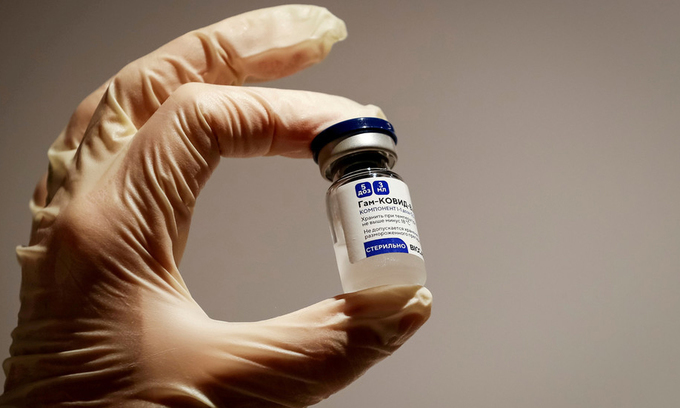 A medical specialist holds a vial of the Sputnik V vaccine against the coronavirus in a department store in Moscow, Russia, January 18, 2021. Photo: Reuters.
As part of efforts to accelerate the vaccination rollout, Minister of Health Nguyen Thanh Long has sent a letter to Russian Direct Investment Fund (RDIF) to introduce T&t Group as the negotiator for the purchase of 40 million doses of Sputnik V Covid-19 vaccine from Russia.
The Health Ministry asked RDIF to create optimal conditions for T&T Group, a Hanoi-based multi-field corporation, to buy the vaccine doses right in July, thus meeting Vietnam's urgent need in pandemic prevention and control, the Vietnam News Agency (VNA) said.
The funding used for the vaccine purchase will be mobilised by T&T Group and not come from the State budget or the national Covid-19 fund.
Sputnik V is the first approved Covid-19 vaccine in the world. So far, Sputnik V has been approved and used by more than 50 countries around the world.
In Vietnam, the Russian-made vaccine was granted conditional approval for emergency use on March 23, 2021, becoming the second to be authorised by the Health Ministry after AstraZeneca.
Sputnik V vaccine is prepared in the form of an injectable solution manufactured and packaged by the Russian company Generium. Each 3 ml vial contains five doses. Sputnik V is based on vector technology, using a harmless virus that introduces the Covid-19 protein into human cells, helping stimulate the immune system response, VnExpress said.
105 million doses of committed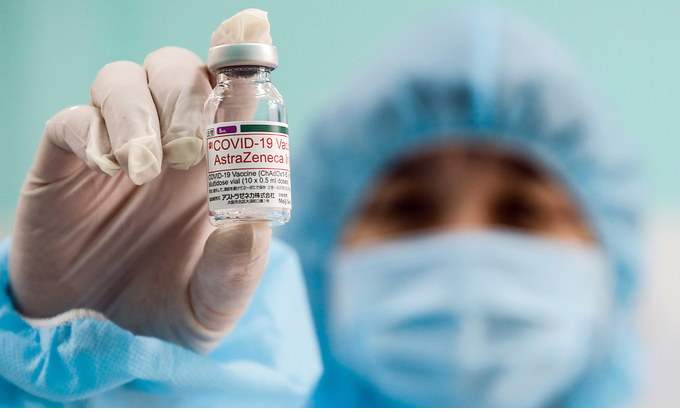 A medical worker holds up a vial containing the AstraZeneca Covid-19 vaccine in HCMC. Photo: VnExpress
According to the Health Ministry, about 105 million doses from various sources have been committed for use in Vietnam, where the vaccination campaign using the AstraZeneca vaccine began in March.
An additional 921,000 doses of AstraZeneca Covid-19 vaccine, part of the purchase of 30 million doses from the company in 2021, arrived at Tan Son Nhat International Airport in Ho Chi Minh City on July 15 morning.
This is the fourth – and also the biggest shipment – from the deal AstraZeneca signed with the Vietnam Vaccine Joint Stock Company (VNVC) in December last year, which has agreed to sell their entire supply of this year to the Vietnamese health ministry on a not-for-profit basis.
To date, 1.9 million doses in the contracted amount have arrived in Vietnam.
Nearly 6.4 million doses of AstraZeneca vaccines – from VNVC, COVAX or aid donated by other countries – make up 71 percent of the available stockpile in the country.
Vietnam expects to acquire 124 million Covid-19 vaccine doses from various sources by the end of this year, according to the General Department of Preventive Medicine under the Health Ministry.
The country has recently updated its vaccination target, now aiming to inoculate at least half its population over 18 years of age within this year, and 70 percent of its entire population by April 2022./.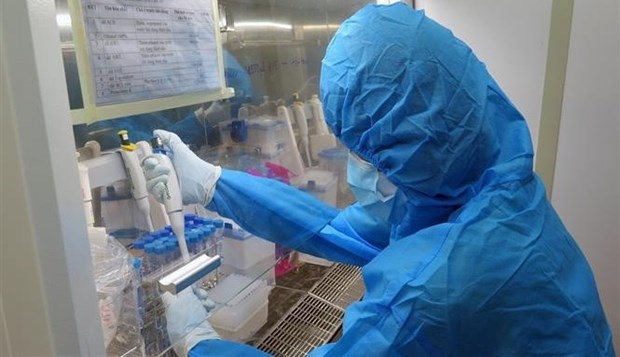 A medical worker performs COVID-19 testing inside a mobile container lab in Vietnam. Photo: VNA
Vietnam logged in 1,438 new cases of Covid-19, all local infections from 7:30pm on July 15 to 6am on July 16, pushing the national count to 42,288, according to the Ministry of Health.
They comprise 1,071 in Ho Chi Minh City; 72 in Dong Nai; 66 in Dong Thap, 57 in Khanh Hoa; 53 in Binh Duong, 36 in Vinh Long, 22 in Phu Yen, 15 in Ben Tre, 10 in Binh Phuoc, eight each in Kien Giang and Can Tho, seven in Hau Giang, six in Nghe An, three in Hanoi, one each in Dak Nong, Lang Son, Anh Giang and Lam Dong.
Of the new cases, 1,274 were detected inside quarantined and locked down areas.
The number of cases reported since the fourth coronavirus wave hit the country late April reached 38,726, 6,914 of whom have been given the all-clear. The total recoveries stood at 9,688.
On July 15, 21,815 more people received COVID-19 vaccine shots, bringing the total doses administered in the country to over 4.18 million. A total of 294,676 people have been fully vaccinated with two jabs.