Skilled Vietnamese-born Guitarist Attempts to Bring Homeland Folk Music to US Audiences
Debuting his solo classical guitar album "Stay, My Beloved" (Nguoi Oi Nguoi O Dung Ve) in the midst of a global pandemic, Grammy-nominated guitarist An Tran represents young Vietnamese-born musicians who connects Vietnam's culture and heritage to the world audiences.
Having lived in the US since the age of 15, Vietnamese-American guitarist An Tran (real name: Tran Tuan An) always finds ways to make connections with his Vietnamese roots. When speaking with Vietnamese Times about his debut album, the young artist recalled the journey of celebrating Vietnamese music, language, and culture in the midst of a global pandemic.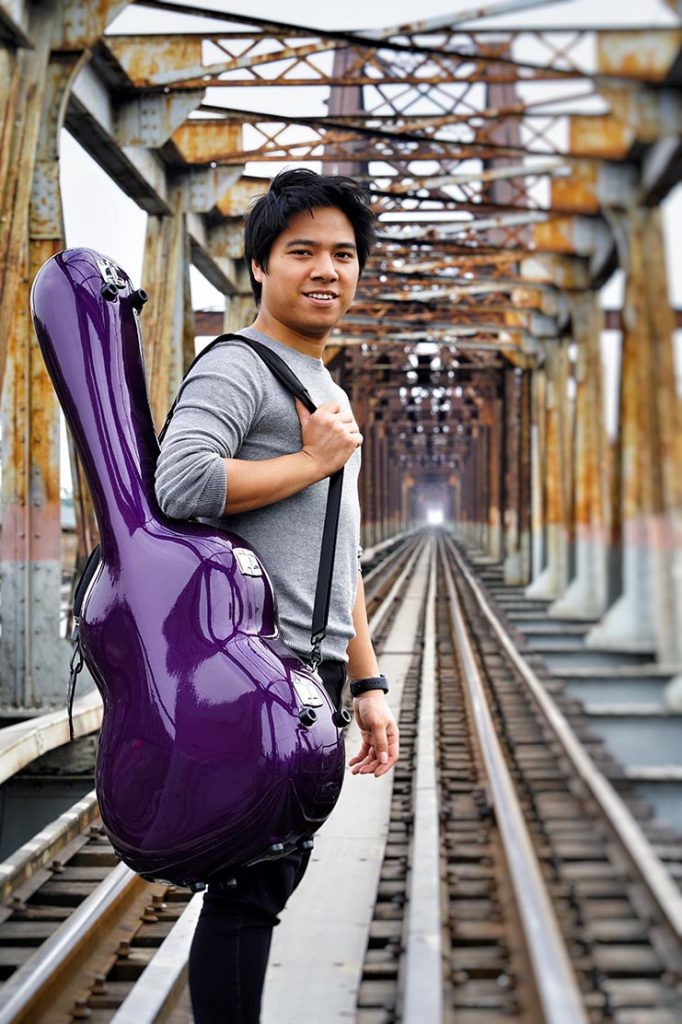 Vietnamese American guitarist An Tran (Photo: Culture Magazin).
Considered a "Vietnamese guitar virtuoso" by Austin Classical Guitar, guitarist An Tran has captivated audiences throughout North America and Asia. He has performed on many concert stages for international audiences, such as recitals for Bangkok Guitar Society, Austin Classical Guitar, and Toronto International Guitar Series.
An has won over 13 international guitar competitions and music awards and has been invited to various guitar festivals to teach, perform and judge. An Tran received degrees from Vietnam National Academy of Music, North Park University, Yale University and is currently pursuing a Doctor of Musical Arts degree at Northwestern University. This Chicago-based musician is now an exclusive artist of D'Addario & Co and managed by Classics Alive Artists in Los Angeles, USA. His exclusive contents are available at: antran.org.
His debut album "Stay, My Beloved" was named one of the "Recordings of the Year by the Chicago Tribune and was nominated for "Best Classical Instrumental Solo" by the Grammy Awards in 2020.
By the end of 2020, due to his busy teaching schedule after joining the Northern Illinois University - School of Music's faculty and the travel restrictions in the US, An put touring on pause. He recently started to tour in North American cities, performing and teaching in person, and is preparing to tour again in November 2022. Over the last few months, An had finished recording for his second album, which featured the works of French composer Napoleon Coste.
A musical painting of Vietnam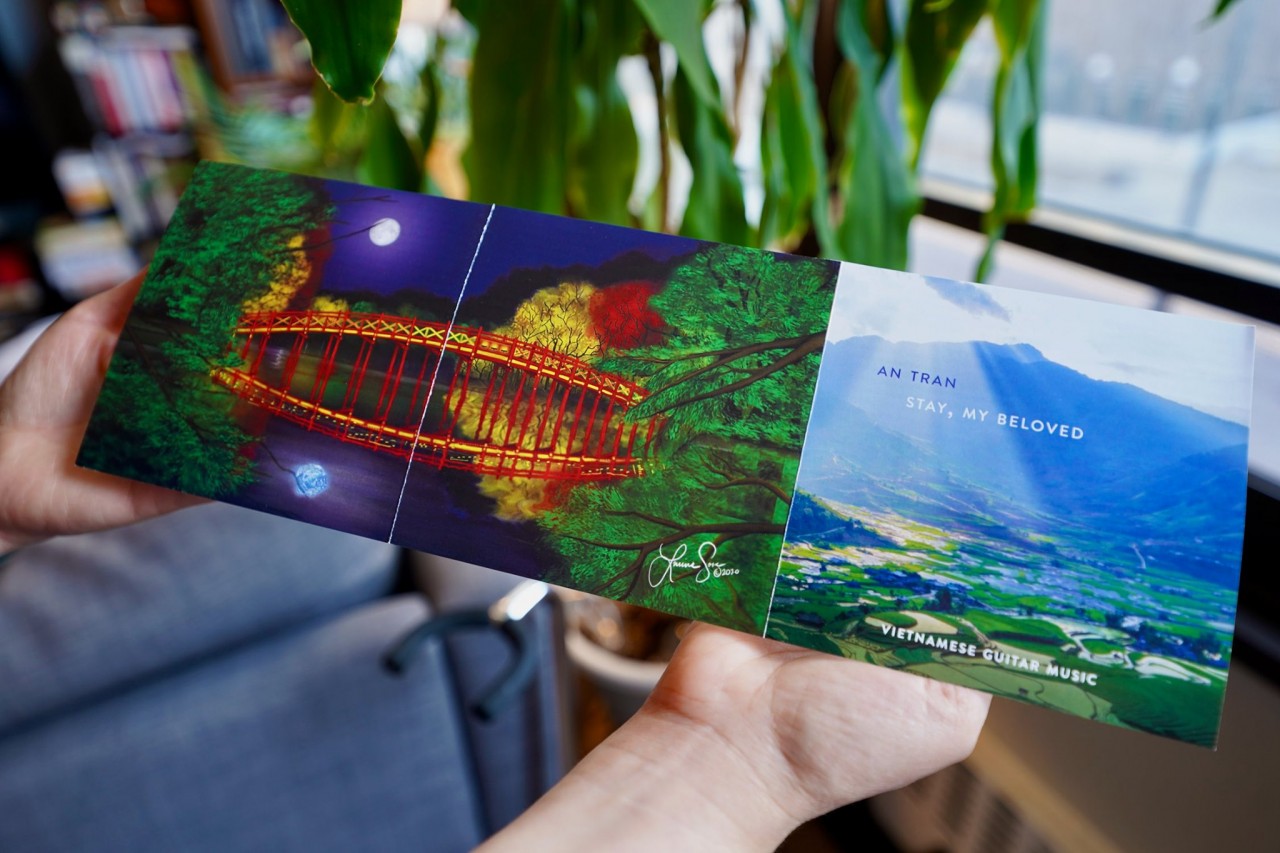 The physical album of "Stay, My Beloved (Photo: An Tran Facebook).
"Stay, my beloved" is a presentation of folk music through the classical guitar that comes across naturally and as effortlessly as his facility on the instrument, according to a review by Six String Journal.
The way An narrates Vietnamese folk music with guitar is the art of using stories from his own childhood to represent a generation who was raised by folk songs. While there are many ways to bring childhood memories into your adulthood like photographs and such, An believes that playing guitar communicates the emotions he wants to express the best.
"Guitar saved my life, it gave me a purpose in life," said An.
Songs like "Stay, my beloved" keeps the Vietnamese expat connected to the homeland's culture and heritage. His dream is to have more opportunities to tour. His cultural heritage has now become his musical identity and seeing people from many cities to see his shows, the young artist realized he has contributed to keeping his heritage alive at the US.
"My mother used to sing this lullaby to me. The melody is always with me everywhere I go. When it comes to classical music, Vietnamese music is nowhere to be found, to the people here (in the US), it is unheard of. So I want to spread the music."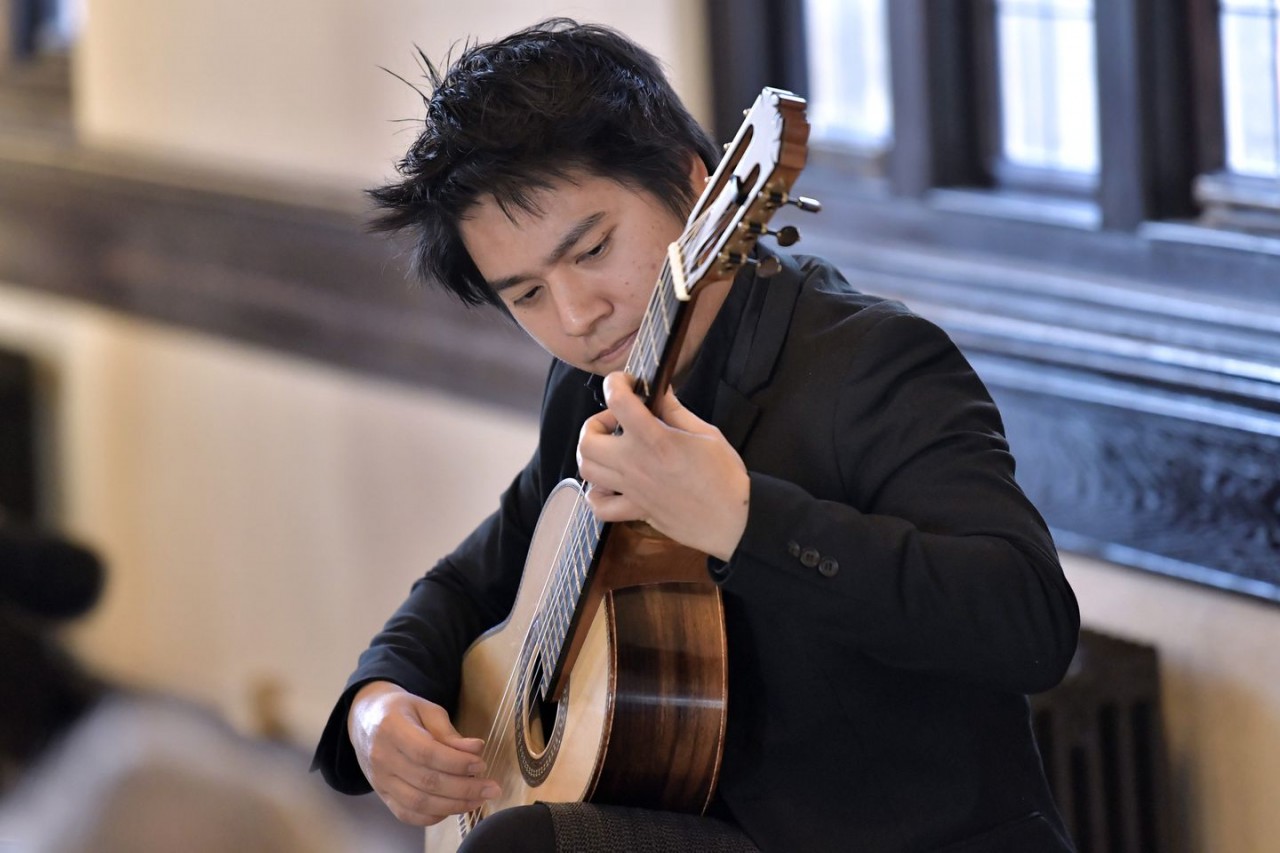 In early 2022, An Tran in concert in an Ashmont Hill Chamber Music performance at Peabody Hall at All Saints' Church in Dorchester (Photo: Boston Globe)
Just as Vietnam always has a special place in his heart, Vietnamese folk music remains an inspiration for the "Vietnamese guitar virtuoso." Performing traditional folk songs is something An has done countless times since a young age. The artist and his instrument become one as he performs to delighted crowds. This is what first attracts the attention of people who are unfamiliar with foreign songs playing on the guitar. His performance help them paint their own depiction of Vietnam using imagination. An's musical depiction, which draws from his lovely memories of his hometown and his family in Vietnam, has taken Vietnamese folk songs to an international scale while playing close to the hearts of classical music lovers.
A total of 40 minutes of 7 arrangements of Vietnamese traditional songs and original pieces written for guitar by composers Nguyen The An and Dang Ngoc Long are featured in the album. An put these pieces together into a single flowing landscape, from Drifting Duckweeds, Floating Clouds (Beo Dat May Troi)", Stay, My Beloved (Nguoi Oi, Nguoi O Dung Ve)") to the elaborations of more modern works ("The Legend of the Bamboo Child (Thanh Giong)", "Rain (Mua)", "Central Highlands of Vietnam (Nui Rung Tay Nguyen)").
His most famous video online reciting "Stay, My Beloved" received praise from both Vietnamese and foreign fans. Some of them discovered Vietnamese folk music for the first time thanks to An and his guitar performance. For his fellow Vietnameses, An is an artist who honored the beauty of traditions while showing in world-class quality techniques.
Video by Austin Classical Guitar's Youtube Channel
Many classical music critics and reviews had recommended this album, calling it "so masterfully and beautifully" (Six String Journal) and that An "executed every phrase with subtle, graceful virtuosity" (Boston Globe Review).
The healing power of folk music
Like other creatives, the social distancing period was a frustrating time for the musician. Terrible news and soul-crushing isolation affected many in the arts industry. While An does not remember this time fondly, the pandemic allowed him to find some success with online performances and networking with artists in similar situations.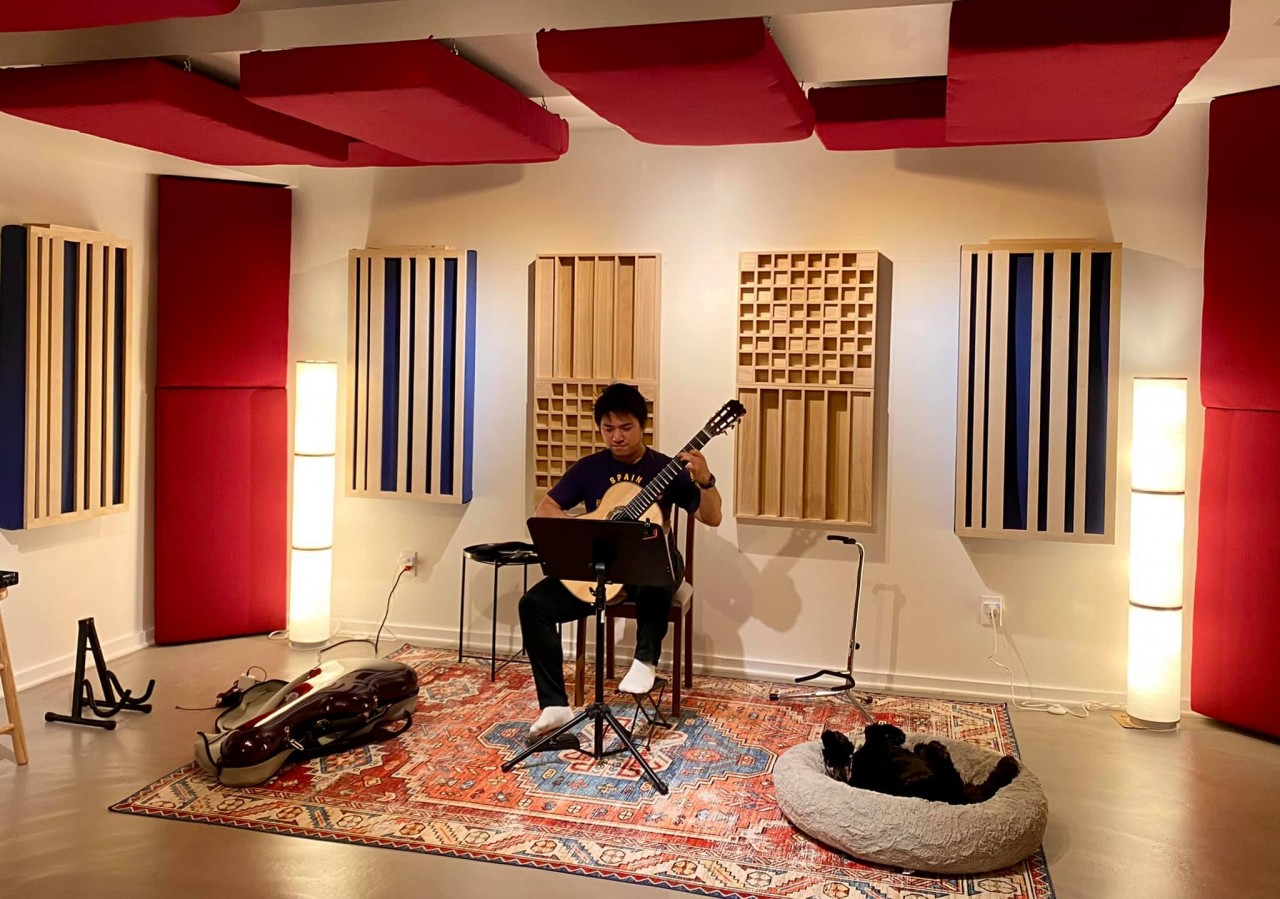 An practices in his home studio, which he built himself during Covid lockdown in 2020. (Photo: An Tran Facbeook)
"I went to top schools, play all these musicians from different countries. But the more you learn, the more I feel like I didn't have an identity. I have to do something that is close to my heart, something i really enjoy. [I have] the idea when I was working in the library when doing doctorate, listening to music, feeling homesick, I know I have to record a Vietnamese album as my first album," said An about the reason to make "Stay, my Beloved".
He recalled being very unmotivated during Covid, saying that: "When I recorded the album on December 2019, Covid didn't happen yet. The album was finished in February 2020. We released the album over Zoom in April. All a sudden, I got nothing. The album was freshly released and this happened. What do I do now? I felt empty, I am a musician and I cannot play live."
Being stuck at home like most people in 2020, he worked as a teacher over Zoom by the day and a home-builder by the night, putting his recording studio together. The artist was surprised by how productive he became due to Covid. Although he still plays music to release his sorrow at home, An longed for the day he could perform live in front of the audience again.
Luckily for him, he has been engaged with an international music community, which organized many online activities for people to stay connected through virual shows and video contents. So An went from playing for his own pleasure at home to sharing with the world the melodies that helped An during the downtime. There are not only songs from his album but other songs about hope and unity by Vietnamese composers.
An starred in the online series called the "Hope Concert" by the Austin Classic Guitar Youtube channel. He was invited to play and send a message for hope to lift up people's spirit.
Video by An Tran's Youtube Channel
"I record Hoi Tuong (remembrance) by composer Dang Ngoc Long. It is a beautiful piece about letting go of the bad things that happened in the past, remembering the good things and look forward."
When speaking about his passion for preserving Vietnam's cultural heritage when living in the US, An mentioned that his family puts a lot of effort into balancing the Vietnamese and American lifestyles. He also contributed to the Vietnamese community by teaching master classes anytime he returned to Vietnam and participated as a judge in Vietnamese classical guitar competitions.
Many challenges remained for the young musician when promoting Vietnamese traditional music in the US. Although more immigrant artists are getting exposed to the mainstream media, there is still an old-school way of thinking that does not recognize Vietnamese traditional music played by the classical guitar as classical music. Therefore, An aims to redefine the term with every strum of his guitar.
"There are challenges and also advantages for Asian artists in the US," said An. "The advantage is that right now the scene is changing, people want diversity in concerts, on the radio, they want to hear music from people everywhere in the world. But it is still a disadvantage of how do I promote [my music]? I send my works to many record companies, and Frameworks Records (a part of Sony) signed me and promoted the album, but only a few radio stations accepted. There are a lot of places that were not interested, they said it was not classical enough. So we, me and all the artists who are doing something new, are challenging this question: what is classical music?"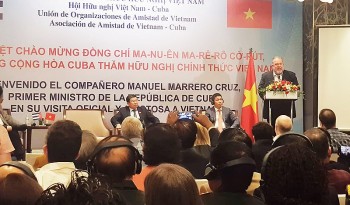 Friendship
Cuban Prime Minister Manuel Marrero Cruz met representatives from the Vietnam-Cuba Friendship Association in Hanoi on September 30, as part of his visit to Vietnam from September 28 to October 2.