Vietnamese expat communities come together to fight COVID-19 in Russia
As the COVID-19 pandemic wreaks havoc in the world, Vietnamese communities abroad have actively joined hands in the fight in Russia by contributing financial assistance, and medical supplies and equipment.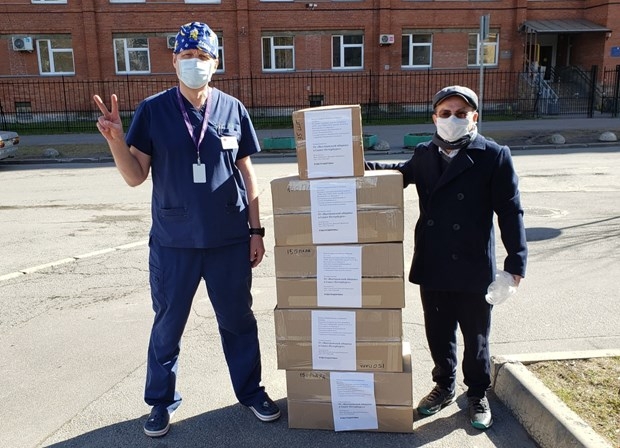 The Vietnamese community in St. Petersburg has present medical socks to health workers at Pokrovsk Hospital, who have direct contact with COVID-19 patients. Photo: VNA
With modest work such as sewing and distributing face masks for local residents, Vietnamese people are spreading the love while showing international friendship and compassion to local people throughout April.
The number of COVID-19 infected people in Russia has reached over 93,500 and there's already a critical shortage of masks. The initiative taken by the Vietnamese community in Russia has been a ray of sunshine in an otherwise gloomy time.
VNA on April 25 reported that 250 Vietnamese citizens living in Irkutsk city of Russia has donated 4,000 cloth face masks for a local voluntary campaign in support of the fight against COVID-19.
The campaign aims to support senior citizens, pe8ople with disabilities and medical workers in the wake of the global pandemic. It draws the participation of 2,000 volunteers in Irkutsk.
Receiving the aid, Acting Minister of Youth Policy in Irkutsk Oblast Egor Lukovnikov underlined that personal protective equipment is vital for volunteers as they are also on the frontlines of the combat and have to work every day.
Many Vietnamese living in Moscow are not fluent in Russian, lack of information, have no knowledge of health and no medical insurance, so they are very confused and often feel abandoned when falling ill, VNA cited Nguyen Hung Phong, a founding member of a group of over 60 volunteers in Russia, which has timely provided much-needed support for overseas Vietnamese affected by the COVID-19 pandemic in the country.
One of the main activities of the group is to assist those who are infected with the coronavirus or get sick. The volunteers worked as interpreters for them during medical examination or hospitalisation, and gave them advices.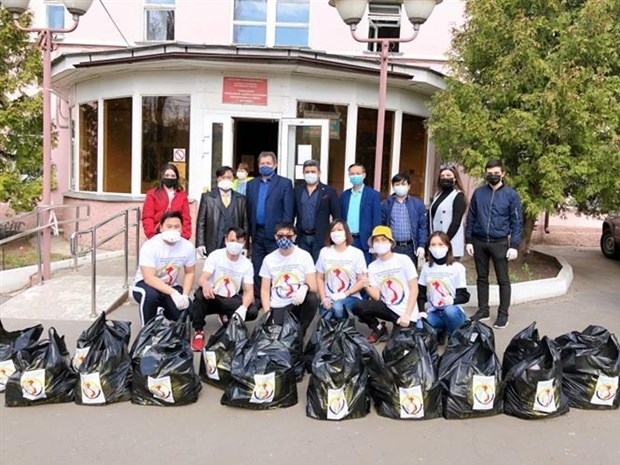 The Vietnamese association in Voronezh hands over medical face masks and gloves to a social protection agency of the city (Photo: VNA)
For the latest updates on constributions of overseas Vietnamese to COVID-19 fight, VNA reported some charitable activities to support local residents as the COVID-19 pandemic is spreading in Russia, organized by the Vietnamese community in Voronezh city.
Pham Ngoc Trung, Chairman of the Vietnamese association in Voronezh, on April 28 led a delegation to present medical face masks and gloves to a social protection agency of the city, and gift packages to 70 local households with difficult circumstances.
Amid impacts caused by the pandemic, the association has had activities to joint hands with the municipal authority to share difficulties with locals, especially poor households, Trung said.
Members of the association always contribute to the city's social and cultural activities every year, and have been appreciated by the municipal authority, he added.
According to Trung, about 1,000 Vietnamese people are living, working and studying in Voronezh. They have strictly implemented disease prevention measures as recommended by local health authorities. No Vietnamese people in Voronezh have to date infected with the novel coronavirus SARS-CoV-2.
The Vietnam-Russia Friendship Parliamentarians Group (VRFPG) and a group of Vietnamese alumni who had studied in Russia and are now working at the Ministry of Environment and Natural Resources on April 29 handed over medical supplies and cash worth over VND 1 billion (USD 42,600) to Russian Ambassador to Vietnam Konstantin Vnukov.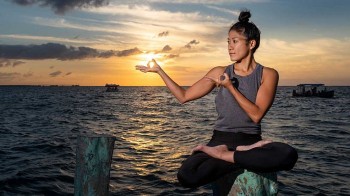 Overseas Vietnamese
With a view to inspire greater compassion, kindness, and empathy in the world, Caroline Vo left her high-paid job and came up with the idea to build an online yoga practice community.