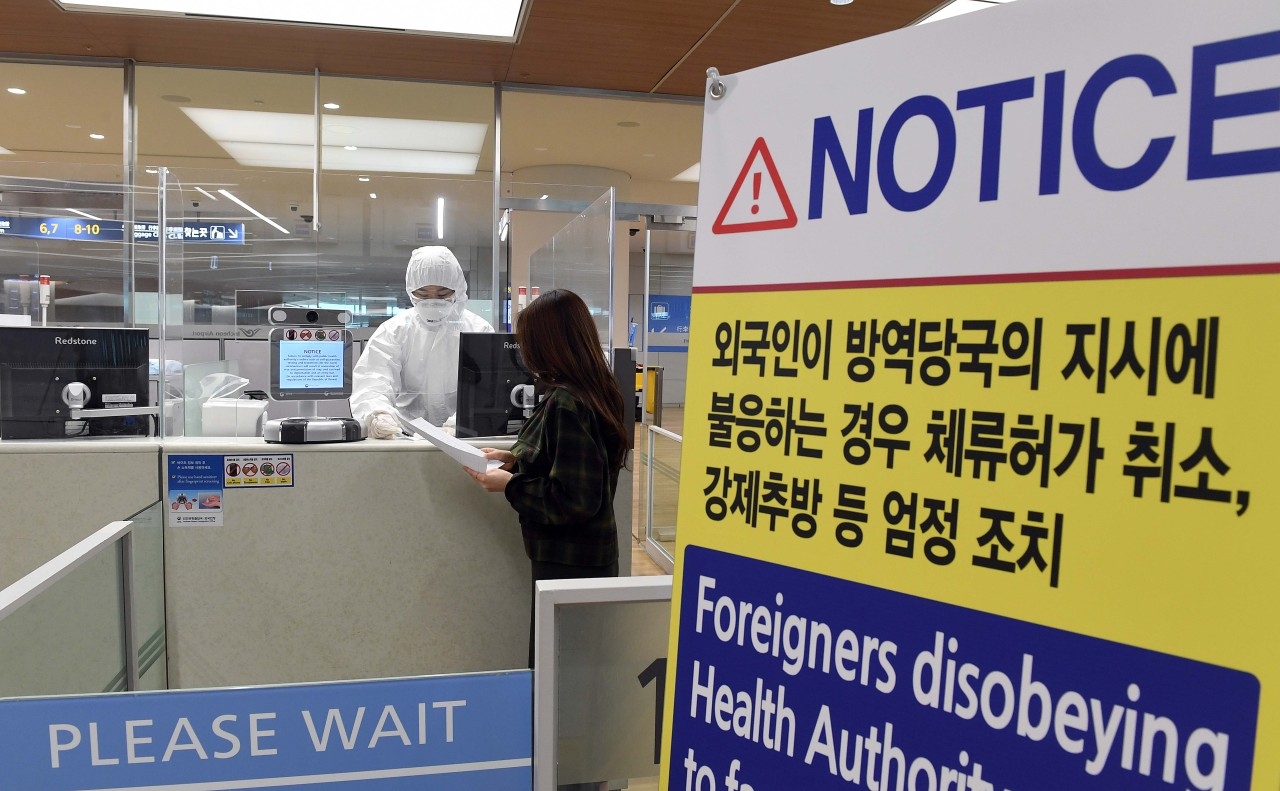 South Korea orders deportation of 6 Vietnamese nationals for breaching self-isolation rules. Photo: Yonhap
The South Korean Justice Ministry said it ordered three Vietnamese students in the southwestern city of Gunsan to leave the country on Friday. They were found to have left their home without their mobile phones.
The government's self-isolation app uses GPS tracking in mobile phones to monitor people in self-isolation.
The ministry said it issued them an order to leave the country, rather than forcing them to leave, considering unstable flight schedules.
This means the students will have to leave the country immediately once flight schedule issues are resolved. Until then, they will remain under the custody of the immigration office.
According to local press, all overseas arrivals to South Korea, including Korean nationals and foreigners alike – are required to undergo a mandatory two-week quarantine starting April 1 as concerns rose over imported novel coronavirus infections. Violators face fines of up to 10 million won ($8,186) or up to one year in jail.
Last week, the government also deported three Vietnamese nationals for breaking quarantine guidelines.
They include a married couple who were found in the southeastern city of Gimhae after leaving their registered address in Seoul, and a crew member who went out fishing, The Yonhap reported.
It was not clear if these Vietnamese citizens have left South Korea or not.
The government has ordered the deportation of eight people since it imposed a mandatory self-isolation on all international arrivals. Separately, 29 were denied entry for refusing to go into self-isolation upon their arrival here.
Another student, a Malaysian national, was also told to leave the country on the same day. Despite being under self-isolation, the student went outside three times without carrying a mobile phone.
*Vietnam's Foreign Affairs Ministry estimates around 200,000 Vietnamese nationals live in South Korea. Of these, thousands, mostly students, have flown back to Vietnam since February after South Korea became one of the countries hit hardest by the Covid-19 pandemic.

*The government of South Korea has extended its social distancing campaign until May 5 in a bid to contain the spread of COVID-19, Prime Minister Chung Sye-kyun said Sunday. Since March 22, the government has intensified its social distancing drive, asking churches and other facilities to suspend operations, while advising citizens to refrain from going outside and gathering in large groups, cites by Korea Times.

On April 4, the government announced its two-week extension of the campaign, which was scheduled to end Sunday.

The Korea Centers for Disease Control and Prevention (KCDC) said it had recorded eight more infections and two more deaths, Saturday, bringing the nation's total infections to 10,661 and the death toll to 234.

The daily number of new cases fell to a single digit for the first time in about 60 days.

Health authorities said, however, that it is too early to relax, being mindful of possible infection clusters following the nationwide general election, which took place April 15.