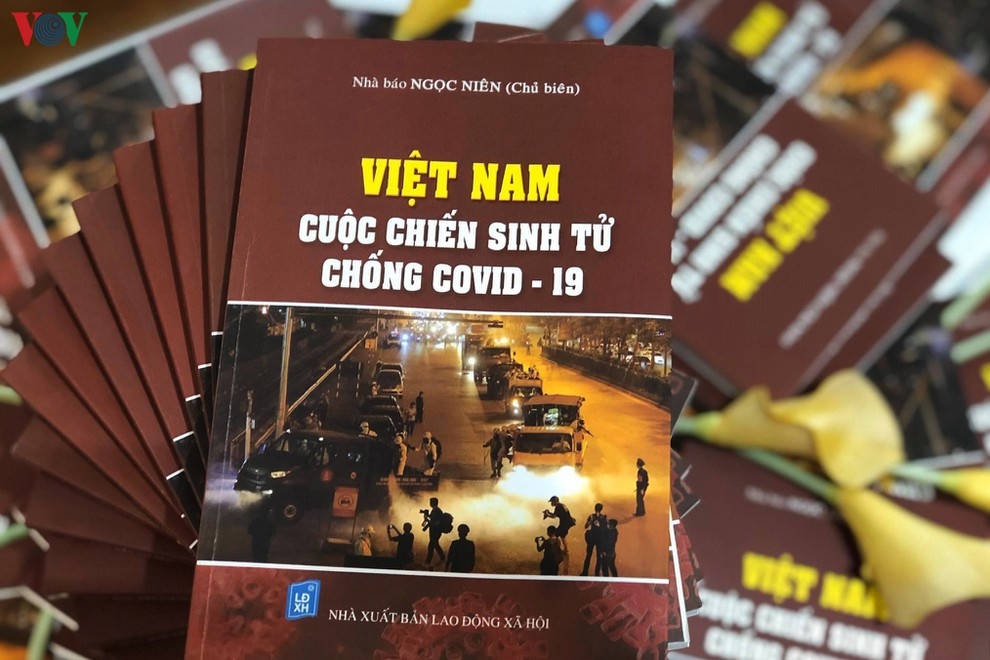 Vietnam, the life-and-death war against COVID-19 (Photo: VOV)
The book, first initiated by journalist Ngoc Nien, was published by Lao Dong Publishing House April 29, in time for the occasion of the Liberation Day's 45th anniversary.
It was completed within 20 days under the partnership of Nguyen Duc Cay, former editor-in-chief of Nha Bao Va Cong Luan newspaper and Lao Dong Publishing House.
Journalist Ngoc Nien was the first to initiate the book. His idea was to create a work that promptly gives readers closer insights into the COVID-19 battle, and encourages all working forces that have been relentlessly fighting against the novel virus.
"Vietnam, the life-and-death war against COVID-19" consists of 6 chapters, namely "Order of the Fatherland", "Dark days", "Warriors enter the battle", "The mortal war of 15 days and nights", "All citizens enter the battle", "The world plauds Vietnam".
The book opens with documents of the Party, Government, National Assembly, Vietnam Fatherland Front with timely, sensitive decisions guiding the COVID prevention and control war.
Main content centers around the fight against COVID-19 of the political system and citizens, the straining days stamping out the outbreak at hotspots, the first responders forces who sacrifice themselves for the nation's safety, people who do good deeds.
Some articles highlighting medical personnel, military, and police forces published on social media during the social distancing period are also included in the book.
"The book is our gratitude to the frontline forces in the battle against COVID-19, hoping to somehow contribute our efforts in this historic war.
Jasmine Le