South China Morning Post: Phu Quoc – Vietnam's big tourism hope
South China Morning Post on April 25 ran an article, saying Phu Quoc - Vietnam's largest island has a big part to play in the country's tourism ambitions.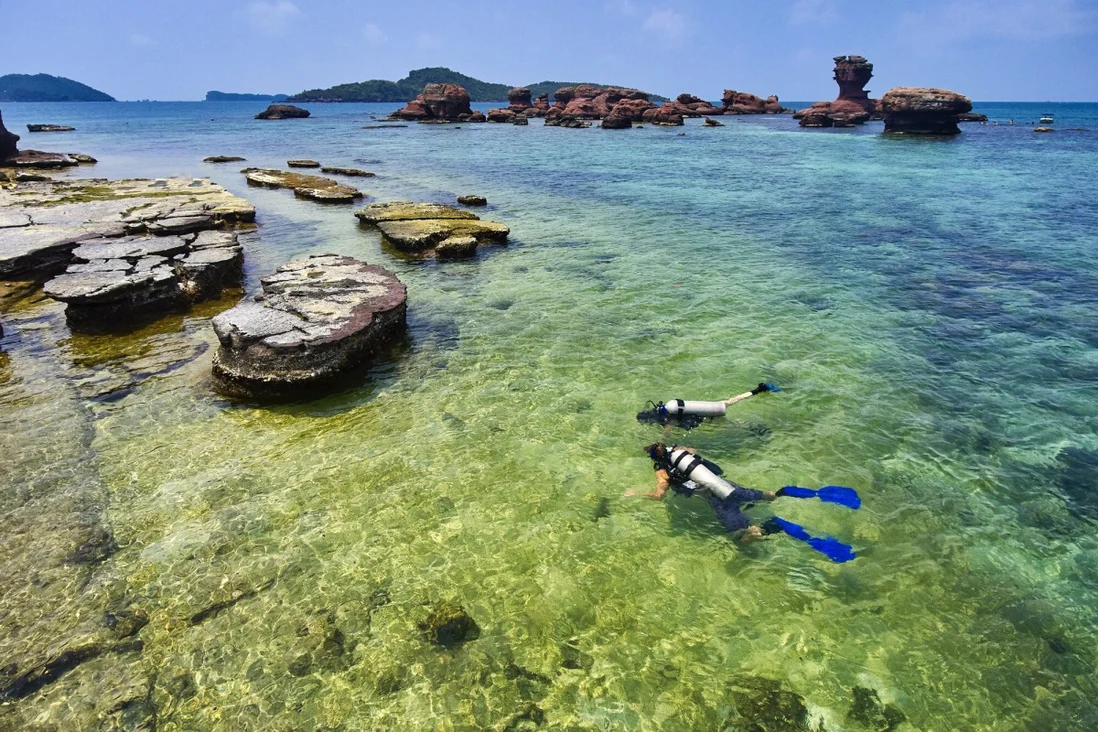 Snorkelling in Phu Quoc island, Vietnam. Photo: South China Morning Post
The government is hoping Phu Quoc can help turn Vietnam into a major player in regional and global tourism, as the country looks to open up after the COVID-19 pandemic, according to the article.
Last May, officials discussed opening selected islands, including Phu Quoc, to global visitors, while last month, participants at a tourism conference on the island floated the idea of using Phu Quoc to launch a pilot project for holders of "vaccine passports".
Vice-Chairman of Phu Quoc island city Phan Van Nghiep at the conference said the island was ready to welcome international tourists.
Among hundreds of developments planned for Phu Quoc is one linked to Vietnam's richest man, Pham Nhat Vuong, whose Vingroup has built "the first sleepless super complex in Vietnam" at a cost of US$2.8 billion, the article said.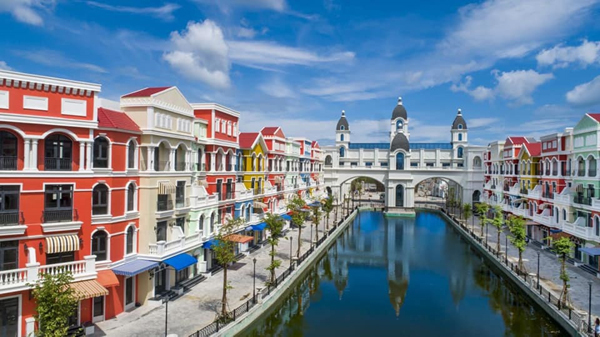 The Venetian canal at the Phu Quoc United Centre, a development by Vietnam's largest conglomerate Vingroup. Photo: Vietnamnet
The southwestern island, which has an area of about 567 sq km – about three-quarters of the size of Singapore– is home to picturesque beaches, coral reefs and waterfalls. Literally its name means "fertile country" and there is greenery almost anywhere you go, with the Phu Quoc National Park covering more than half of the island's northern region.
Last year, the island welcomed more than 3.5 million visitors and earned some VND 5.6 trillion (US$243 million) in revenue, according to official figures. In 2019, it recorded more than 5.1 million visitors, a 27 percent increase from the previous year.
The visitor count is more than a dozen times that of Phu Quoc's population of 146,000. This year, the island is aiming to attract 2 million people with discount packages.
The article, however, pointed out problems facing Phu Quoc like waste, flooding during the rainy season which overloads the drainage system, and water shortages in the dry season.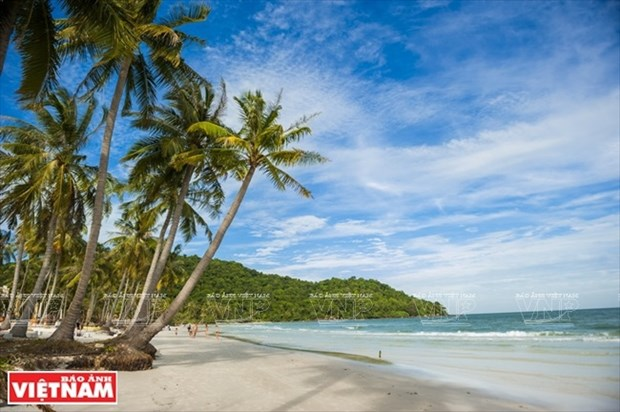 Sao Beach in Phu Quoc. Photo: VNA
Given this, the article said, Vietnamese government and the World Bank are working together to finalise a master plan called the Phu Quoc Sustainable Water Management Project which, if approved, is projected to cost around US$174 million, pulling funds from the bank and nonbank sources.
The proposed project, considered part of the government's post-COVID-19 economic recovery and fiscal stimulus package, aims to increase Phu Quoc island's water security with an integrated water resource management plan and support resilient infrastructure for water supply, drainage, flood retention, waste water and solid waste management in targeted areas.
"The planned project investments are highly relevant to the sustainable development of Phu Quoc and the island's capacity to absorb and support tourism as a quality destination," said David Lord, the project leader and the World Bank's Senior Water Supply and Sanitation Specialist.
The article also highlighted efforts by Ba Hung, a bee farmer who works and lives on a farm near Phu Quoc National Park, is trying to raise awareness among tourists and local communities about the importance of protecting nature, with a particular focus on bees, the world's most important pollinator.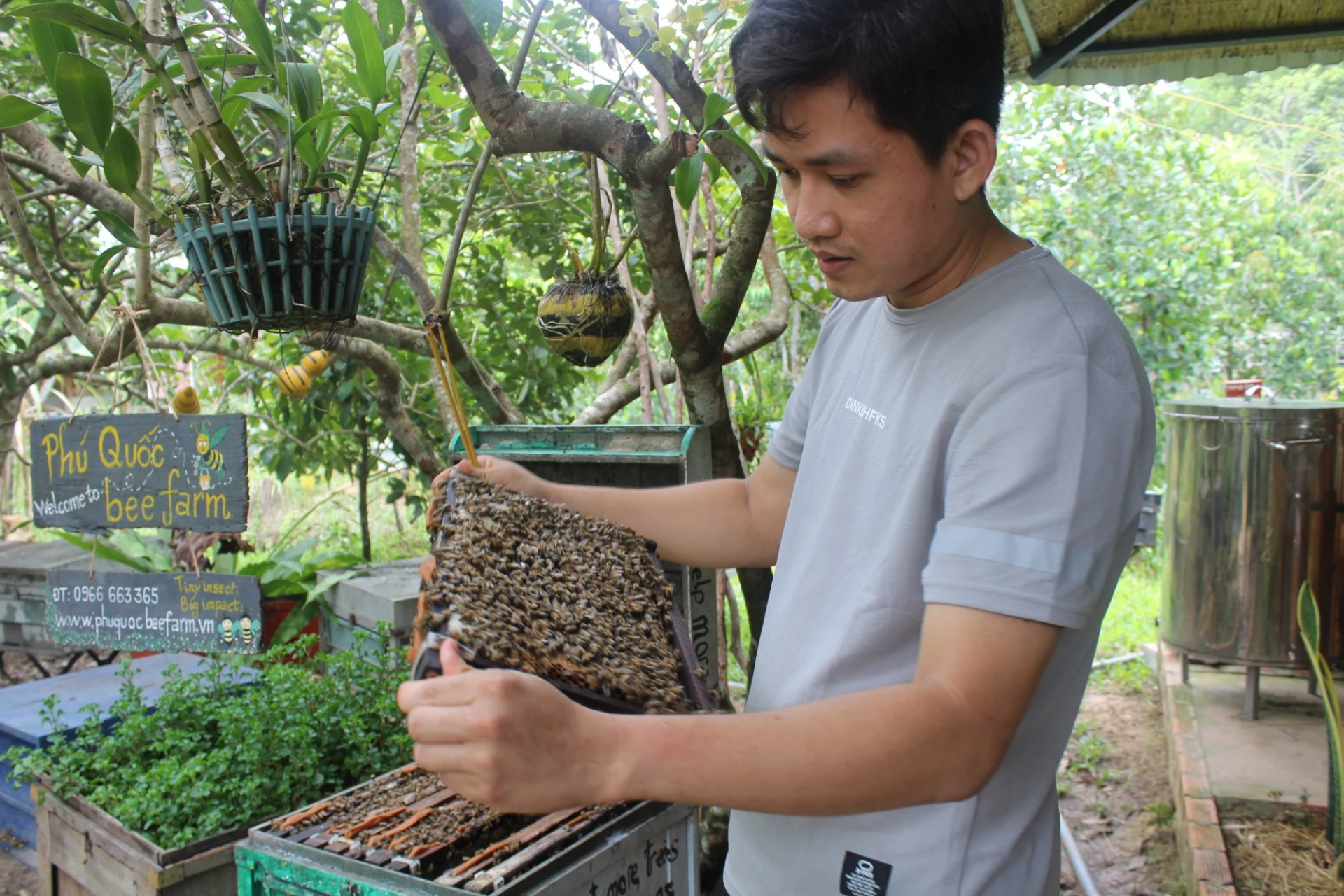 Ba Hung, a bee farmer on Phu Quoc island. Photo: South China Morning Post/Sen Nguyen
"You can't grow bees like other species with things like cages. Bees are very smart. They examine the surrounding environment and if it's not good, they will leave," Hung said, standing in the multi-crop farm filled with the sound of chirping birds and buzzing bees.
"Here, we don't grow bees, we keep them here with us by creating a favourable environment for them," he said. "The one spoon of honey you just ate, that is equal to 12 bees working all their lives."
The family-run farm provides free farm tours and crash courses on bees' circle of life and the benefits of honey.
The Mekong Delta native said his farm offered an out-of-the-ordinary experience to visitors on Phu Quoc, helping them to appreciate the island's nature and enticing them to return.
He added that he was currently working on a reusable food packaging product made of bamboo fibre and beeswax, and hoped local restaurants and hotels would consider it as an alternative to cling film./.