Special Cuisine of The Land Favored by Nature - Ca Mau
Ca Mau Cape, with its mangrove ecosystem and immense sea, has an abundance of seafood and prominent among them are crabs.
Ca Mau - the land of the South is not only rich and diverse in forests and sea, but this place is also known as the land of "silver fish, golden shrimp". It is the richness of flora and fauna in the forest and under the sea that has contributed to creating delicious, rustic dishes with bold flavors.
It is a place that exists in parallel with both salty and sweet ecosystems, which have formed typical tourism products for both ecosystems. Coming to the freshwater ecosystem in U Minh Ha National Park, visitors will enjoy dishes such as grilled snakehead fish, braised eel with cilantro, fish sauce hotpot, fried wild mouse with lemongrass and chili pepper, fried frog with lemongrass and chili, and young bee salad.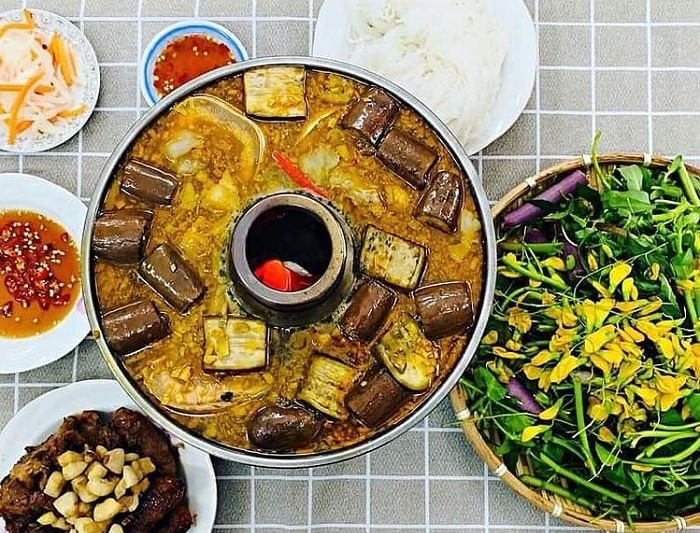 The U Minh Fish Sauce Hotpot is one of the key dishes of southern Vietnam. Source: VinLove
U Minh fish sauce hotpot
To the people in the southern part of Vietnam in general and in U Minh in particular, fish sauce has been around since the time when their ancestors discovered this land. Fish sauce has become a familiar and important part of their life, it is also a must-have food for the international tourists in Vietnam. There are countless dishes made from fish sauce but the most unique dish in U Minh is undeniably the Fish Sauce Hotpot, according to Nhan Dan newspaper.
The hotpot includes the special fish sauce and an abundance of fresh vegetables, which include common vegetables such as cabbage, coriander, green bananas, chili, garlic, and special local vegetables.
All of which are wild vegetables that can only be found in U Minh. Aside from vegetables, there are also other ingredients to add to the flavor of the fish sauce hotpot such as corn, mushroom, fish and eel.
Fish sauce hot pot in the U Minh Forest has been listed among the Top 100 specialties in Viet Nam in 2020-2021 by the Viet Nam Record Organisation (Vietkings).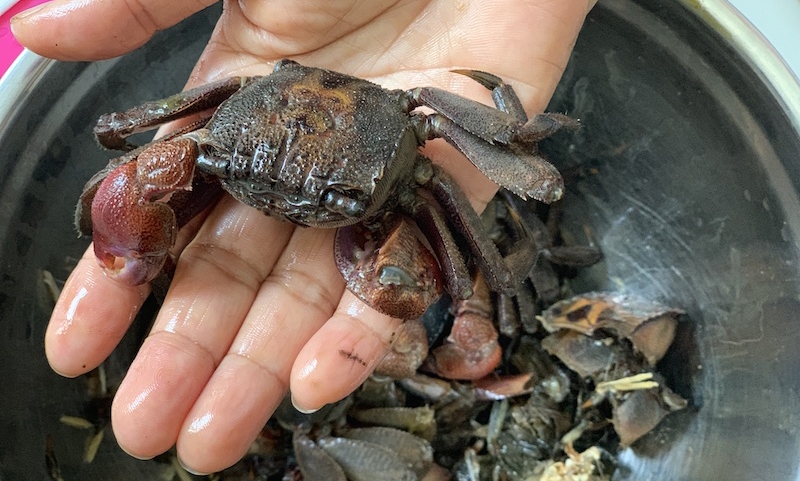 The wetland-dwelling ba khía (three-striped crab) is most popular in the southern coastal provinces of Bac Lieu and Ca Mau where locals consider the creature a familiar delicacy.
Ba Khia (three-striped crab)
The wetland-dwelling ba khia (three-striped crab) is most popular in the southern coastal provinces of Bac Lieu and Ca Mau where locals consider the creature a delicacy. Ba khia in Ngoc Hien district's Rach Goc town is considered the best in the region.
For generations, the crab has been preserved and eaten year-round as a salty addition to most meals. These days, urban cooks are coming up with new and interesting takes on the once-simple delicacy.
Ba khia is easily identified by its pincers and eight "furry" legs. Its underbelly is typically ruddy and their flavourful insides are either orange or grey.
Ba khia is typically found in brackish coastal mangrove forests. The striped crustaceans typically hide out in these forests all day, coming out to feed at night.
According to local people, the three-striped crab of Rach Goc town is particulalry delicious because of the food source and natural conditions here. Nguyen Hong Dam, a household business owner who has made salted ba khia for many years, said: "Ba khia in Rach Goc is famous because of the mangroves and alluvium in the area. Ba khia eat special foods from nature, so it's delicious, sweet and firm."
Local people say that, many years ago, the source of three-striped crab was very rich. In season (around July-September of the lunar calendar), people go to catch ba khia and carry it by canoe. Not consuming it all, people have thought of a way to salt it to preserve it longer.
Mantis shrimp eat delicious dry, tough, and has a natural sweet taste when fried or grilled taste. Source: camau.gov.vn
Mantis shrimp (Tôm tích)
Mantis shrimp (Tôm tích) is a special gift from ocean to Ca Mau people and travelers coming to Ca Mau. Mantis shrimp usually lives, resides in a marine environment, unpolluted, sediment-rich, such as deep rivers, coastal. Mantis shrimp is one of the special dishes with high economic value and high nutrient content.
Mantis shrimp after extraction of shelled, cleaned to expose whole looks very good and do not add flour or any other substance. To dry mantis shrimp delicious, sweet and keeps the flavor characteristics need good sunlight exposure.
The simplest and quickest way to eat mantis shrimp is that boiling it, dipping in a mix of salt, ground black pepper, lime juice and eating with aromatic herbs. Other more difficult recipes are steamed mantis shrimp with beer, coconut water or lemongrass, grilled mantis shrimp, stir-fried mantis shrimp with garlic.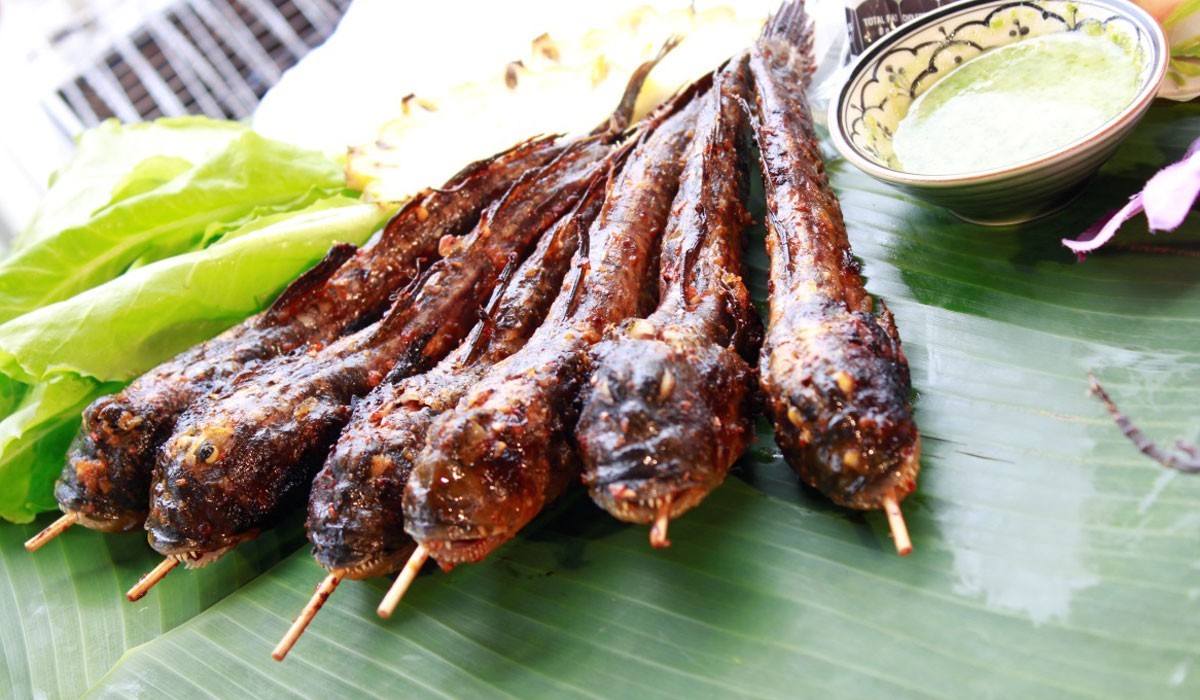 Grilled giant mudskipper with salt and chili pepper (Thoi loi nuong tieu). Photo: Vietnam Journey
Giant mudskipper (Cá thòi lòi)
Ca Mau province in Mekong Delta region of Vietnam is famous for giant mudskipper which has become a favorite food of many people.
Mudskippers are a characteristic fish of the mangrove areas. Not only jump out of the mud, the people here also named it tree-climbing fish. This type of fish has a peculiar shape, yet its meat is sweet and soft.
The mudskippers don't have fat in it, so in order to keep the moisture of the dish, a thin layer of oil is usually painted outside of the fish's skin. The locals usually use coals to grill the fish so that the fish has a natural smell. Tourists can enjoy the tasty dish of mudskippers in ecotourism resort Cape Land.
There are many giant mudskipper recipes: Braised giant mudskipper with ground black pepper (Thoi loi kho tieu), Deep-fried giant mudskipper (Thoi loi chien), Sweet and sour soup with giant mudskipper and fermented steamed rice (Lau mam thoi loi), Grilled giant mudskipper with salt and chili pepper (Thoi loi nuong tieu). They also make dry giant mudskipper (Kho thoi loi) which could be fried or grilled, then dipped in tamarind fish sauce. Dry giant mudskipper is one of the most popular gifts to bring home from Ca Mau.
Nam Can and Ca Mau crabs are dark in color, with firm shells, not clear white and green like industrial-raised crabs.
Nam Can crab
Nam Can crab, named after a rural district, is one of the specialties that nature bestows on Ca Mau. They are famed for their sweet and firm meat, rich tomalley and high nutritional and economic value. Nam Can crabs are mostly grown in the wild, mainly eat fish meat (not industrial feed), so they are large, crab meat is hard, crab-roe is greasy and rich in nutrients. In particular, Nam Can crabs have better vitality than other regions so they can be transported farther, longer than those of other regions.
Nam Can crab has been listed among the Top 100 specialties in Vietnam in 2020-2021 by the Vietnam Record Organisation (Vietkings).
Locals say steamed crab best retains the natural sweetness of the meat and tomalley, combined with the sour, savory and spicy dipping sauce.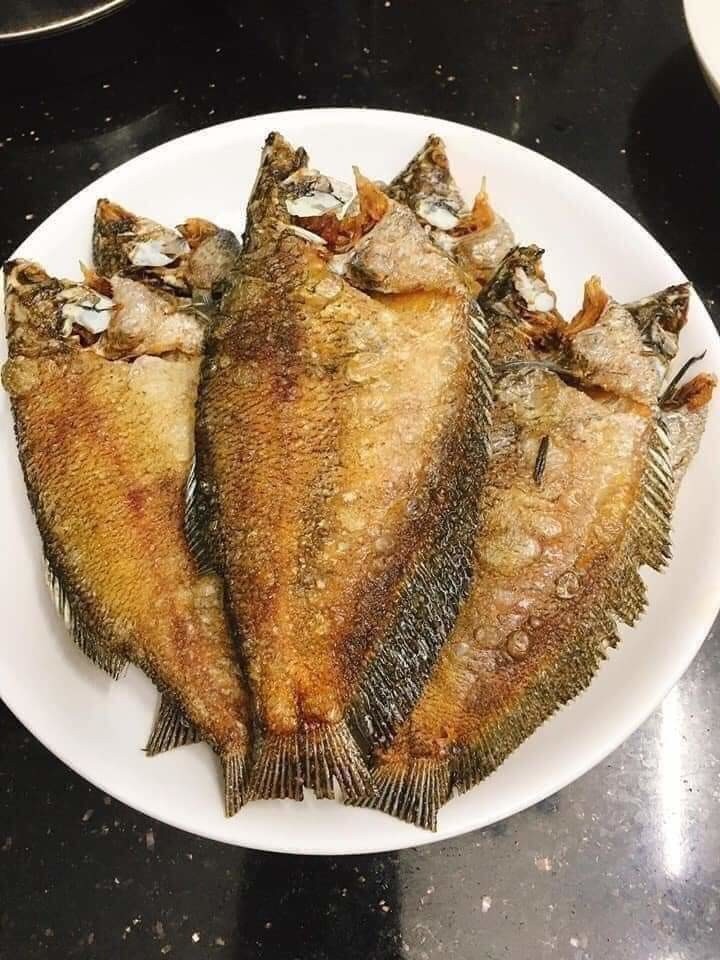 Snakeskin gourami in U Minh - Ca Mau is considered the best with specific fragrant, fatty and chewy meat.
U Minh snakeskin gourami (Cá bổi)
Dried Siamese gourami in U Minh forest, also known as U Minh dried snakeskin gourami, a famous culinary product of Ca Mau province, has been granted a collective brand certificate.
Dried Siamese gourami in U Minh forest, also known as U Minh dried snakeskin gourami, is a freshwater fish abundant in Ca Mau province. It has long been one of the most famous dishes of Ca Mau province.
According to the locals, snakeskin gourami is usually caught and cooked in the dry season. To make a good dried snakeskin gourami they must be large and fresh then soaked in salted water for about an hour and then let dry for two sunny days at most, or else the fish will lose its signature aroma.
Dried snakeskin gourami can be used to make many delicious dishes such as mango salad or grilled, served with cooked rice left cold, and coconut water.
In recent years, the area devoted to farming snakeskin gourami in Ca Mau, and in Tran Van Thoi district in particular, has steadily increased. The district's 210 hectares of ponds produce about 4,000 tons of gourami.
The Intellectual Property Office of Vietnam recognized the brand "U Minh dried snakeskin gourami" in 2011. Since then, the collective trademark has become widely known, especially after the "One Commune, One Product" program was implemented. Ca Mau authorities have helped dried snakeskin gourami producers improve their product quality and design logos for their products.