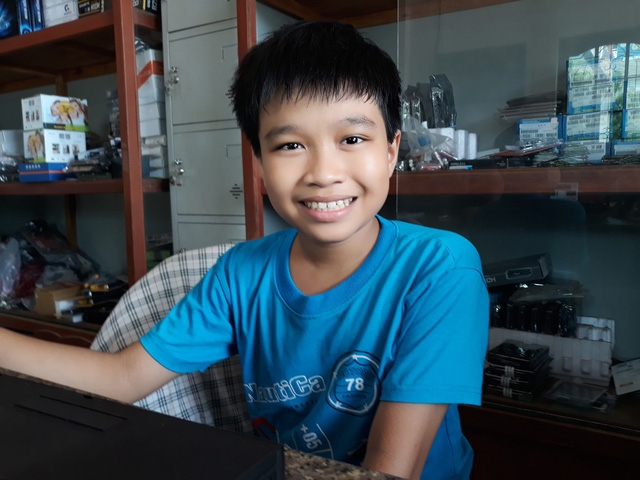 Vo Nguyen Minh Triet has many accolades under his belt, including a handful of prizes and games that he codes on his own (Photo: Dan Tri)
"I first taught myself to Pascal, then Visual Basic, C #, Scratch, and Logo. Related materials and instructions are freely available on the Internet, thus I can find and acquire any knowledge I want", Triet, an excellent student at Quang Ngai secondary school, central Vietnam, told Dan Tri.
The passion for informatics grew on the young student since grade 2. Back then, he was an avid fan of the game show "Road to Mount Olympia" – a weekly knowledge competition for Vietnamese high schoolers shown on the National Television channel. With the big passion, curiosity and aptitude for informatics, Triet tried to write a similar program on the computer with Powerpoint but the result didn't come out as expected. He started to learn the primary lessons about programing language, including ​​Visual Basic, C #, Scratch, Pascal and Logo, all on his own.
"I learned these programing languages without my parents' knowledge as they didn't want me to sit all day in front of the screen. Back then, I'd re-write every game that I found interesting", Triet recalled, then played the Dancing Line game that he programmed himself.
"My Dancing Line's graphics are not as eye-catching as the original one, but you know, it runs quite well. I'm still tinkering to better my products", he smiled.
Besides owning a handful of games and programs, Triet had many accolades under his belt, including the Silver Prize of the National IOE Exam and the Consolation prize at the National Young Informatics contest while he's still a primary student. In 6 grade, he won over many seniors to land at the second prize in the Quang Ngai Informatics contest.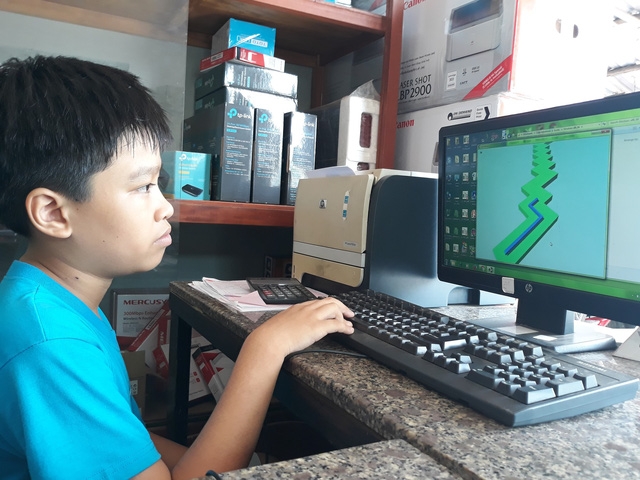 Triet's parents always encourage to partake in outdoor to balance his study and social life (Photo: Dan Tri)
"At his such young age, we don't want him to become a book worm. We always encourage him to partake in outdoor activities and focus on other subjects as well as informatics. We will let him pursue his passion wholeheartedly by the time he reaches high school", Nguyen Thi Ngoc Duyen, Triet's mother said.
"6 graders are only taught basic knowledge about hardware, software, and Microsoft Word at school. Knowing how to program like Triet is an exceptional student", Phung Thi My Nhung, Triet's Informatics teacher at Tran Hung Dao Secondary school was quoted as saying.
Jasmine Le