Tan Hiep Phat Accelerates Digitalization in the Suppply Chain
The CEO of Tan Hiep Phat Beverage Group (THP) Tran Qui Thanh has an ambitious plan to reach US $1 billion with a super platform to digitize commerce.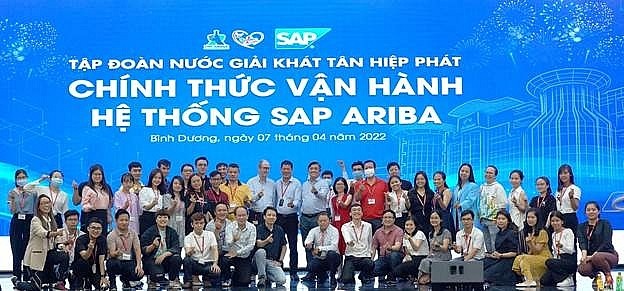 Tan Hiep Phat officially operates the SAP Ariba system from April 7, 2022. Photo: Cong Thuong
"The operation of SAP Ariba is one of the key projects in Tan Hiep Phat's digitization strategy for the period 2021 - 2026 to improve organizational capacity from technology to people, to reach out to the world, and to achieve success in the future. THP's target revenue is US $1 billion," said Mr. Tran Qui Thanh, founder of Tan Hiep Phat Group during the official application of the SAP Ariba platform on April 7, 2022.
After about 5 years of implementing e-bidding for public and transparent bidding, in 2019, THP continues to research solutions and applications to connect and improve transparency in purchasing activities from prices to services of domestic and international suppliers.
By January 2021, THP continued to improve and upgrade to SAP Ariba system for purchasing activities with the goal of improving operational capacity and always being a reliable partner.
All transactions and specific information exchanged between customers and suppliers will be conducted quickly, with maximum transparency to improve business efficiency.
SAP Ariba is the largest global B2B network that enables businesses to proactively and openly connect and collaborate with millions of Suppliers. Thereby, cooperation activities are managed more carefully and effectively on a single and integrated platform.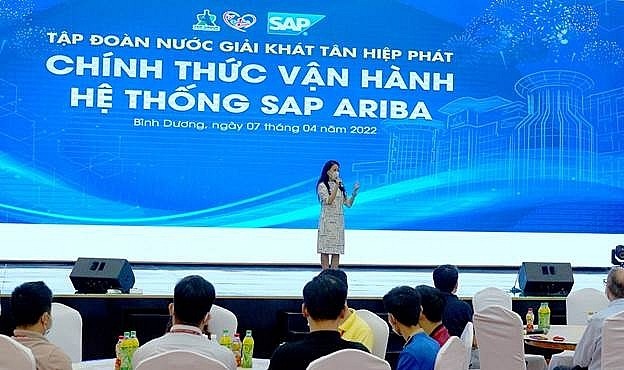 Deputy General Director - Tran Uyen Phuong spoke" about the project completion journey. Photo: Cong Thuong
Immediately after the project was put into operation, the epidemic suddenly broke out across the country, leading to the national social distancing for a long time, making many businesses struggle to maintain production activities. Yet, THP is still determined to find solutions to maintain stable production and business activities to keep the maximum project progress going.
In 2021, despite being affected by the epidemic, the export rate of THP products still increased by 30% compared to 2020. THP's products are currently being exported to 20 countries and regions such as the USA, Japan, Australia, Canada, Netherlands, Korea, and Singapore.
"The official operation of SAP Ariba system is a testament to what founder Tran Qui Thanh once said, "Tan Hiep Phat is what I created, but leading Tan Hiep Phat is a team of employees."
After 157 days of testing the system with more than 2,000 suppliers, THP officially put the SAP Ariba system into operation on April 7, 2022.
"I am very proud that Tan Hiep Phat team has created trust and pride for the founder as the next generation, ready to open up opportunities for Tan Hiep Phat to become one of the leading companies in Asia, " exclaimed the Deputy General Director - Tran Uyen Phuong at the event.
The launch of SAP Ariba will help drive increased commercial activity globally through the Ariba Network, the world's largest digital business network connecting more than 4.2 million businesses in 190 countries and territories.
Mr. Nguyen Hong Viet, General Director of SAP Vietnam said: "With 3 modules of SAP Ariba that THP will put into operation in the near future: Sourcing, Contract, Supplier Lifecycle & Performance Manager; combined with the SAP ERP system, we believe the project will help the group achieve its goals of improving costs, compliance & enhancing efficiency, transparency in the procurement process, and tightening cooperation with customers as well as a supplier".
Since 2012, Tan Hiep Phat has been the first company in Vietnam's beverage industry to choose SAP as a platform and expand digitization.
On January 6, 2021, Tan Hiep Phat continued to implement the project "Transforming purchasing management activities with SAP Ariba solution". Tan Hiep Phap wishes to accelerate the digitization of the entire supply chain, Improve organizational capacity, professionalize and always be a reliable partner.
These Burning Summer Days

"Rice of our village/ Bears the July storms/ Bears the March rains/ Farmers' sweat pour/ During hot June noons/ The field is as hot as ...