Tan Hiep Phat People: Hold Strong Beliefs To Face Continuous Challenges
International developments have washed away the optimistic expectations for 2022. Phuong Hiep Phat's Deputy CEO, that the staff's continuous learning and strong belief in the company will push Tan Phat forward despite the current situation.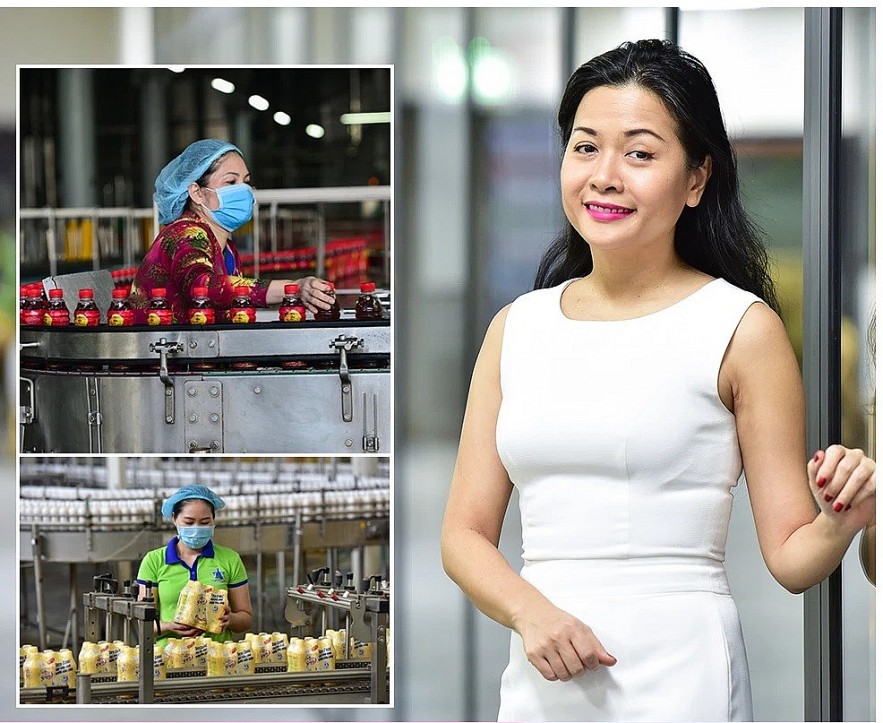 Phuong Uyen Tran. (Photo: CafeF)
The biggest challenge is when all difficulties piled up at the same time
Contrary to most people's expectations, 2022 turns out not to be the post-covid blooming period. Instead, companies have to face a new wave of challenges as the business and investment environment get messed up and interrupted due to international affairs.
"The conflict in Russia and Ukraine can increase inflation as raw material and fuel prices skyrocket. Meanwhile, contrary to many people's expectations, market demand will not immediately return to the pre-epidemic level. It will, in fact, recover," said Phuong Uyen Tran.
In the first year of Covid-19, start-ups bear the heaviest impact. However, the difficult situation that has lasted for more than two years brings down even companies that have been running for decades. The wave of workers leaving the city after the pandemic is just one of the challenges that businesses have to face.
"Businesses expect that after the pandemic, materials prices and service fees will decrease. However, after Tet, both researched opinion and the current situation indicates that everything has become more expensive, and is predicted to become even more expensive. These uncertain things have a direct impact on businesses", said Phuong Uyen Tran.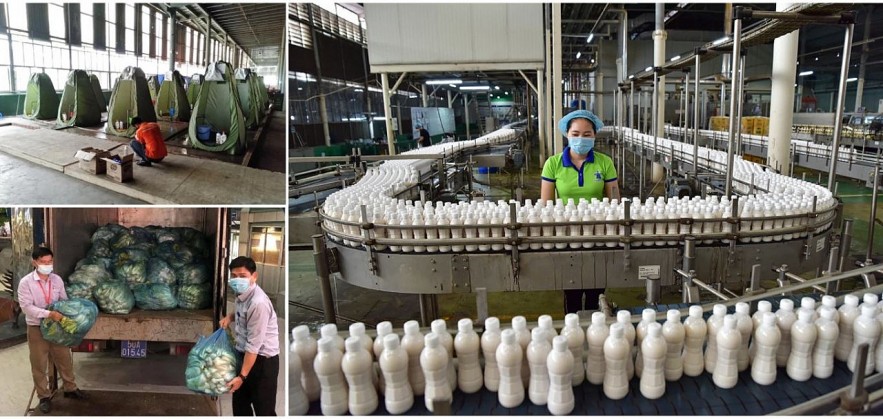 Production is ensuring during difficult times. (Photo CafeF)
Under normal conditions, only one difficulty such as supply chain disruption, labor resource crisis, the skyrocketing cost of materials, the risk of inflation, is enough to torture businesses. The worst situation is happening right now as all of those difficulties pile up at the same time. Phuong Uyen Tran solves these problems is the most severe pressure but also the best opportunity for businesses.
To solve this problem, businesses need to achieve dual goals: maintain growth and change the organizational structure. That challenge requires the determination and solidarity of the business as a whole, and also the close companionship of company leaders.
"Running a business is a seven-day-per-week job. External factors affecting the business happen continuously, changing hour by hour, day by day. There will be no formula for success because if there is, people just need to copy it and build another Tan Hiep Phat", said Phuong Uyen Tran.
Photo: VNT
One arrow must hit two birds
Facing unwanted challenges from the international market, businesses must take increasing product prices into consideration. However, Phuong said the plan to increase the price must be reasonable, while more value must be brought to the users. If they have no other choice but to increase the selling price, businesses need to ensure customers get more than what spend, especially in the cases of beverage businesses such as Tan Hiep Phat.
"Price is a sensitive factor. Each of our products costs from VND 8,000 to 12,000 (US$0.34-0.52). However, if we raise the price to only VND 15,000 (US$0.65), it will leave a huge impact on the daily demand, the consumption habits of many families. Therefore, it is a real challenge to stabilize the price or bring new values ​​to the users," said the Deputy CEO.
Tan Hiep Phat found the solution to this difficult question from its decade-long business and production philosophy
However, Tan Hiep Phat can find a solution to this difficult problem from the business and production philosophy of the enterprise for many decades. Based on that philosophy, Deputy CEO Tran Uyen Phuong confidently achieved the mentioned "dual goal" in the midst of difficulties.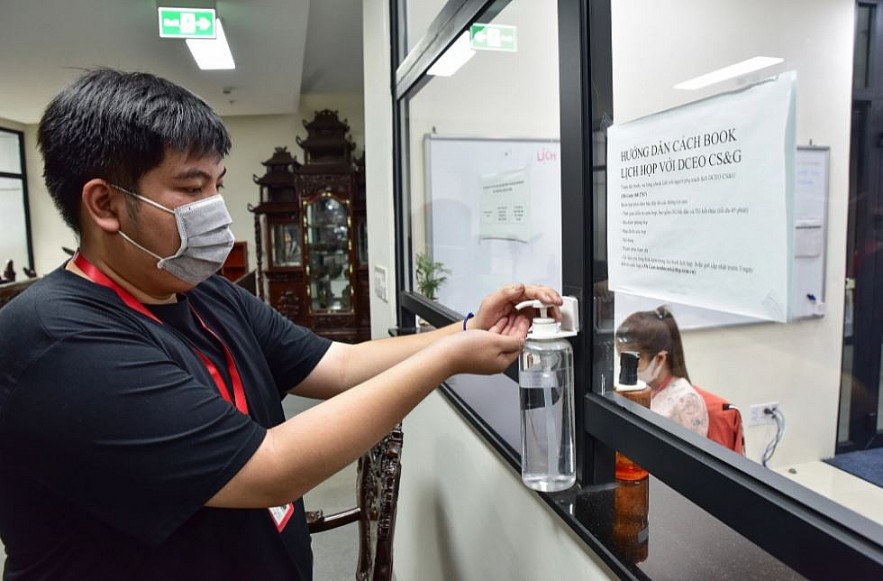 Guaranteed 5K in the office. (Photo: Cafe F)
"Tan Hiep Phat is proud that we have no luxury in investment. We never use two arrows to shoot a bird. We use one arrow to kill two birds. We solve not only the demand of refreshments but also nutrients and benefits for customers. We Even when we suffer continuous impacts from high material costs, our products are still stably delivered to consumers", Phuong said.
Tan Hiep Phat also focuses on workers' life. During the three-at-place period (work, live, isolate at the company), Tan Hiep Phat accepted a loss to maintain production, ensure safety and income for employees. While businesses are facing the fear of inflation, employees are also affected by the rising cost of living. Building employees' trust has become a key solution to ensure the group's sustainable development.
"We are committed not to cutting anyone's wages. Even when facing inflation, we ensure the staff's welfare, even raising their salary to compete with the impact of inflation. Maintaining competitiveness but not affecting workers' lives is a difficult problem that each department must find a solution to," emphasized Phuong Uyen Tran.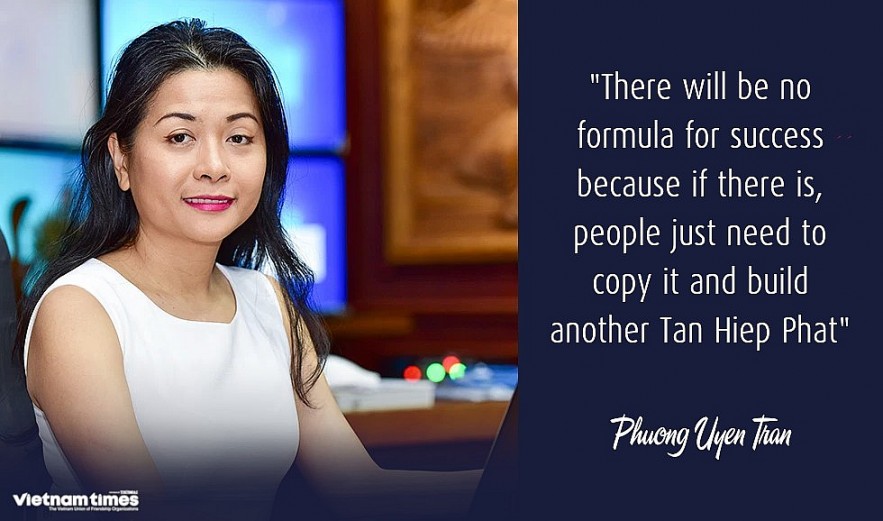 Photo: VNT
Strong beliefs through continuous challenges
Phuong Uyen Tran said in the current challenging time, companies need to prioritize fixing their errors to "building a new house." Leaders need to point out their companies' problems. More importantly, they need to find a way to overcome such hardship.
"The current situation creates a series of impacts on businesses. We have to move forward step by step, do not illusorily expect that we will shine over the market's ability," Phuong stated.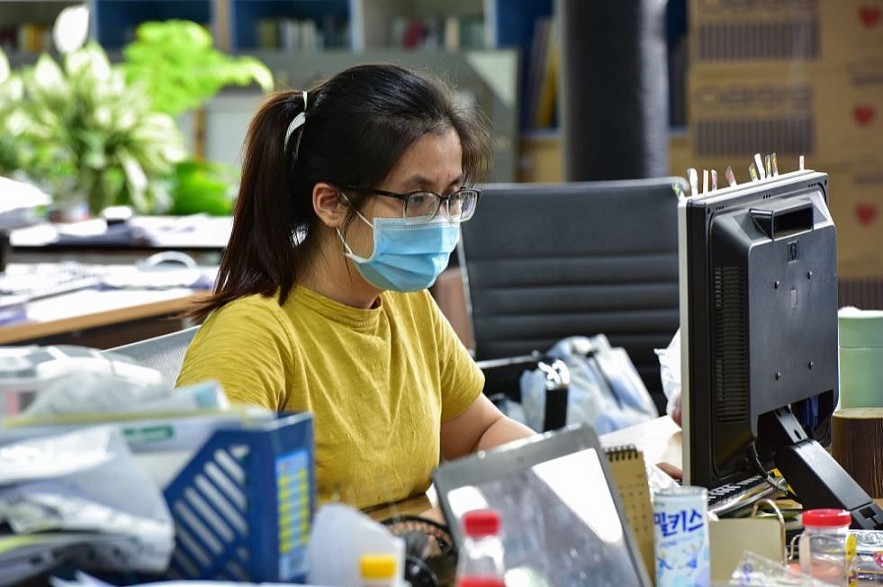 Tan Hiep Phat employees adapt to the new normal. (Photo: CafeF)
The growth problem becomes the biggest challenge. All managers are eager for growth. It is stress, not just sadness when witnessing a business not growing. Growth is the key factor to selling prices stay stable while all costs skyrocket. Each individual at Tan Hiep Phat also needs to equip himself and improve his capacity to quickly meet new requirements.
"Learning culture is Tan Hiep Phat's specificity. It is created by the leaders, who set themselves as examples. No one looks at the leaders' age. They look at their ability to learn. Knowledge of today may be outdated to solve tomorrow's problems" , Phuong told the story of Tan Hiep Phat.
The constant demands of change influence Tan Hiep Phat people to think that they must always strive for higher self-development. The female deputy CEO considers overcoming difficulties a powerful tool to drive Tan Hiep Phat to its current position. Winning challenges has built a strong belief among the group's managers, which helps them overshine any ups and downs in the path of development.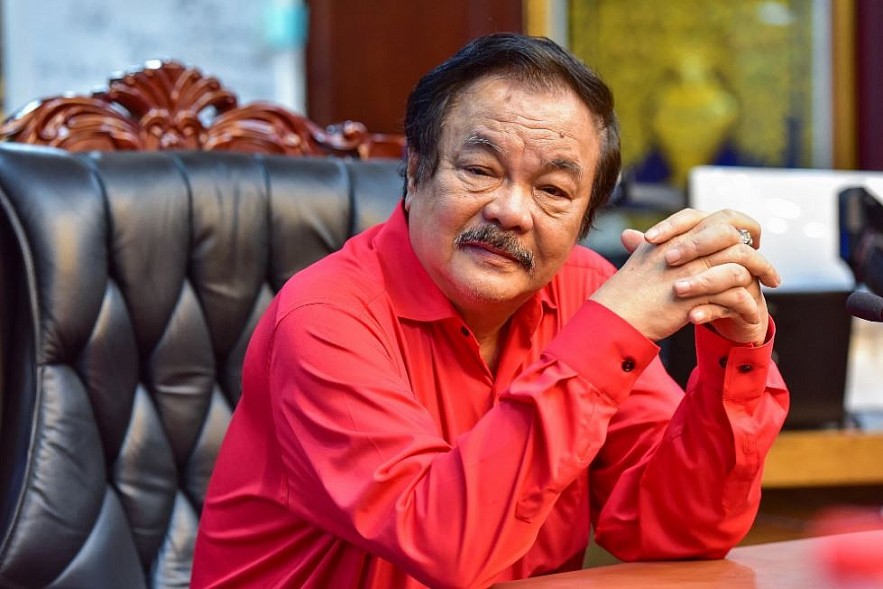 Thanh Qui Tran, Tan Hiep Phat's Founder. (Photo: CafeF)
"Tan Hiep Phat's management team has a strong the group is doing the right thing. When the group as a whole believe so, they will also believe that what they are changing will make a difference. They truly believe in the group's direction, which makes them work more industrially and want to closely accompany the group", Phuong Uyen Tran said.
With such belief, no matter how slow the company goes, it will never fail. No business can move forward all the time. With trust, everyone clearly understands their right direction, from which comes the strength and understanding that change is needed, both in daily work and in accepting new trends such as digital transformation. With trust, challenges are turned into opportunities.
"While we cannot control external factors, we can always maintain a calm attitude when responding to the situation to make a timely response. That is what we will do in 2022. 90% of our managers believe that, with the leaders' orientation and the fact." that we have anticipated these changes two years ago, Tan Hiep Phat will overcome the challenge no matter how difficult it may be," Phuong Uyen Tran told reporters.