Taurus Horoscope 2022: Yearly Predictions for Love, Financial, Career and Health
Taurus Horoscope 2022: Taureans are lucky this year, as they may get to witness success in 2022. Some of you are likely to take up new initiatives about your work and profession.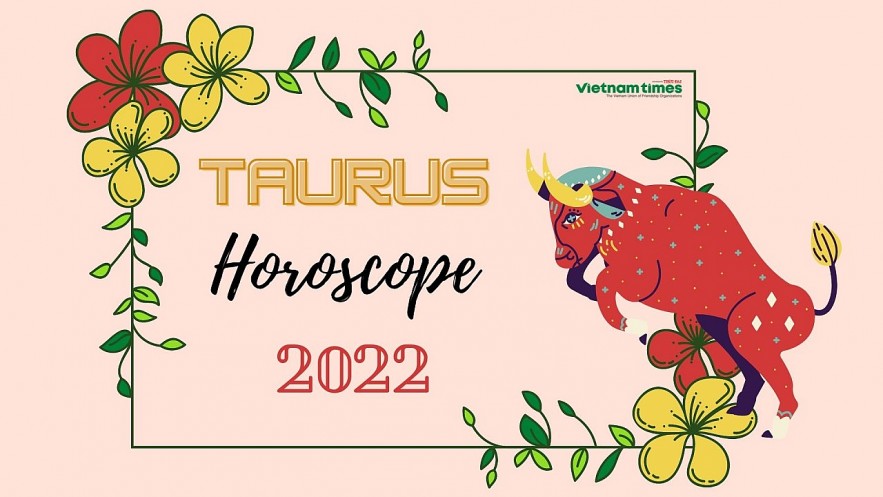 Taurus Horoscope 2022: Yearly Predictions for Love, Financial, Career and Health . Photo: vietnamtimes.
Yearly Planetary Horoscope
2021 has probably been a year that changed your relationship with yourself to your very core, Taurus. Many layers were shed, and I'm sure many challenges as well. Now, in 2022 things are much different. We still have a couple of challenges here and there, but let's be realistic, life has its ups and downs. However, this year is here to make up for all the not-so-glamorous events of 2021. Now that Jupiter has ingressed into Pisces, it will give you all the necessary support to get back up on your feet. This is the year when you take back your power and make the best out of the resources you have available.
According to gotohoroscope, the Venus Retrograde happening in your 9th house will slow down the first month of the year. This is already quite the mental house, but the retrograde will come in to get you to think deeply about the relationships currently in your life. This slow pace is exactly what you need to recollect yourself after the year that just passed. It will be a time to connect to a different side of yourself. In this house, we often find the concept of things that are unfamiliar to a native. So, you can expect to find new connections with people in unexpected places. This could be something that surprises you on a spiritual level, and there's even a chance it could help out with your career.
Venus is not the only star this first quarter, though. Jupiter will be transiting through your 11th house for half of the year. This is the place of Jupiter's joy, which enhances his power for blessed opportunities. Since the 11th house deals with friends and alliances, 2022 looks like the year of making connections. Especially for those of you who work in big corporations or are entrepreneurs, things look quite promising. You can expect some new group projects and even excellent social media visibility. This will be especially relevant when we get closer to April and Venus joins Jupiter in her sign of exaltation. Venus has the power to build close bonds that are hard to break. With all those gifts from the Universe, you will gain some helpful insight to show you who is really on your side.
Just before you can get to that conjunction pot of gold, though, there may be some shake-ups. Mars will be making its first square with Uranus, who has been transiting through your 1st house for the last few years. Though this same transit was one of the ones responsible for some of the stressful situations of 2021, there are some mitigating factors. Not only did you gain the experience to tackle these challenges better, but Venus also transiting through the 10th house softens the blow from Mars. Since all of this action is happening between your 10th and 1st house, it could symbolize some venture related to work. Especially in March, this could make for a busier than the usual schedule, so make sure you're taking the time to plan ahead to manage your time wisely.
When we hit May, there's a notable shift in the atmosphere. Jupiter will be entering the hot and vigorous sign of Aries. This is where the largest planet in our solar system will stay for the rest of the year, and even some of 2023, so it will be pretty important to pay attention to it. Since Aries is your 12th house, this is happening in the place that represents your connection to the higher realms. This will be a great time to explore the subconscious, a place Jupiter is already very familiar with. This could be an excellent time to start a dream journal and pay attention to repeating symbols. This is often the house astrologers associate with the psychic connection. With his power to favour any area of our life that he transits through, Jupiter will make any attempts to make those connections run much more smoothly. Additionally, the 12th house also deals with issues like loneliness and mental health. Having the Great Benefic crossing through that house can make attempts at healing on a soul and mental level much more straightforward.
The next major astrological event of the year is the triple conjunction happening in your 1st house. It is happening between Mars, the North Node, and Uranus, which can be quite unpredictable. Whenever we talk about Uranus, we have to take into consideration the possibility of sudden and unexpected events. With this happening in the house that rules the body, try to be extra careful about your health in August. This doesn't mean that an accident is imminent, but it's always good to be on the safer side. The best advice would be to not go bunging jumping over this month. Besides, this could also symbolize a deliberate change to one's physical appearance, like getting a tattoo or totally changing your personal style. With Astrology, sometimes even mundane things like that show up in a chart.
Moving on from this strange transit, we have the last Uranus and Saturn square. This is the one transit responsible for many strange events that unfolded in the preceding year. For that reason, it could be a time to revisit some old issues to get them sorted out. Since this is happening in your 10th house, there's a chance that this could symbolize some struggles with your boss. It's even possible that you become the boss yourself by embarking on an entrepreneurial adventure. At around that same time, there will be a Venus cazimi happening in your 6th house, which does suggest the possibility for an underdog success story.
After October, things start to slow back down as Jupiter goes retrograde and backtracks into Pisces. November could be a time when you reconnect with an old friend or friend group. As the benefic goes back into your 11th house, this year's themes (2021) will seem to be repeating in almost a deja-vu fashion. The theme for the holidays is fraternity and getting to feel the love of the people in your circle. You can look forward to quite the emotionally fulfilling end of the year. But for now, let's begin.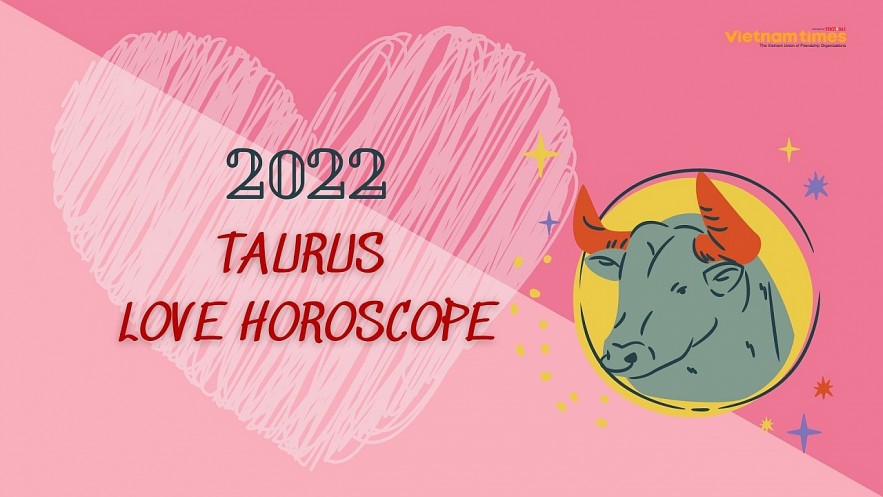 Taurus Love Horoscope 2022. Photo: vietnamtimes.
Taurus Horoscope 2022 Overview
The year 2022 may start on a good note, so that is some good news right at the start of the year, don't you think so? Hence, make the most of it. Try to plan all your scheduled activities at the start of the year as this is the best time for you as per the 2022 Taurus horoscope. Your actions and achievements can coordinate well with each other, which can then be the reason for success and celebration.
Taurus folks would make plans, and many of them may abide by the procedures too. That being said, it is sporadic for Taurus to deviate from their strategy, though! The efforts that you would invest in now shall be rewarding and recognized.
It is always a good feeling when your efforts are appreciated and you're given the due credit, as a lot of hard work goes into completing tasks successfully. Taureans are lucky this year, as they may get to witness success in 2022. Some of you are likely to take up new initiatives about your work and profession. The initiative is expected to bring rewarding results. So, if y'all were hesitant about taking up any initiatives, then try to get out of the shell and leave your reservations behind, as the outcome will be beautiful!
Academically as well, this year may be good and positive for those who will continue working hard and are trying to make a massive difference in their performance. You would learn new skills and even put them into practice. But this would come slowly and steadily. Therefore, you would have to be very careful of your achievements by the course of your knowledge.
Don't give up when you don't see instant results, as some things take time. Keep the hard work going, and you may soon see amazing results, always remember slow and steady wins the race. You are also likely to develop a new passion for a profession that has been unique and important to you. Your knowledge will take you to new heights in the days to come. Keep preparing hard for the future.
According to Astro Talk, 2022 would be a remarkable year for the Taurus natives, say astrologers at AstroTalk. As per Taurus horoscope 2022, you will be a part of new adventures and endeavors right from the beginning of the year. Many Taurus natives will make new plans and will, interestingly, abide by them. And in doing so, they will have success in various aspects of life.
Work and profession are things that would shine for the Taurus. Many of you are ready to take up new initiatives in work and profession right from the start of the year. If you are a Taurus wanting to start a business, the Taurus horoscope 2022 tells us that the opportunities are good for you right from the start of the year. To be pretty precise, working in the government, art, and green energy sectors will be your forte in 2022. So, don't be hesitant about these opportunities.
Will 2022 be lucky for Taurus?
For the major part of the year, Taurus natives will enjoy an abundance of luck and prosperity. The earth sign is very hard-working, diligent and likes to be independent. And all of these traits will brace the Taurus natives in 2022. So yes, 2022 will be lucky for Taurus as per horoscope 2022.
What are Taurus' bad traits?
For the most part, the only bad trait about Taurus is that these people are a little selfish.
Will 2022 improve Taurus' career?
In 2022, there will be a placement of Jupiter and Saturn in the Taurus natives chart. So one can expect a lot of good on this front.
Is 2022 good for Taurus financially?
If you compare the year 2022 for Taurus with 2021, in terms of finance, It would be much better. So people whose 2021 was good, congrats!!
In 2022 Taurus married life shall also be at its best. You shall earn profits with the help of your partner. It is time to cherish this time and make the most of it. Spend quality time with your partner. Try to indulge in the activities that you have been longing to do together. It could be going on trips or even hosting a peaceful musical dinner.
Go ahead and spoil each other as this time is beautiful, and you both are most likely to remember this time for your whole life. Even though the time is good for marriage and love life, it is advised that you be a little more cautious, as you don't want to make any mistakes, as glorious times like these are rare as a diamond.
During this time, those who may get married may see that their achievements after married life may improve. Along with improvements in your achievements, your fortunes may also flourish. Great news, right! Cheers!
Finally, talking about what everybody must be eagerly waiting for! Field of love and marriage. Life without love is incomplete, Right!? As predicted, singles are likely to find someone special in their life now. Along with finding someone special, marriage is also on the cards.
Despite being ruled by the planet of love, Venus, Taurus has not been the luckiest bird in love, especially in 2021. However, all of it is going to change in 2022. The beginning of the year will be about flings for the Taurus native, but the flirtatious period will soon come to an end by mid-march. Apart from a break of a month or two, the blessing of Venus will help you get into a serious relationship. And as the Taurian is said to be the loyalists, this shall be the beginning of a lifelong adventure.
If your past love does indeed come back in your life, you should give it a chance. There is a good chance that your relationship with the person did not work in the past because the timing was all wrong. 2022 is the perfect year to give a second chance to a relationship that could have changed your life for the better. Begin your relationship with a clean slate. If you like someone but have not confessed the same to them, now is your chance. The love stars are shining on you. You will make an excellent impression on your crush and will soon ease into a relationship with them. Remember to make your proposal heartfelt and honest.
Taurus Horoscope 2022. Photo: vietnamtimes.
The relationship of committed Taureans will not be off to a great start, according to the 2022 love horoscope predictions. Mercury will conjoin with the Sun. During this phase, you might connect your roots with some stress and mental problems. So, do not go into confrontations or provoke your partner to enter into arguments with you from May to September. Such a tense situation is sure to result in an outburst from your end, which has the power to break your relationship beyond repair. Try to understand and respect your partner. Now would also be a good time to cozy up with your boyfriend or girlfriend's family.
Love is in the air for single Taureans. You are likely to find romance in a place least expected. Maybe you will find it in an old friend or a new colleague. The year 2022 love horoscope predicts that this is an ideal time for you to wear your heart on your sleeve. Go out into the world and paint the town red with your newfound love. Don't forget to be yourself because that is when your partner will find you most irresistible.
For Taurus natives as per Taurus Family Horoscope 2022, you will move or have access to someplace different, which broadens your horizons. Perhaps the family will expand through the arrival of a new family member. Natives may open up to fresh experiences of different kinds. You may have to travel to long-distance locations due to family reasons. As a result, your family, or community relationships should improve a lot. Taurus yearly predictions 2022 reveal that your base of operations may move into a new location, and you could do well with a property exchange or buy and sell.
The year for Taurus natives as per Taurus Marriage Horoscope 2022 suggests a need to improve the present situations. Commitments towards your family members and close ones may add smoothness and peace to your marital life. Jupiter's aspect will clear all the doubts and confusion. Be cautious as your tendency towards seeking playfulness may create problems or distance between you and your partner. Venus will give you the much-needed emotional bonding with your partner. You would be much more satisfied with your spouse all this year as per Taurus ‌life predictions 2022‌. If you are single, you will find your life partner through social media. Deep feelings and romance are on the cards for the natives this year.
Taurus Horoscope 2022 for Money
According ganeshaspeaks, money is an integral part of life, and you are likely to make some this year. The flow of money may increase during this time, as the avenues from where you earn money will grow. Peeps who have invested in real estate or commodities are likely to make some extra money through trading activities, which would empower your financial position even more.
Hurray! Time to let your hair down and have a great time. However, it is advised not to lend money, as it may not be recovered quickly this year. Hence, absolute caution is advised in 2022 for Taurus. Before you start to invest or buy a property, it is advised that you consult with an expert and thoroughly talk through the process. Try to look at everything diligently. After all, it is your hard-earned money, and you don't want to make any errors.
You would also be happy to make some extra money through the asset that you have developed. So, be rest assured, your gains are likely to be on a higher side this year. Every penny that you would invest will fetch you positive returns. So, invest more and earn more!!!
It is a good year for the Taurus natives to save some money, says the yearly Taurus horoscope 2022. Any investment made in the previous years will bore results. People who have invested in real estate or commodities are likely to make a little extra money through trading activities, which would empower your financial position even more. Moreover, this year, you will also have the freedom to be your materialistic self without any sort of regret.
As Taurians are fond of traveling, making a career out of it will help them with money too. Apart from financial gains, you would also improve your mental health by interacting with tourists, guides, and so on. Finance horoscope 2022 for Taurus adds that any business is done on a partnership basis till April 2022 it is to bring you much-needed gains. At the end of April, Saturn will venture into the house of the profession. Thus, the results it will bring to you will depend on your past financial deeds. However, if you have been procuring losses for some time, thankfully, Saturn will bring you prosperity in April 2022.
As we head towards August 2022, the yearly Money horoscope 2022 for Taurus asserts that you will certainly invest in a big business. It could be a green energy-related business that will be highly advantageous for you. In this period, some expenditure may also rise, and you will again be your materialistic sloth. If you work in a foreign firm, your financial health will remain stable with no high and low to affect you.
Interestingly, the year 2022 for the ones owing a family business will invest more in philanthropic deeds. You shall become your socialist best, and that would be nothing but satisfying to the core. The Venus energy, which is feminine, is certainly motivating this new role in you. Moreover, for further gains, the profit from family investments must be put in the equity or mutual fund market because, as we said, this is a good time for such investments.
2022 Taurus horoscope indicates a satisfactory financial year, and you may receive plenty of opportunities. Social commitments or the celebration of an auspicious ceremony may increase expenditure, but you may see good growth in your fortune and wealth as the year progresses. The mid-2022 period is good for long-term investments and the implementation of your financial plans as predicted by Taurus Yearly Horoscope 2022. By mid-September, you may take your financial status to new heights with a crucial plan and a new way of thinking. But maintain caution.
Finally, 2022 finance horoscope for Taurus students says that you will work hard without the expectation of money. AstroTalk astrologers suggest that you must do internships that are rewarding in terms of knowledge and not money, initially, for a better professional future in the long run.
Taurus Horoscope. Photo: vogue.
Taurus Horoscope 2022 for Career
If you are someone preparing for a competitive exam while pursuing a job, you are likely to be under a lot of pressure. In such circumstances, the yearly Taurus horoscope 2022 predictions highlight that rather than accomplishing everything at once, try going slow. Being slow but being assured of your progress would help you remain stress-free. Also, it shall help you in achieving your goals. For those going for higher studies or planning to go abroad for studies, the period after May will bring you the desired results. You are also likely to develop a new passion besides the profession you are in. In doing so, you will be able to keep yourself busy and productive.
Proposals would be many. Choosing one will be a tiring task since the beginning of the New Year 2022. We are sure you don't want to miss the right deals. So, keep a keen eye on all the offers and valuable acquisitions. Make sure you look thoroughly at each one of them. From buyers to customers, all would get influenced in months from January to May. However, if you are a determined business person, matters will surely be in your favor in the other half of the year as per the yearly Taurus business horoscope 2022 predictions.
If you are looking for a new job and wish to pursue your passion, be ready to face multiple hurdles coming your way. Be a person of dedication and desperation, and grab your dreams and build your career. The 2022 year for Taurus zodiac sign for the ones planning a job change, Improvise! Get better in your skillset and approach useful contacts, as this is the best way you shall find a better job with a higher salary. Moreover, support from relatives and close family would be there too, predicts the Taurus job horoscope 2022 predictions.
Knowledge and hard work are always the keys. For all you students and ones planning to pursue higher studies, the year 2022 will be a vital time for you. College aspirants must choose their stream/subject after some proper guidance and counseling. Natives with Taurus zodiac sign appearing for exams make sure you prepare well. It is a special note to the ones giving exams in February, May, and October. Remember that patience is a must, and passion is the way to success for you to attain heights, according to the Taurus academic horoscope 2022 predictions.
According astrosage, this year for Taurus natives would be a great year as per Taurus Life Predictions 2022. Simply because Jupiter will be in your 11th house most of the year, and you can call much gain in your workplace. There will be better gains if you are into business too. During the first part of the year, relocation is also possible for some point because of the aspect of Saturn on your 4th house of domestic welfare and happiness. Those searching for a job will find a time to settle down. Business would bring better profit as compared to the previous year. Beware of financial fraud and do not believe all you hear. Overall, prosperity is assured for Taurus natives as Saturn will be transiting in the ninth house this year, as predicted by Taurus horoscope ‌2022.
Taurus Horoscope 2022 for Health
The ailments you suffered for a long time may not be a problem per fitness in the 2022 horoscope. You may receive medication, and its reactions may be high throughout the year 2022.
Additionally, you would do well in fitness as well, as you may indulge in eating right and working out. It is advised that you maintain a healthy diet as well. Avoid eating junk food or eating from outside. Ensure you maintain your diet to remain fit and focused, which may improve the strength and stamina required for the year.
Along with physical health, take care of your mental health as well. Try yoga or meditation. Make sure you take 20 mins out of your day to practice meditation, calmness, and peace.
Financially the year may be suitable as the earnings for this year may be good, and you may also notice an improvement in building assets compared to the previous year or the previous times.
Taurus Horoscope 2022 reveals that this year, you will find it easier to develop beneficial health routines from the mid to the end of the year. If you're addicted to anything, food, or bad habits such as smoking or drinking, it will be easier for you to conquer them. It is advised to develop a daily regime, and you will be able to fix what has not been working. Keeping your weight stable will be a major challenge this year, but you have to influence forces that may help you to stay disciplined.
When it comes to health, one thing is for sure: it's always better to be safe than sorry. While 2022 doesn't necessarily have anything astrologically concerning when it comes to Taurus' well-being, striving towards a balanced diet and routine is never a bad idea. In many ways, your sign is getting a few blessing moments from both your ruler Venus and the other benefic planet, Jupiter.
Jupiter will be transiting through your 12th house for most of the year, as well as a good chunk of 2023. The 12th place is one that deals with suffering, loneliness, and seclusion. As austere as it may sound, having a Jupiter transit through that house can be a good sign. It gives you all the time needed to stay by yourself and recollect your thoughts. Notably, this is also the place where Saturn rejoices; it holds our fears and anxieties about the future. While you have the blessings of Jupiter being channelled through that house, be unafraid to face the harsher demons that prevent you from moving or making important decisions. In other words, 2022 is the year for Taurus to purge some old ghosts and dead weight. Still, with Jupiter's aid, you can expect this process to somewhat gentler than you'd expect.
Taurus Zodiac Sign. Photo: astrograph
Another transit that may ask you to work but is ultimately favourable is the Venus cazimi happening in your 6th house. This is one of those transits that come to help us with goal setting. As Venus and the Sun, both transit through your 6th house throughout September, you may want to either start or revamp your self-care routine. This transit is all about striving towards and achieving a balanced and healthy lifestyle. You may have to take a serious and honest look at the amount of work you've been putting into your body. Especially when it comes to issues regarding beauty and things alike, Venus will push you to get to work on those body goals—whatever they may be.
As gotohoroscope reported, since we're on 6th house issues, you will also have a square between Venus and Pluto triggered in that house in October. Since Venus is the planet feeling stronger in that interaction, the range of manifestations that can come out of this transit is no need for worry. Still, if you have been dealing with pre-existing health issues, this could be pointing towards a step in the right direction. While this is still square and may present some nuisances, you may find some alternative treatment options. Given Pluto's involvement, they may come with some challenges such as a stark price difference, or even more possibly, it will require you to travel. If a situation like this or similar does manifest, take the time to think and tread it lightly. The chance for positive results is more significant than the opposite, but don't get too carried away in the excitement.
With all of that in mind, 2022 seems like it's a year for Taurus to get things back in line. As long as you're willing to do the work, nothing majorly concerning should be getting in the way of you having an optimally functioning body.
Luckiest day: May 13, 2022
You're embarking on a major period of transformation this year, Taurus. The North Node of Destiny enters your sign on Jan. 18 — an ingress that won't happen again for nearly two decades — which means that the next couple of years will bring forth a series of eclipses that help to realign you with your fate and help you embrace a new version of yourself. An especially powerful moment will hit on May 13, when the sun in your sign will align with the North Node. Coming just two weeks after a solar eclipse in Taurus, this day is likely to bring clarity about your true calling and allow new pieces of your identity to emerge.