Thanksgiving Day 2020: 5 facts you may not know about the history and some best thoughtful host gifts
Thanksgiving Day is a national holiday in the United States, and Thanksgiving 2020 occurs on Thursday, November 26. Here are 5 facts that you may not know about the history of this special day and some best thoughtful host gifts for your attendance.
5 facts about the history of Thanksgiving Day
When was the first Thanksgiving?
According to history.com, in November 1621, after the Pilgrims' first corn harvest proved successful, Governor William Bradford organized a celebratory feast and invited a group of the fledgling colony's Native American allies, including the Wampanoag chief Massasoit. Now remembered as American's "first Thanksgiving"—although the Pilgrims themselves may not have used the term at the time—the festival lasted for three days.
However, the first Thanksgiving celebration in North America actually took place in Florida, Florida Today reported.
Fifty-five years before the Pilgrims landed at Plymouth Rock, colonists in St. Augustine shared a feast of thanksgiving with Native Americans.
"Not until 42 years later would English Jamestown be founded," said eminent Florida historian Michael Gannon. "Not until 56 years later would the Pilgrims in Massachusetts observe their famous Thanksgiving. St. Augustine's settlers celebrated the nation's first Thanksgiving over a half century earlier, on September 8, 1565. Following a religious service, the Spaniards shared a communal meal with the local native tribe."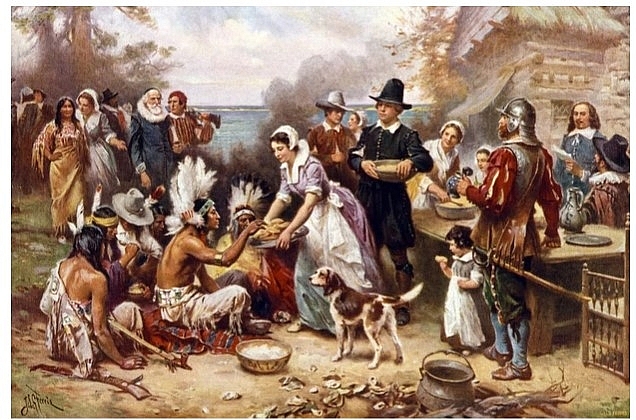 Photo: History Extra
Hosting the first Thanksgiving celebration in what would become the United States is one of many "firsts" for the oldest continuously occupied European settlement in America.
When Thanksgiving became a public holiday
According to the US National Archives, on 28 September 1789 the first Federal Congress passed a resolution asking that the president of the United States recommend to the nation a day of thanksgiving. A few days later, George Washington issued a proclamation naming Thursday 26 November 1789 as a "Day of Publick Thanksgivin" – the first time Thanksgiving was celebrated under the new Constitution.
The dates of Thanksgiving celebrations varied as subsequent presidents came and went, and it wasn't until Abraham Lincoln's 1863 Proclamation – in the midst of the Civil War – that Thanksgiving was regularly commemorated each year on the last Thursday of November.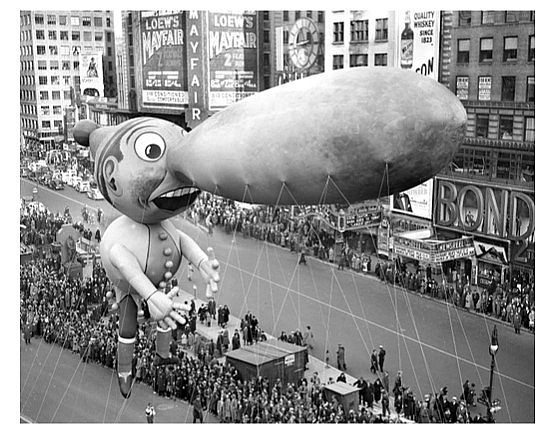 Balloons float down Broadway in the 13th annual Macy's Thanksgiving Day Parade, 25 November 1937. (Photo by Walter Kelleher/NY Daily News Archive via Getty Images)
Why did the dates of Thanksgiving change?
The US National Archives says that in 1939, with the last Thursday in November falling on the last day of the month, Franklin D Roosevelt became concerned that the shortened Christmas shopping season might dampen economic recovery. He therefore issued a Presidential Proclamation moving Thanksgiving to the second to last Thursday of November.
Some 32 states consequently issued similar proclamations, but 16 states refused to accept the change. As a result, for two years two days were celebrated as Thanksgiving.
To end the confusion, on 6 October 1941 Congress set a fixed date for the holiday: it passed a joint resolution declaring the last Thursday in November to be the legal Thanksgiving Day.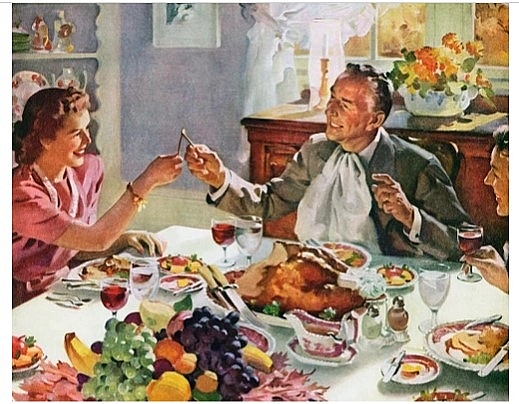 Vintage illustration of a husband and wife pulling the wishbone of a turkey for good luck at Thanksgiving dinner; screen print, 1942. (Photo by GraphicaArtis/Getty Images)
Turkey hasn't always been on the menu at Thanksgiving
While turkey is today the bird of choice for Thanksgiving dinners across the United States, this was not always the case: according to History.com, for the first ever Thanksgiving in 1621 the Native Americans killed five deer as a gift for the colonists, meaning venison would most likely have been the dish of the day.
Why does the president of the USA pardon a turkey at Thanksgiving?
Each Thanksgiving, the president of the United States 'pardons' a hand-selected turkey, sending it to a farm where it lives out the rest of its days. But, contrary to popular belief, President George HW Bush was not in 1989 the first president to grant such a pardon, History Extra reported.
According to the White House, the tradition dates to Abraham Lincoln's days, when his son Tad begged him to write a presidential pardon for the bird meant for the family's Christmas table, arguing it had as much a right to live as anyone. Lincoln complied, and the turkey lived.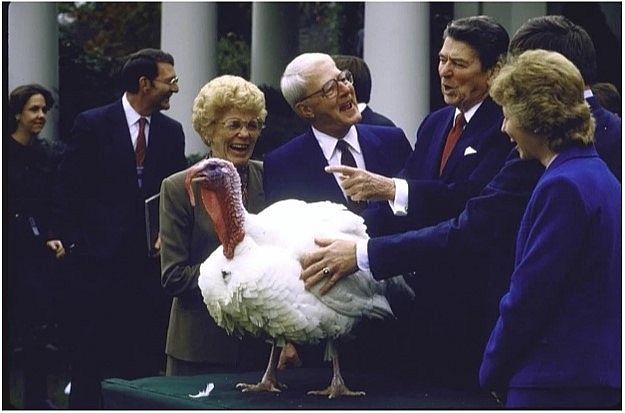 President Ronald Reagan with a Thanksgiving turkey and farmer John Holden and his wife, who raised the bird, November 1985. (Photo by Dirck Halstead/The LIFE Images Collection/Getty Images)
Some perfectly thoughtful Thanksgiving gifts that your host will appreciate
If you're attending a Thanksgiving dinner this year, be it a formal family gathering or a more casual Friendsgiving, you don't want to show up empty-handed - especially when you know your host has been cooking, preparing for guests, and taking extra time to follow safety precautions on top of it all.
Bring along any of these thoughtful gifts with you to your special dinner and you'll surely leave your host feeling as equally as grateful as those they have invited to break bread with them, Town and Country Mag, Good House Keeping and House Beautiful reported.
Thanksgiving Wine Label
Turn the bottle of wine you were already going to bring into something a little more festive with one of these Thanksgiving labels.
White Pumpkin Pie Baker Dish
If it's your turn to bring the pie, carry it in this pumpkin-shaped pie dish as your gift to the host.
"Spread Joy" Stamped Spreader
This sweet, holiday-appropriate cheese spreader is best paired with the gift of their favorite fancy cheese.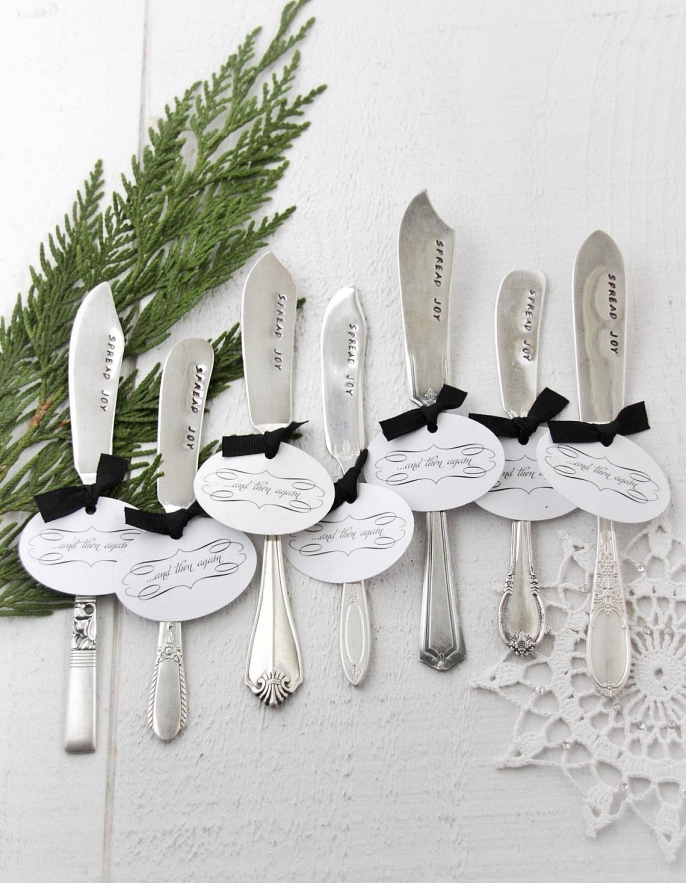 Photo: etsy.com
Pumpkin Chocolate-Covered Oreos
A sweet little treat for the hostess with the mostest, these little pumpkins are actually chocolate-covered Oreos.
Compact Swivel Cheese Board
Speaking of cheese, this compact cheese board is perfect for the host who lives in a tiny apartment, since it folds up into itself for easy storage.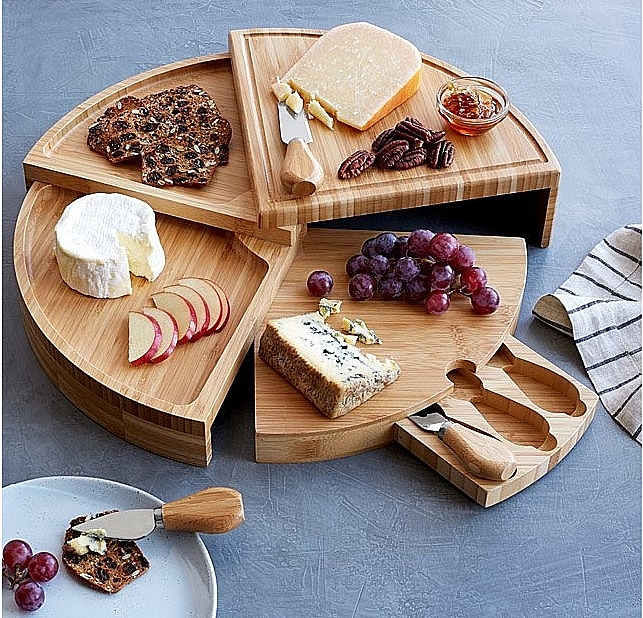 Photo: Uncommon Goods
Pumpkin Pie Scented Candle
Candles are always a good go-to gift, and a seasonal one—like this pick, which smells like pumpkin pie—is perfect for the holidays.
Pumpkin Pie Soap
No, that's not a real slice of pumpkin pie—it's actually a bar of soap made with goat's milk that just looks good enough to eat.
"Give Thanks" Personalized Cutting Board
A personalized gift is always a thoughtful idea, and doubly so when it's something useful, like this cutting board.
Photo: etsy.com
Maple Leaf Cocktail Napkins
These pretty maple leaf cocktail napkins are totally on point for the season.
Painted Pumpkin Mason Jar Vase
A bouquet of flowers (orange chrysanthemums are a good Thanksgiving choice!) looks even better in a hand-painted seasonal vase.
The Torana Bouquet
Speaking of flowers, if you'd like to send flowers to a loved one this Thanksgiving, an autumnal orange color scheme is always a good idea.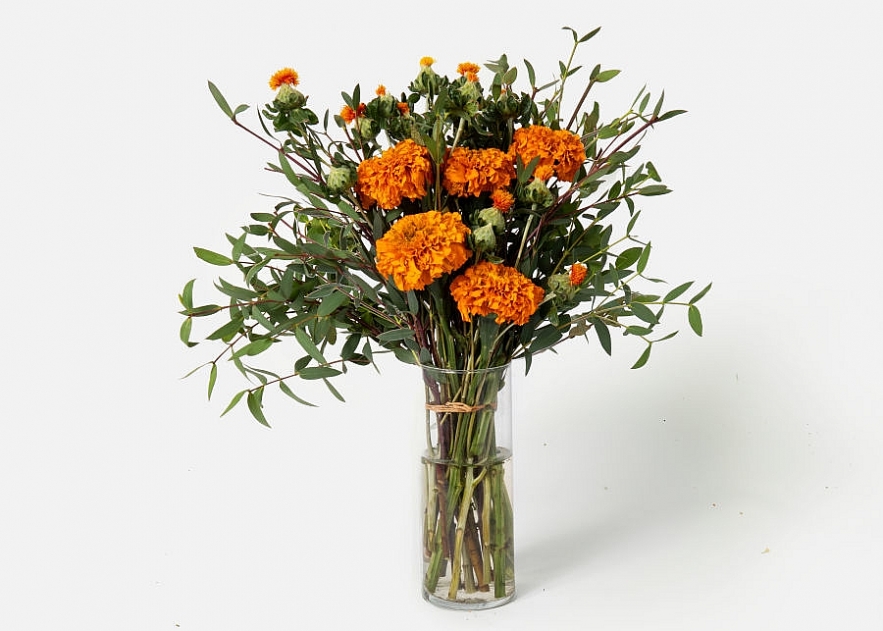 Photo: urbanstems.com
Ceramic Turkey Mug
Warm up their day — and help them stay awake while prepping the turkey — with a Thanksgiving mug. Fill it up with candy for an extra festive presentation!
Chocolate Covered Cookie Gift Basket
Gift this box of 20 chocolate-covered cookies to your Thanksgiving host to show your gratitude.
Throw Blanket
When the post-turkey fog rolls in, this plush throw will be the ultimate companion (along with a new batch of Hallmark movies and a cup of cocoa).
Organic Loose Leaf Tea
Give her tea stash an upgrade with this box of eight heart-, flower-, and square-shaped loose teas. Best of all: You can just drop the tea in a mug of hot water without tracking down a tea strainer.
Wooden Cake Stand
Put her homemade apple pie — or cake or muffins — on full display with a rustic wooden pedestal. The 13-inch stand will fit a standard pie plate with room to spare.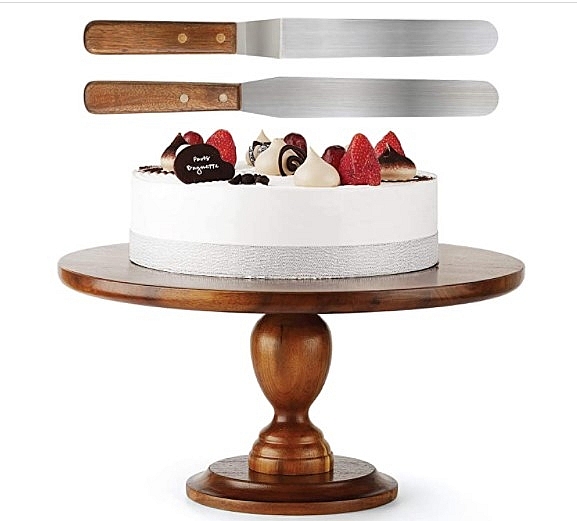 Photo: amazon.com
Bibliophile Ceramic Vase
If you're looking for a unique way to gift flowers, place them in this colorful vase that resembles a petite book. Once Thanksgiving dinner is over, they can move it to their office or library.
Gift Card
Rather than showing up with a standard bottle of Pinot, switch things up by giving your hostess the ability to pick exactly the kind of Winc wine she wants to sip on this season.
Rosie Floral Apron
Every chef needs a functional and beautiful apron to keep their celebratory outfits fresh.
Gold Agate Cheese Knife Set
Fun agate knives instantly liven up any cheese board.
Bath Salts
Hosting during the holidays is straight-up exhausting. With these calming bath salts, your host will get some much-needed R&R once everyone (including you!) leaves.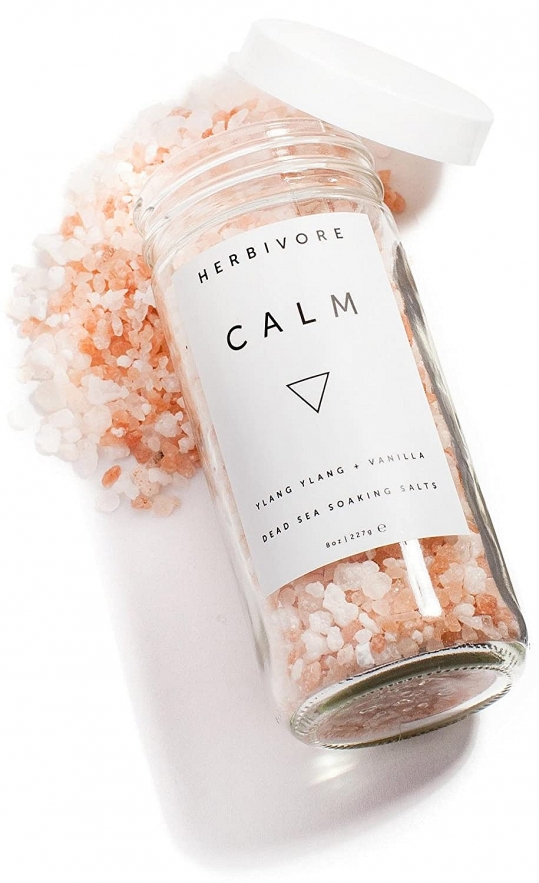 Photo: Amazon.com
US affirms to forge defence ties with Vietnam

The US will continue to team up with Vietnam in promoting bilateral defence cooperation in existing spheres, including maritime security, UN peacekeeping operations, humanitarian assistance, ...