The Art of The Dazzling Kek Lapis Sarawak – Malaysia's Traditional Layer Cakes
Kek lapis Sarawak, Malaysia's traditional layer cake, is unique and dazzling in its textures and delicious tastes, which require a lot of time and effort to make.
The Sarawak layer cake, known as kek lapis Sarawak (meaning "Sarawak layer cake") or kek lapis moden Sarawak in Malay, is a layered cake from the state of Sarawak in Malaysia. This cake can be found almost everywhere in the Malaysian state of Sarawak. Usually, Kek Lapis Sarawak will be served on special occasions. They are often baked for religious or cultural celebrations such as Eid ul-Fitr, Christmas, Deepavali, Gawai, birthdays, and weddings.
People in Malaysia practice an open house tradition during any festival day, and the modern layered cakes way be served almost everywhere in Sarawak.
What is Kek Lapis Sarawak?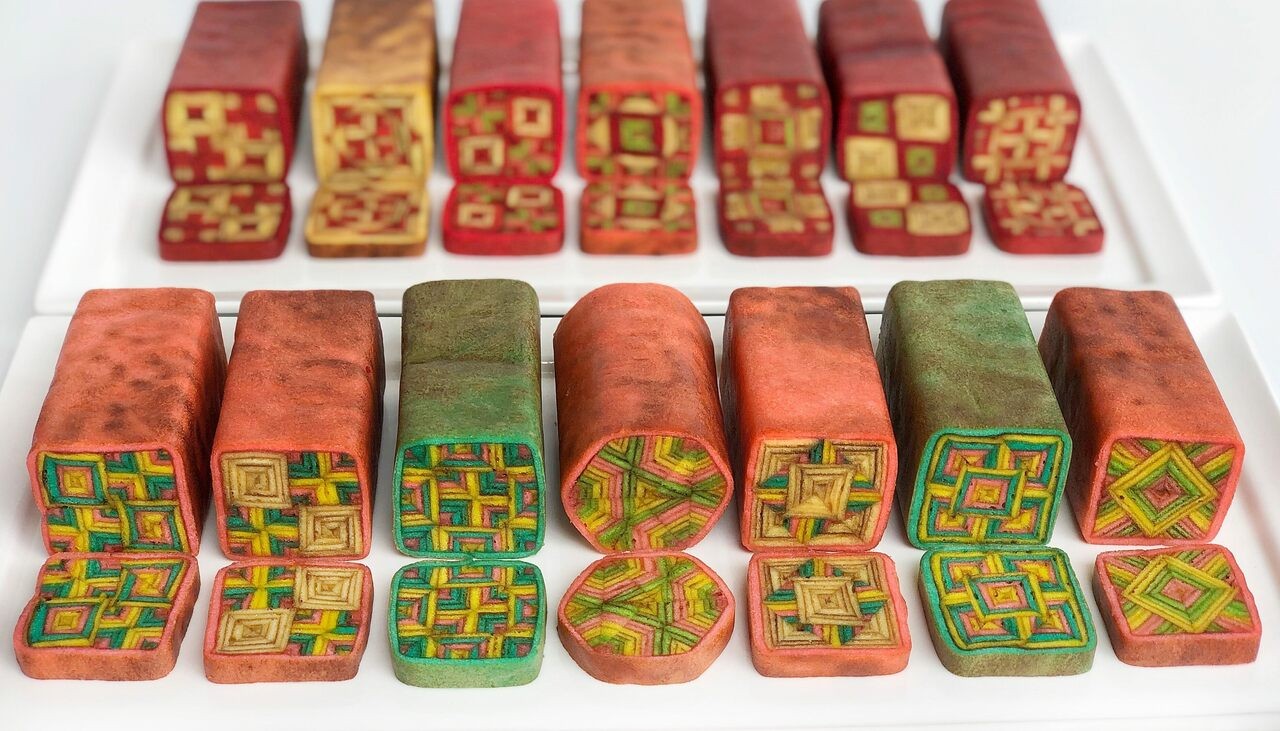 Slicing into these cakes reveals their geometric interiors. KAREN CHAI/KITCHEN CONFIDANTE
Great British Bake Off host Sandi Toksvig described Kek Lapis Sarawak as "a kaleidoscope of colored layers."
Lapis means layers, and as the name suggests, Kek Lapis Sarawak is a cake of multiple layers. Each cake has unique patterns, a rich taste, and vibrant colors that are interlaced with a variety of East-meets-West flavors such as pandan, Gula Melaka, Cadbury chocolate, Horlicks, and Red Velvet, and even fruity flavors!
All Kek Lapis Sarawak consists of at least 2 colors, with various flavors tastefully interlaced with each other. The cake can be divided into two categories: cakes with normal layers or cakes with patterns. Traditionally, Kek Lapis Sarawak is served during festive and special occasions however because of its growing popularity, it is increasingly served all year round.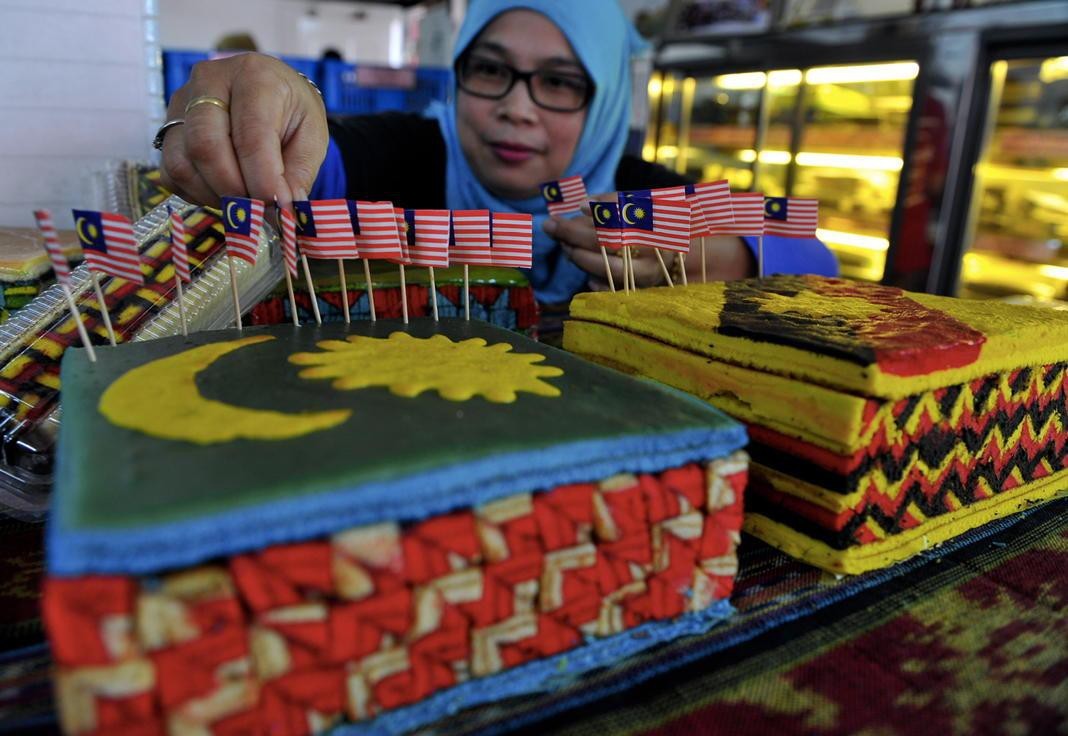 Photo: Atlas Obscura
The Sarawak layer cake has its origin in a form of layer cake with various spices found in Indonesia called lapis legit or kek lapis Betawi (Betawi refers to Batavia, the old name of Jakarta). This spiced Betawi cake is thought to have been derived from a form of European spit cake, which was made by the wives of Dutch administrators in Batavia during the colonial period and served during evening tea. It is believed that this type of spiced layer cake was introduced to Sarawak in the 1970s and 1980s by Betawis from Jakarta. The Sarawak people then added new ingredients, flavors, and colors that resulted in a new version of the layer cake being introduced and named as Sarawak layer cake. In addition, modern Sarawak layered cakes were inspired by Western cake-making in the early 1980s, later modern designs to the traditional layer cake, along with new flavors were introduced.
Characteristics
Sarawakian modern layered cakes can be divided into two categories: cakes with ordinary layers and cakes with patterns, motifs, or shapes. All must have at least two colors. The cake can be baked in an oven or microwave. The batter uses butter, margarine or vegetable oil, milk, and eggs, and requires a strong arm or electric mixer to be properly prepared. The baked cake has a high, firm texture and the layers are fastened together with jam or a similarly sticky sweet substance. More detailed cakes often require special molds to maintain the perfect layer thickness.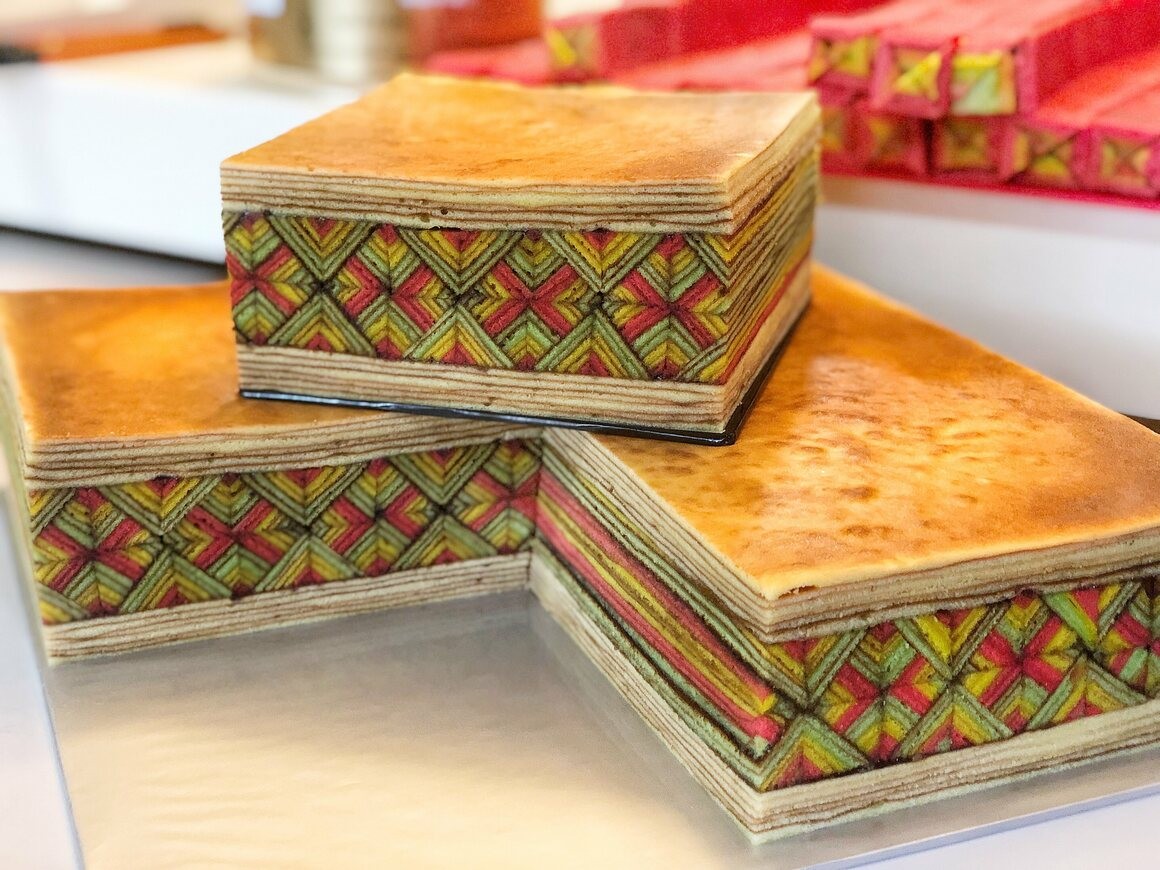 Photo: Atlas Obscura
How are the cakes made?
By infusing Western cake-making techniques and flavors, Sarawakians created their own version of the layered cake that was moister and used many different flavors.
Kek Lapis Sarawak batter uses butter or vegetable oil, milk, and eggs, and the mixture is thoroughly mixed with an electric mixer. Or, with strong arms! The multiple layers found in the cake are achieved by pouring thin layers of different flavored cake mix.
However, baking Kek Lapis Sarawak is unlike baking any normal cake.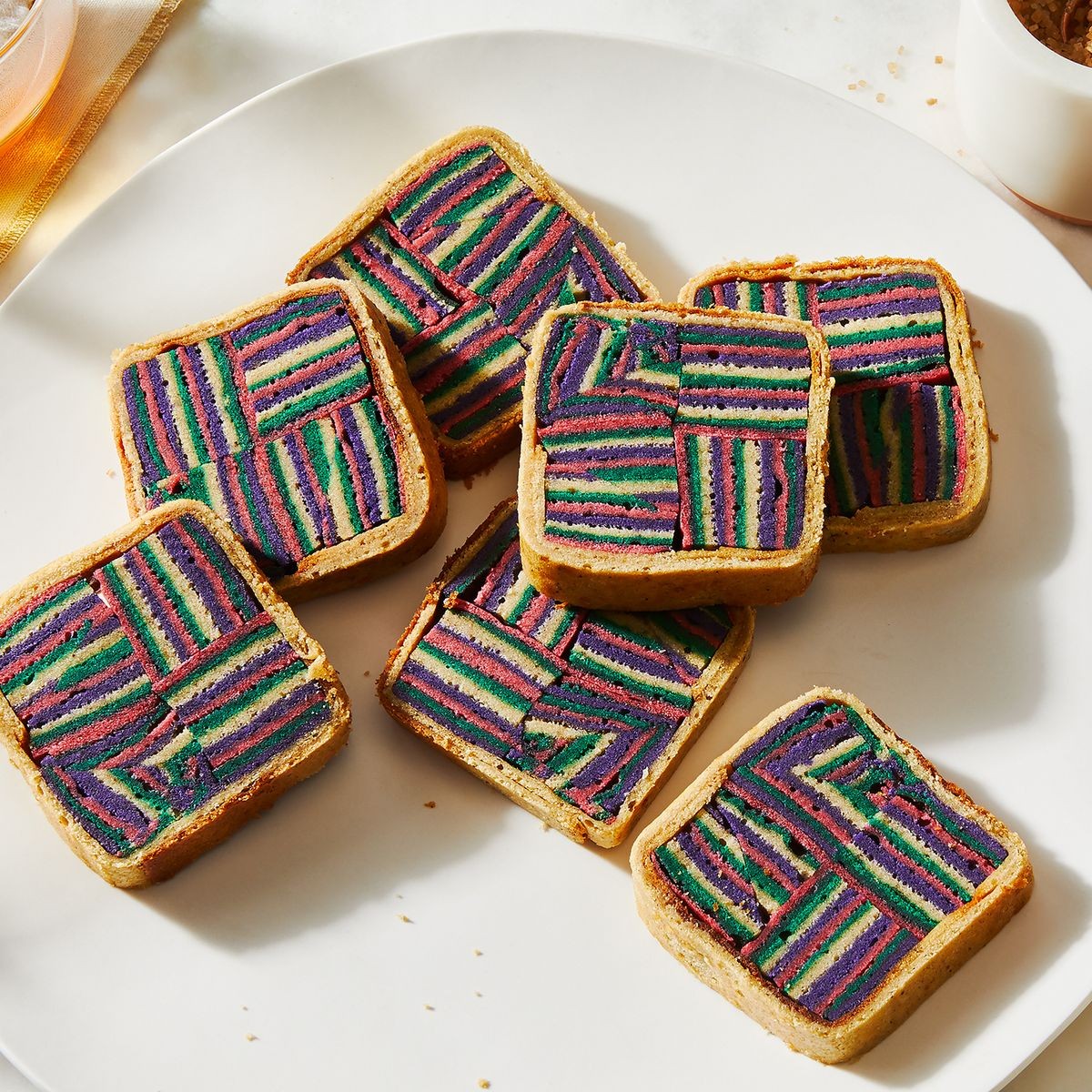 Photo: Food52
Traditionally, cakes are popped into the oven together, as soon as all the layers are assembled. With Kek Lapis Sarawak, the layers are "cooked" progressively. You begin by pouring a layer of cake batter into a cake pan, spreading it thinly and covering the base of the cake pan, then pop it in the oven for 3-5 minutes. You then repeat the process with each layer until your Kek Lapis Sarawak is complete.
Besides the layering process, what makes baking the Kek Lapis Sarawak unconventional is that it is not actually baked per se, but rather broiled. As the layers are cooked one after another, heat from the top of the oven will ensure that only the raw, topmost layer of the cake will be cooked, without overcooking the layers below.
An authentic Kek Lapis Sarawak is 3 inches high and 8 inches wide. It should have a firm texture with a spread of jam or a similarly sweet, sticky spread between the layers and usually takes between 4 to 6 hours to prepare, according to the Sarawak website.
"Each cake is crafted to reveal a geometric design when sliced"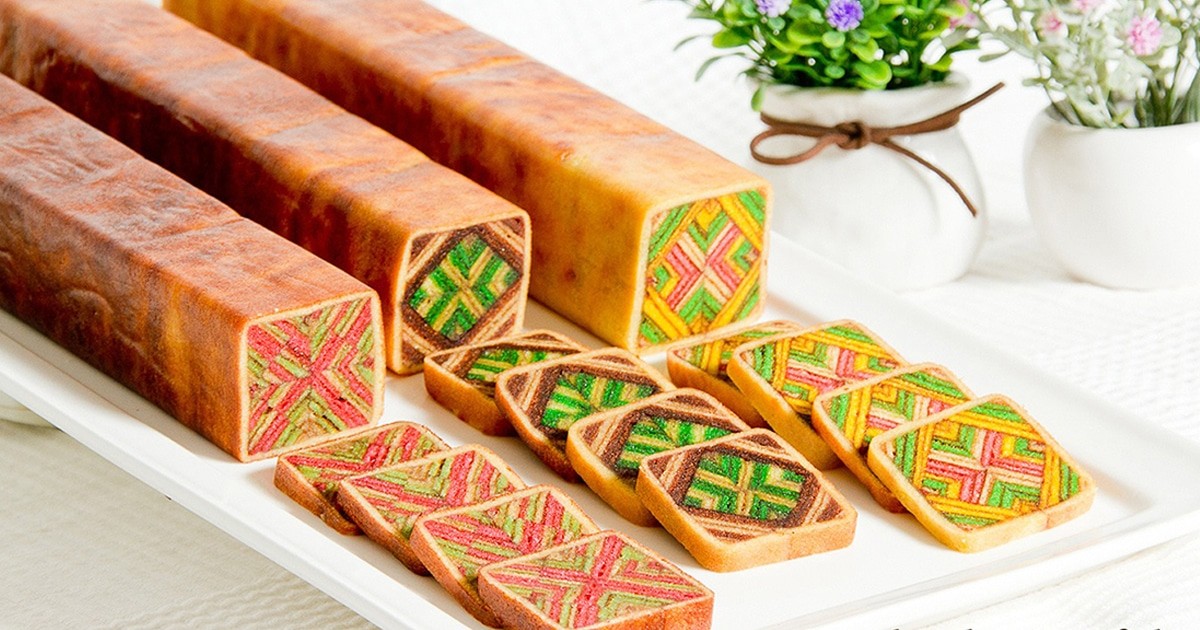 Photo: My Modern Met
Kek lapis Sarawak is a relatively new dessert. It originated in the 1970s and 1980s when the Betawi people from Indonesia introduced Sarawakians to kek lapis Betawi, or lapis legit, a localized version of the spit cakes that Dutch colonists used to enjoy. Lapis legit incorporates spices such as cinnamon, cardamom, clove, and star anise into a fluffy batter of butter, flour, and eggs, which bakers cook in multiple brown and beige layers.
Sarawak's version of kek lapis, however, is much more colorful and complicated, with its inner layers made vibrant with food coloring and natural extracts. Bakers in Sarawak also added their own spin on the cake's flavors, resulting in concoctions such as kek lapis Cadbury and kek lapis Oreo. Building these cakes requires a vivid imagination, an almost mathematical mind for detail, and perhaps most importantly, a steady hand.
Kek lapis Sarawak is unique because bakers must carefully cut up the cooled cakes and reassemble them using jam or condensed milk as glue. The end result is a complex, vibrant pattern that appears when the cake is sliced, according to Atlas Obscura.
How much are the cakes?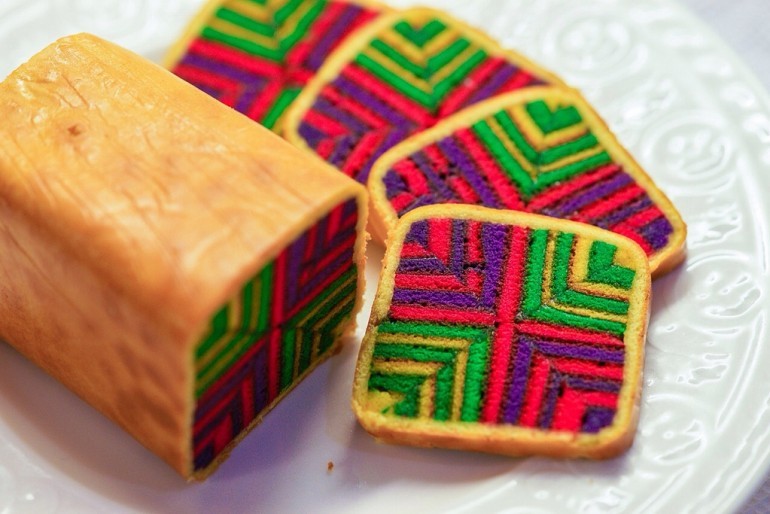 Photo: Asian Itinerary
A typical 'roll' of Kek Lapis Sarawak sells for RM15 to RM30, but a full one weighing around 2kg can cost up to RM250. This might sound expensive, but look at the hard work it takes to make one delicious layered cake, and bite into those layers of melt-in-your-mouth flavors. No matter what type of Kek Lapis Sarawak you try, whether it has plain, ordinary layers or features complicated patterns and motifs, just remember it has taken absolute patience to create the perfect cake, according to the Sarawak website.