Teachers at Mekong Delta prioritized for Covid-19 vaccine
Teachers working at border provinces are listed as prioritized group in Dong Thap's ongoing second round of Covid-19 vaccination.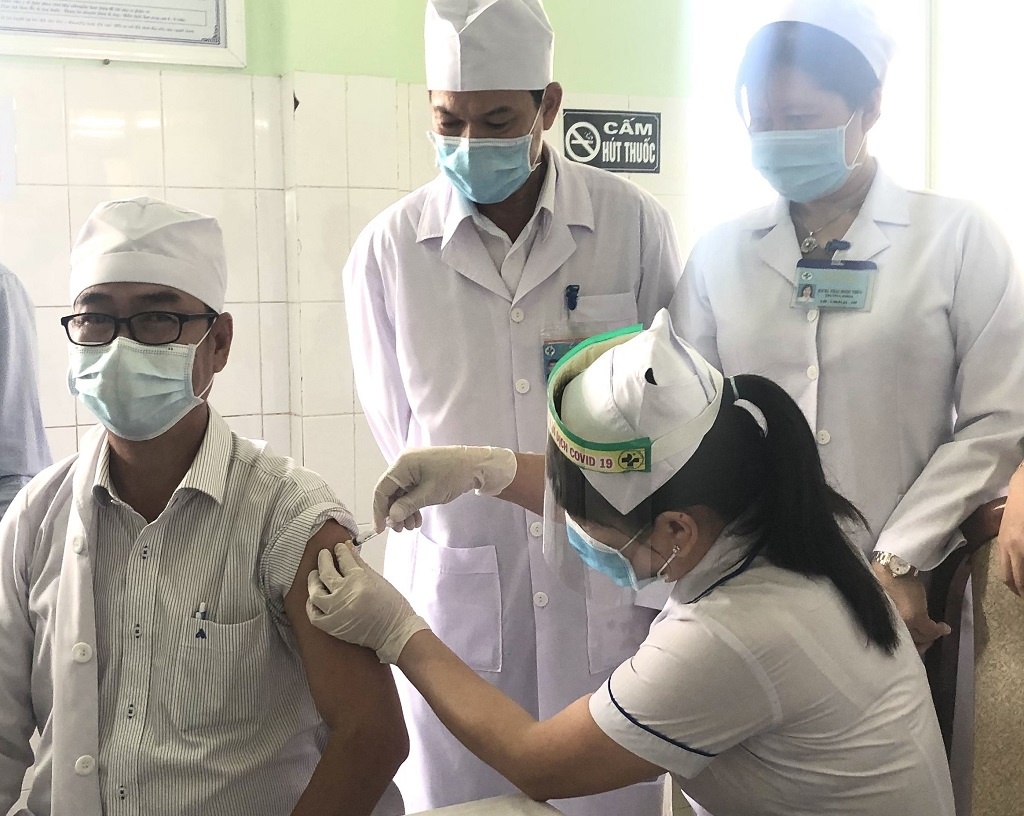 One medical staff in Dong Thap getting the vaccine (Photo: Thanh Nien)
Of the 19,000 AstraZeneca doses used in the second vaccination round, Dong Thap authorities allocate 5,000 doses for teachers working at border provinces.
More than 1,200 teachers on the priority list are set to receive the vaccine on June 5-6 at commune health stations. In order not to interrupt teaching schedule at schools, teachers will be vaccinated at different time periods, according to Mr. Nguyen Huu Tien, head of Education and Training Department of Hong Ngu district.
"All the teachers will be administered with the AstraZeneca doses, given the high risk of infection at bordering areas," Tien was quoted as saying. "If teachers get immunized, the students will also be protected against the novel coronavirus."
Dong Thap kicked off its second round of Covid-19 inoculation on April 27, with over 200 doctors and medical staff at Provincial General Hospital got the vaccine.
Dr. Nguyen Hoang Viet, Director of the medical facility said there were three cases experienced side effects, but all symptoms wore off within hours.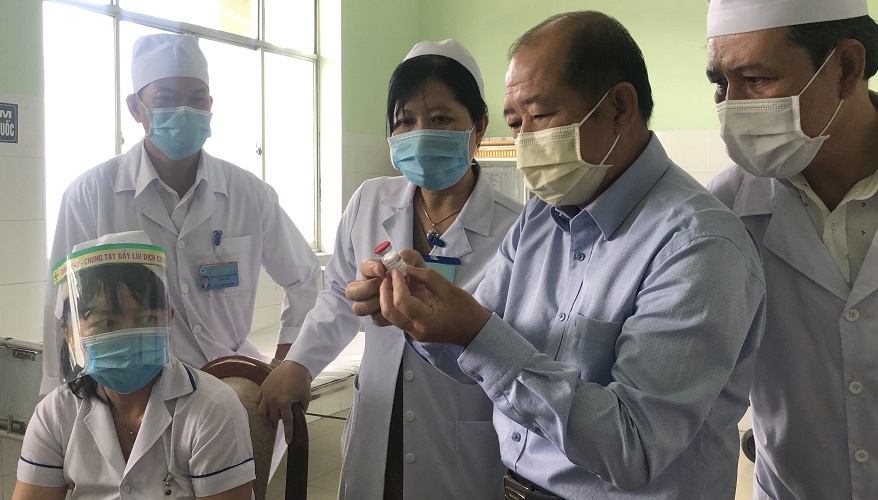 (Photo: Thanh Nien)
Dong Thap province has recently detected numbers of trespassing entering through waterway, according to Major Tran Duy E - politician at Thuong Phuoc International Border Guard Station, Dong Thap province.
"Trespassing through waterway has been complicated in recent days. Border guards are working round the clock. We had built a new border station at DT841 to support," E said.
The World Health Organization has advised Vietnam to remain alert for Covid-19 outbreaks despite the recent absence of community transmissions and an ongoing vaccination campaign.
As reported by VNE, Vietnam needs to stay vigilant before the looming threat of new coronavirus outbreaks coming from beyond its border, even during an ongoing vaccination campaign, Kidong Park, the WHO representative in Vietnam, said Tuesday.
"The risk of case introduction to Vietnam including onward community transmission is high especially if cases among the illegal incoming travelers go undetected," Park said.
Cambodia has been in the grip of a new wave since late February. Its caseload has crossed 11,700, after recording only around 400 cases the whole of last year.
The Lao government last Friday closed the country's borders and announced a two-week lockdown in capital Vientiane. On Monday, the country recorded 113 new cases, its highest single-day tally. There were 93 new cases on Wednesday, taking the national infection toll to 604.
Thailand reported 2,012 new Covid-19 cases Wednesday, the sixth straight day it recorded more than 2,000 daily cases, taking the total to 61,699 so far. Last year it had detected less than 7,000 cases.
Despite Vietnam's successful record in the coronavirus fight, the recent surges in certain countries including India show that the crisis can worsen anytime and there's still a "long way to go as a global community," he said.
Officially, the number of cases in India surged by 362,902 in just 24 hours. As of Thursday, the country of 1.3 billion people has recorded mroe than 18.3 million infections and 204,812 Covid deaths, after 3,647 more died overnight.
Globally, 5.7 million cases and 88 000 deaths were reported to WHO last year.
In Vietnam, the public needs to be kept informed of the risks and public health measures to be adhered to, even as a national Covid-19 vaccination program is being rolled out, he advised.
The government also needs to be alert and active in risk assessment, preparing for possible resurgence of cases by ramping up border surveillance and control, setting up field hospitals in areas close to the border and advising its citizens in other countries to avoid illegal entry, among other measures, he added.
Prime Minister Pham Minh Chinh on April 27 asked ministries, agencies, localities, units and individuals to remain vigilant against COVID-19 and raise the sense of responsibility for public health.
According to a document on the meeting outcomes, issued by the Government Office, the PM pointed out the high risk of pandemic resurgence in Vietnam as its neighbouring countries are facing spikes in cases, Nhan Dan Newspaper reported.
Given this, it is hard to complete the dual tasks of socio-economic development and pandemic combat, he said.
The leader urged ministries, agencies and localities to get updated on the COVID-19 situation at home and in foreign countries, and seriously implement prevention and control measures.
He reiterated the need to follow the Ministry of Health's 5K message: khau trang (facemask), khu khuan (disinfection), khoang cach (distance), khong tu tap (no gathering) and khai bao y te (health declaration).