The Best Nail Salons In California for Your Visit
California is a famous and blazing place to visit and enjoy the best shopping, delicious food, and beautiful, sunny beaches. These best and Instagram-worthy nail salons will satisfy your need for nail care and beauty needs.
Whether your nails are always on-trend, you keep up with Instagram nail art or you just like to head to the nail salon for special occasions, many of life's best moments happen at a nail salon. While you likely have a favorite spot, there are many nail salons in California that are considered to be top options. From all-natural and non-harmful products to nail designs that are one of a kind and might very well require a fine art degree, these are a few of the reasons digital influencers, celebrities, and boss babes like Alli Webb adore these salons.
1. Côte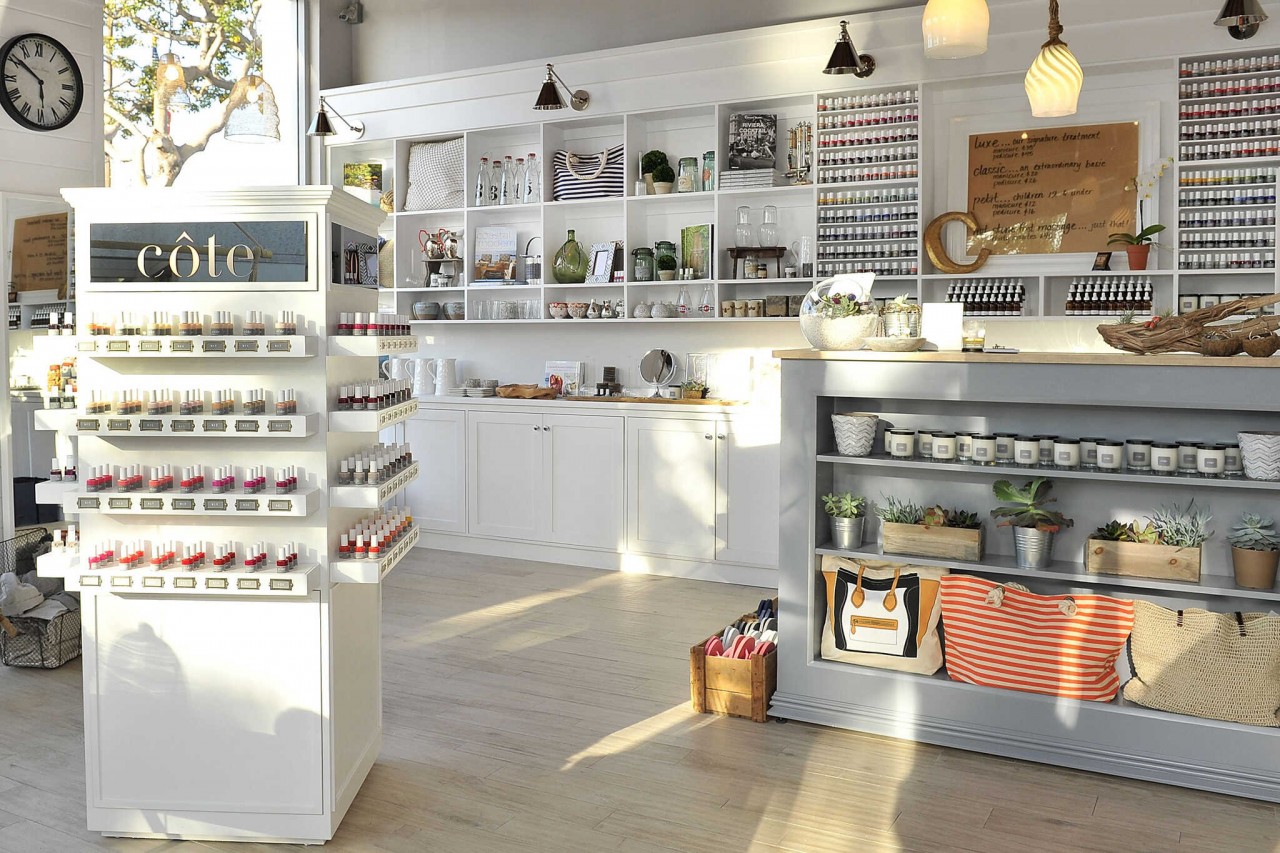 Photo: Timeout
Take a mental beach break at Côte. Located in Brentwood, this all-natural nail salon and one-stop-shop is adorned with a sliding barnyard door, white shiplap walls that would make Joanna Gaines proud, and Gray Malin prints—the photographer has actually popped his head in to admire the décor. Sip on your choice of complimentary rosé, tea, or lemonade while sinking into the plush countryside style chairs. The non-toxic, vegan, and cruelty-free nail salon exclusively uses its line of 10-free nail polishes (choose from more than one hundred colors).
There are five treatments including Quick Côte for those in a hurry and a Hot Stone Foot Massage for anyone who simply wants to unwind with a 30-minute rubdown. Côte does not offer gel manicures or gel removal. On the decision to not include gel, co-founder Mary Lennon says, "With our focus on safe products and healthy, natural nails, gels just didn't fit the bill." The beach bungalow is also available for rent for parties. Enjoy the outdoor garden for $350 or the entire space for $1000, for up to three hours (services are not included in the rate). The price for a classic manicure is $25 and $30 for a classic pedicure.
2. Laque Nail Bar & Beauty Lounge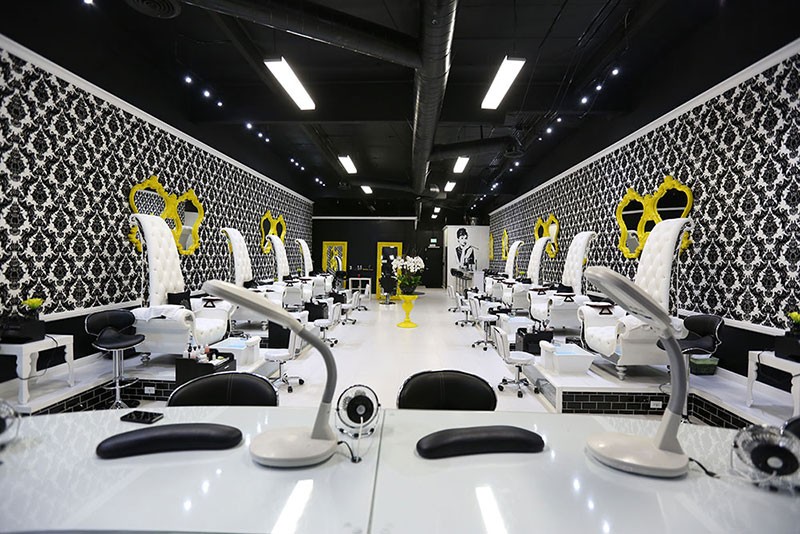 Photo: Lacque Nail Bar
Laqué Nail Bar's mission is to deliver incomparable nail care in the sanitary yet chic atmosphere. At Laqué Nail Bar, our clients, whether first-time or beloved regulars are guaranteed a pleasant experience as well as service and pampering that exceeds expectations. Laqué Nail Bar will not compromise on quality to offer our valued clients a retreat from the daily grind.
Established in 2013. Frustrated with the service, quality, and sanitation of local nail salons in Los Angeles, the owners set out on a mission to re-invent the nail salon experience. After a year of planning and research, and months of construction, on September 28, 2013, laque nail bar and beauty lounge was launched!
Welcome to laque nail bar and beauty lounge, not your ordinary nail salon!! laque is the premier full-service nail bar and beauty lounge in North Hollywood, California. We pride ourselves on providing our clients with fabulously indulgent nail care while maintaining the highest level of sanitation and sterilization available in the nail care industry. To ensure that our customers are receiving the highest possible level of service, all of our equipment is medically sterilized, and a fresh set of disposable tools are used each time. laque offers a wide range of signature nail care treatments, in addition to dry bar, makeup, threading, waxing and skincare services. Get pampered at the hottest nail salon in Los Angeles!
3. Olive & June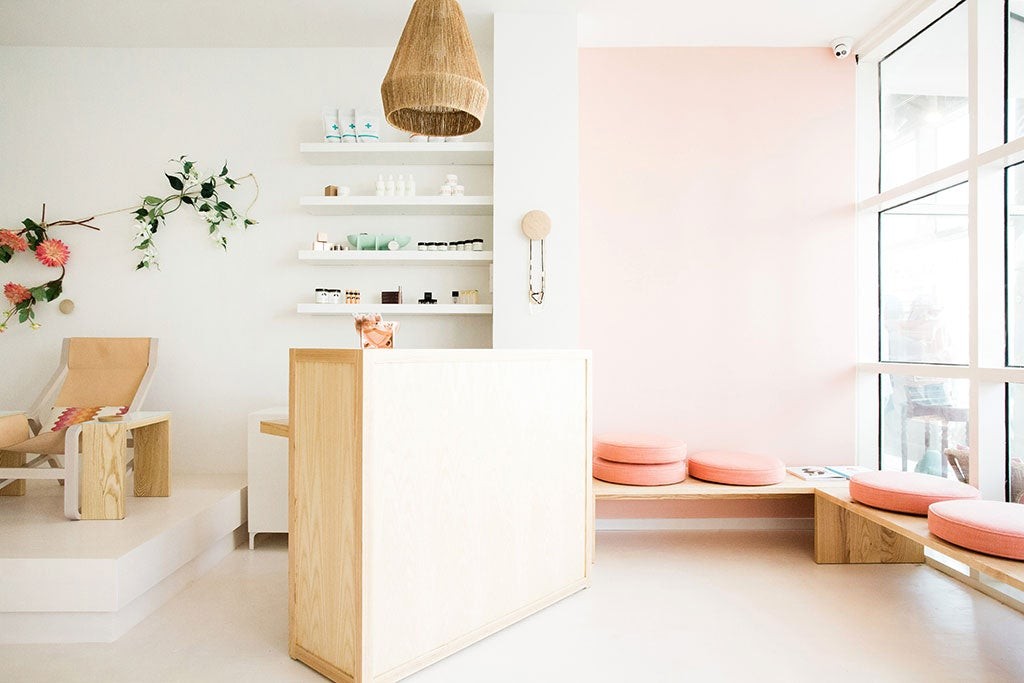 Photo: Olive & June
"I truly believed that getting your nails done should be fun again," says founder Sarah Gibson Tuttle on the opening of the first Olive & June salon in Beverly Hills. The salon—named after her great-grandmother and her grandmother—is designed by Brady Cunningham, co-founder of multi-label boutique, Ten Over Six. "We really wanted to create a stylish space that feels as inviting as your best friend's home," Sarah says. Don't mind if we do. And just like your bestie, the salon knows things like how you take your coffee by keeping your preferences on file.
While there, opt for a nail design ($5 to $10 per nail) because have you seen its Instagram account? The price for a classic manicure, called The June, is $30, and a classic pedicure will only set you back $40.
4. ZaZa Nail and Wine Lounge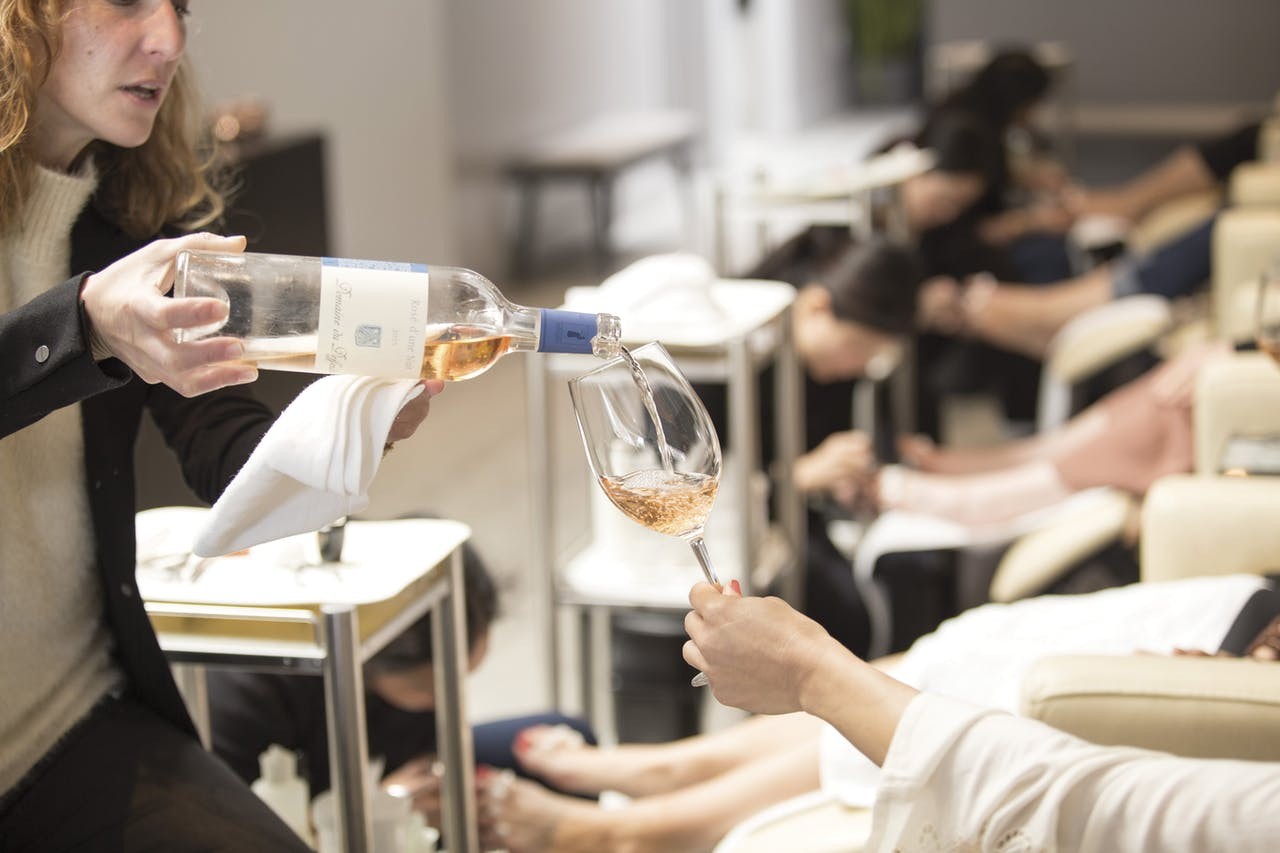 Photo: Nailpro
ZaZa Nail and Wine Lounge in San Francisco offers guests the opportunity to purchase a glass, or even a bottle, from a sommelier-selected menu of white, red, rosé and bubbly wines.
It's not uncommon for upscale salons to offer their clients a complimentary glass of wine with services, especially in California, where the recent passage of the "Drybar bill" made the practice legal. ZaZa Nail and Wine Lounge in San Francisco, however, has taken the concept to a whole new level, offering guests the opportunity to purchase a glass, or even a bottle, from a sommelier-selected menu of white, red, rosé and bubbly wines. "We offered complimentary wine after the bill passed, but we couldn't really offer quality selections," says ZaZa owner Rachel Cheng, who opened her salon in 2005.
Recognizing that many of her clients were interested in drinking wine during services and when they booked parties at the salon, Cheng decided to apply for a liquor license in 2016. Around the same time, she met sommelier Allegra Angelo, who created a curated wine list especially for ZaZa. After completing a renovation that included the addition of a chic wine lounge at the front of the salon, Cheng officially launched the new concept and branding in January of 2017, aptly summed up by the salon's hashtag, #GetPolishedDrinkWine. "Our motto is low-sugar, natural, no headache wines," says Cheng, adding that the focus complements the salon's emphasis on nontoxic beauty and nail services featuring natural and eco-friendly products, many of them made in-house. "Most of them are from France or Italy, though we do have some local wines as well." Wine menus are displayed at every station, and selections are updated every few months.
5. Tenoverten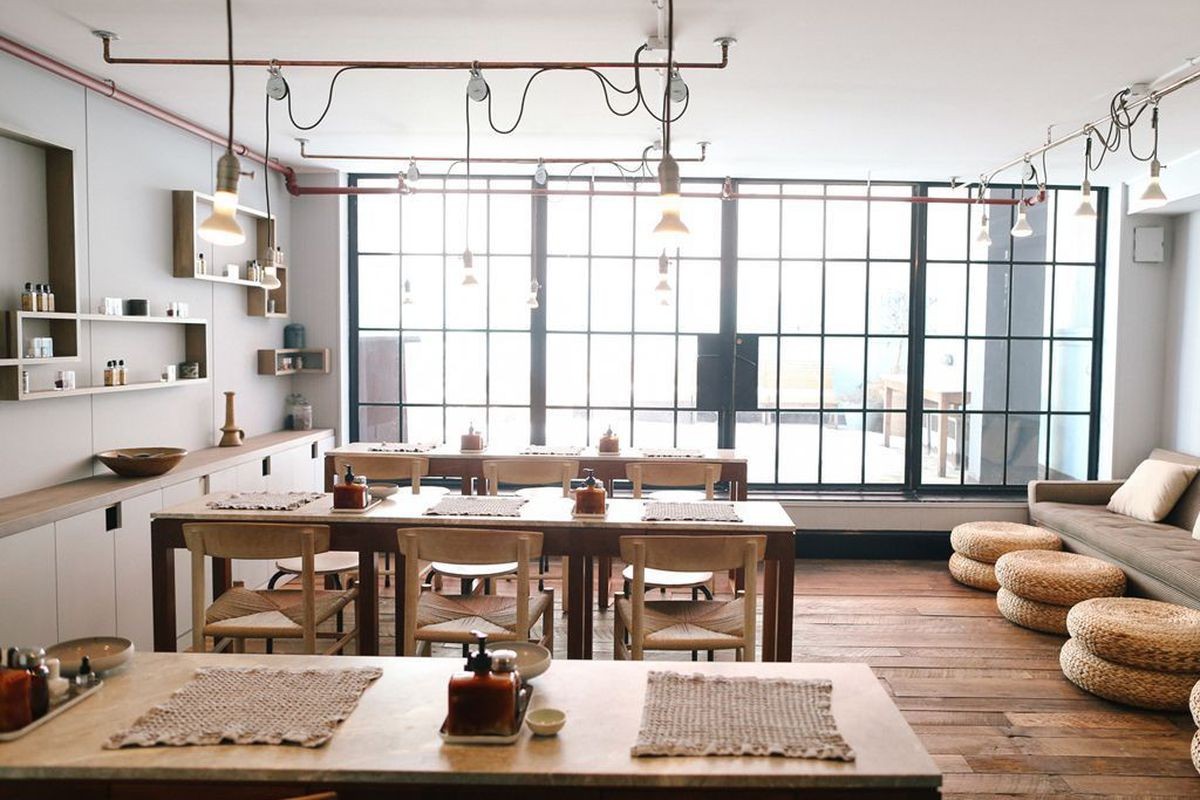 Photo: Racked LA
New York City's favorite non-toxic nail salon recently opened its first L.A. location in Culver City's Platform. By the smell of it, you'd think you're at a spa, and not a nail salon. That's how it should be, right? (The ones on our list certainly think so!). There are zero fumes or harmful products at Tenoverten. Instead, the soft smell of rose oil and natural scrubs fills the loft-like space. The salon uses its own line of 8-free polishes, as well as offers Chanel, which is 5-free, and Essie, which is 3-free. It was a natural fit for Tenoverten to open in L.A. because the company manufactures all of its products here. The line includes a non-acetone polish remover, a non-toxic cleansing cloth, and an all-natural cuticle oil. "We're expanding that category," says Jaclyn Ferber, Tenoverten's creative director. "Our whole philosophy is long-term nail health." The Parsons School of Design graduate says she finds her inspiration from little sister, Tenoverten co-founder Nadine Abramcyk. There are four Tenoverten locations in New York, one in Austin, and maybe more locations to come in L.A. A signature manicure is $28, and a signature pedicure is $43.
6. Nailbox
Photo: The Nailbox
Scroll through the Instagram feed of fashion influencers like Aimee Santos, and you'll spot the minimally designed Nailbox. "We were aiming to open up a salon that was clean, simple, and beautiful," says co-founder Lambert Hahm. The husband and wife team designed the salon themselves, taking inspiration from Pinterest and design magazines. "It really came together," Lambert says on their vision, which took into account the downtown location. Picture concrete floors and exposed ductwork. The salon also features a plant wall and copper tubs with one-time liners for pedicures. The menu includes traditional services like gel and regular manicures, but it does not offer acrylics. For those who are looking for a non-harmful service, opt for the Organic Manicure and Organic Pedicure, which each use 5-free polish and natural products. The Signature Nailbox manicure costs $20, and the Signature Nailbox pedicure costs $35.
7. Jessica The Clinic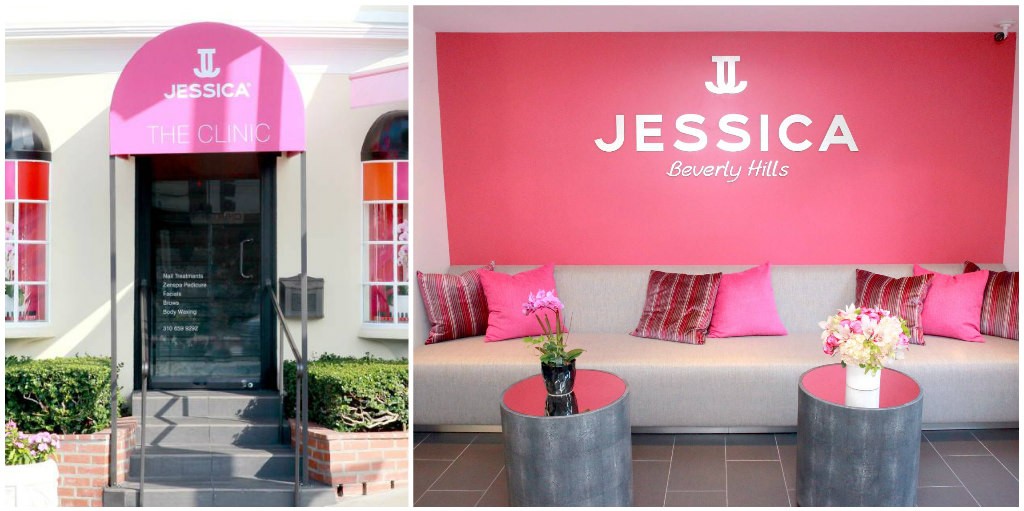 Photo: LAFT USA
One of the most long-standing tenants at Sunset Plaza, Jessica the Clinic has offered world-class beauty services since 1975. The clinic's legacy is based on Jessica's signature Nail Cultivation System, where each nail is expertly analyzed and prescribed a custom treatment to restore the nails. Hands are luxuriously infused with moisture in heated mittens, and cuticles and nails are meticulously tended to for the perfect application of one of Jessica's 200 Custom Colors. The specialized filing and polishing techniques keep manicures looking like new for up to two weeks.
Over the last 40 years, Jessica The Clinic (the first-ever nail-only salon) has been a natural nail go-to for celebrities. Drew Barrymore, Sarah Jessica Parker, Jessica Alba, and Kate Bosworth are a few of the A-listers who have their nails painted here. The space—in its original Sunset Plaza location—underwent a 14-month renovation, which was completed in 2018. With the help of interior designer Jeffrey Hitchcock, founder Jessica Vartoughian opted for a modern look with white walls, and fluorescent pink accents. Services include a nail analysis and a solution-based treatment for healthy nails. The Jessica Signature "Nail Cultivation" is $35 and a Zenspa Pedicure is $40.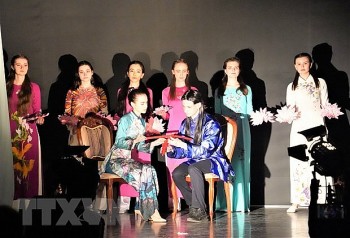 Overseas Vietnamese
Two exchange programmes were held in Russia, attracting manyemany and students of Vietnamese studies from leading universities in Russia.