Vietnamese American nail salons eager to resume operations
The state government of California (USA) has given green light for nail salons to reopen starting June 19.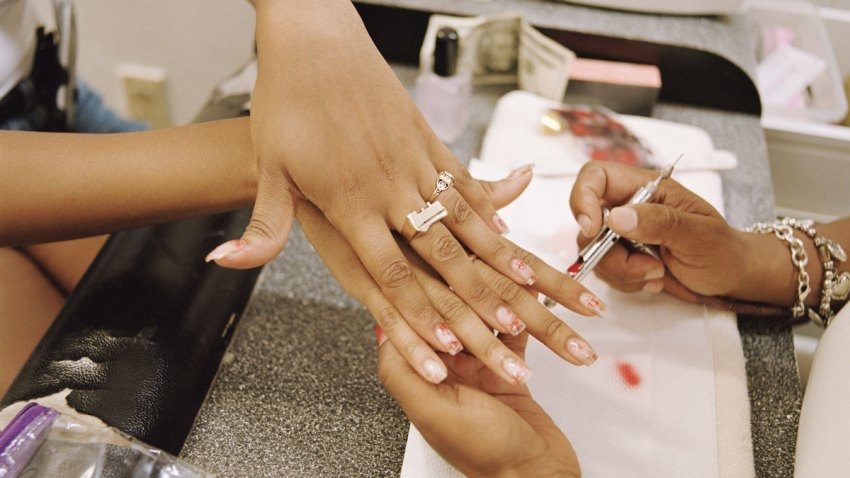 File image of a manicure.
California Gov. Gavin Newsom issued a new state guidance Friday to lift COVID-19 restriction on nail salons. The service can reopen starting June 19, in counties where health officials allow it.
But salons won't look the same when they do open. Workers and customers must wear face masks, adopt far more intense cleaning practices for shared reusable items like tweeters, foot bathtubs.
Protest for justice
Gavin Newsom's movement took after nail salon owners organizing protest, pushing for reopening.
About 200-300 Vietnamese American nail salon owners and workers staged a peaceful protest in Westminster (California) June 8, angered that the state continues to bar them from reopening their business during the pandemic.
They protested at the Asian Garden Mall in Westminster, urging state officials to include them in plans to reopen other businesses this week that have been shut down since March due to health orders protecting against the spread of coronavirus.
"There is a major delay in opening of nail salons,'' said Christie Nguyen, owner of Studio 18 in Tustin and co-founder of the Nailing it for America organization.
"Hair salons, massage parlors, gyms and bars'' are gearing up for reopening, she said.
"Ever since the beginning, and prior to COVID-19, we've been prepared in regard to (personal protective equipment), and now purchasing shields, purchasing masks and the abundance of caution we're taking,'' Nguyen said. "We just feel like this is our time to reopen, and we don't know why we haven't been able to.''
Gov. Gavin Newsom commented last month that the origin of community transmission of the virus in California began at a nail salon, but Nguyen said state public health officials told them last week they could not prove that.
"They have not retracted that statement'' publicly, Nguyen said.
"We want to reopen sooner than later,'' Nguyen said. "Every day we're closed it's another salon unable to sustain itself.''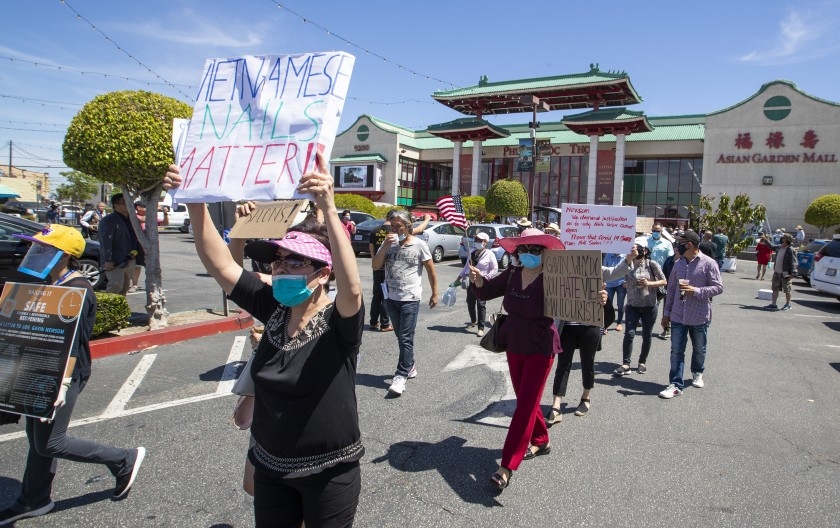 Protesters demanding that Gov. Gavinb Newsom #OpenNailSalonsNow march around Little Saigon (Allen J. Schaben/Los Angeles Times)
Follow COVID-19 regulations
CBS Los Angeles reported that there are 11,000 nail salons in California and 80% of them were Vietnamese-owned. Meanwhile, Los Angeles Times cited Lisa Fu, Executive Director of the California Healthy Nail Salon Association saying that the state has more than 110,000 licensed nail workers and 300,000 cosmetologists.
Therefore, the closure of nail salons in the past 3 months has affected the lives of many Vietnamese Americans in this industry.
"My business has been greatly affected," said the owner of a nail salon in Carson City (Los Angeles County), adding that she owed the rent for the past three months.
Kathy Nguyen, owner of a nail salon in Santa Rosa (California) told Thanh Nien newspaper that the state government has published some guidelines for the nail industry when reopening. She also added that shopkeepers like her, if needed, will be lent money to overcome this difficult period.
According to some nail salon owners in California, many customers even say they are willing to pay a little higher for nail service because they understand that nail salon owners must equip a series of safety measures for guests and workers, such as installing mica glass panels on nail tables, spraying disinfectant, buying extra masks, antiseptic water.
Thu Nguyen, Los Angeles (California), said that despite hearing the state government's permission to reopen nail salons next week, she was still waiting for official notice from the local government. Despite her eagerness to resume operations, she was a little worried for fear of spreading the coronavirus.
Respond to Thanh Nien, Ms. H.M, a nail technician in Santa Rosa City (California), said she wanted to go back to work because staying at home for a long time was very boring. In addition, although receiving a pension, this amount is not equal to the income at the nail salon. According to her, the nail salon owners are equipped with many safety measures for workers and guests so she also feels safe when returning to work next week.