The death of Floyd: Curfews spread across America
Protests demanding justice for George Floyd continue across the U.S., with cities bracing for more clashes with police and destruction. President Trump silent as curfews spread across America, in at least 30 cities.
George Floyd death: US cities order curfews amid widespread clashes
Curfews have been ordered in cities across the US to try to stem unrest sparked by the death of a black man in police custody, BBC cites.
Atlanta's mayor announced a curfew Saturday night and Georgia's governor authorized up to 1,500 National Guard troops to deploy throughout the city after a Friday night protest over the death in Minnesota of George Floyd turned violent, AP reported.
Atlanta Mayor Keisha Lance Bottoms urged unity and nonviolence during a news conference Saturday evening. She said the curfew would be in effect from 9 p.m. Saturday to sunrise on Sunday, calling it a "very unusual and extreme step."
Atlanta Police Chief Erika Shields said at a news conference that they would have a zero tolerance policy Saturday night. Minutes before the curfew took effect Saturday night, police in downtown Atlanta appeared to use tear gas, causing hundreds of protesters to scatter.
Police then began using zip-tie handcuffs and detaining protesters who refused officers' directions to leave. At least 34 were arrested Saturday.
Curfew began
One of the cities worst affected by unrest is Los Angeles. California Governor Gavin Newsom declared a state of emergency in the city and activated the National Guard - the reserve military force that can be called on by the US president or state governors to intervene in domestic emergencies.
In New York, video showed a police car driving into a crowd of protesters. Mayor Bill de Blasio said the situation was not started by the officers, but Congress Representative Alexandria Ocasio-Cortez said his comments were unacceptable and he should not be making excuses for the officers.
Chicago Mayor Lori Lightfoot imposed a 21:00 to 06:00 curfew until further notice, saying she was "disgusted" at the violence.
"I've seen protesters hurl projectiles at our police department... bottles of water, urine and Lord knows what else," she said.
Today the protests included several peaceful demonstrations in the Loop. Hundreds knelt in protest at the corner of Wacker and Wabash. Marches spilled on to Lake Shore Drive, which was shut down.
But some in the crowd began vandalizing downtown businesses. A Chicago Police Department van was nearly toppled, a squad car was overturned, and a Chicago and American flags were burned. Some looted businesses along the Magnificent Mile, including the Nike Store, Neiman Marcus and Macy's.
In Atlanta, protesters remained on the streets after the curfew began, damaging property and vehicles. Dozens of arrests were made.
Trump stayed silent (even on Twitter) in the White House
On Saturday evening, Mr Trump said that Mr Floyd's death had "filled Americans with horror, anger and grief".
"I stand before you as a friend and ally to every American seeking peace," he said in a televised address from Cape Canaveral in Florida, following the launch into orbit of two Nasa astronauts by billionaire Elon Musk's SpaceX company.The president denounced the actions of "looters and anarchists", accusing them of dishonouring the memory of Mr Floyd. What was needed, he said, was "healing not hatred, justice not chaos".
"I will not allow angry mobs to dominate - won't happen," he added.
Mr Trump has blamed the mayor of Minneapolis - a Democrat - for failing to control the protests, which are the worst since the president took office.
He said that if the violence was not brought under control, the National Guard would do the job.
The president's Democratic Party rival, Joe Biden, has accused him of giving oxygen to bigotry and said those responsible for Mr Floyd's death must be held accountable.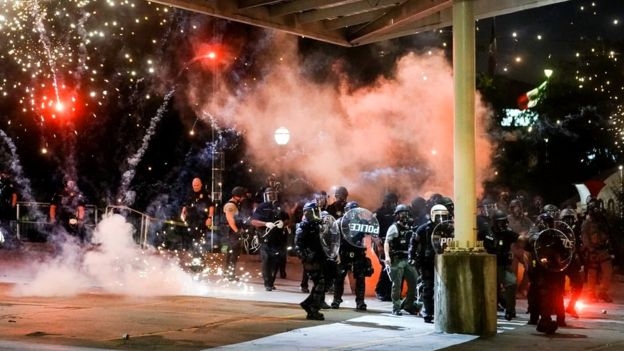 A firework explodes near a police line during a protest in Atlanta
One city that has seen less violence is where George Floyd died. Some 700 National Guard officers are aiding police in Minneapolis and they acted quickly to enforce the curfew imposed there. The Star Tribune said the action had so far headed off the unrest of the previous night.
For the second day running, a large crowd of protesters taunted National Guard officers outside the White House in Washington, DC. If they had breached the fence, President Trump said they would have been "greeted with the most vicious dogs, and most ominous weapons, I have ever seen".
Indianapolis was one of the cities that had seen peaceful protests during the day turn violent later. At least one shooting death has occurred, but police said no officers had discharged weapons.
In under-curfew Philadelphia, 13 police officers were hurt and at least 35 arrests made as stores were looted, police cars torched and buildings defaced.
Overnight curfews have also been declared in Philadelphia, Miami, Portland and Louisville, among other cities, although many were simply ignored.
Hundreds of protesters took to the streets of downtown Portland in thesecond straight night of unrest, mirroring the dozens of other protests in other major US cities.
Protesters from coast to coast took to the streets over the death of George Floyd at the knee of a Minneapolis police officer.
At least 31 people were arrested by 11:15 p.m., police said, and more arrests are being made. But it's unclear how many of them were arrested for violating the 8 p.m. curfew Mayor Ted Wheeler put into place earlier in the day.
Though the crowds were split into smaller groups, there were pockets of intense activity still going on in different areas around 11 p.m.
San Francisco is the latest to impose a curfew, announced by Mayor London Breed for 20:00 local time on Sunday, after looting and violence.
A protest that started peacefully later turned violent as people smashed Metro Police cars and set fires inside the Nashville historic courthouse and City Hall building. Metro Police said 28 people were arrested in Downtown Nashville during the protest and after the curfew was put in place. Of those arrested, all but three were Tennessee residents, according to police.
Derek Chauvin, the white police officer who worked for the Minneapolis Police Department, is charged with third-degree murder and second-degree manslaughter in Floyd's death.

Floyd died after the 44-year-old Chauvin pressed his knee into his neck for several minutes even after he stopped moving and pleading for air.
The behavior of the violent protesters Friday was markedly different from what they normally see, Shields said, calling them anarchists and a "highly calculated terrorist organization."
Police were arresting protesters in blocked-off streets downtown near the CNN Center Saturday evening ahead of the 9 p.m. curfew. A few miles away, Georgia National Guard members and vehicles blocked a mall in the Buckhead area.
Protesters across from the street from the Georgia governor's mansion threw objects at authorities lined up in front of the property Saturday evening. Gov. Brian Kemp was not inside the home at the time.
National Guard members lined sidewalks in downtown Atlanta Saturday morning, blocking anyone from approaching heavily damaged buildings, including the College Football Hall of Fame and nearby restaurants.
Street cleaning crews and volunteers cleaned up debris as curious residents surveyed the aftermath. Graffiti on the big logo outside the CNN Center in downtown Atlanta had already vanished.
As protesters set fires and broke windows Friday night, officers issued disbursement orders and used tear gas. Protesters threw bricks, bottles, rocks and knives at officers, police said.
At least three officers suffered minor injuries, 20 police cars were damaged and 71 arrests were made, Campos said.
On Saturday morning, damage to businesses and some apartment buildings could be seen in parts of Buckhead, an upscale neighborhood north of downtown Atlanta.
The demonstration Friday began peacefully with a rally at Centennial Olympic Park downtown, followed by a march to the state Capitol and then a return to the park, where they listened to speakers and said a prayer, said attorney Gerald Griggs, a leader in the local NAACP.
That peaceful protest wrapped up around 6:30 p.m. A splinter group of outsiders confronted police and became violent, Griggs said.
Atlanta was just one city shaken by tumult and violence late Friday that erupted over Floyd's death. Large demonstrations in New York, Houston, Washington, D.C., and dozens of other cities ranged from people peacefully blocking roads to repeated clashes with police. One person was killed in Detroit after someone fired shots into a crowd of protesters.
Joe Biden Asks "A Nation Furious At Injustice" To Restrain From Violence
As anger over the death of George Floyd spreads into violence, fires and curfews across America tonight, Joe Biden asked "a nation furious at injustice" for calmer minds and hearts to prevail.
"It's an utterly American response," the former Vice-President added of the death of another black man in police custody. "But burning down communities and needless destruction is not. Violence that endangers lives is not. Violence that guts and shutters businesses that serve the community is not."
"I know that there are people all across this country who are suffering tonight," Biden also said as cable TV followed once peaceful protests turning sour in the night amidst heavy police reaction and local officials trying to shut things down.
"Suffering the loss of a loved one to intolerable circumstances, like the Floyd family, or to the virus that is still gripping our nation," the candidate noted of an America that has suffered the loss of more than 100,000 of its citizens from the coronavirus. "Suffering economic hardships, whether due to COVID-19 or entrenched inequalities in our system," Biden stated. "And I know that a grief that dark and deep may at times feel too heavy to bear."
AP, USNEWS, BBC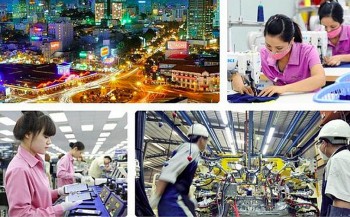 National
Vietnam News Today (Jan. 17): Vietnam records 15,643 new Covid cases; Northern region to turn severely cold from January 17; 'New normal' adaptation leads to positive forecast for Vietnamese economy in 2022; Vietnam-China clash tickets open for sale in two days.