US News today, June 25: Three police officers fired in North Carolina over racial slurs video
The US has recorded the highest one-day tally in coronavirus cases since April, Trump's administration says 20 companies allegely backed by China's military, three police officers fired in North Carolina over racial slurs video and Arizona's police chief offers resignation over custody death are remarkable news today.
The US records highest one-day total in coronavirus cases since April
According to The Guardian, the US has recorded a one-day total of 34,700 new coronavirus cases, the highest level since late April, when the number peaked at 36,400, according to the count kept by Johns Hopkins University.
Photo: NBC News
A coronavirus resurgence is wiping out two months of progress in the US and sending infections to dire new levels in southern and western states.
Administrators and health experts warned on Wednesday that politicians and a public that, in many cases, is tired of being cooped up are letting a disaster unfold.
While newly-confirmed infections have been declining steadily in early hot spots such as New York and New Jersey, several other states set single-day records this week, including Arizona, California, Mississippi, Nevada, Texas and Oklahoma.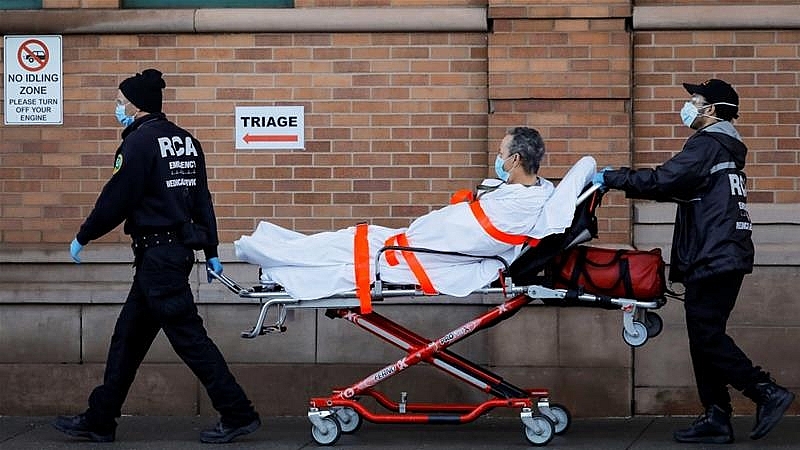 Paramedics taking a patient into an emergency centre at Maimonides Medical Center in the Brooklyn borough of New York, United States. Photo: Andrew Kelly/Reuters
North Carolina and South Carolina joined some other states in breaking hospitalization records.
"People got complacent," said Marc Boom, CEO of the Houston Methodist hospital system. "And it's coming back and biting us, quite frankly."
With the US death toll creeping towards 122,000 on Wednesday, and confirmed cases at almost 2.4 million for the US, a widely-cited University of Washington computer model of the outbreak projected nearly 180,000 deaths by 1 October.
Trump's administration says 20 companies
backed by China's military
The Trump administration has determined that top Chinese firms, including telecoms equipment giant Huawei Technologies and video surveillance company Hikvision, are owned or controlled by the Chinese military, laying the groundwork for new United States financial sanctions, according to a document seen by Reuters News Agency on Wednesday, Aljazeera reported.
Photo: Reuters
A US defence official speaking on condition of anonymity confirmed the authenticity of the document and said it had been sent to Congress.
The list of 20 companies that Washington alleges are backed by the People's Liberation Army also includes China Mobile Communications Group and China Telecommunications Corp, as well as aircraft manufacturer Aviation Industry Corp of China.
The designations were drawn up by the Defense Department, which was mandated by a 1999 law to compile a list of firms "owned or controlled" by the People's Liberation Army that provide commercial services, manufacture, produce or export.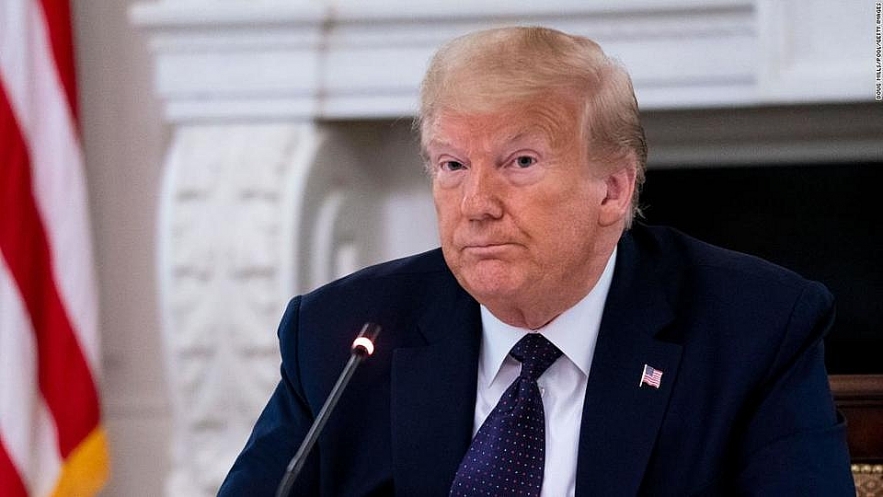 President Donald Trump. Photo: Newsbreak.com
The Pentagon's designations do not trigger sanctions, but the law says the president may declare a national emergency which would allow him to penalise any companies on the list that operate in the US.
Huawei, Hikvision, China Mobile, China Telecom, AVIC, the White House and the Chinese embassy in Washington did not immediately respond to requests for comment.
Three police officers fired in North Carolina
over racial slurs video
Three members of the Wilmington, North Carolina Police Department have been fired after being caught on video making racist and threatening comments. One said a civil war necessary to wipe black people off the map and he was ready, CBS News reported.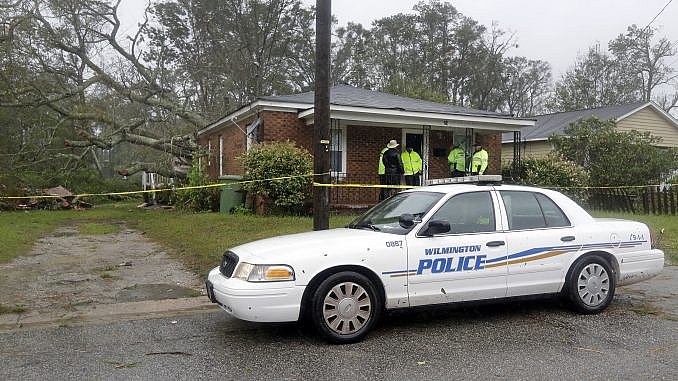 Police talk outside the home where a woman and her baby were killed by a fallen tree in Wilmington, N.C., after Hurricane Florence made landfall. Photo: AP/Chuck Burton
The department took the action Tuesday against Cpl. Jessie Moore and officers Kevin Piner and Brian Gilmore. Each was accused of violating standards of conduct, criticism and use of inappropriate jokes and slurs.
After conferring with the City Council, Wilmington City Manager Sterling Cheatham cleared Police Chief Donny Williams to release the details.
"When I first learned of these conversations, I was shocked, saddened and disgusted," Williams said at a news conference on Wednesday. "There is no place for this behavior in our agency or our city and it will not be tolerated."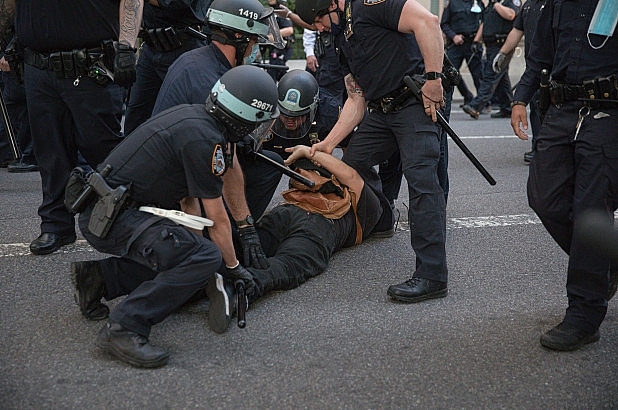 Protester is arrested after marching from Bryant Park uptown. Photo: Daniel William McKnight
At the 46-minute mark of the video, Piner and Gilmore began talking from their respective cars, at which time Piner criticized the department, saying its only concern was "kneeling down with the black folks." About 30 minutes later, Piner received a phone call from Moore, according to the investigation, a segment in which Moore referred to a black female as a "negro." He also referred to the woman by using a racial slur. He repeated the use of the slur in describing a black magistrate, and Moore used a gay slur to describe the magistrate as well.
Later, according to the investigation, Piner told Moore he feels a civil war is coming and that he is ready. Piner said he was going to buy a new assault rifle, and soon "we are just going to go out and start slaughtering them (expletive)" blacks. "I can't wait. God, I can't wait." Moore responded that he wouldn't do that.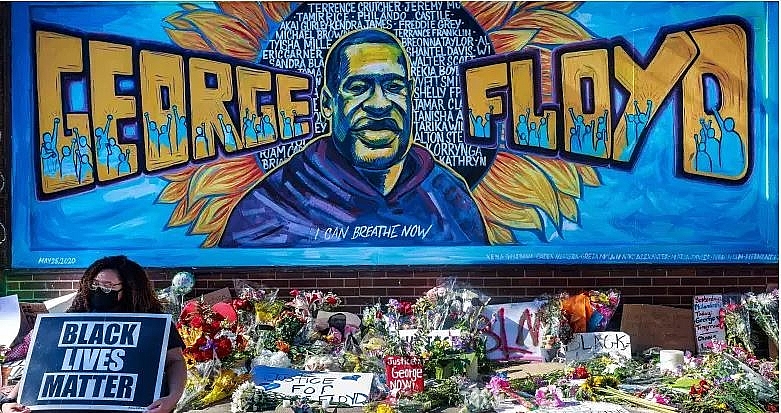 Flowers, signs and balloons are left near a makeshift memorial to George Floyd near the spot where he died while in custody of the Minneapolis police, on May 25, 2020 in Minneapolis, Minnesota. Photo: Getty
Piner then told Moore he felt a civil war was needed to "wipe them off the (expletive) map. That'll put them back about four or five generations." Moore told Piner he was "crazy," and the recording stopped a short time later.
According to police, the officers admitted it was their voices on the video and didn't deny any of the content. While the officers denied they're racists, they blamed their comments on the stress on law enforcement in light of the protest over George Floyd's death. Floyd, a black man, died last month after a Minneapolis police officer put his knee on Floyd's neck for several minutes.
Arizona's police chief offers resignation
over custody death
Another policing development has been the offer of resignation from Tucson, Arizona's police chief Chris Magnus at a press conference. Tucson Mayor Regina Romero said she did not know if the resignation would be accepted, The Guardian reported.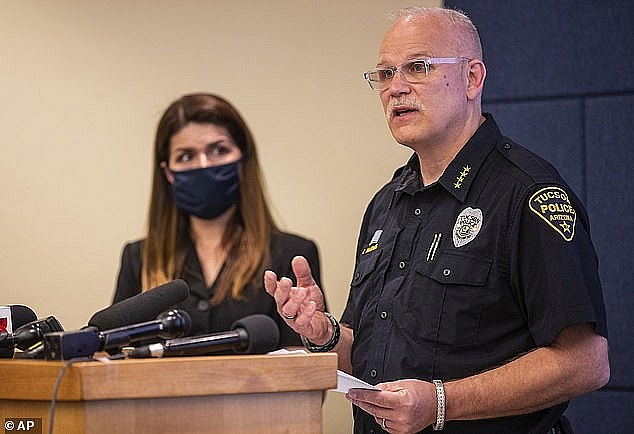 Tucson Police Chief Chris Magnus made the offer during a press conference Wednesday where he released disturbing bodycam footage showing Carlos Ingram-Lopez's 'horrible' death while being detained by three cops back on April 21. Photo: AP
The move follows the public release of bodycam footage of an incident on 21 April which led to the death of 27-year-old Carlos Ingram-Lopez. Officers were called to a home where they say they found Ingram-Lopez "drunk, yelling and running around the house naked."
In the video, shown to the public for the first time yesterday, Ingram-Lopez is ultimately arrested and handcuffed facedown. He is then held, still naked, in that position for about twelve minutes, while shouting and in distress.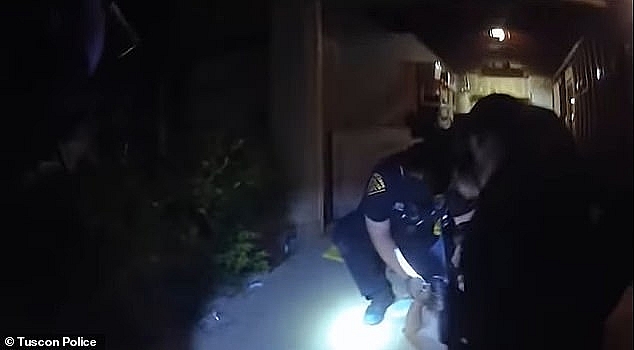 In the 25-minute bodycam footage (pictured) he is heard begging for water and at one point says 'I can't breathe'. Photo: Tucson Police
Mayor Romero said that she was "deeply troubled and outraged" by the event. A medical examiner's report could not conclusively pinpoint a cause of death, noting that Ingram-Lopez had a high level of cocaine in his blood, and also had an enlarged heart.
Chief Magnus said that his officers had no malicious intent, but had committed "multiple policy violations". All three officers have resigned from the force - with Magnus noting that "The files for these officers reflect that the department would have terminated them had they not resigned".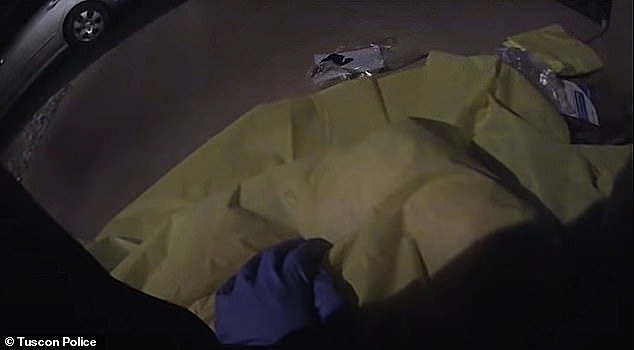 Several minutes in the cops cover him with a blanket before he is found to be unresponsive around 12 minutes into the video. Photo: Tucson Police
There had been a delay in reviewing the case, and the department has now instituted a policy requiring at least two chiefs to view video footage related to any in custody death within 48 hours.
Mayor Romero said she will propose police reforms, stating "It is simply not acceptable that both mayor and council and the public were not notified of this event after the incident took place."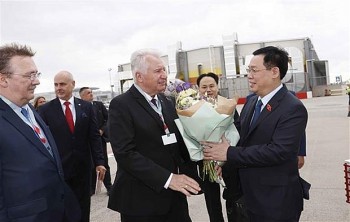 National
Chairman of the Vietnamese National Assembly (NA) Vuong Dinh Hue's official visit to Hungary from June 26-28 will surely open up many cooperation opportunities for the two countries and their parliaments, Hungarian Ambassador to Vietnam Ory Csaba has affirmed.