The Real-World Impact of Dom's Dream
As an "ethical expat," Dom Paterson is following his dreams by helping out vulnerable Vietnamese communities.
As a young man in Vietnam, British expat Dom Paterson can fill any room with many captivating stories. As he speaks, I notice a seriousness about him, nestled quietly beneath his joking demeanor. He wasn't someone who boasted about the work that he's done but was enthusiastic to speak about it when asked.
Looking at his achievements to date, it's clear that Dom is both experienced and well established in the community, since moving to Hanoi in July of 2020. He is a true example of an "ethical expat" - a foreigner who seeks to help out their host nation. Touched by his kind spirit, I was curious to find out how it all started.
Amazingly, his journey into charity literally began with a dream.
"It started when I moved to Ha Dong, I was going through a rough time and needed to escape the city life," said Dom. "I switched my life around and started getting healthier and clear-headed. I began having these crazy dreams, but one, in particular, was me going around with a basket full of clothes and things on a motorbike. In my dream, I was giving this out to people on the street. It was so vivid, and when I woke up I thought I could do that in reality, and donate clothes to people in need."
Inspired by this vision, Dom quickly went to work making his dream a reality. After posting on Facebook, he began to organize what would soon become his successful charity, aptly named Dom's Dream.
"I put a post up on Facebook asking for clothes, and it blew up from that," explains Dom. "I had a lot of people messaging me, but I lived in Hà Đông and I didn't know where to accept and store clothes. Star Fitness Gym contacted me saying that people can come there to drop off clothes, and use the gym for storage."
Other Hanoi businesses were eager to help Dom with his altruistic dream. He soon had the use of a homestay that he previously lived at, establishing it as a drop-off location. Ultimately, his charity had three collection points, in Tây Hồ, Hà Đông, and Gia Lâm. This allowed him to keep collecting clothes, and to better keep track of what was passing through.
While successfully collecting these clothes was the first hurdle, Dom's next challenge was to figure out what to do with the donations, and how to transport everything to where it needed to go. He admits that he didn't know where to bring it initially, but his friend, American expat James Joseph Kendall, had a truck and gave Dom the mobility to make his first drop-off.
James offered to take it to a Soc Son village where there was a community of people who suffered from leprosy. Despite living miles from the Vietnamese capital, the villagers were living in remote conditions.
"They'd been outcasted by the local village and they had nothing, just a hole in the ground for a toilet, and only a bucket to wash within the freezing cold," says Dom. "James knew these guys and the plan was to make them a garden. One of them needed to go see an eye doctor, so we got some donations for them, and brought clothes for them that they could also give to their families. So that was the first drop-off I ever did."
Clothes finding a new home in the mountains. Photo: Courtesy of Dom Paterson
The calls kept coming in, and the rate of donations didn't dwindle. Dom recalls one instance in particular; "We had one guy who had his whole garage filled, 10 bags fully labeled and washed. We called a truck to his house, loaded it up, and sent it straight to the mountains for the donations from just one guy."
Often the deliveries went to Ha Giang, and as it was getting cold coming into winter, Dom continued collecting much-needed clothes. In turn, he received pictures of the donations being given to the children.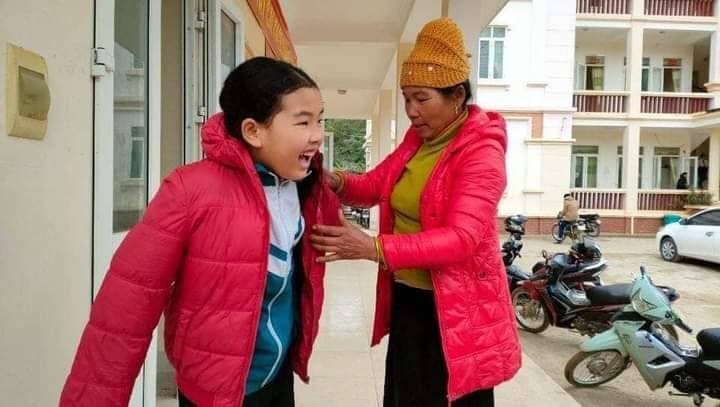 Children receiving new clothes. Photo: Courtesy of Dom Paterson
This only spurred Dom to continue investing in Vietnam's most vulnerable communities.
"I had so many clothes, and I didn't know what to do with them. I wanted to sell some clothes, and make it into an event but I didn't know who to do it for."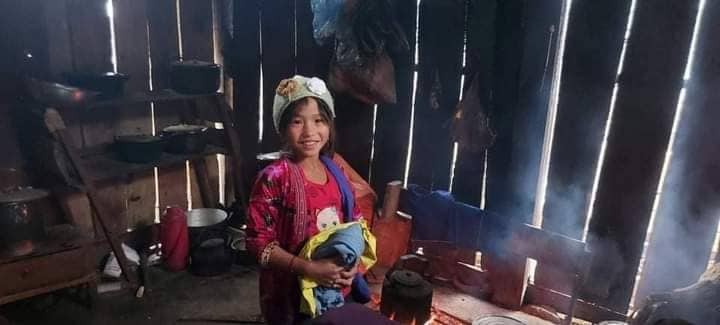 New clothes, big smiles. Photo: Courtesy of Dom Paterson
What really stands out is Dom's drive and the power of connection between charitable expats and locals. One Sunday, he got a call from his friend James, asking if he wanted to help save a sinking houseboat under the Long Biên bridge.
"They said I could bring some clothes and give them to the family. Their house was half in water, so a post went up asking for donations and help, and on the same day, we got VND 10 million (USD 434,800). We called some guys and they came with barrels to hoist the house back out of the water, and we gave the clothes to the kids."
Through this undertaking, Dom met Vi Do, who was one of the social workers and co-CEO at Blue Dragon, and he was introduced to the work they were doing, aligning with his endeavors of donating clothes and blankets during winter. When Vi explained the work that Blue Dragon was doing - predominantly offering support to children and families in a crisis situation, as well as aiding and caring for victims of human trafficking, he knew he found another trusting, charitable collaborator that could help him further his dream.
"I had a concept to do a circus event and invite the kids that Blue Dragon look after, to bring them in to do activities, but we also wanted to do a fundraiser to raise some money for them," says Dom. "I have a lot of good friends here who are DJs or performers, so I spoke to everyone, and everyone got involved. We got a full sound system donated for free, and on the day we raised 10 million. It was really cute to have the kids who'd been through a lot growing up come out of their shells. To see them be involved, and try out new things like picking up a juggling ball - that was the highest I ever felt just with regards to the environment and what we achieved. I had a vision of it for a month coming up to the event, and it worked."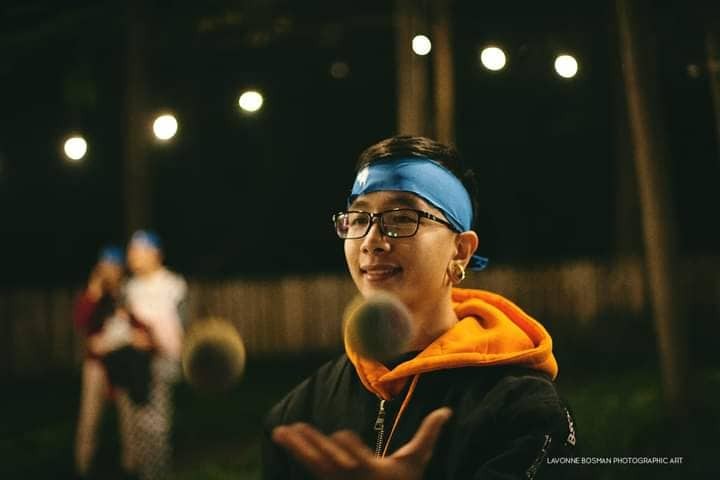 Juggling at Dom's Dream events. Photo: Courtesy of Dom Paterson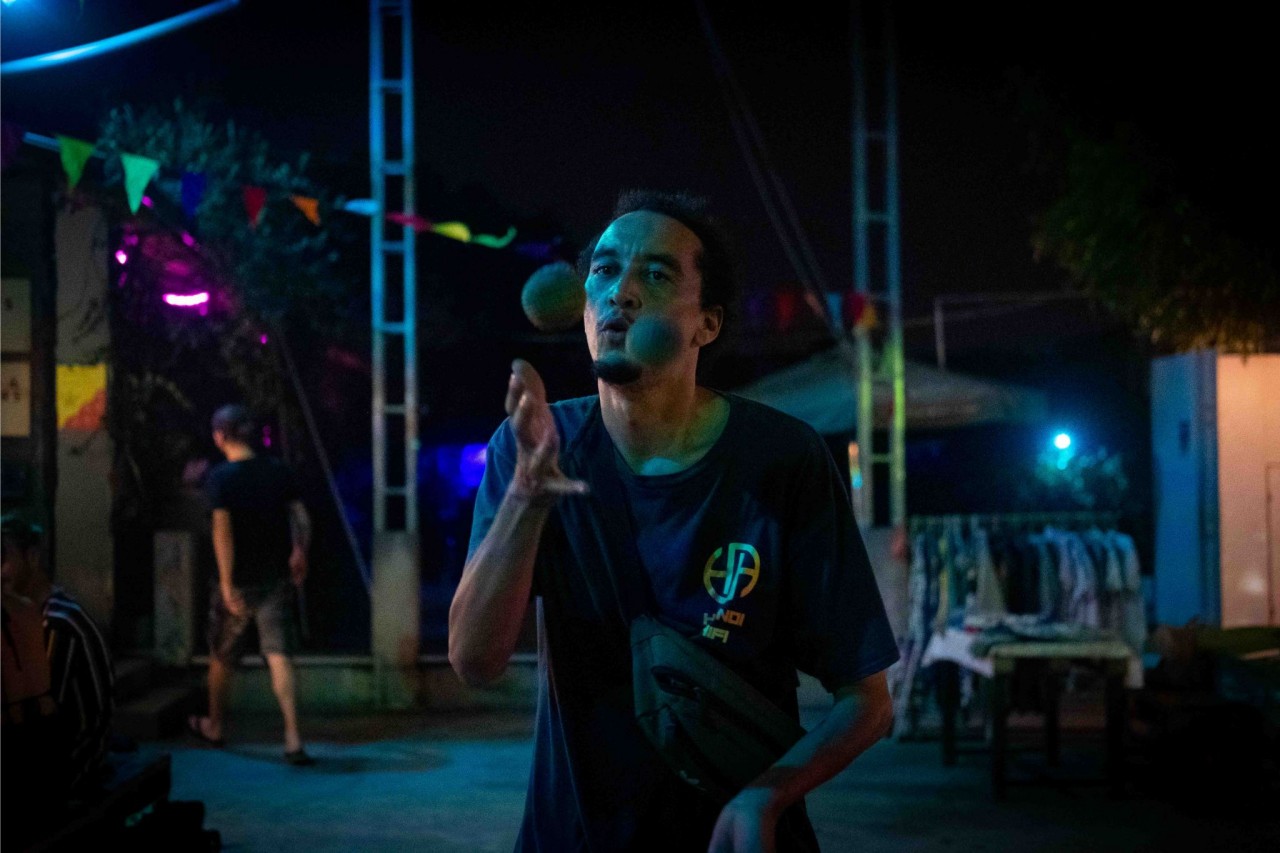 Juggling at Dom's Dream events. Photo Reka Markos
Setting up a charity and doing this work isn't a solo venture for Dom, he's always maintained that it couldn't have been done without the people he met, the people who've contributed, and those who continue to support him in his dream. I feared that highlighting a foreigner doing charity work in Vietnam may negatively propagate the ideology of white saviors, attempting to tackle an issue in a foreign country without the input of the locals actually affected by it.
The reality of Dom's Dream, however, is that despite the name, this isn't a one-man mission. Dom's most recent projects have been about giving all of the contributions and donations to Blue Dragon, a charity that he wholeheartedly believes in.
"I continued to stay involved with them by going to their center, meeting the kids, and getting to know the staff," says Dom.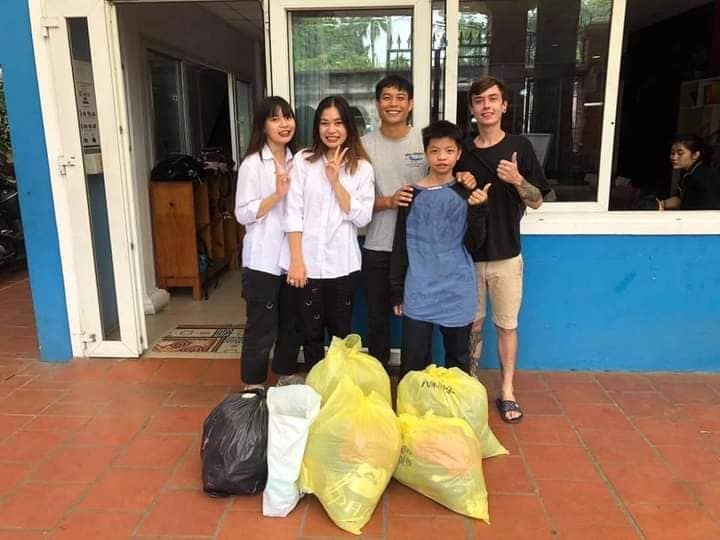 Donating bags of clothes. Photo: Courtesy of Dom Paterson
Many locals are inspired by Dom's passion for charity. While it isn't easy for a foreigner to help out those in need, Hanoi's many friends are happy to help Dom and his dream. Humanitarians and representatives of children's charities quickly got in touch with Dom and offered their assistance.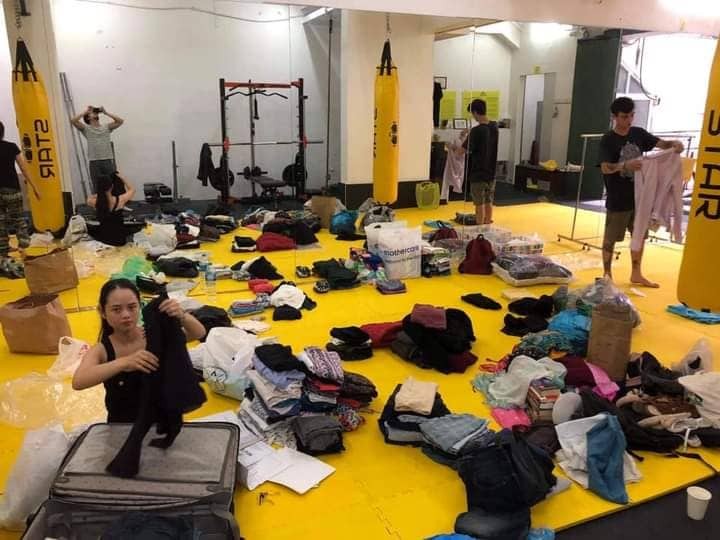 Sorting through donations at Star Fitness. Photo: Courtesy of Dom Paterson
"I was mad on ideas, and they helped me bring them to life," recalls Dom.
"Even with the event, they recruited volunteers. Minh Tâm, a representative of Blue Dragon Children's Charity, stuck by me at every event. She's always there working through the whole day, helping me with selling clothes, helping me with connections, helping with talking to people, helping with everything. She's been like a partner. It's never just been me, I've never done this on my own. I've always done it with people. It's Dom's Dream but we raise money together. The reason we manage to do it is that everyone's contributing in a way, from the DJs, performers, and market stall vendors. I'm just good at talking, and telling people to come."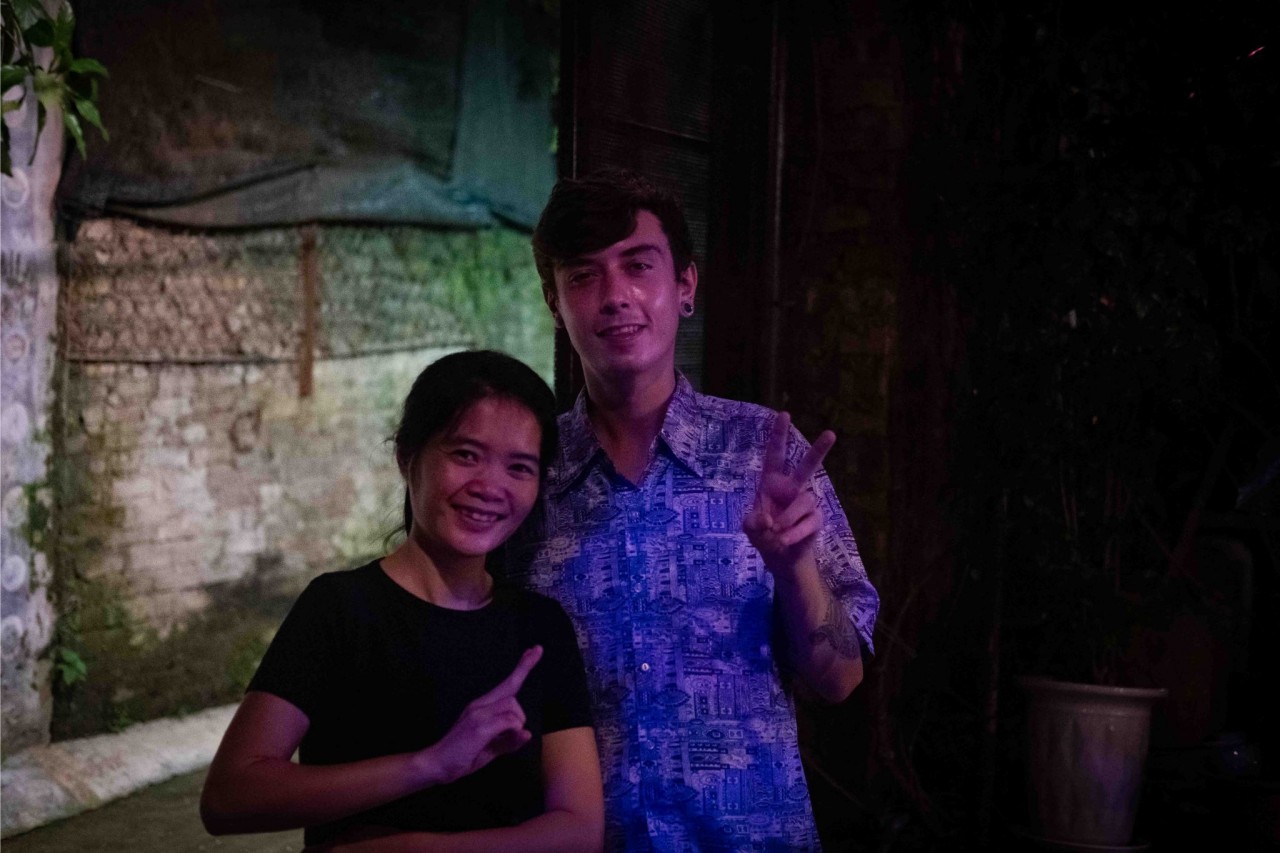 Dom Paterson with Minh Tâm. Photo: Reka Markos
Dom never claims that what he's doing is exceptionally unique. In fact, he's an ordinary individual, with an extraordinary dream, but what sets him apart from most is that he acted on it.
"I really wanted to continue Dom's Dream but I wanted to help Blue Dragon in a different way," says Dom. "I wanted to go all out, so we did a twelve-hour party with market stalls, where they then donate a percentage of their profit towards the charity. Some of them do pop-up jewelry stalls and had contact with different market vendors. A lot of people know Blue Dragon so when that was mentioned, they were enthusiastic for the opportunity to come and sell their product but also to give a percentage to the fundraiser."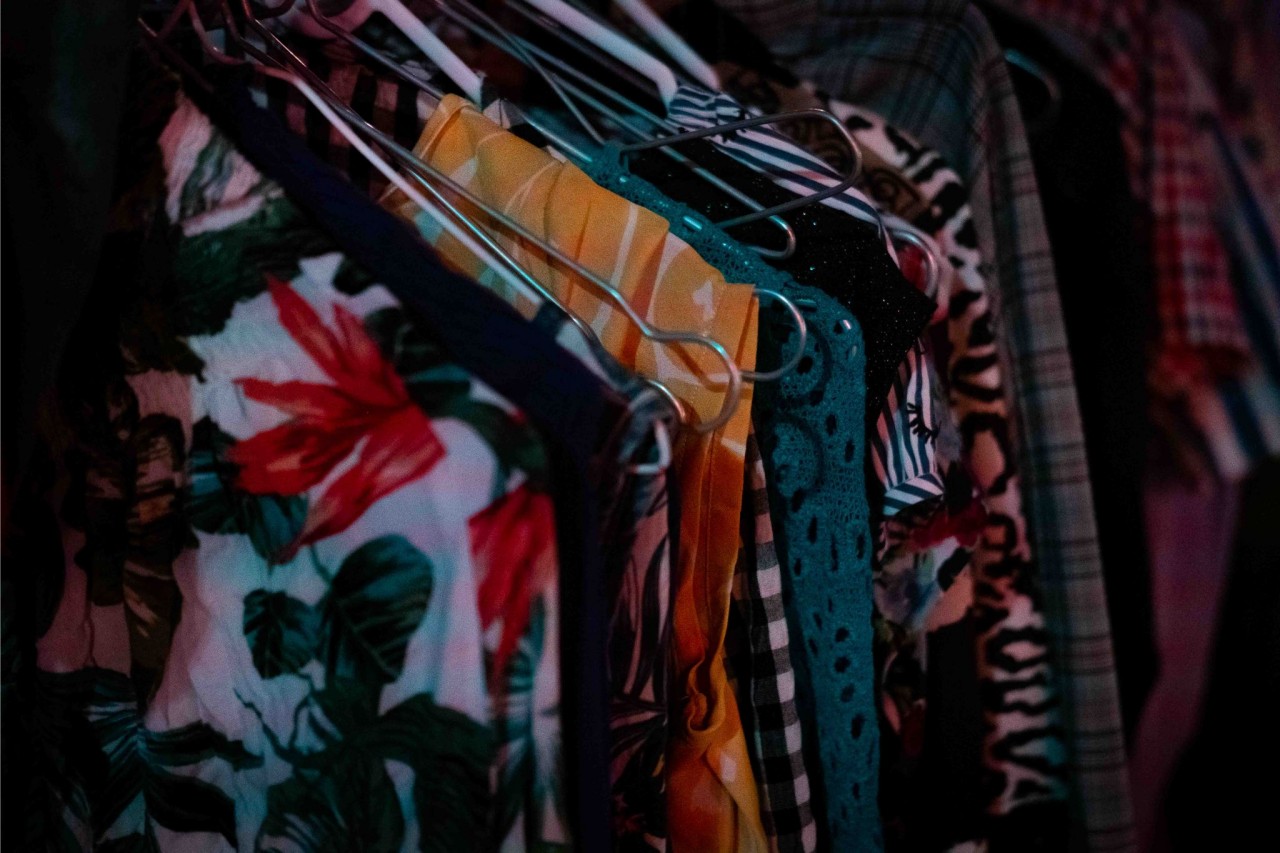 Clothes sold at a market stall at a Dom's Dream event. Photo: Reka Markos
One market vendor, An Thuy, runs a beaded jewelry workshop where everything is made by hand. She was introduced to Dom and was keen to get involved and support the charity.
"Not only in Hanoi but in Vietnam, there are so many poor people, especially children and elderly people who don't have enough to live," says An Thuy. "I think it is our responsibility to help them, to give them not only money but the energy and means to manage their own lives."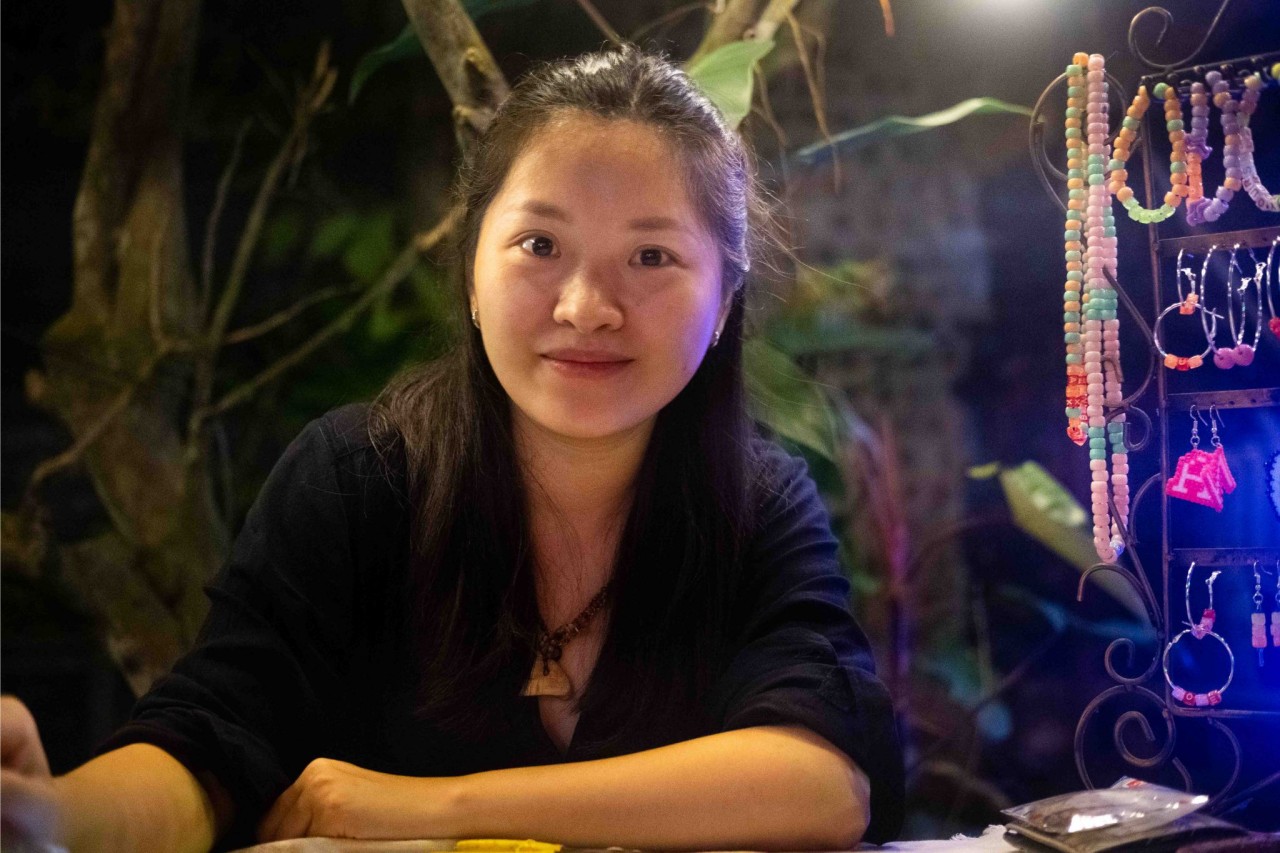 An Thuy, providing beading jewellery workshops at The Spot. Photo: Reka Markos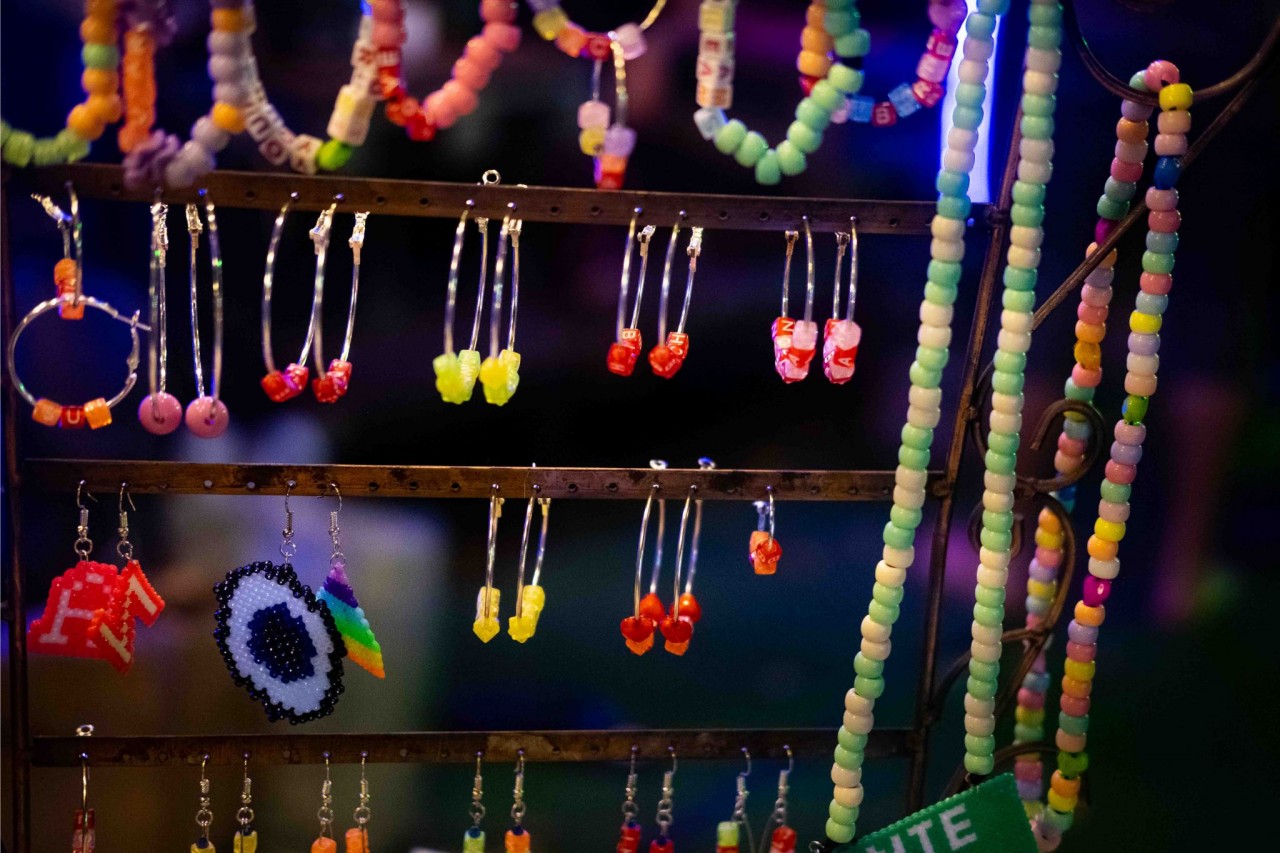 Handmade beaded jewellery. Photo: Reka Markos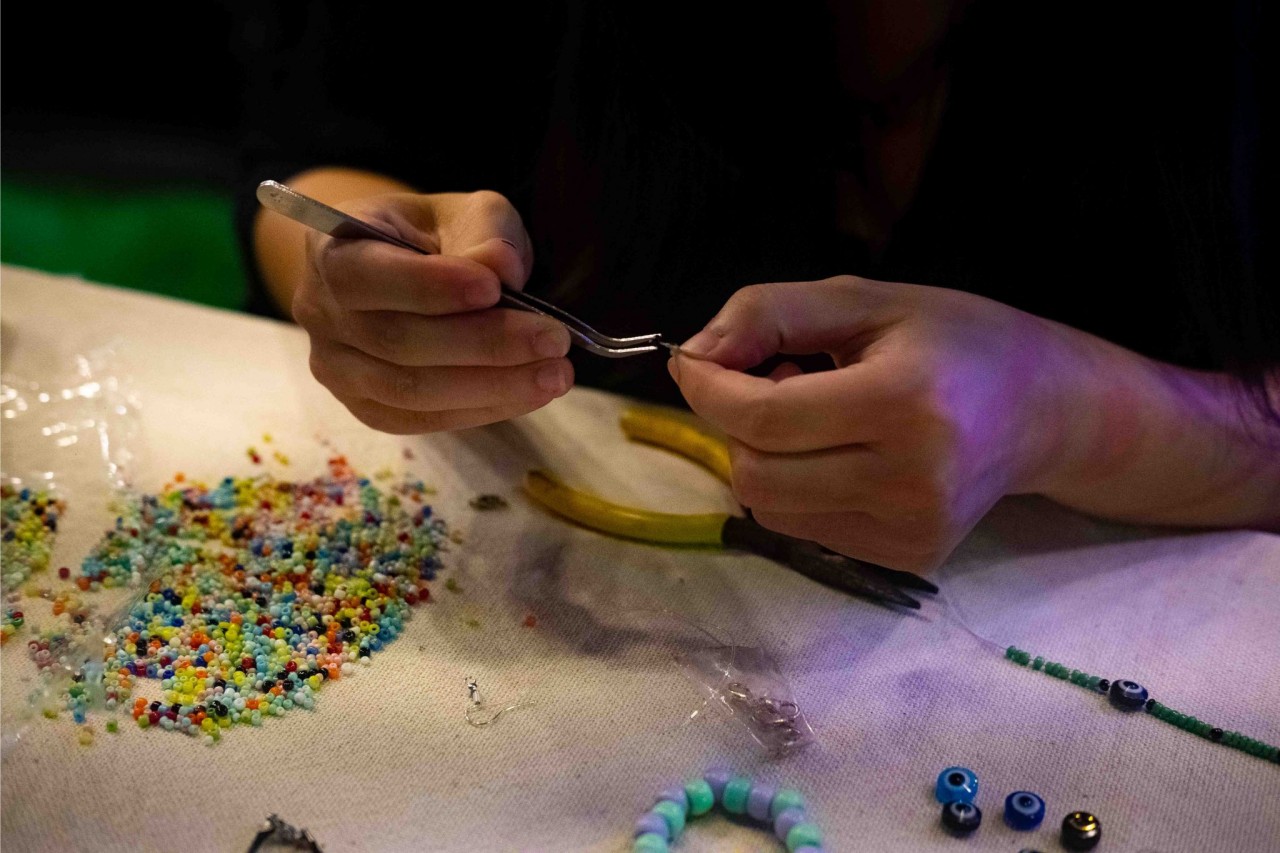 Ah Thuy showcasing her skills. Photo: Reka Markos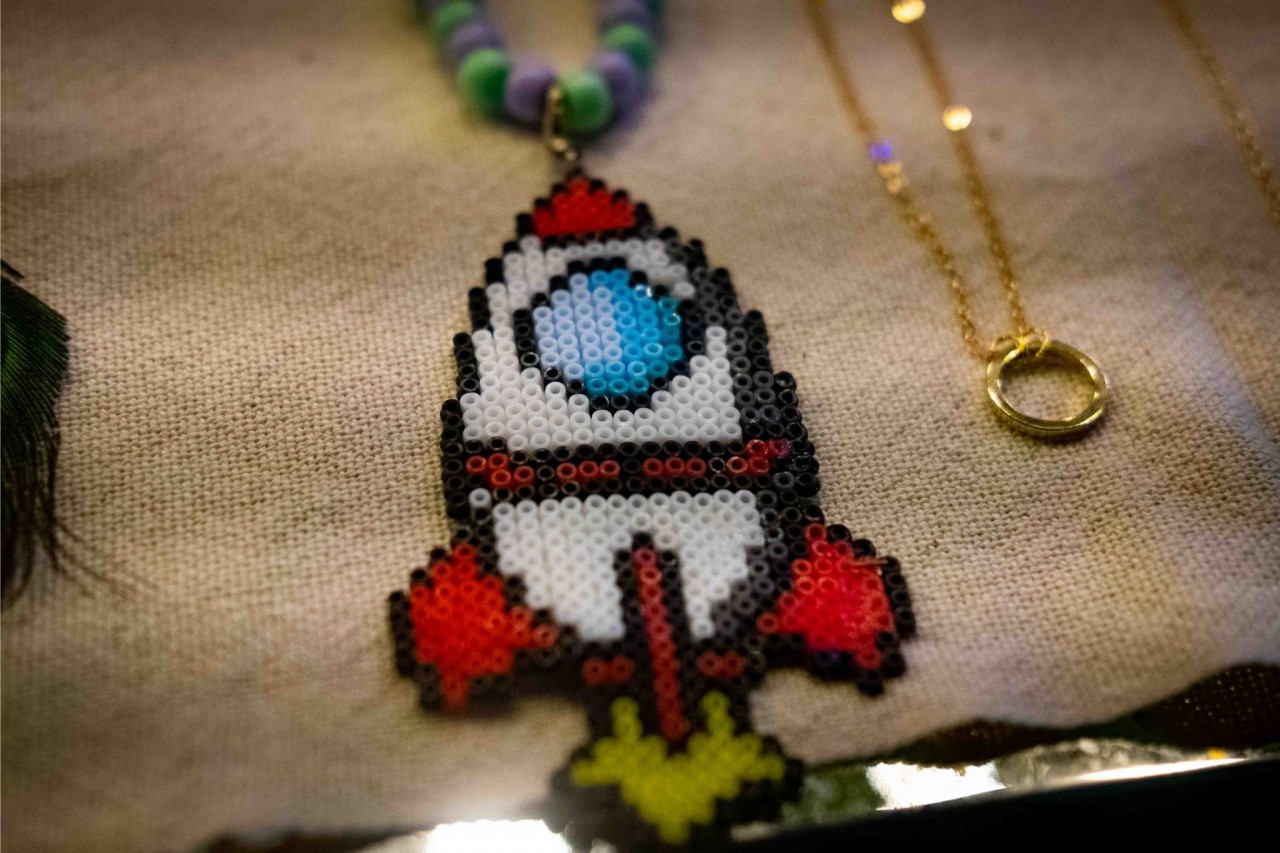 Handmade beaded key chains. Photo: Reka Markos
The strong relationships Dom has built with so many people through the past few years is heartwarming, as he surrounds himself with the most charitiable people in Hanoi. Representatives from Blue Dragon not only attend the events, but have also co-operated with the marketing, and have helped Dom better understand how to run a successful charity in Vietnam it. At a recent event in Kali, they even brought one of the children to sell some of the products that he'd made. They also have connections with other market stalls, and people they've worked with in the past, so they were able to have a wider reach on people supporting and attending the event.
In terms of transparency, Dom is very clear about how donations are managed.
"The funds have only ever been sent to Blue Dragon, and anytime I need to fund an event, it never gets taken form the box, that's not the idea. The whole point was that there is no profit, you're left with what you're left with. No one gets paid, that's not what I want. Everyone contributes, even if not directly giving money, but performing or DJing. A lot of people who get asked to play for charity would say yes."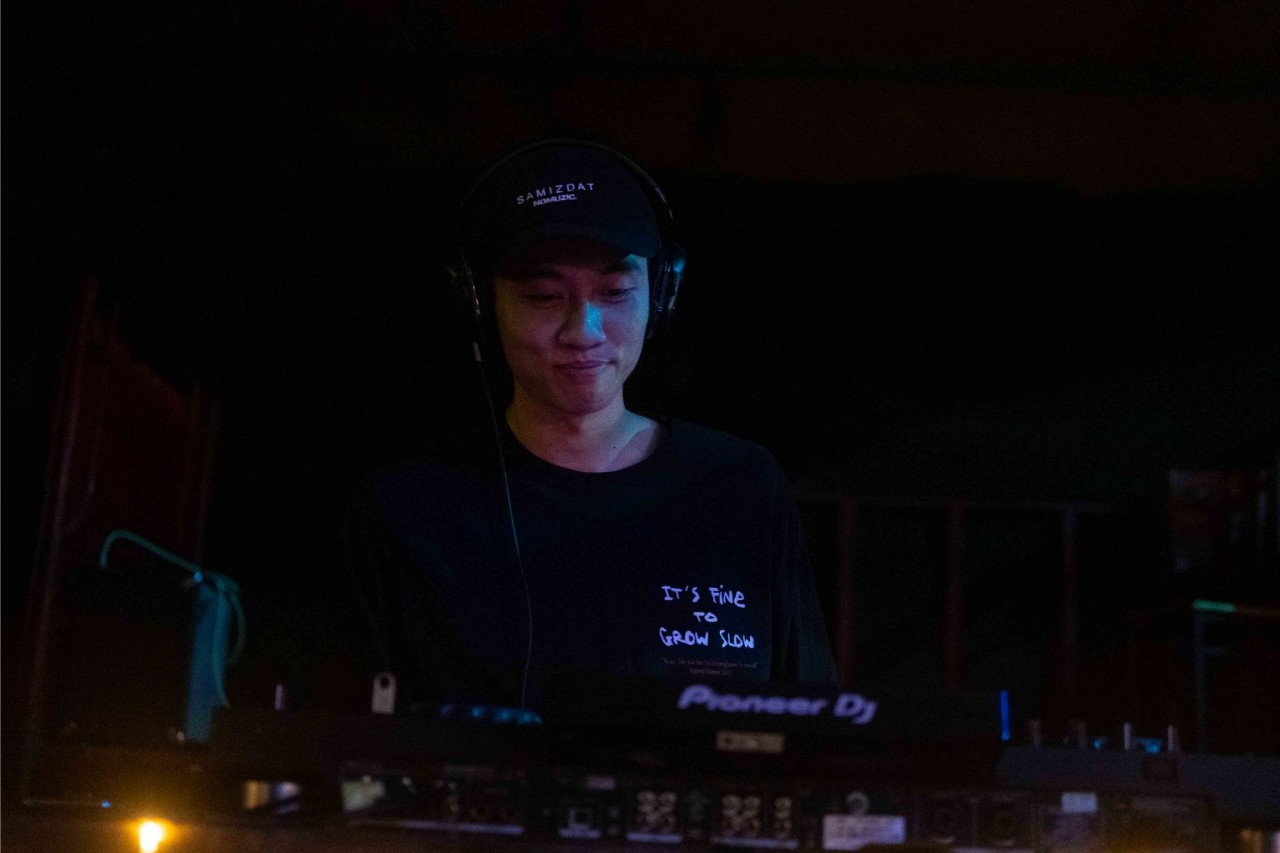 DJs playing for charity at Dom's Dream at the Spot. Photo: Reka Markos
As for where the donations end up, it gets split each time to where it needs to go the most. For example, at the event at The Spot, they raised 6 million VND, which went to support 255 meals for disadvantaged children. The first event Dom organised happened to be at the start of a new school year, and those funds went towards helping the children stay in school. At the event where they raised the most, 11 million VND, it served as emergency response packages for survivors of human trafficking. Sixteen people were able to receive safe accommodation, meals, and counselling services.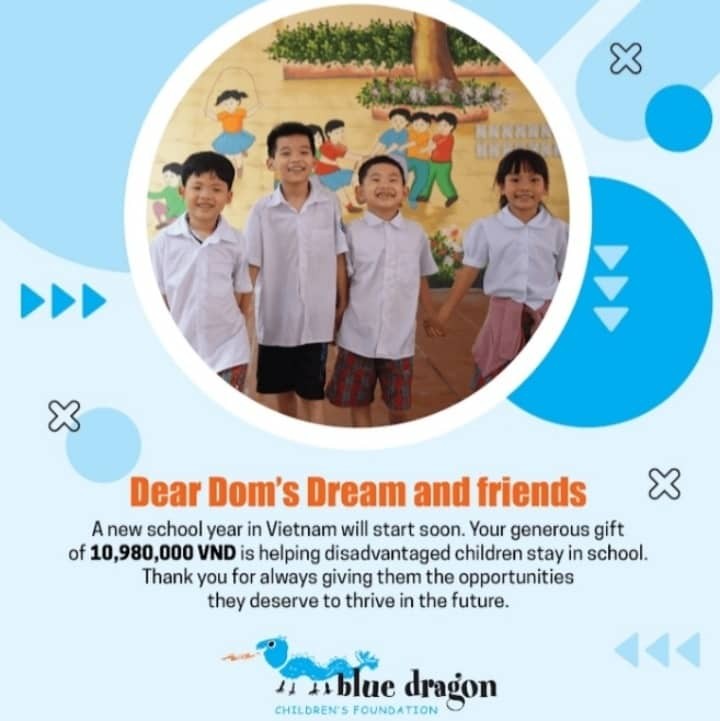 Blue Dragon thanking Dom's Dream for donations of almost 11 million VND. Photo: Courtesy of Dom Paterson
Dom was intensely moved by the goodwill of Hanoians of every nationality.
"I almost cried at the event last weekend. People from Blue Dragon came and were telling me about what the money that has been raised is actually going towards."
Blue Dragon's thank you message to Dom's Dream. Photo: Courtesy of Dom Paterson
Event attendees at the most recent Spot event were quick to pick up on the emotion. Alister Andrew Anniah, an expat from South Africa, commented that "Dom really reached out and it touched my heart so much that a foreigner could do something like this, because so many people come here for themselves. When he came, he did something for a lot of other people. A lot of people don't have time to think about others. I'm super proud of him, I just wish many more people could do this, and that I can partake in this if he needs some help."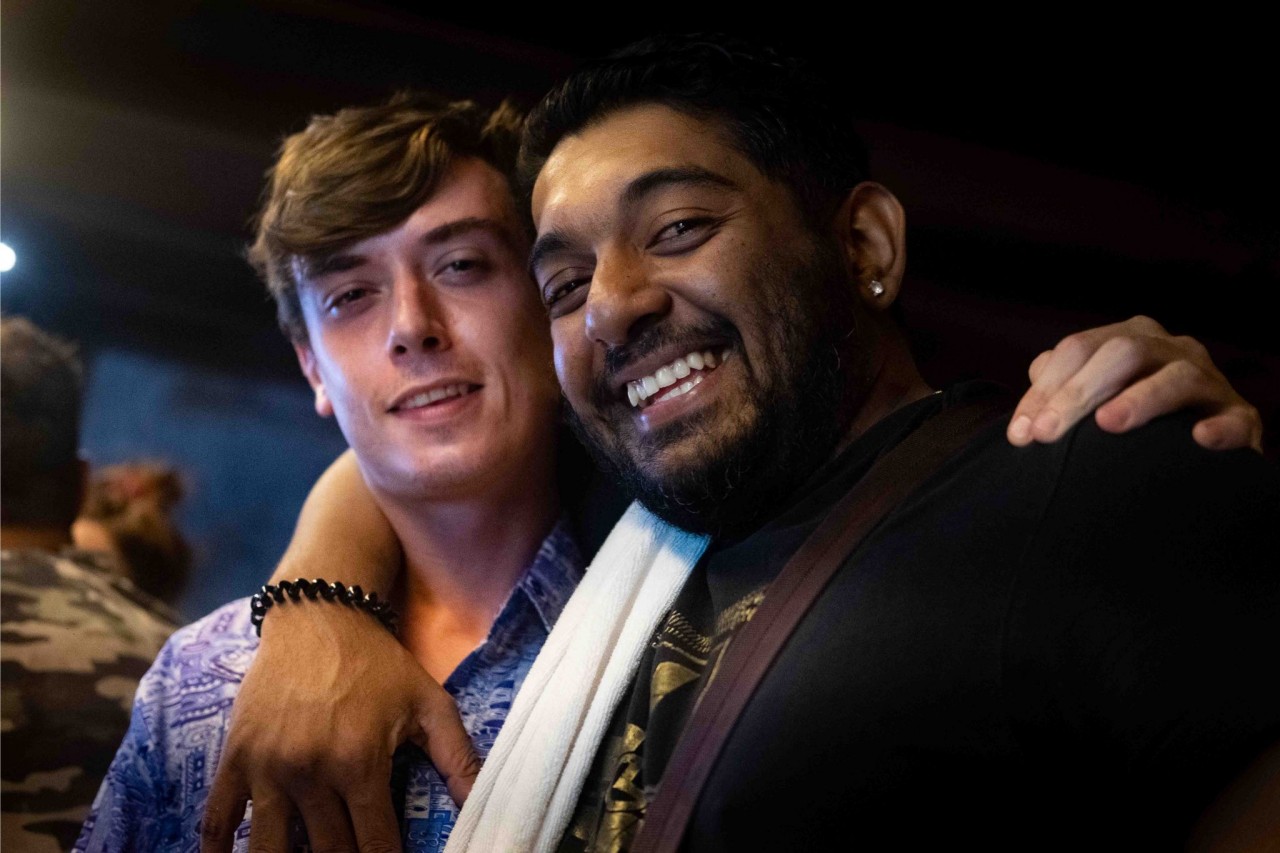 Dom Paterson and Alister Andrew Anniah at the most recent Dom's Dream event. Photo: Reka Markos
This precisely was Dom's intention; to fuel the fire in people who had good ambitions.
"I had an idea, and trusted the process of it working. Now it's a ripple effect, and more things are coming out of it. That was the whole idea, I wanted other people to be able to get involved. Even if it wasn't necessarily working with me, but to get your brain working and give you inspiration to maybe do something of your own."
Bursting with ideas, Dom takes the initiative to shape them into reality. South African expat Skyy Kass, another contributor at the event, sheds light on how he views Dom's Dream in the scope of his experience.
"I'm from South Africa and in my country there are a lot of NGOs who are trying to do the same thing. I think it's a great showcase of what they do. I believe we're in a position to do better, and if someone's enabling us, why not? Grab it with both hands. It's a great way to help people who are less fortunate. The main thing is looking out for people. We are here enjoying Vietnamese culture and as much as we are indulging in that, this event is trying to give back. Foreigners who come here can often be fixated on the ideology of making money and being in their own little bubble. Burst that bubble, get out, meet people. This place enables it 100%, and events like this really bring out the best of the best in Hanoi. I look around here, and see just good people."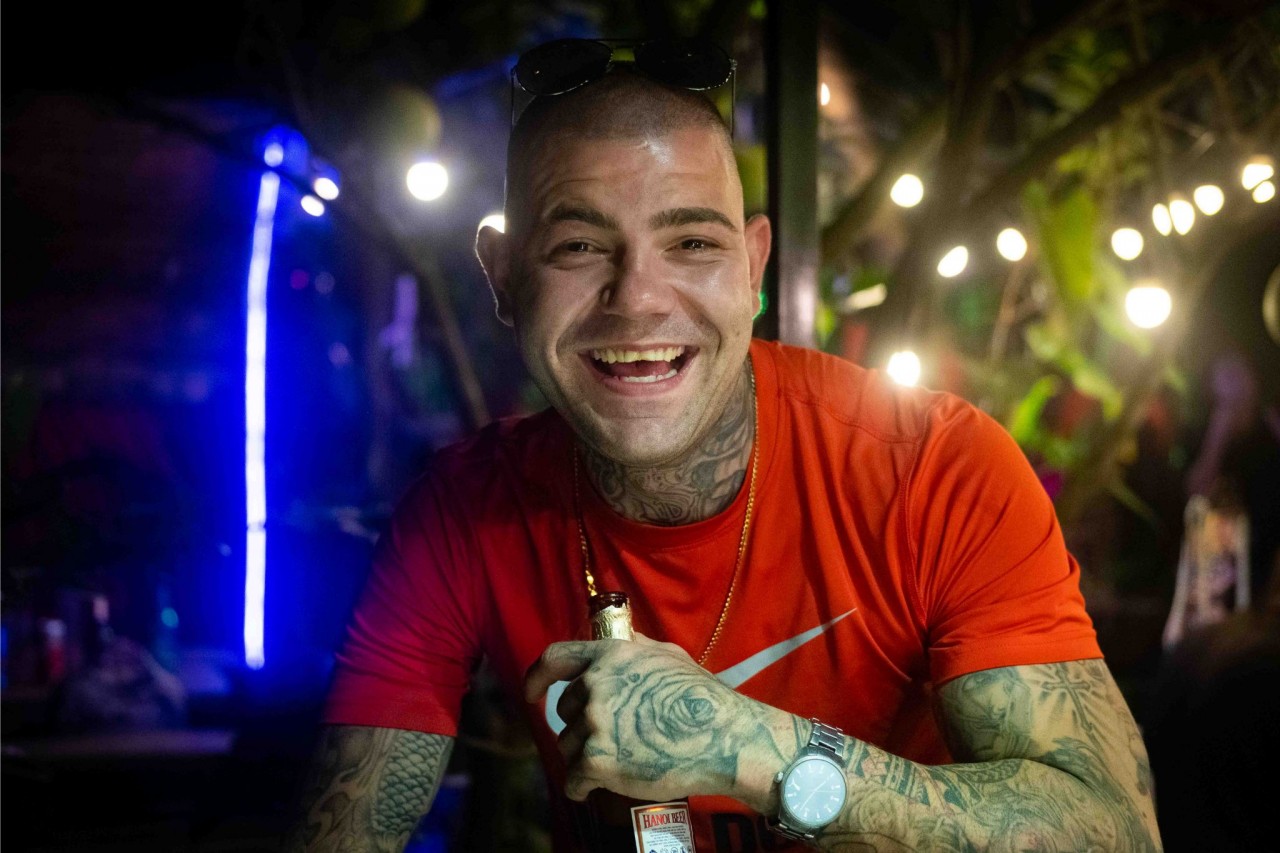 Skyy Kass at Dom's Dream Spot event. Photo: Reka Markos
So far, Dom's Dream has raised nearly 40 million VND out of events, all of which has gone towards helping street kids and victims of human trafficking. It all started off as putting up a post on Facebook to collect clothes, and flourished into a wide-reaching collective. Dom's epic dream is far from over, and although he's achieved more than he thought possible, he continues to envison better lives for Vietnamese citizens.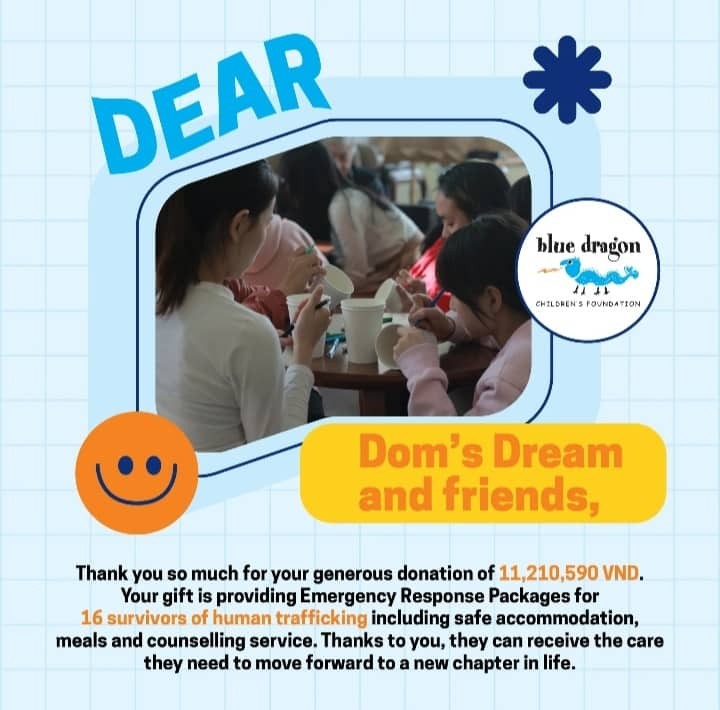 Blue Dragon showing appreciation for the donations from Dom's Dream. Photo: Courtesy of Dom Paterson
Perhaps in the pipeline is another means of collecting donations, "I'd really like to do a thrift store, to set up a thrift shop that anyone can donate to. The staff working there would be paid a reasonable salary, but whatever is sold can go straight to charity, and it can run as an entirely non-profit store. I've also thought about doing something online, to help the disadvantaged kids who make products sell them online. That could expand more to be able to ship worldwide, and to get the word out of why they're doing this, and how cool it is that the children make the products themselves."
cou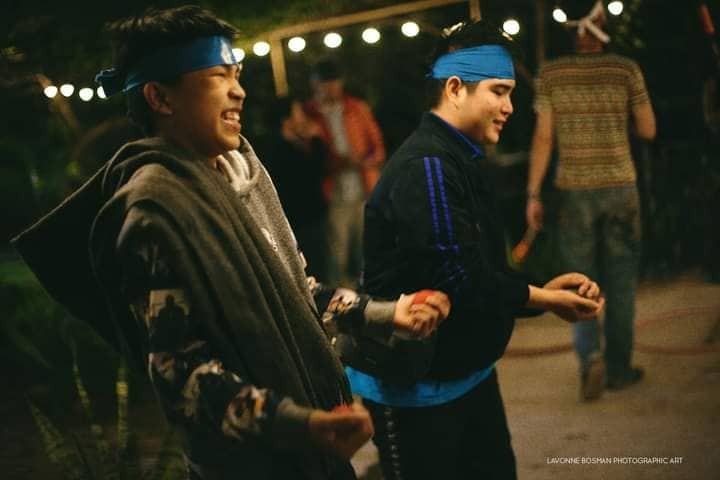 Children learning circus tricks at Dom's Dream event. Photo: Courtesy of Dom Paterson
It is apparent that Dom's dreams are always growing and expanding. With each project that he takes on and accomplishes, his ability to do more is increased. To be able to achieve these big dreams, he will need more funds,
"We're not getting any donations from anywhere else around the world," explains Dom. "Whereas if you had that, and there was money coming in, we could do so much. I could put that into events, or into something like the thrift shop. But for that, I need funding to do it. At the moment I've just been trying to focus on what's close to me, and on what I can do."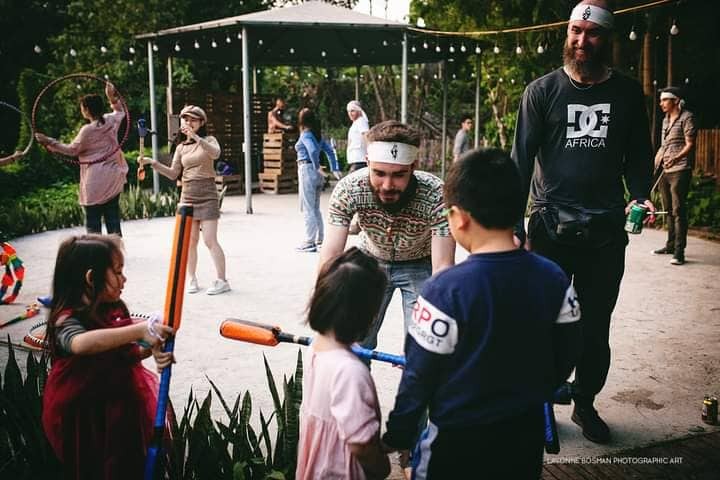 Children learning circus tricks at Dom's Dream event. Photo: Courtesy of Dom Paterson
What Dom's Dream does beautifully is connect charitable people. This stems from Dom's innate charisma, his openness, and dedication. All of these skills he's embedded into the dream, and has seen it flourish as a result. Dom's Dream pulses with the same energy that he himself is brimming with, and he's overflowing with new ideas and plans he intends to put into motion.
Thanks to his sense of community and collaboration, everyone can enjoy Dom's dream.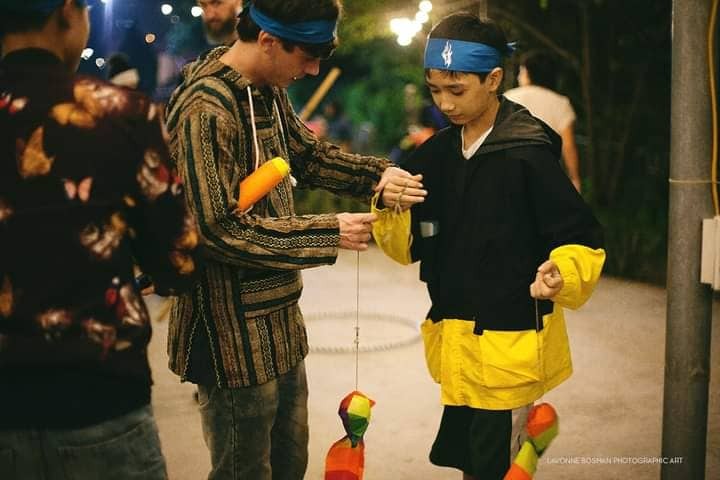 Paterson teaching children the ropes. Photo: Courtesy of Dom Paterson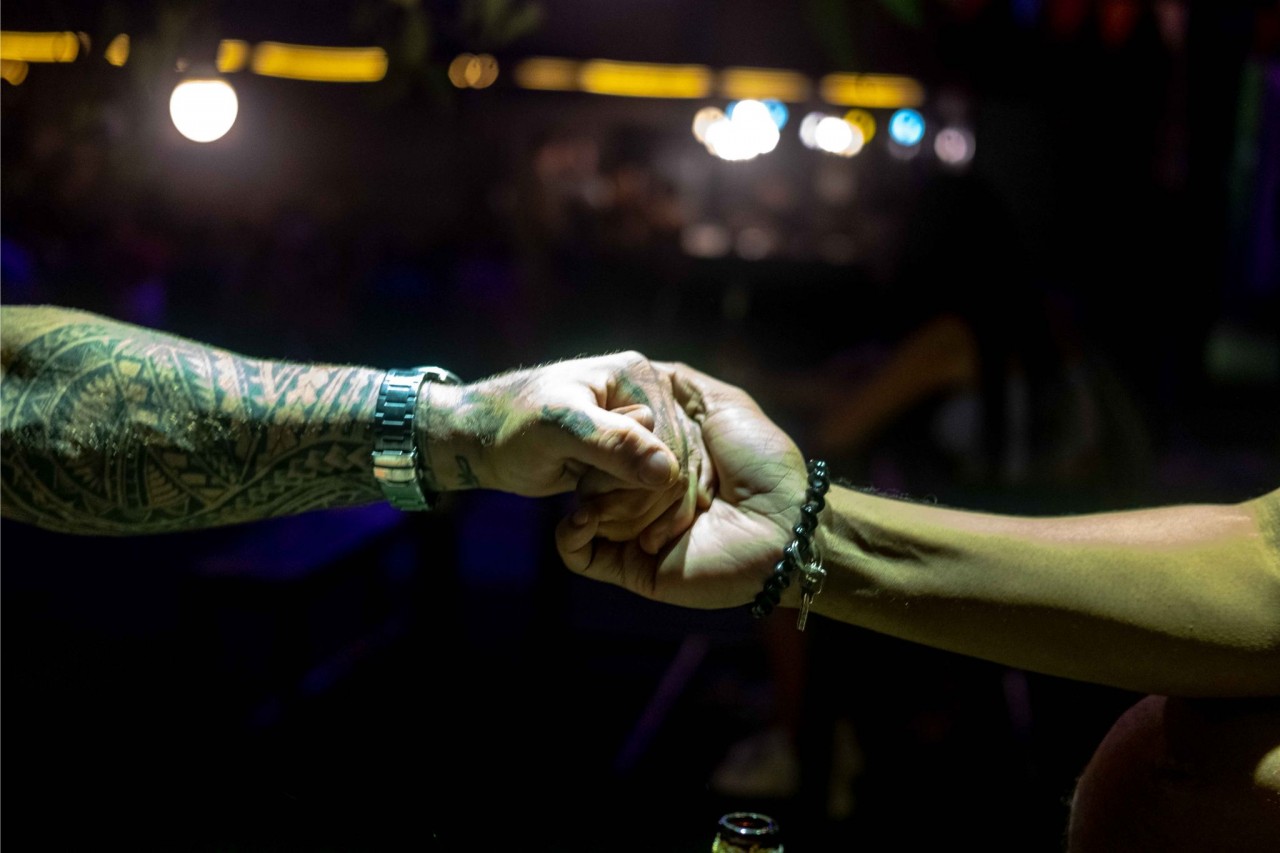 The power of connection at The Spot event. Photo: Reka Markos
To find out more about Blue Dragon, the charity Dom's Dream supports, visit: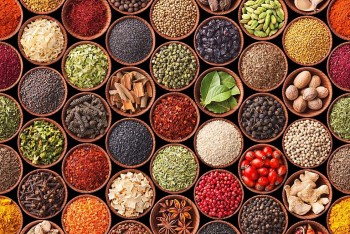 Vietnamese Herbal Tea
Antioxidants have been known since the 1990s and have been useful in fighting cancer, atherosclerosis, and many other chronic diseases.