The state of Hessen (Germany) donates 160,000 rapid Covid test kits to Vietnam
At the headquarter of the parliament of the State of Hessen (Germany), the state's authorities and representatives of Messer Corporation recently offered 160,000 rapid Covid-19 test kits valued at EUR 500,000 to Vietnam.
Le Quang Long, the Consul General of Vietnam in Frankfurt, expressed his appreciation toward the donation of Hessen authorities and Messer Group. Long believed Vietnam would soon control the pandemic with the Government of Vietnam's effective and drastic policies and the support of the people of Vietnam and international friends.
At the handover ceremony, President of the Hessen State Parliament Boris Rhein emphasized that Hessen had a outstanding relationship with Vietnam, especially with the Vietnam – Germany University considered as a lighthouse project for both countries. Rhein said both parties always cared about and supported each other in challenging times. When Germany faced a serious shortage of facemasks to fight against Covid in early 2020, the people of Vietnam promptly donated over 100,000 facemasks to the people of Germany. The 130,000 rapid Covid-19 testing kits which Hesse offered to Vietnam symbolized the state's determination to help Vietnam battle the current outbreak.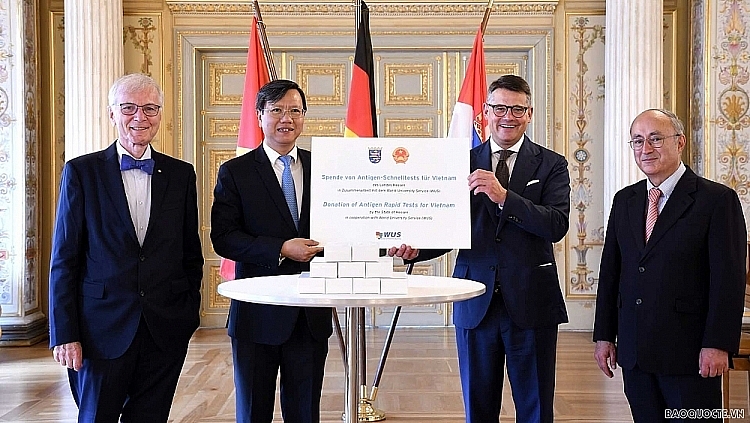 Consul General of Vietnam in Frankfurt Le Quang Long and other delegates at the donation ceremony. Photo: Bao quoc te
President of the Hessen State Parliament Boris Rhein and CEO of Messer Group Stefan Messer expressed their hope in the Government of Vietnam's Covid prevention strategies and believed that Vietnam would soon overcome the outbreak.
Rhein and Long took this occasion to thank the Kambiz Ghawami - president of the World University Service, an international organization, for connecting the aid provision and Vietnam Airlines for transporting the facemasks to Vietnam without charge.
Ghawami said when he heard of the complex Covid-19 occurrences in Vietnam, he called on all 16 states in Germany to support Vietnam fighting against the pandemic. Ghawami stressed that the Government and people of Vietnam and the Vietnamese community in Germany had operated a widespread campaign to support the people of Germany, particularly those at the frontline.
Many German states had promptly responded to Ghawami's call. The first batch of 190,000 Covid testing kits donated by Bremen, Hamburg, Mecklenburg-Vorpommern and Sachsen- Anhalt had arrived in Vietnam. Ghawami thanked Ambassador of Vietnam to Germany Nguyen Minh Su, Consul General of Vietnam in Germany Le Quang Long, Vietnam Airlines and other agencies in Vietnam for their support in connecting and transporting Germany's aid to Vietnam.
Previously, Vietnam's Deputy Minister of Health Truong Quoc Cuong accepted 190,000 Covid-19 testing kits, valued at US$ 500,000, from the German states of Hamburg, Bremen, Mecklenburg - Vorpommern and Sachsen – Anhalt through World University Service.
Speaking at the reception ceremony, Ambassador of Germany to Vietnam Dr. Guido Hildner said the kits were a part of Germany's commitment to supporting Vietnam via World University Service in Germany. Hildner would soon call on German states' assistance to give Vietnam about 1 million Covid-19 rapid test kits.