The Unique Natural Structure of Kem Coong Cave in Cao Bang
Kem Coong Cave is a unique tourist destination with impressive scenery and fresh air that few people know about.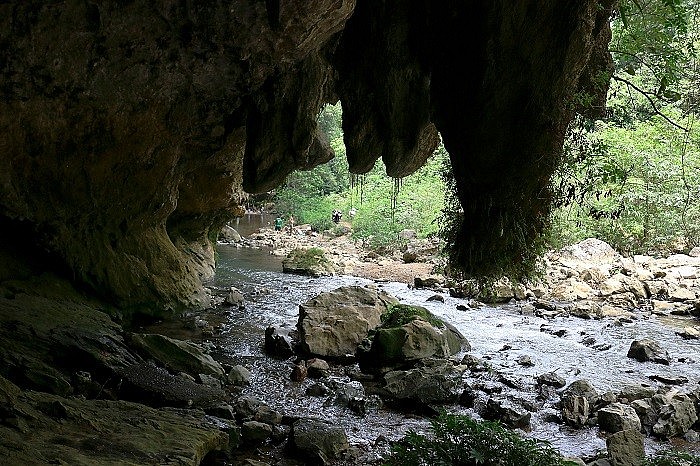 Photo: luhanhvietnam.com
This cave is surrounded by a rather desolate area. It is located in Hong Nam commune, Hoa An district, about 30 km from the city center. Compared to other famous places in the province, the name Kem Coong is still quite new and relatively unknown. However, this is a perfect destination for young people who love to conquer and explore.
Although it is called a cave, Kem Coong is actually a high cliff. There is a small stream that flows below. These elements have created a wonderful picture of mother nature. That's why many people come here to enjoy the scenery and calm their souls.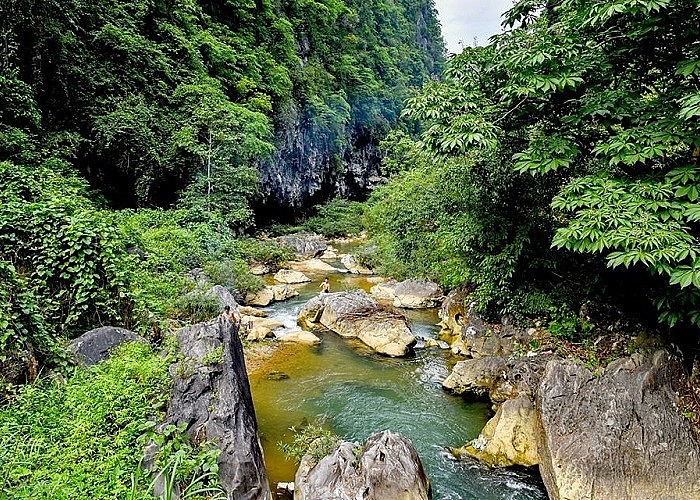 Photo: luhanhvietnam.com
Compared to other caves in Cao Bang such as Nguom Ngao or Ghi Rang, Kem Coong is more special. Only a small part of the cliff is on the inside. It is not too difficult for visitors to explore this place and take some commemorative photos.
Due to the ravages of time and nature, this cliff has become jagged and rough due to the erosions and peeling patches on it. At the foot of the cliff there is a cool empty field which is ideal for picnicking. Because this place is new, few people know about it. Here, visitors can sit on both sides of the stream and watch the murmuring water. Of course, they need to prepare enough tents, food, and drinks to have a happy and complete trip. The landscape here is very wild and beautiful. Therefore, visitors who come to have fun and explore need to keep clean and not litter.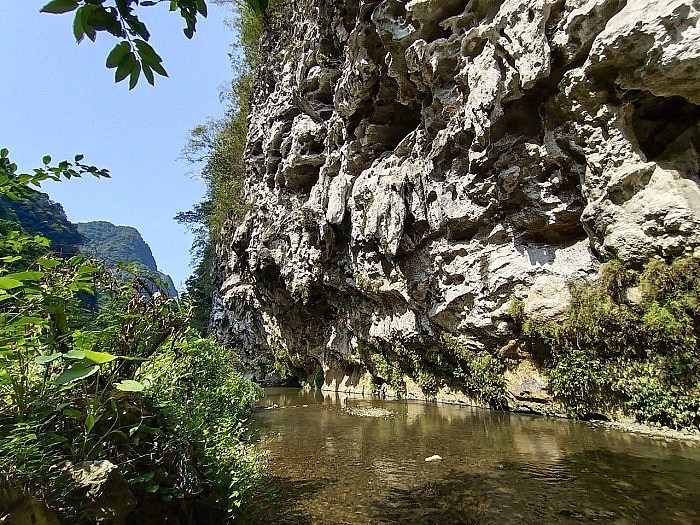 Photo: luhanhvietnam.com
According to the travel experience of many young tourists, spring and autumn are the most ideal times to explore Kem Coong cave. When spring comes, many flowers bloom, creating a fresh and clear atmosphere. In this season, the sound of birds singing echoes through the mountains and forests, making the scene more poetic.
In autumn, the surrounding Kem Coong cave is immersed in the red, yellow, and green colors of the forest. Visitors can follow the small stream to explore the beautiful scenery. Many people often camp at the foot of the cliff or walk around Kem Coong to fully feel the beauty of Cao Bang autumn. However, this place gradually becomes more quiet and empty in winter. Visitors can feel as if everything is hibernating to wait for the beautiful spring.
Many young travellers share that Kem Coong is suitable for a weekend getaway. This place helps them temporarily leave the busy life in the city to be in harmony with nature and breathe in the fresh air. Visitors can follow the stream to visit the nearby Chu Lang village. This village has houses on stilts with traditional yin and yang tile roofs.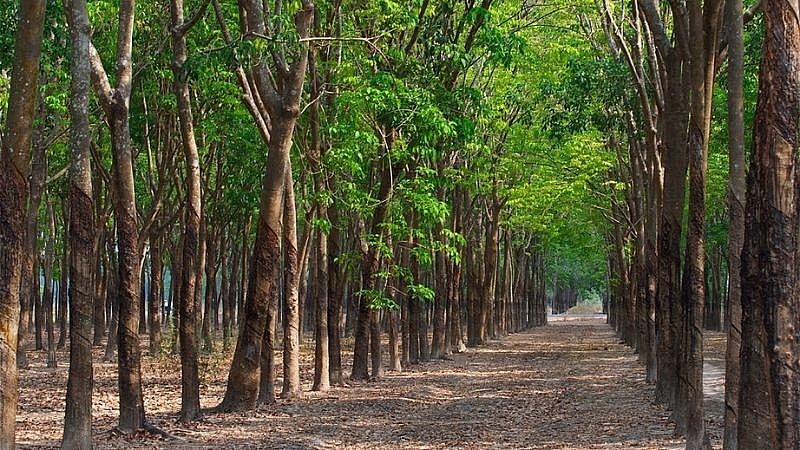 Photo: Viettravel
Kem Coong Cave is really a new but quite interesting destination for nature lovers and any travel enthusiasts. If visitors have free time on weekends or short vacations, they should come here with their family and friends to have a great time.