Three Days Home Quarantine for Overseas Vietnamese Entry
The Vietnam Airlines Business Association wants the home quarantine period for overseas Vietnamese to be reduced to three days.
The Vietnam Aviation Business Association is requesting that the Ministry of Health shorten the proposed 14-day home quarantine for fully immunized overseas Vietnamese to three days.
It indicated they could be told to do a quick Covid test on their own and then a PCR test for confirmation if they test positive.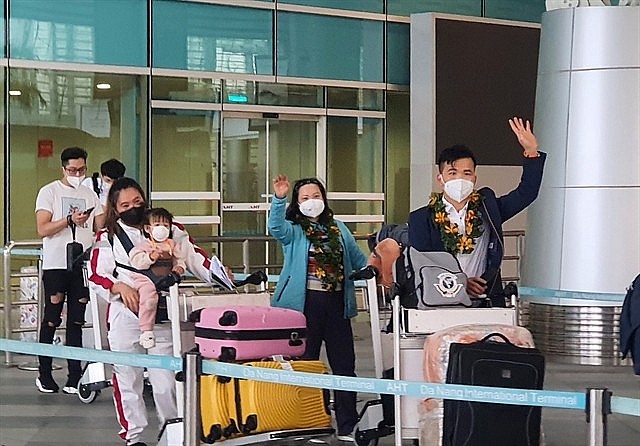 South Korean tourists arrive at Danang International Airport in November as part of Việt Nam's pilot international tourism resumption program. Photo: VNA
For overseas Vietnamese arriving on regular international flights, the ministry has written new entrance requirements that require them to self-monitor their health for the first three days at home or at a hotel and isolate themselves, according to VN Express.
On the third day, they must undergo PCR testing, and their health must be monitored until the conclusion of the 14th day.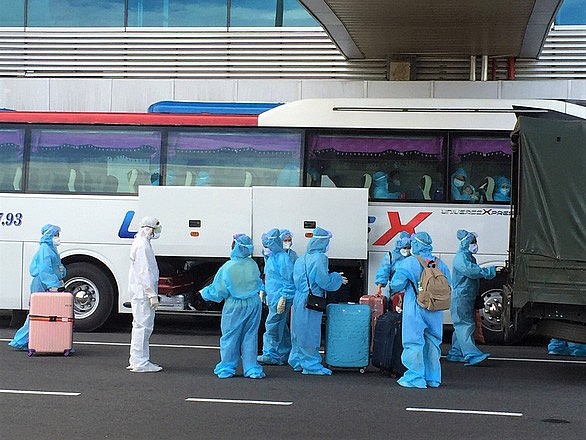 Vietnamese repatriates get on a bus after arriving at Cam Ranh International Airport in Khanh Hoa Province, Vietnam on October 09, 2021. Photo: Tuoi Tre
The World Health Organization (WHO) recommends the following simple actions to lower one's risk of contracting the Coronavirus:
Hands should be washed with soap and water or a hand massage containing alcohol;
When coughing or sneezing, cover your nose and mouth with tissues or the inside of your elbow;
Keep a safe distance from someone who has a cold or flu-like illness.
Cook meat and eggs thoroughly, and stay away from unprotected contact with live wild or farm animals.
Passengers who have not been vaccinated must stay at home for seven days and be tested on the first and seventh days. They must then keep track of their health for another seven days.
Those who have been identified as having pandemic signs will be transported to designated health facilities for isolation. If you are sick, do not travel; those who do risk being quarantined and subjected to tests.
Except for children under the age of two, all passengers entering the nation must provide a negative PCR test result, but the aviation group wants the ministry to grant an exception for anyone under the age of 18.
The ministry should waive quarantine requirements for foreigners who are fully vaccinated or have recovered from Covid, it said, pointing out that the draft proposal does not include foreigners wishing to enter Vietnam for travel and business.
With the pandemic under control due to a high vaccination rate and neighboring countries easing entry regulations and attracting foreign visitors, the ministry should waive quarantine requirements for foreigners who are fully vaccinated or have recovered from Covid.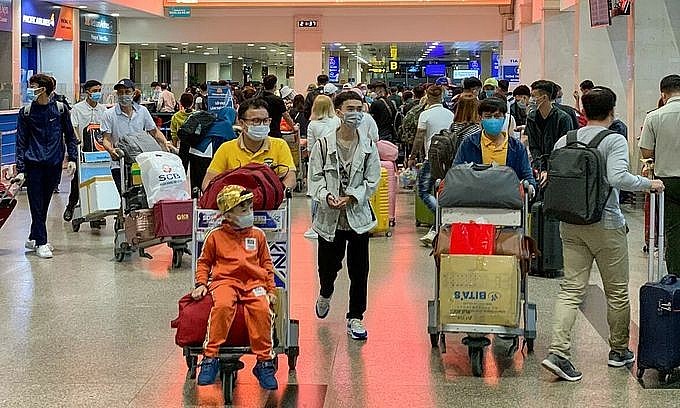 If the people entering Vietnam have not been vaccinated or inoculated with one dose, they will quarantine at home or other places of residence for seven days. They will be tested on their first and seventh days of entry. Photo: VNExpress
To allow the airline and tourism businesses to recover, health and aviation experts have repeatedly urged the government not to impose obligatory quarantine for visitors entering the country via commercial flights.
From January 1, the government has permitted the restart of foreign flights on a few routes, according to VNA.
It halted all international flights in March of last year, allowing only its citizens, foreign specialists, investors, and highly-skilled personnel to enter via special aircraft for a considerable time.
Health declaration form sample. Photo: Vietnamese Ministry of Health
To keep consumers safe, a number of Vietnamese companies, residential complexes, and restaurants have erected their own preventative measures. Due to the epidemic, tourists should keep an eye on restrictions and follow local and national authorities' advice.
Overseas Vietnamese who were thrilled when international flights began were disappointed to hear that their Tet reunion plans had been shattered due to excessive airline ticket prices, primarily due to Covid.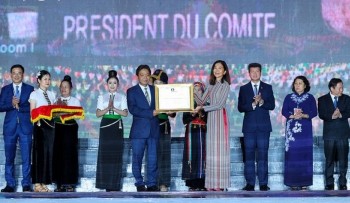 Viet's Home
UNESCO presented Vietnam a certificate recognizing Xoe Thai dance as an Intangible Cultural Heritage of Humanity at a ceremony held in Yen Bai province on September 24.