Three Specialties Used to be Seen as Weeds in Southern Vietnam
Bulrush, water chestnut and tape grass are three special ingredients in southern Vietnam that used to be considered wild plants. Now, to have a taste of the dishes made with these ingredients, tourists must wait until the rainy season.
Bulrush
Bulrush (bon bon or co nen) is a wild herbaceous plant found in the wetland in ponds, lakes or riversides. Bulrush grows throughout the year but prospers best in the wet season. Dishes made from bulrush are favorites of many food lovers and considered specialties of southern Vietnam.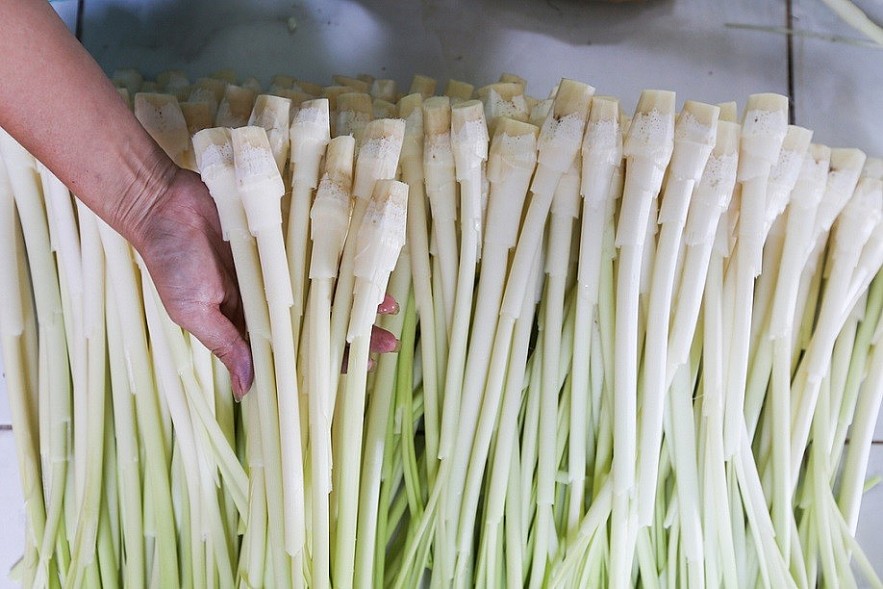 After preparation, the core of the fresh bulrush is kept. Photo: VnExpress
Tan Hung Dong commune of Cai Nuoc district is one of the largest bulrush planting areas of the Mekong Delta province of Ca Mau. Due to inefficient rice and shrimp farming, locals there have gradually shifted to growing bulrush. The perennial herbaceous plant adapts well to freshwater, can withstand saline acid sulfate, needs little care and has high productivity.
Bulrush is harvested by hand or by using a sharp knife to cut close to the roots. Locals remove the roots and long leaves to retain only the stem close to the roots, then taking out the old leaf membranes to attain the young core. Bulrush can be made into different dishes such as pickled bulrush, bulrush sauteed with small shrimps, bulrush soup or bulrush hotpot.
Water chestnut
Water chestnut (nan or nan bop) is a grass-like sedge native to Asia, tropical Africa and Oceania. Similar to bulrush, water chestnut can be harvested throughout the year but grows best during the rainy season. Water chestnut used to be a wild plant considered to have little economic value. Today, it is grown wildly in southwestern Vietnam on acid sulfate soil. Growing water chestnut is viewed as a major livelihood for many households in Soc Trang and Bac Lieu provinces.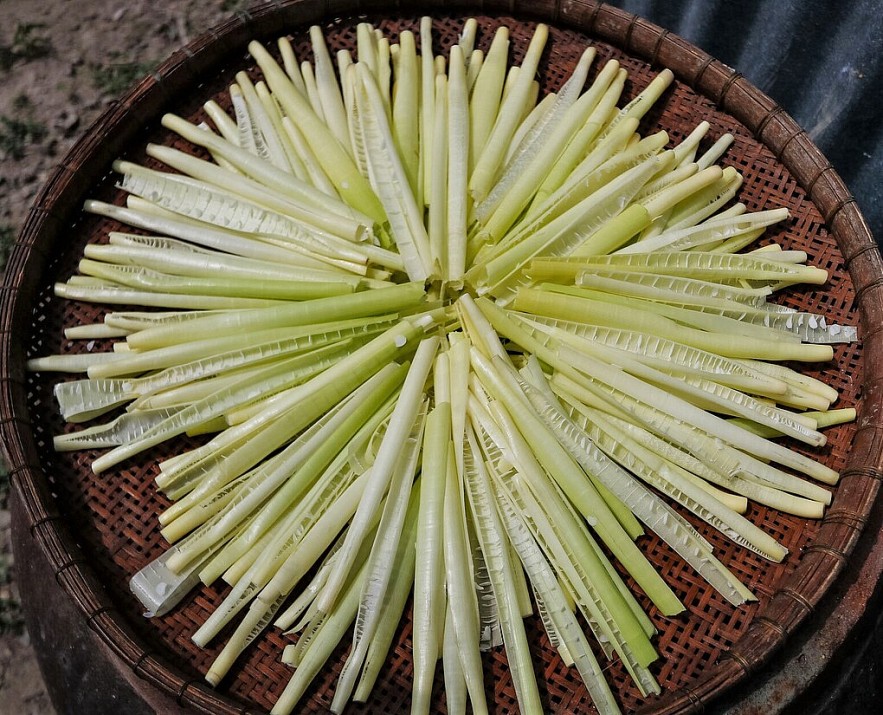 White, soft water chestnut stem after preparation. Photo: VnExpress
To harvest water chestnuts, locals choose the plants that grow about a span above the water surface and must be careful to not break the stem. After being plugged up, the water chestnut is washed clean and cut into short pieces of about 30 cm. To serve water chestnut, locals remove the outer layer, retaining only the white core. It can be eaten raw, served with hotpot or cooked with fish or fresh crab soup.
Tape grass
Tape grass (he nuoc) is a wild plant grown on acid sulfate soil in rice fields and waterways in the Plain of Reeds, an inland wetland in Vietnam's Mekong Delta. Tape grass can be found easily during the rainy season. The plant has a soft stem and fibrous roots growing in a bunch on muddy soil, thus it can be harvested easily. Where tape grass grows, water is often clear, so locals must be careful to not stir up the mud and cause the water to lose its transparency, for it can make the plant hard to see.
Green tape grass served with Egyptian riverhemp and water lily and dipped in mam kho, a local dish. Photo: @trangpinkyy

/Instagram
Locals consider tape grass a gift from heaven because it can grow well without much care. When acid sulfate rice fields are submerged in water in the early rainy season, tape grass starts to grow. Tape grass is often harvested at breaking dawn. Farmers wash the plant, remove the roots, pack in bunches on the spot and sell at the market.
Tape grass is a favorite of many due to its crunchy texture and refreshing taste. The plant can be served with hotpot or dipped in special mam kho. The crunchiness of the tape grass enhances the flavor of mam kho, creating a meal that will leave lasting impressions on eaters.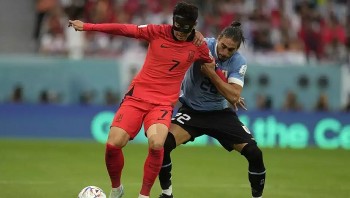 World
Both South Korea and Ghana are searching for their first wins at this year's World Cup. Ghana are facing the prospect of an early elimination from World Cup 2022 Group H when they travel to the Education City Stadium to face South Korea on Monday.