COVID-19 recovery project started in Da Nang's district
A project will be starting in Hoa Vang district of Da Nang city to recover from consequences of natural disasters and disease and promote public awareness of the disease and preventive measures.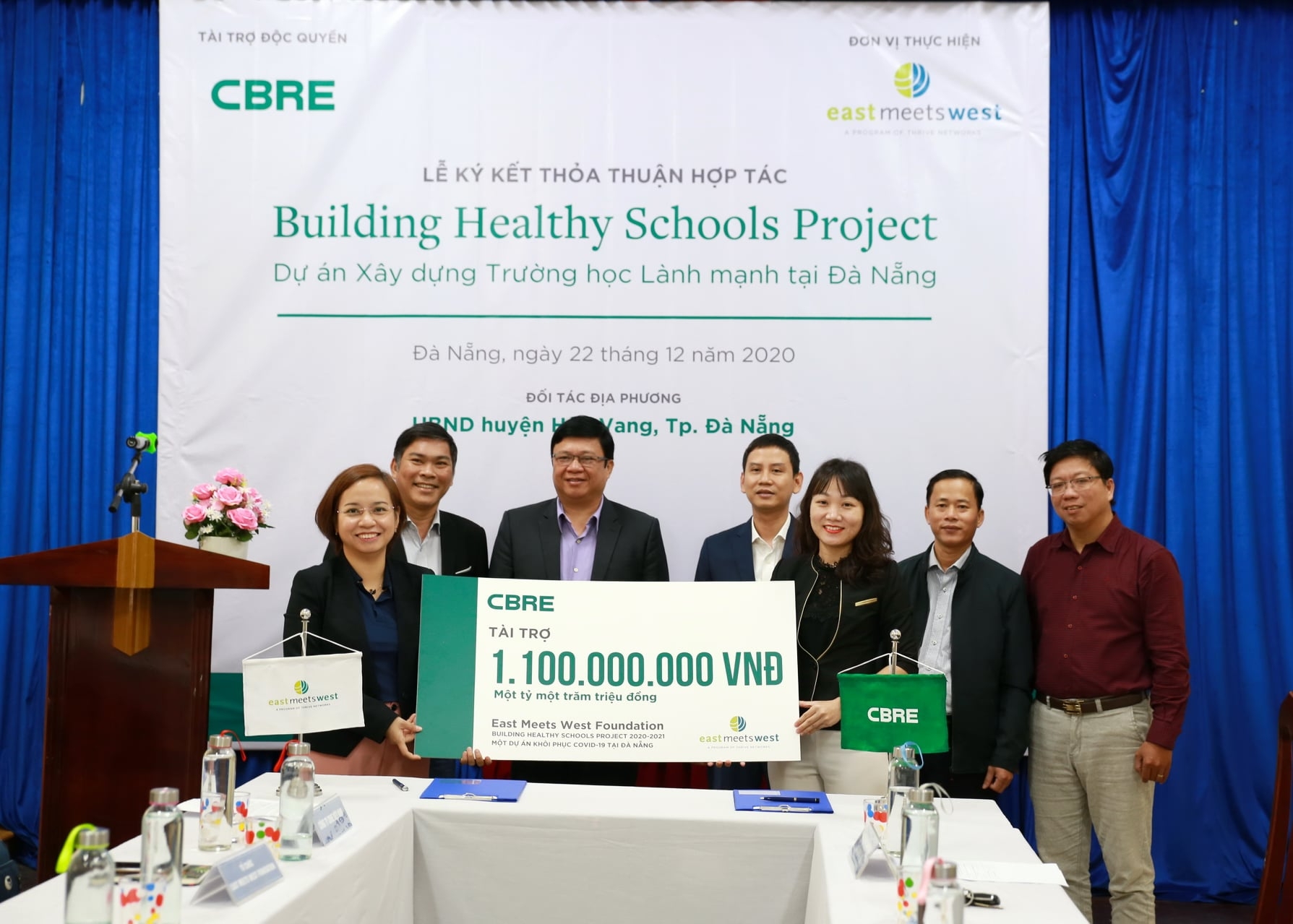 At the event. Source: East Meets West
In an effort to alleviate the combined impacts of the pandemic and climate change, East Meets West Foundation and CBRE Vietnam on December 22 joined hands in a new partnership to kick off the Building Healthy Schools Project, a COVID-19 recovery project in Hoa Vang district in Da Nang, a city hit hard this year by the impacts of the pandemic and climate change.
With a generous donation of VND 1.1 billion (USD 49,700) from the exclusive sponsor CBRE Vietnam, East Meets West and local partners in Da Nang will support over 2,800 students in five primary schools in Hoa Vang district with clean drinking water and a place for them to wash their hands and adopt hygiene behaviors that will help protect them from sickness.
In addition, the organization will make some needed repairs in the schools which were damaged during the storms and flooding that took place earlier this year in November, and conduct hygiene training for students and teachers and disaster reduction strategic training for school leaders to help them manage future crises.
Participants at the signing ceremony included key representatives from Da Nang Department of Foreign Affairs, Danang Department of Education and Training, Hoa Vang District People's Committee, Hoa Vang District Department of Education and Training, Hanh Nguyen, Country Director of East Meets West, and Dinh Ngoc Khanh Ha, Head of Communications and Marketing for CBRE.
Thanks to high social consensus, Vietnam is among a few countries putting the pandemic under control with effective and low-cost methods.
In July the COVID-19 outbreak broke out in Da Nang city, the need for basic social services like clean water and sanitation among the vulnerable populations, including poor women, children and other disadvantaged groups, has become even more pressing in the context of numerous difficulties resulting from the pandemic and climate change.
Due to poor sanitation conditions caused by recent floods which create ideal conditions for bacteria to develop, the Ministry of Health has asked health departments at all localities to enhance measures to prevent Whitmore disease./.