Tiktok to belong to Microsoft-Walmart or Oracle?
The world's largest retailer Walmart partners with giant tech Microsoft in the race with Oracle to acquire Chinese video-sharing app Tiktok.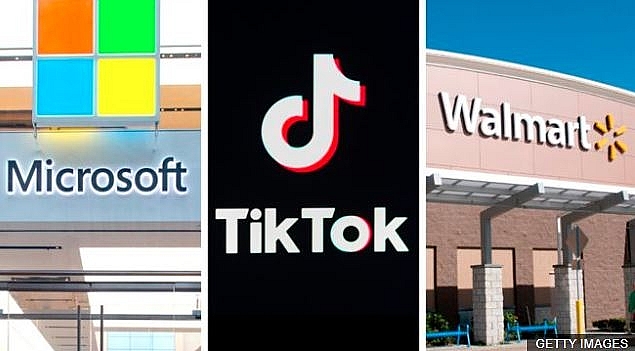 Photo: Getty Image
TikTok sale to Microsoft-Walmart or Oracle could come as early as this weekend
Confirmation of a signed and binding deal to purchase the U.S. assets of TikTok could come as soon as tonight and before Monday 31 August, FOX Business has learned.
Sources familiar with negotiations say there is now a possibility the deal won't include TikTok's Australia, New Zealand or Canadian arms.
"Why sell off assets when you don't have to?" sources said, "That's why the U.K. arm was never part of the sale."
TikTok officials see little reason to rush and "have a fire sale" of assets that TikTok's Chinese parent Bytedance knows are incredibly valuable.
While Oracle CEO Larry Ellison and his bidding partners, General Atlantic and Sequoia Capital, are still in the running, sources say Microsoft now has a firmer edge after Walmart confirmed it's partnering with the software giant.
"Microsoft didn't need Walmart. Initially, Satya Nadella wanted to go it alone," one person with knowledge told FOX Business referring to the Microsoft CEO.
So why Walmart? "Walmart is well-loved in D.C., more so even than Microsoft," the source said. Last year, The Department of Defense granted Microsoft a $10-billion-dollar cloud computing contract.
TikTok, Microsoft and Oracle all separately declined comment.
Walmart reportedly teams up with Microsoft to make a bid for the US operations of TikTok
Walmart told the BBC it thought a deal with the Chinese video-sharing app would help it expand its operations.
TikTok has been given 90 days to sell its US arm to an American firm or face a ban in the country. Donald Trump has alleged it shares its user data with Beijing - claims it denies. Earlier on 27 August the firm's boss resigned ahead of the impending ban.
Confirming that the company was pursuing a deal, a Walmart spokesperson told the BBC: "We are confident that a Walmart and Microsoft partnership would meet both the expectations of US TikTok users while satisfying the concerns of US government regulators."
Microsoft, which confirmed at the beginning of August that it was in talks with TikTok, told the BBC it had "nothing to share at this time".
With Walmart, which owns UK supermarket chain Asda, it will now go up against other prospective bidders, including the US tech giant Oracle.
Why does Walmart want TikTok?
Walmart is a 58-year-old American company known for big box stores that sell everyday goods, casual clothing, groceries and TVs.
TikTok is a Chinese-owned app that in just a few years has captivated hundreds of millions of teens with its entertaining dance videos, lip syncing performances and comedy routines.
At first glance, the two couldn't be more different. That's why Walmart's (WMT) announcement that it was joining Microsoft (MSFT) in its bid to buy TikTok's US operations came as a surprise to so many.
But analysts who have watched the meteoric rise of social commerce in China — a mash up of social media activity and frenzied online shopping — say Walmart's interest in TikTok makes perfect sense, stated by CNN
Social commerce in China was worth $186 billion last year, more than 10 times the value of sales made in the United States, according to market research firm eMarketer. The Chinese market is expected to grow 30% this year to $242 billion.
Walmart has already acknowledged the value of e-commerce when it comes to TikTok. The company said Thursday that its interest in the app stems from the way it has "integrated e-commerce and advertising capabilities in other markets," and added that TikTok could bolster Walmart's access to consumers.
And owning TikTok could help Walmart more effectively battle e-commerce giant Amazon (AMZN), which it competes with not only for direct sales but also for third-party sellers on its online marketplace and for advertisers.
"To the extent that TikTok would add more eyeballs for Walmart's e-commerce platforms, that would make Walmart more attractive for third party sellers for both the Marketplace and as an advertising platform," DA Davidson senior research analyst Michael Baker said in an investor note on 27 August
To this end, Microsoft may be the perfect partner in the deal, because it, too, has a fierce rivalry with Amazon in the cloud business, CNN sited.
CNN/Foxbusiness/BBC