Top 10 most beautiful mountains in Vietnam
Vietnam is the land of natural beauty, including mountains, forests and rivers. Here is our list of top 10 most beautiful mountains in Vietnam that you should visit once in your life.
The blissful country of Vietnam has something for every traveller whether you're a foodie, a nature lover, a fan of beaches of an adventure seeker. This beautiful land is not just all about bustling cities or pristine beaches, it's also well known for majestic mountain ranges. Conquering the spectacular mountains in Northern Vietnam should be on the bucket list of things to do in Vietnam. Check out the most famous mountains in Vietnam if you're planning for a truly breathtaking adventure.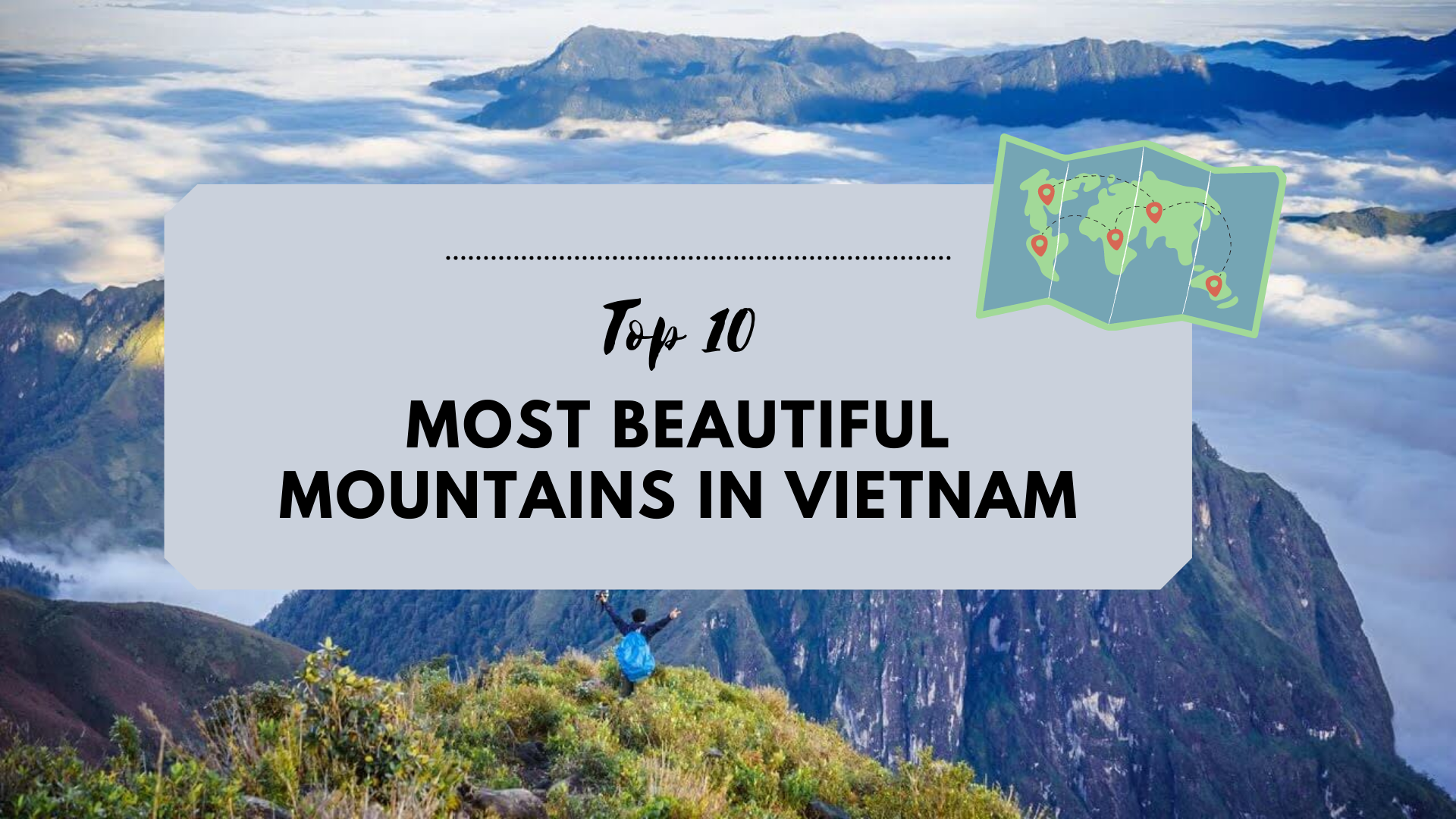 Photo: VnTrip
List of top 10 most beautiful mountains in Vietnam
1. Fansipan mountain
2. Pu Ta Leng mountain
3. Pu Si Lung Mountain
4. Ta Xua Peak
5. Bach Ma mountain
6. Bach Mong Luong Tu mountain
7. Ba Na Hills
8. Langbiang mountain
9. Marble mountains
10. Son Tra Mountain (Monkey Mountain)
1. Fansipan mountain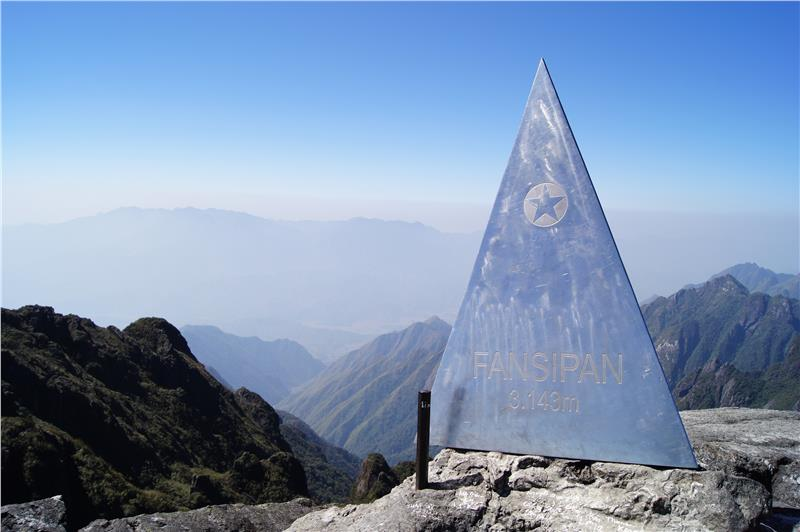 Photo: AloTrip
Fansipan Mountain is located in the southwest of Sapa town, Sa Pa district, Lao Cai province. With a length of 280 km from Phong Tho to Hoa Binh and the foothill's horizontal width of about 75km in the widest, it consists of 3 massifs: Bach Moc Luong Tu, Fansipan and Pu Luong. Whole massive roof is exciting attraction in Sapa for tourists, which hides much strange impression. Yet the most exotic and mysterious one is Fansipan Mountain.
Fansipan Mountain is the highest mountain in Vietnam and Indochina peninsula. With the altitude of 3,143m above sea level, the mountain is located in the center of Hoang Lien Son Mountain Range. The flora is relatively diverse in Fansipan. The mountain is to be approved as one of the very few ecotourist spots in Vietnam. There are 1,680 plant species divided into 679 families of 7 groups, many of which belong to rare and precious group. Below the foothills is home to the rice, jackfruit... with relatively dense density, creating beautiful sights, namely Coc Leu (Coc Gao), Coc San (Coc Mit)... Up to the altitude of 700m is tropical belt with dense primitive forests and tangled vines. Above 700m concentrates the gymnosperms, for instance, Pomu (Fujian cypress in English). There are many trees owning the height of around 50-60m with several hundred years old. Pomu has been dubbed as the gold mines of Lao Cai province. On the journey to discover Fansipan in Sapa tours, tourists will be immersed in the wonderful scenery.
2. Pu Ta Leng mountain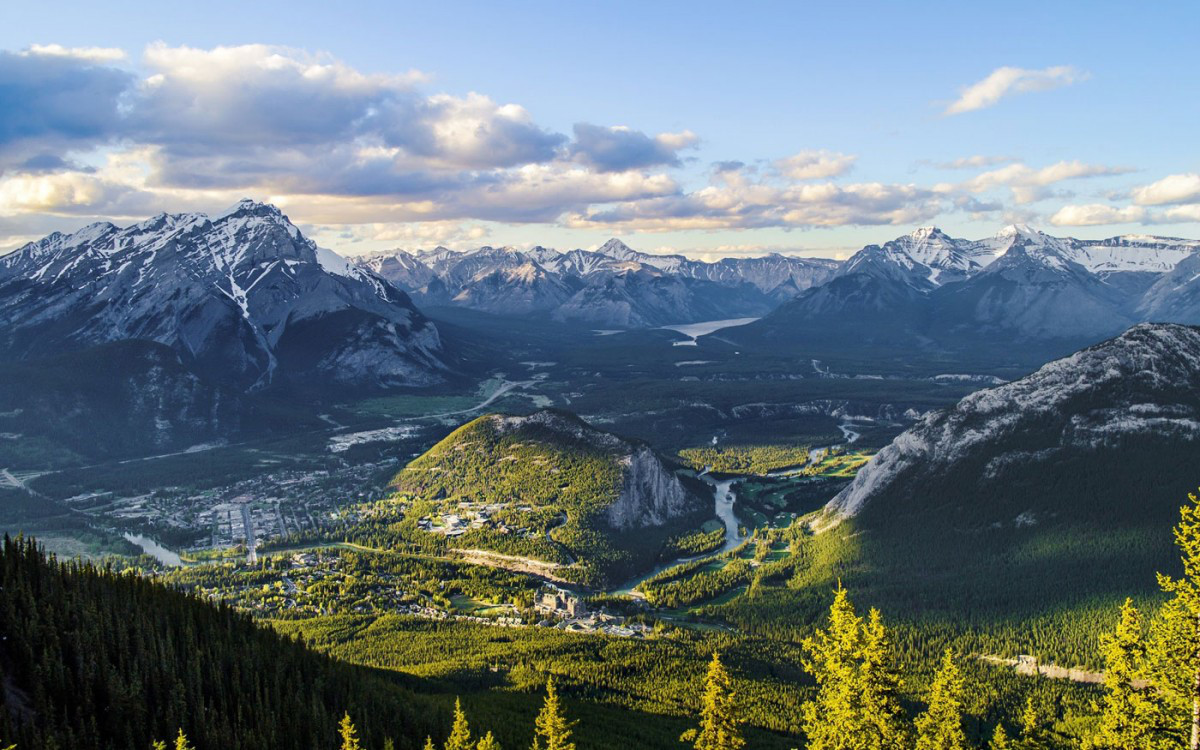 Photo: Cung duong phuot
Pu Ta Leng doesn't usually appear in Vietnam travel ads, but it is certainly a great destination for climbing enthusiasts. It may not be as tall as Fansipan, but the track is much more challenging. The time needed to conquer the mountain is longer, and a local guide, as well as a permit from authority, is mandatory.
The track starts off with a flat route, besides a few giant rocks to climb over along the stream. Everything seems to indicate a gentle trek that requires nothing but physical endurance. Don't be misled by these starting points. Soon, you will feel the route getting steeper and craggier. More obstacles appear, forcing you to utilise different climbing skills and driving you closer to exhaustion.
Travelling tip: The climbing track of Pu Ta Leng, commonly known as 'Fair Route', offers a picturesque, undisturbed scenery. Surrounded by dense forest, you will get a breath of fresh air, a change of atmosphere from crowded tourist sites. Adding to the scenic beauty are poetic streams emerging along the way. They are the perfect spots for your recovery periods.
3. Pu Si Lung Mountain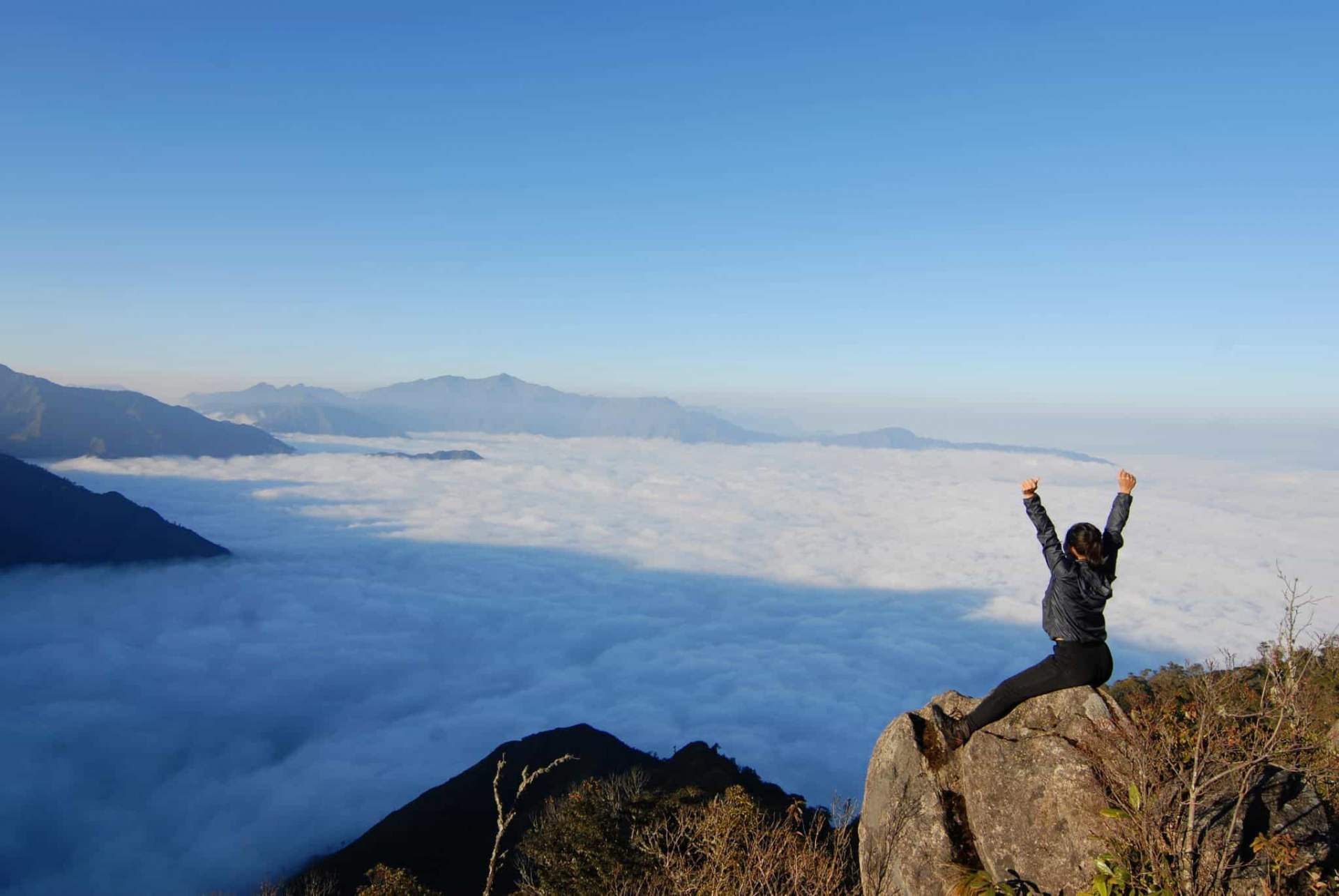 Photo: Ha Thanh Travelmate
At the height of more than 3,000 metres above sea level, Pu Si Lung in Lai Chau Province is known as the third highest mountain peak in Vi etnam, after Fanxipan in Lao Cai Province and Putaleng in Lai Chau Province.
Though it ranks third, it is known to have the toughest route for trekkers. The death-defying trails, exhausting trekking and the authenticity of local ethnic people made it a road trip unlike any other.
The peak is located in Muong Te of Lai Chau near the border with China. One needs to apply for permission from the Lai Châu Military Staff Committee to go to the mountain peak. They then assign someone to assist trekkers during their trip.
Travelling tip: If you are a nature enthusiast, or someone who wants to explore border areas of Vietnam, Pu Si Lung should definitely be on your travel checklist. Just remember to contact local agencies to arrange schedules and prepare paperwork before setting off.
4. Ta Xua Peak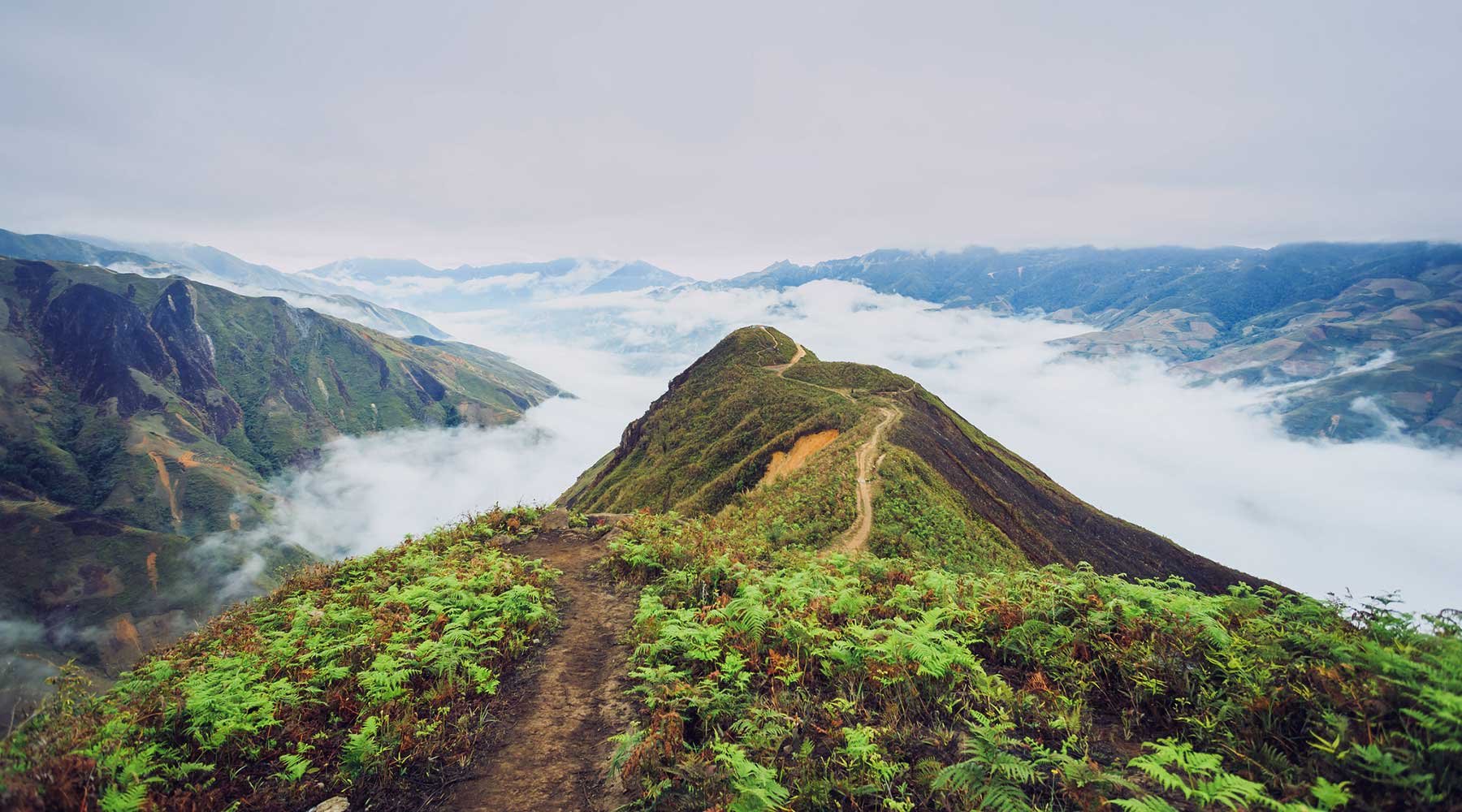 Photo: Local Vietnam
If you are looking for a unique travel experience in northern Vietnam, the floating clouds in Ta Xua are the place to go. Ta Xua is a mountain range in the Bac Yen district in Son La province, northern Vietnam, 240 km from Hanoi. This mountain range forms a natural border between the two provinces of Son La and Yen Bai.
At the highest point of 2865 meters, the Ta Xua peak is the tenth highest peak in Vietnam. The three most important peaks form a line that looks like the back of a dinosaur. It is a real off the beaten track destination. Few or no foreign tourists come here. This is partly because it is so remote. The nearest place is the non-touristy Moc Chau, 85 kilometers away.
Travelling tip: The best time to visit Ta Xua is from December to March when the weather is good to see clouds hanging. The downy clouds look the best in these months and especially during the sunrise.
5. Bach Ma mountain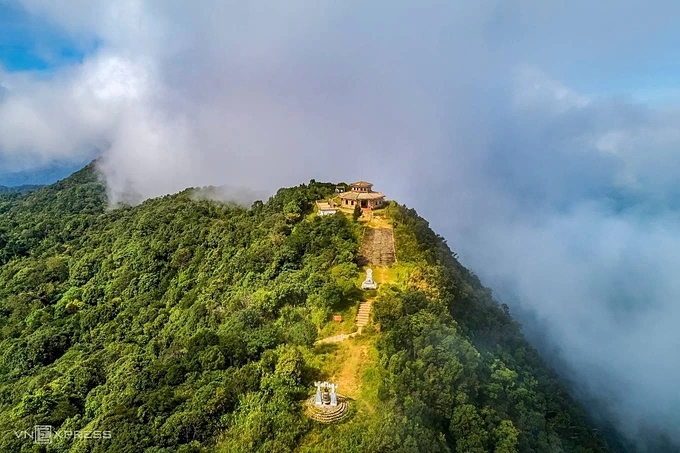 Photo: VnExpress
Bach Ma Mountain, a wonderful place for visiting to discover its old history, majesty nature with the splendid beauty as well as to relax in peaceful atmosphere with the cool climate during the year.
Bach Ma Mountain is located at Phu Loc village, Nam Dong district, Hue Province. It is about 60 km to the south from Hue city centre. It takes us one hour by car to make a trip to there. It is 90 km from Da nang city and 120 km from Hoi An city.
It is recognized as one of the biodiversity centre of Indochina for ecological diversification. The forest, lakes, water fall, plants and animals in this mountain are so diversity and majesty.
This mountain was first protected as a series of forest reserves, and was declared a protected area by the government of South Vietnam in 1962. The National Park, suffered from the use of defoliants like Agent Orange during the Vietnam War. Bach Ma National Park is situated in the Mountain and is one of the wettest places in Vietnam. Its mountains are composed mainly of granite, and the topography of the park is generally very steep.
6. Bach Mong Luong Tu mountain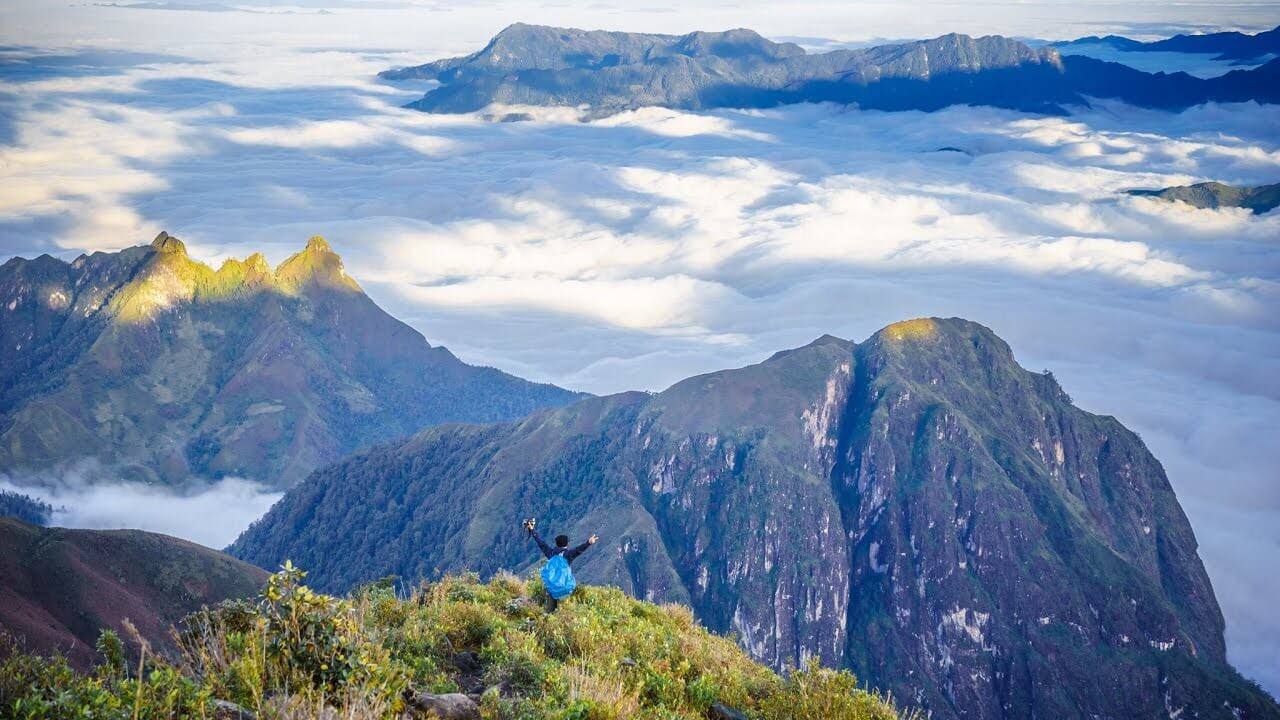 Photo: Vntrip
Bach Moc Luong Tu, like many other mountains in the Northwestern area, is not a place for the faint-hearted. Like Pu Ta Leng, the trail begins with a pleasant, though muddy route across bamboo and fruit forests. The foggy weather, however, requires climbers to be extra careful and follow their porter in order not to get lost.
As you continue walking, the sky becomes clearer. When you reach the rocky path towards a stream, be prepared for the next phase of your trip. From there, the road will get steeper and much more testing for our determination. In return, you get the chance to admire the miraculous scene of Bach Moc Luong Tu. From the obscure mountain ranges to the wintry, pristine streams.
Travelling tip: Normally, climbing groups will take a long break when they reach the 2,100 meter camping point. From there, get ready for an even more arduous, but also most rewarding phase. Starting at the 2,100 meter point, you will push yourself forward and claim your victory when you reach the summit.
7. Ba Na Hills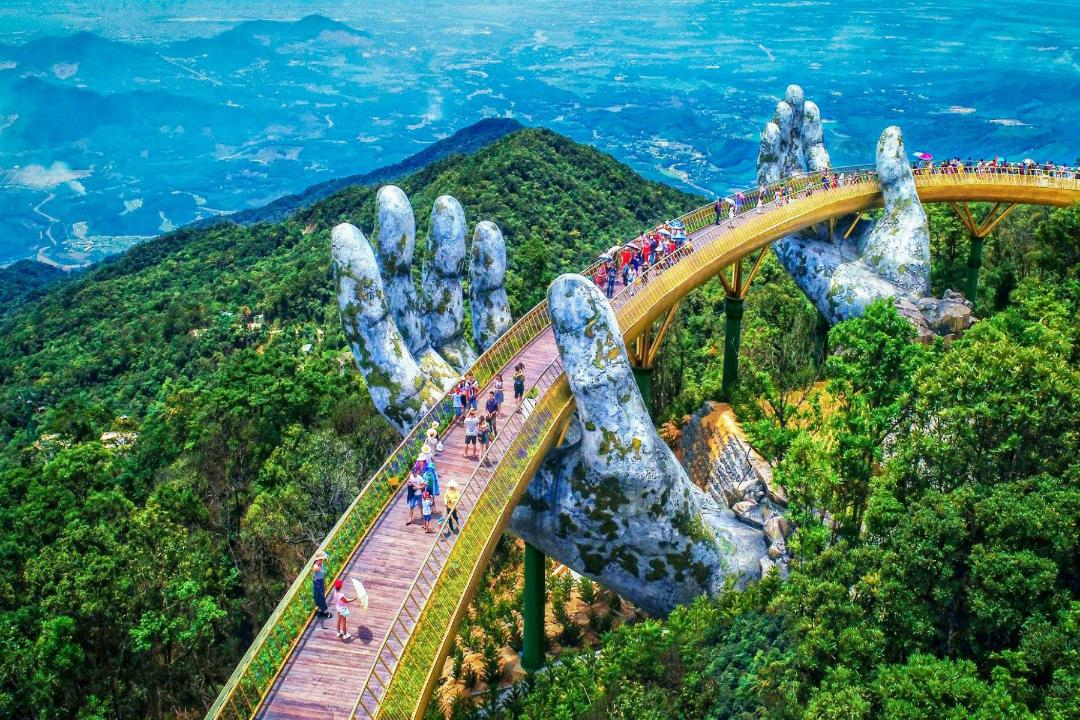 Photo: Traveloka
With no doubt, Ba Na Hills is one of the major mountains in Vietnam and also a fascinating attraction in Danang City. Located 1489 meters high on Nui Chua Mountain, Ba Na Hills are considered "One temperature place in the tropical forest" thanks to its cool climate all year round. Staying in Ba Na Hills, you can enjoy four seasons within a single day. With stunning mountain views, Ba Na Hills attract more and more tourists to come and enjoy.
Finding a place for adventure and relaxation? Look no further as Ba Na Hills is exactly for you. Exploring Ba Na Hills, you will not only enjoy the spectacular views of mountains, greenery, and cities but also join a plethora of recreational activities in one of the most amazing amusement parks in Vietnam.
8. Langbiang mountain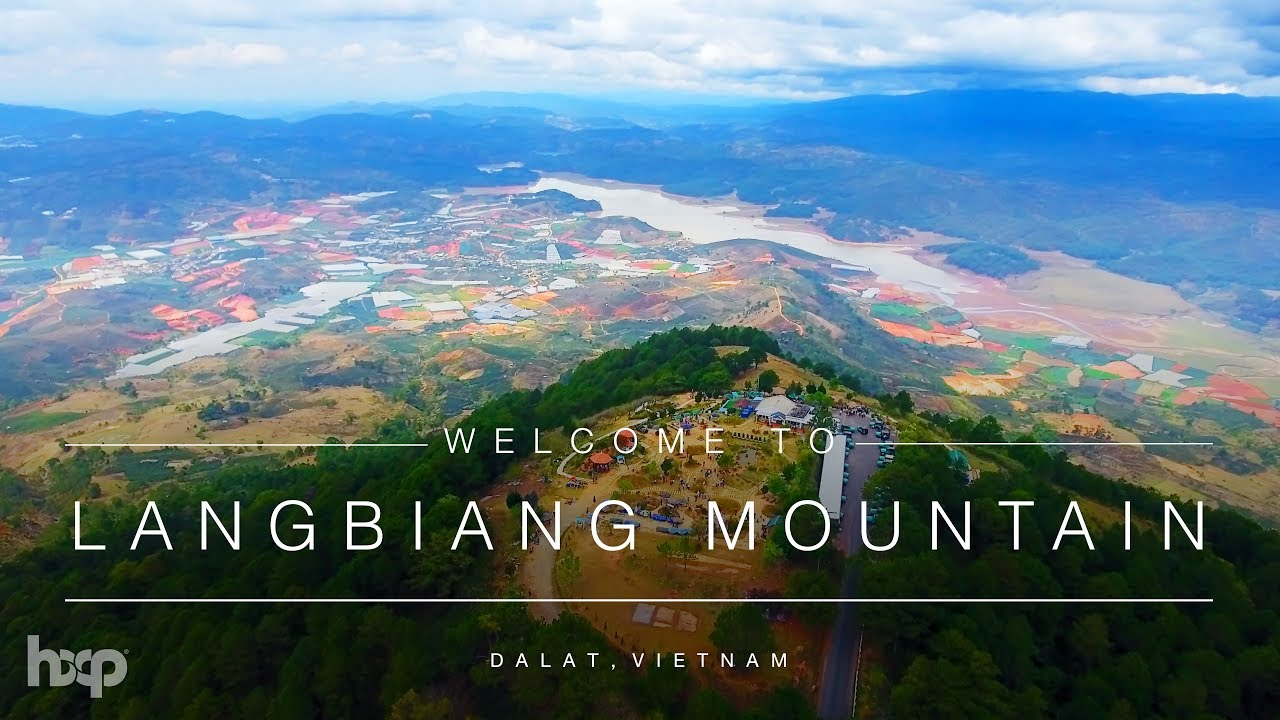 Photo: Youtube
12 kilometers from the city of Dalat, Langbiang Mountain is associated with a fascinating tale that bears similarity to the story of Romeo and Juliet. Stemming from the gratitude towards her savior, the genuine affinity of a girl was forbidden by her father due to tribal conflicts. The couple ran away from their tribes and lived their own life on a remote mountain. But once again, the couple was separated by their tribes. The girl perished from a toxic arrow of her husband's villagers, and the boy, unable to recover his wife's death, also passed away.
There are two main ways to reach the peak of Langbiang Mountain: sitting in an old-fashioned Russian Jeep or trekking through a forested trail leading to the 2,169 meter peak. If you are going for the first option, the Jeep will take you to an abandoned army radar station at the altitude of 1,950 meters. The vehicle runs through a paved road along dreamy pine forests.
If you are leaning to the second choice, be prepared for a little physical challenge. The change of elevation is not the only that can hinder your trek. The sudden rise and fall of temperature may also cause discomfort if you can't quickly adapt.
Travelling tip: To fully enjoy the view of Langbiang Mountain trekking route, you are recommended to set off early. From the spectacular blend of pine forests and coffee plantations to the untouched, primate jungles. It would be a huge loss to miss these scenes just because some late afternoon clouds have obscured the view.
9. Marble mountains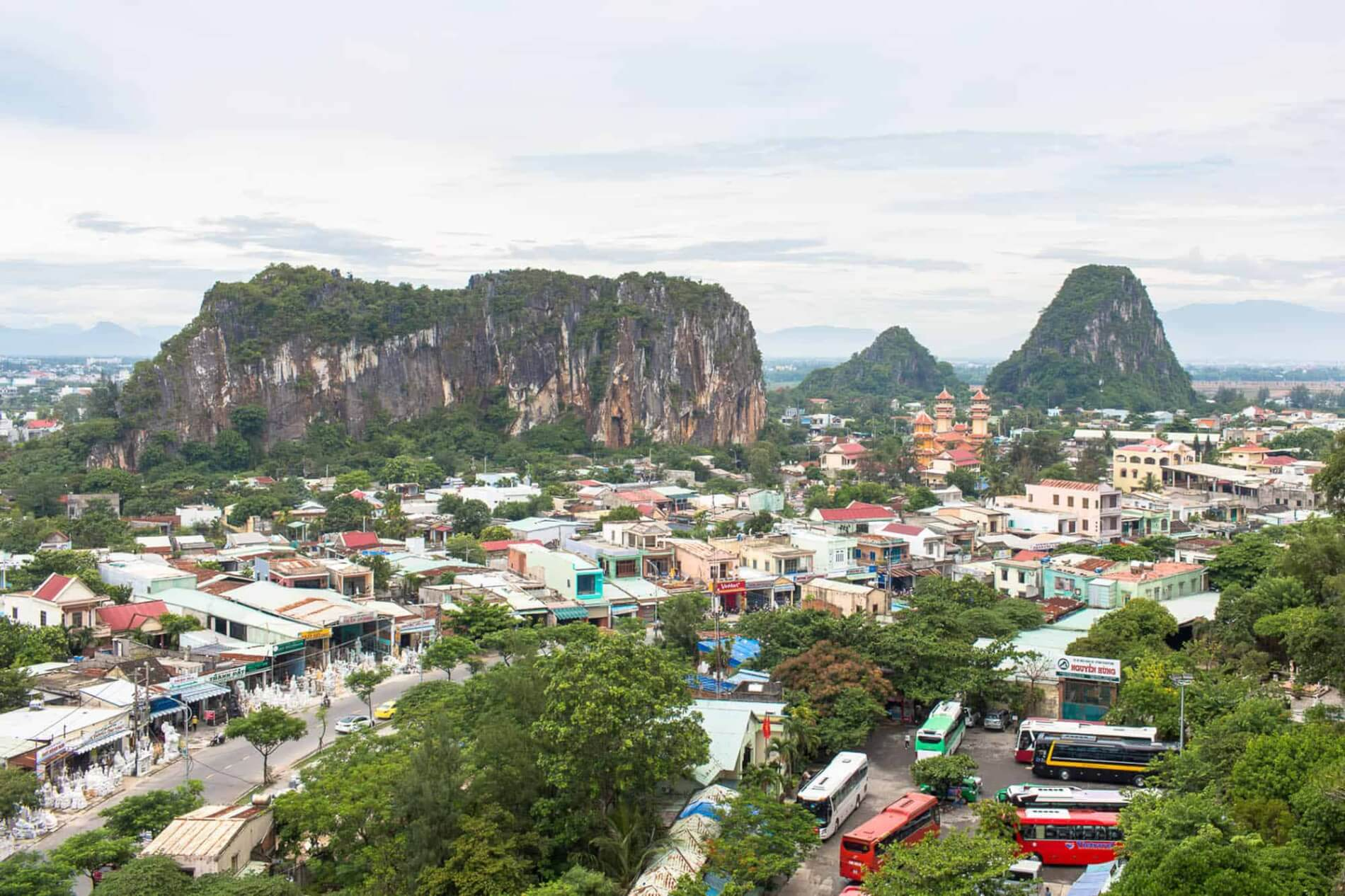 Photo: Hidden Hoi An
Located within the area of Ngu Hanh Son District are five mountains named after the five forces of nature, including Kim (metal), Thuy (water), Hoa (fire), Moc (wood), and Tho (earth). This explains the name 'Ngu Hanh Son', which can be translated as 'Mountains of the Five Forces'.
Among the five mountains, 'Thuy Son' or 'Water Mountain' is the most famous one. It boasts an ancient pagoda which was erected several centuries ago. To reach the temple and admire the panoramic view, tourists need to follow a marble staircase of 160 steps. Though it is quite easy to climb on these steps, get yourself a decent pair of trainers instead of flip flops as the marble surface is quite slippery.
Travelling tip: To avoid getting exhausted from overheating, visit the temple at times when the weather is of comfortable temperature. Late afternoon is satisfactory enough to handle the 160 steps. But early morning is an even better time because you get to witness the beautiful landscape, take awesome pictures and totally relish in the peaceful atmosphere of Marble Mountain.
10. Son Tra Mountain (Monkey Mountain)
If the Marble Mountains are a well-known tourist attraction in the South of Danang, Monkey Mountain is just out from the mainland north of China Beach. Nestled on a lovely peninsula, Monkey Mountain is a well-worth place to enjoy the exotic views of Cham Island, Danang City and beaches and Son Tra Peninsula itself.
With a perfect location, it's a popular retreat for tourists and locals alike looking to beat some heat and stay away from the crazy noise of the big city. This verdant mountain is surrounded by several secluded beaches like Bai Bac, Bai But, Bai Nam, and Tien Sa Beach. You can choose to hop on a motorbike, follow the winding and sloping roads surrounding the mountains to reach the summit or enjoy the verdant trails to stay close to nature.
Top 10 Best Dishes in Vietnam - Video

When talking Vietnamese cuisine abroad, people mention phở and bánh mì, however, the full spectrum of Vietnamese food is a symphony of delightfully textured, bright ...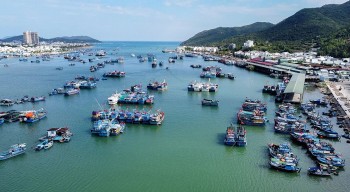 Economy
GDP growth quickened to 7.72% in the quarter ended June, beating the government's 6%-6.5% target.