Top 10 Best Dishes in Vietnam - Video
When talking Vietnamese cuisine abroad, people mention phở and bánh mì, however, the full spectrum of Vietnamese food is a symphony of delightfully textured, bright and piquant flavours. Come and explore the flavours of Vietnamese food by eating your way through our list of the ten best dishes this foodie nation has to offer.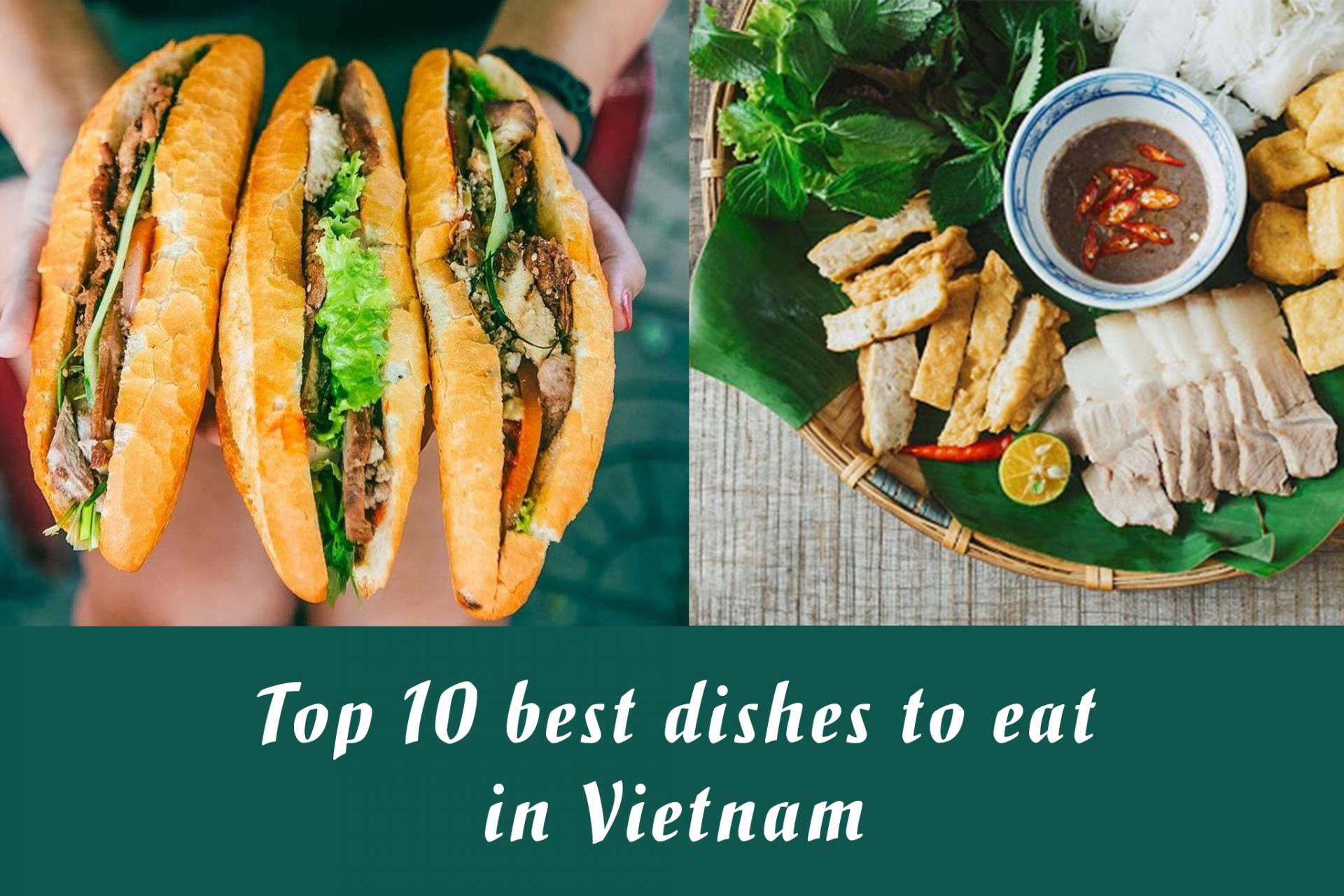 Top 10 must-try Vietnamese food.
Food is at the heart of Vietnamese culture and Vietnamese food is one of the most popular cuisines in the world as it mixes together a range of flavors and tastes. Coming to this foodie nation, you cannot miss its unique cuisine. So, empty your pockets with these 10 best Vietnamese food that rock!
Here is a list of ten

best food

in Vietnam:
1. Pho (Noodle Soup)
2. Goi Cuon (Spring Rolls)
3. Banh mi (Vietnamese Sandwich)
4. Bun Cha (Grilled Meatballs)
5. Banh Cuon (Steamed Rice Cake)
6. Bun Dau Mam Tom (Noodle and Tofu with Shrimp Sauce)
7. Com Tam (Broken Rice)
8. Xoi (Sticky Rice)
9. Cha Ca (Turmeric fish)
10. Banh Xeo (Vietnamese Pancake)
Explore Vietnamese cuisine. Video: Vietnam.travel
Let's explore the details:
1. Pho (Noodle Soup)
Pho is one of the most well-known examples of Vietnamese food. Like banh mi, it's one of the most popular foods in Vietnam and regarded as a Vietnamese national dish.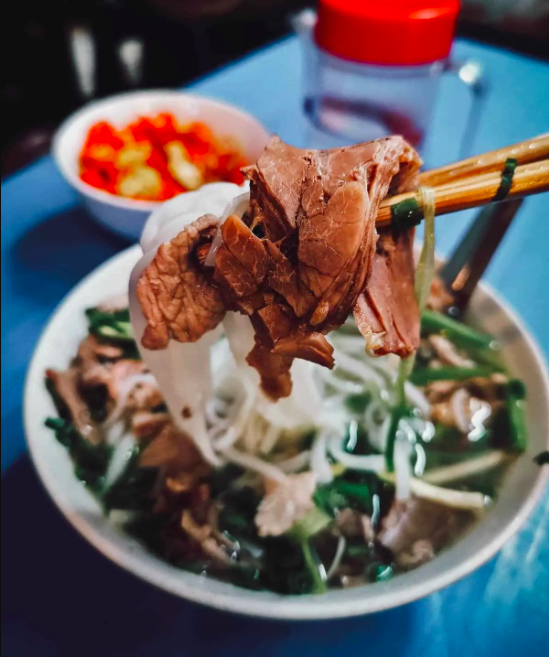 Pho is the quintessential Vietnamese dish. Photo: willflyforfood
This national staple is made with flat rice noodles, a warming broth and usually chicken or beef. The flavour of this comforting noodle soup can vary greatly across the country, and many establishments load your table with sauces, herbs and spices so you can season your pho exactly how you like it, cited Culturetrip at www.theculturetrip.com.
Northern pho tends to use wider noodles and a lot more green onions. Garnishes are generally limited only to vinegar, fish sauce, and chili sauce. Southern pho, on the other hand, has a sweeter broth and is topped with bean sprouts and a wider variety of fresh herbs, cited Willflyforfood.
How to eat Pho – a Newbie's Guide
Pronounced something like "fuuuh" with a drawn-out vowel, pho is difficult for Westerners to say correctly because of the tone. Luckily, pho is easier to eat than to pronounce, according to Tripsavvy.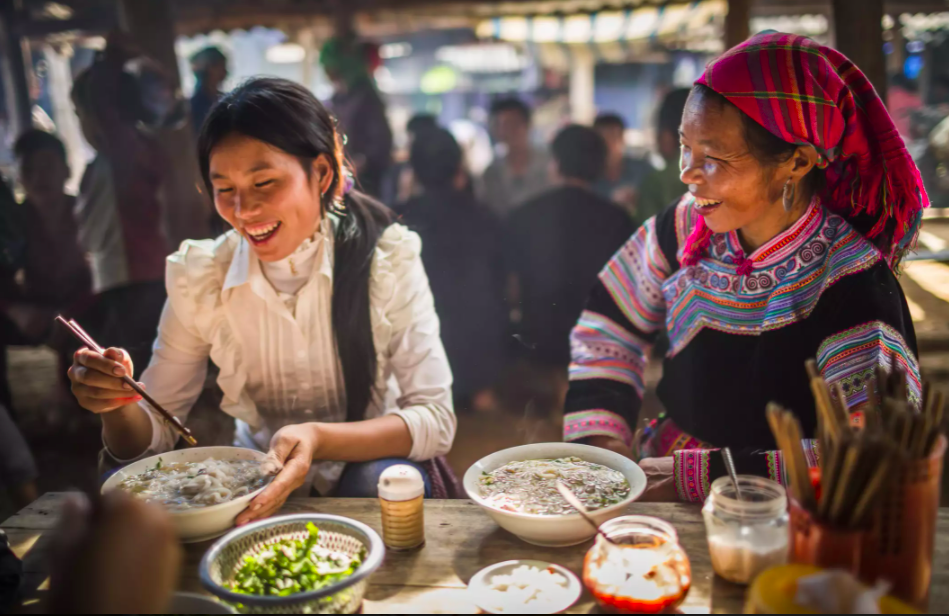 How to best enjoy pho. Photo: Tim Gerard Barker/Getty Images
When the pho arrives, take your chopsticks in your dominant hand and the soup spoon in the other.
Start with the broth: sip it and take in the deep, rich flavors of the meat that's been boiled into every drop of the stuff. The aromatics come next: the star anise, ginger, and cinnamon should saturate your nostrils as you sip the hot liquid.
Slurping is completely acceptable, even encouraged: it shows you're enjoying your meal and is a high compliment to the cooks!
After you taste the broth, season to taste. Squeeze lime, or trickle a little fish sauce, or put in a pinch of black pepper. If the broth is already good, skip this step.
Add the vegetable garnishes with your chopsticks, and push the greens to the bottom of the bowl to cook them slightly in the heat. Don't put the leaves in whole: tear into pieces before adding them in.
2. Goi Cuon (Spring Rolls)
If you are tired of the fatty fried food and absolutely want to get rid of them, then Goi Cuon is definitely for you! There are thousands of Goi Cuon's edition. Like banh mi, it will be made based on customers' orders. However, the main ingredients are often lettuce, some kinds of herbs and boiled meat or seafood. These ingredients will be wrapped tightly by a rice paper, then the roll can be dipped into the sauce, which is diverse depending on the chef making it, cited Vietnamdiscovery.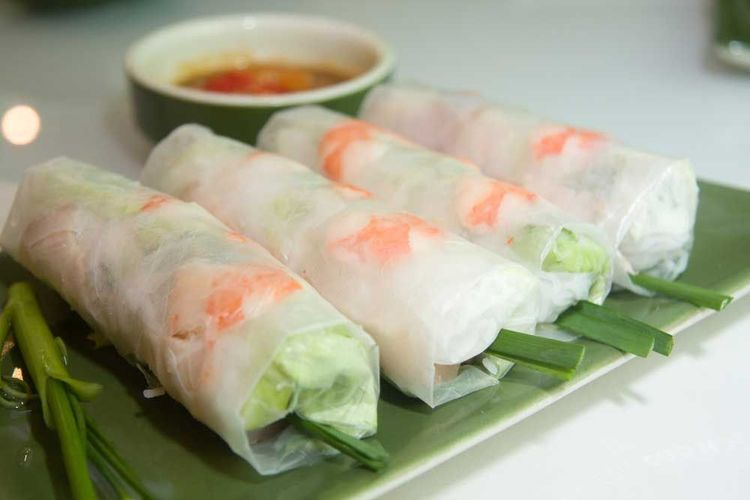 Goi Cuon is usually served as a starter in Vietnamese restaurants. Photo: Tochim/Shutterstock
Goi Cuon are translucent spring rolls packed with greens, coriander and minced pork or shrimp. A southern variation has barbecued strips of pork wrapped up with green banana and star fruit, and then dunked in a rich peanut sauce – every bit as tasty as it sounds.
Served cold, Goi Cuon are usually served as a starter before a main course at Vietnamese restaurants, cited roughguides. If you travel to northern Vietnam then you may find that they're referred to as Nem Cuon. Whatever they're called, they're certainly delicious!
3. Banh Mi – Vietnamese Best Sandwich
If Pho represents the complicated delicacy that requires certain experience to make, Banh Mi is a symbol of simplicity as roughly anyone can make it. However, this simplicity, surprisingly, can result in such an amazing taste.
Banh Mi's most outstanding aspect that makes it become a popular choice in Vietnam might be its convenience. People can find Banh Mi roughly anywhere along the street in each urban region of Vietnam. On your hurry way to work, a 3- minute – preparing Banh Mi would definitely a more appropriate choice than a tradition full course meal. Therefore, it can be said that, in this modern day, Banh Mi has integrated into Vietnamese normal life and it has become a vital part of our nation's list of cuisine.
Vietnamese Banh Mi. Photo: @joavietnam
Instead of serving each ingredient separately at the restaurants, the sellers at that time decided to put every topping into the Bread, with the addition of some herbs so that it can meet the taste of more Vietnamese people. Unexpectedly, this decision led to the appearance of Banh Mi, an integral cuisine of Vietnamese normal life until these days, according to Vietnamdiscovery.
Similar to Pho, Banh Mi's recipe is also various. The toppings of Banh Mi vary even in a larger range, from the cook's interests on the small scale to the region's cultural identity on a large scale. However, overall, there are some core ingredients that are included in nearly every recipe, they are sauces (popularly chili sauce but some stalls even have their own homemade special sauce), pate, herbs, and vegetables. Other ingredients such as ham, butter, egg, sausages, grilled pork and so on will be added according to the buyers' interests. Therefore, it can be said that Banh Mi is the favorite food of everybody as it is made based on culinary enjoyers' own taste. The chosen toppings, together with the herbs, the sauce, and the crusty Banh Mi create a surprisingly harmonious combination, which is sure to impress everybody for the first time.
4. Bun Cha (Grilled Meatballs)
Bun Cha is one of the oldest favorites of Northern Vietnam cuisine. This dish is top choice of Vietnamese lunchtime food. Grilled chopped meat or normal grilled meat on charcoal stove is prepared with rice noodles and herbs. all together is dipped in syrup-thick fish sauce. Outside Hanoi, across all region of Vietnam, there is familiar dish called Bun Thit Nuong which alternatively served, according to luneproduction.
Bun cha became an overnight sensation after President Obama was pictured scarfing down a bowl of these grilled pork patties with Anthony Bourdain. But this speciality of the Old Quarter in Hanoi has always been popular among the locals. Around lunchtime, the scent of pork grilling over hot charcoal wafts down the sidewalks, filling the noses of hungry Hanoians.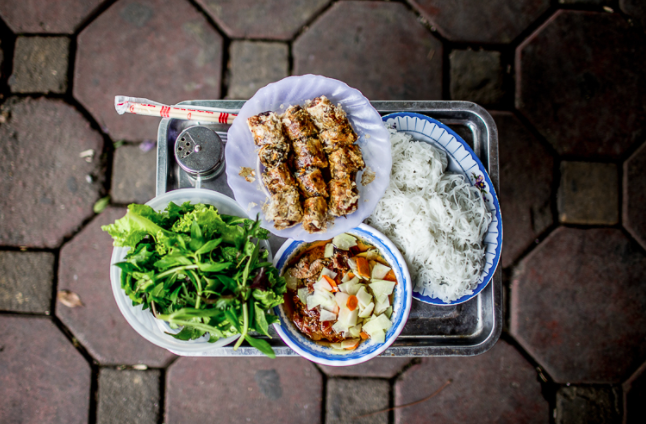 Bun cha - a special dish in Vietnam. Photo: Vietnam.travel
This classic northern dish is comprised of cold bun (rice vermicelli); slices of seasoned pork belly; a mountain of fresh herbs and salad greens; and last but not least, medallions of minced pork swimming in a bowl brimming with a fish sauce-based broth. The go-to approach is to scoop small bundles of bun into your broth bowl and rotate between eating the noodles, the pork and the greens, cited Vietnam.travel.
5. Banh Cuon (Steamed Rice Cake)
Made from large round sheets of steamed rice flour, gathered around minced pork and wood-ear mushroom and gently folded and chopped, banh cuonis a delight. This savoury treat is always made fresh-to-order, topped with dried shallots and served with a side bowl of fish sauce with pork sausage. Enjoy it for breakfast, like a local, and feel free to add fresh herbs to the mix and brighten up your bite, cited Vietnam.travel
The appeal of this dish is not only the great taste, but also the intriguing way it's made. Patrons can often watch their host steaming the extremely delicate pancakes moments before their dish is served.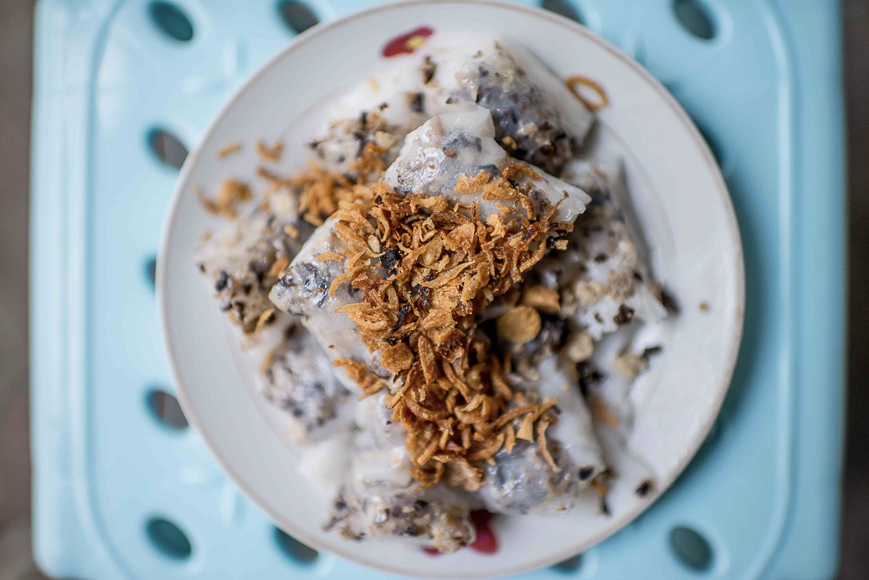 Photo: Vietnam.travel
6. Bun Dau Mam Tom (Noodle and Tofu with Shrimp Sauce)
Bun dau mam tom is a rustic dish of the Northern people but a subtle combination of Vietnamese cuisine. This dish is often used as a snack and is often found on the streets of Hanoi. Even the name Bun dau mam tom says this dish is an indispensable combination of noodles, tofu, and shrimp sauce. In addition, Bun dau mam tom is served with accompanying vegetables like marjoram, mint, etc.
Only in Vietnam, you can enjoy shrimp sauce. Shrimp paste is a "specialty" of Vietnamese cuisine. For foreign tourists, the first time to enjoy shrimp sauce will feel uncomfortable but enjoy and then see the unique taste of this street food, cited bestpricetravels.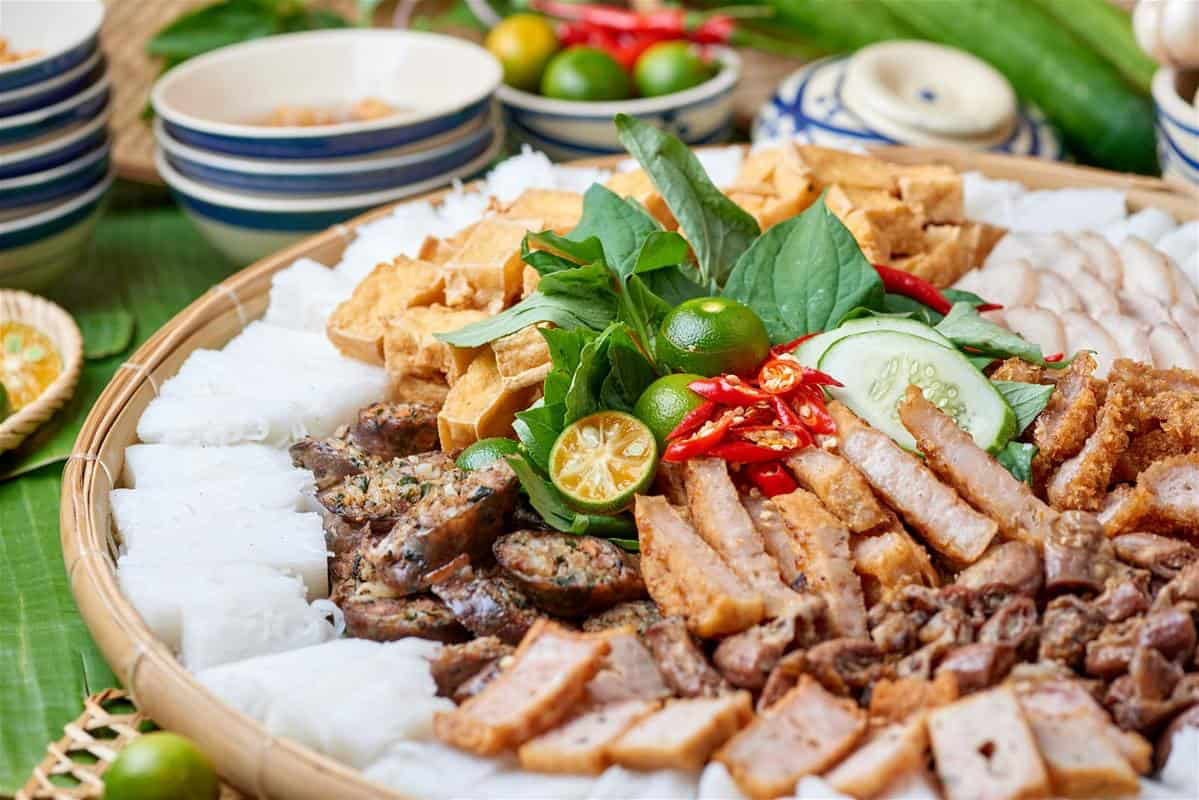 Bun dau mam tom - a typical dish of Vietnamese cuisine. Photo: bestpricetravel
Bun dau mam tom is often sold on the streets of Hanoi. A plastic chair for guests to sit, a plastic tray for noodles, beans, shrimp sauce, vegetables served with you can comfortably enjoy this fascinating dish. And around the food, there are many side stories. People eat and talk while sharing life.
Bun dau mam tom is an addictive dish with many Vietnamese people. Bun dau mam tom can be eaten all time in a day either breakfast, lunch or dinner. However, local people normally eat Bun Dau Mam Tom in lunch time. So who invented this delicious dish? The origin of Bun dau mam tom is quite faint, it seems that no culinary enthusiastist has ever studied the origin of this dish. It is said that there was an aloof woman in rural area first invented this dish for her family then sold on the street. Since then, it has become a trend of "Bun dau mam tom" spreading to other regions in Vietnam.
7. Com Tam (Broken Rice)
Com tam means "broken rice" and refers to one of HCM city's most famous Vietnamese dishes. It's called "broken rice" because it's made with rice grain fragments that were broken either in the field, during drying, during transport, or by milling. Because it was damaged, com tam was a traditionally cheaper grade of rice but it's since become more expensive as a sought after food item, cited Willflyforfood.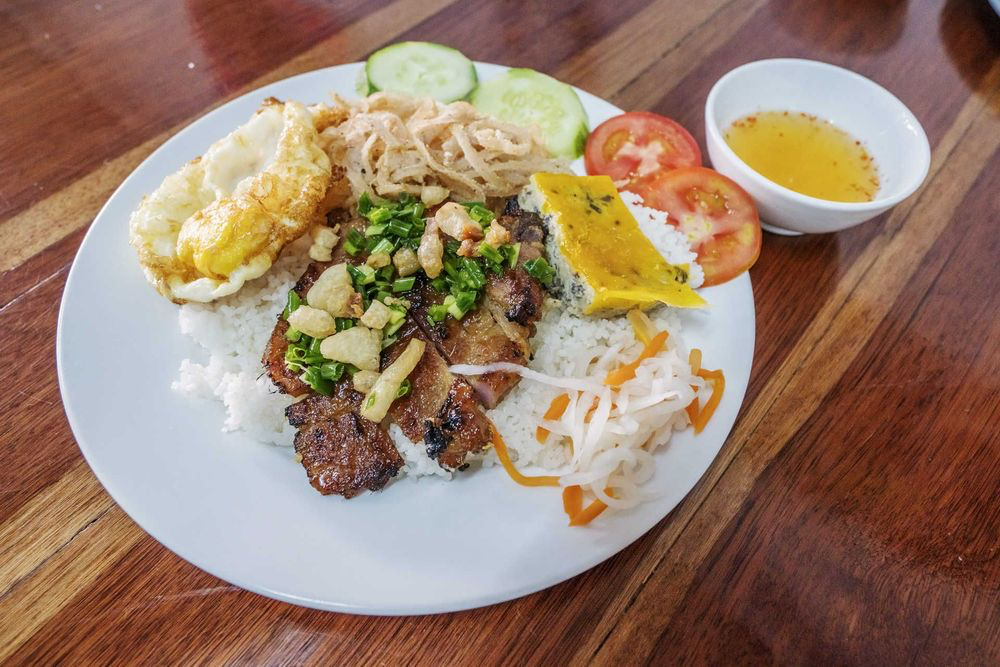 Com Tam, Vietnam food. Photo: Tonkinphotography/Shutterstock
Com tam is a quick'n'easy street-stand favourite that is almost exclusive to Ho Chi Minh city. Made up of smaller pieces of rice, it's also known as Broken Rice, and was traditionally a leftover-style snack. The Vietnamese have managed to hone it into a renowned Ho Chi Minh street food snack.
Com tam is served with either grilled/steamed/shredded pork (usually grilled), fish or simply a fried egg. And this being Vietnam food, it wouldn't be complete without a squeeze of lime, a sprinkle of fresh herbs and a smattering of spring onion, according to roughguides.
8. Xoi (Sticky Rice)
Xoi refers to a family of Vietnamese dishes made with glutinous or sticky rice that's been soaked for several hours then drained and steamed dry. There are hundreds of varieties of xoi made with any number of different ingredients, both savory (xoi man) and sweet (xoi ngot).
Pictured below is an overflowing banana leaf of xoi bap in Hanoi. It consists of two types of sticky rice loaded with different ingredients like corn, fried shallots, crushed peanuts, and pork floss, cited Willflyforfood.
It's a tasty combination of chewy, sticky, sweet, savory, nutty, and crunchy. If you're starving but running low on cash, then xoi is a great dish to have. It's delicious and will fill you right up.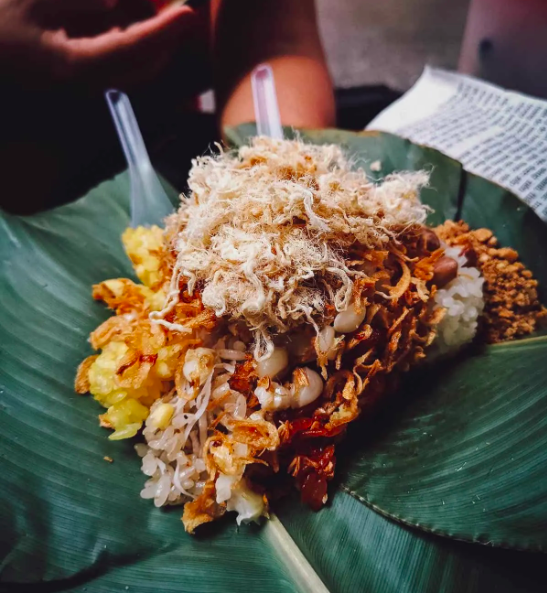 Overflowing banana leaf of xoi bap in Hanoi. Photo: Willflyforfood
9. Cha Ca (Turmeric Fish)
Like bun cha, this is one of the most beloved foods in northern Vietnam. Named after the restaurant that popularized it over a hundred years ago, cha ca la vong is a classic Hanoi specialty of grilled turmeric-marinated catfish served with a forest of fresh dill.
To make cha ca, catfish caught from the rivers of northern Vietnam are cut into matchbox-sized nuggets that are marinated in galangal, turmeric, and other spices. They're grilled on charcoal before being brought out to pan fry on your table with heaping amounts of fresh dill and spring onions.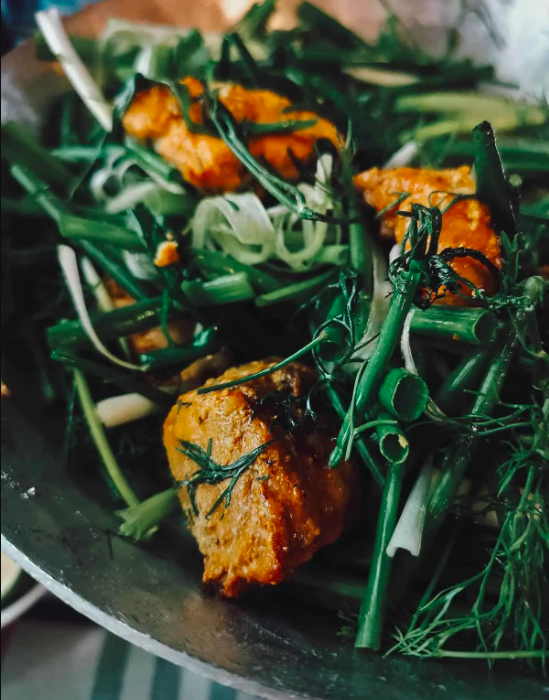 Cha ca - one of most beloved food in Vietnam. Photo: Willflyforfood
Once ready, the nuggets of fish are served with rice vermicelli, roasted peanuts, and coriander, along with a dipping sauce made with nuoc cham (fish sauce), vinegar, and garlic. If you like, you can also add a bit of Vietnamese shrimp paste (mam tom) mixed with lime juice.
Smokey and aromatic, the fish is tender and flaky on the inside with a delicate, crisp caramelized coating. It's seriously delicious and one of the best things we ate in Vietnam. In fact, so good is this dish that the restaurant credited for inventing it was listed as a destination in the bestselling book 1,000 Places to See Before You Die, cited Willflyforfood.
Cha ca was invented and popularized by the La Vong restaurant in Hanoi. It's still open today though based on its negative reviews, it's best days may be behind it. There are better places to have cha ca in Hanoi.
10. Banh Xeo: so-called "Vietnamese Pancake"
Though its way of cooking is quite similar to that of making a pancake, this dish is definitely more complicated. After frying the yellow rice flour (yeah, interestingly, this rice flour gets its yellow colour in the same way Quang Noodles' broth gets, by turmeric), a lot of toppings will make the "pancake" bulging. "Banh Xeo", then, can be dipped into the fish sauce and is ready to make mouth fulfill with flavor, cited Vietnamdiscovery.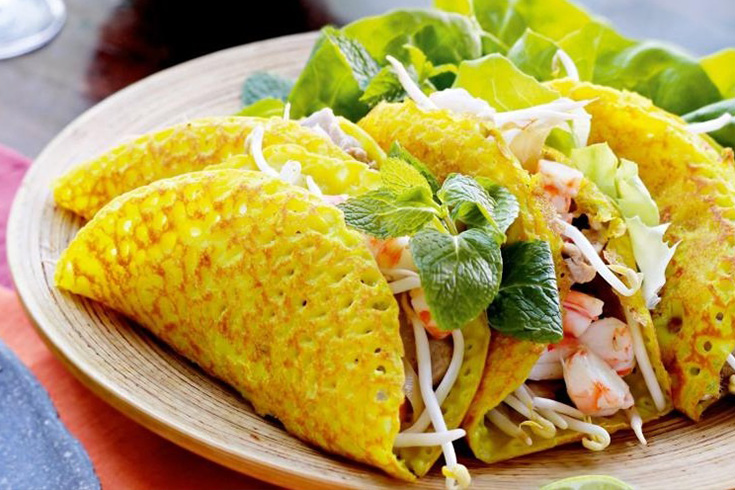 Vietnamese pancake. Photo: @choueatgolove
A Mekong Delta creation, banh xeo is widely eaten around south and central Vietnam. Watching the crispy crepe being assembled is an audio-visual experience: the batter crackles loudly when it hits the hot pan - xeo meaning sizzling—and the edges gradually curl and golden as the skilled xèo maker deftly swirls the pan to evenly spread out the dense batter. The batter, traditionally made from rice flour and coconut milk, owes its yellowish hue to the addition of turmeric. Another French-inspired delight, the savoury pancake is filled with slices of boiled pork, minced pork, bean sprouts and shrimp and then folded in the manner of a crepe. A banh xeoshouldn't be too soggy and is best appreciated fresh off the skillet, according to Vietnam.travel.
Top 5 Must-Try Dishes in Nha Trang

Nha Trang, a bustling coastal city in Khanh Hoa province, Vietnam, attracts tourists not only for its beaches and diving sites but also diverse cuisine. ...