Top 7 Best Drinks in Vietnam - Video
Vietnamese cuisine is world-famous, but few visitors think about what they'll be sipping on the streets of Hanoi or Ho Chi Minh city. That's a mistake, take a look at our suggestions of top seven must-try drinks when visiting Vietnam.
Not many people know that drinks in Vietnam are as diverse as its cuisine. Located in the tropical monsoon climate region, Vietnam luckily possesses the beverages with great flavor that can satisfy even the difficult drinkers. Visitors can experience the local traditions and many interesting stories when sipping a drink on the streets in Vietnam. Here are the top seven Vietnamese drinks that you will not want to miss.
Here is a list of seven best drinks in Vietnam:
1. Vietnamese Coffee
2. Tea
3. Hanoi Local Draught Beer
4. Sugar Cane Juice
5. Rice Wine
6. Fresh Coconut
7. Fruit Juice and Smoothie
Take a look at these must-try drinks in Vietnam below:
1. Vietnamese Coffee
Thanks to favorable natural conditions, Vietnam is proud of being the second largest country that exports coffee in the world. Coming to Vietnam, you will have a chance to enjoy a variety of coffee. The most traditional one is Phin coffee which is directly made in a tool called phin. Drinking this type of coffee requires abundant time to wait for minced coffee mixed with hot water, going through the bottom of phin then dropping into the cup. The process takes you a long time but it is worth it because you can smell the mild aroma of coffee and enjoy a relaxing time, cited Indochinavoyages.
Coffee culture is an important part of daily life in Vietnam. Photo: tasteatlas
Now, instant coffee has been more and more popular due to the fast lifestyle of modern people. In addition, it is extremely convenient for tourists to taste this famous Vietnamese drink at most of the beverage stores along the streets of Vietnam. No matter what type it is, you are highly recommended to try Vietnamese coffee in the way of Vietnamese people. Do not forget to add it into your Must-try Vietnamese Drink when setting up a Vietnam tour!
The 2 most famous coffee styles in Vietnam are black coffee "cafe den" and coffee with condensed milk "cafe sua". Both are drunk hot or cold with iced. You might notice a special ingredient that is used with coffee: condensed milk. Yes, it is not fresh milk but condensed milk which is an exclusive style of Vietnamese people to other countries over the globe. If you are not used to drinking the rich and dense coffee here, you should ask for "cafe sua" with extra condensed milk. In addition to these 2 styles of coffee, egg coffee is another must-try, especially in Hanoi, where it originates from.
Egg coffee in Hanoi. Video: Indochinavoyages.
2. Tea
Vietnam Tea has been an essential drink and a very unique cultural characteristics of Vietnamese for three thousand years. From the urban to rural areas, tea is considered as an indispensable part in local daily lives at family reunion, meetings, celebrations, public festivals. Tea and its accompanied rituals are intrinsically tied to perceptions of hospitality, respect for one's elders, and peaceful communion with nature in Vietnam, cited Vietnamtravel.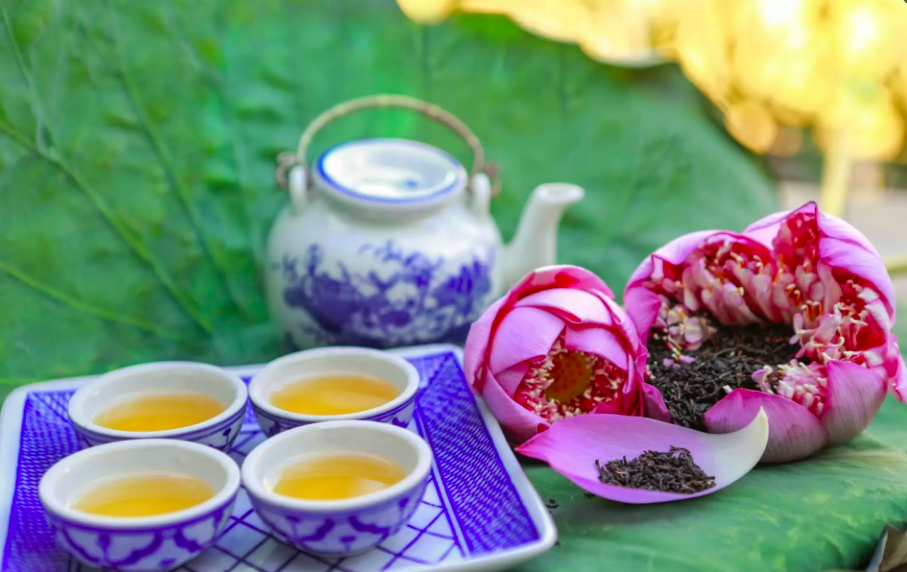 Lotus scented tea. Photo: Vietnamtravel
In the modern time, tea can be experienced in many styles. People can spend few hours in small street vendors (or known as "quan coc" in Vietnamese) to enjoy hot or iced tea and gossip about many things in the world. Young people create their own tea version called "tra chanh" – tea served with ice, lemon and sugar. This become an interesting modern trend of Vietnamese street culture for youngsters. Beside the most popular green tea, lotus scented tea symbolizes the national soul of Vietnamese tea culture because it requires meticulous procedure to have the finest lotus tea. Nearly one thousand lotus flowers only can make a kilo of lotus tea.
Artichoke tea is a healthy drink, it is believed to be able to clean the liver and detoxify properties. This kind of drink is often used for hungover men, but it is also good for everyone else. There are two kinds of artichoke tea: the sweetened yellowish tea made from the artichoke flower & the intensely bitter black tea made from the artichoke stems. Yellowish tea is easier to drink than black tea. Even this kind of tea is mostly grown in Dalat in Vietnam's cool Central Highlands, it is now dried, packed in packets and you can find in supermarkets throughout the country, cited bestpricetravel.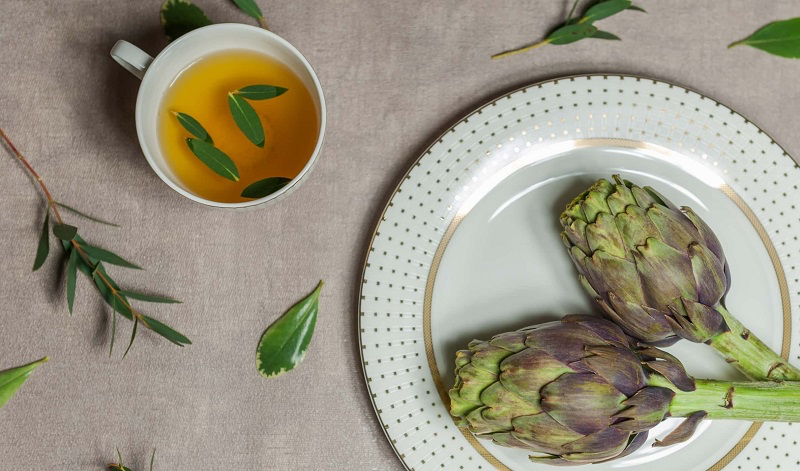 Antichoke tea. Photo: bestpricetravel
3. Hanoi Local Draught Beer
Beer is drunk all over the world; nevertheless, which makes beer become one of the most delightful drinks is how Vietnamese people enjoy it every day. People can buy beer for a meal meeting at home or go out in a local beer restaurant, in which the latter is more preferable, especially for men. When going out for a beer, people in Vietnam often call it "di nhau" since it is not simply about drinking beer. There are plenty of dishes that are served along with beer in any beer restaurant; such as roasted peanut, fried tofu, steamed snails, boiled big intestines, etc. An interesting fact is that a "beer – meeting" can last for many hours with beer and only 1 or 2 dishes of "snacks" for a group of friends, cited Indochinavoyages.
Beer restaurants can be found various when walking on the streets of Vietnam with quite rustic and sometimes boring style; as long as there are tables and chairs. Many beer shops offer low chairs sitting on the sidewalk but still draw a large number of customers daily, mostly for dinner time. As life changes, more and more modern and more expensive beer restaurants for the higher class are opened. You can find different brands of beer based on the region that you visit. If you come to Hanoi, Hanoi, Truc Bach Beer are produced by the local companies. If you come to Ho Chi Minh city, Sai Gon and 333 Beer are common. But do not worry if you want to taste foreign brands, they are also popular and easy to buy in many supermarkets or convenience stores.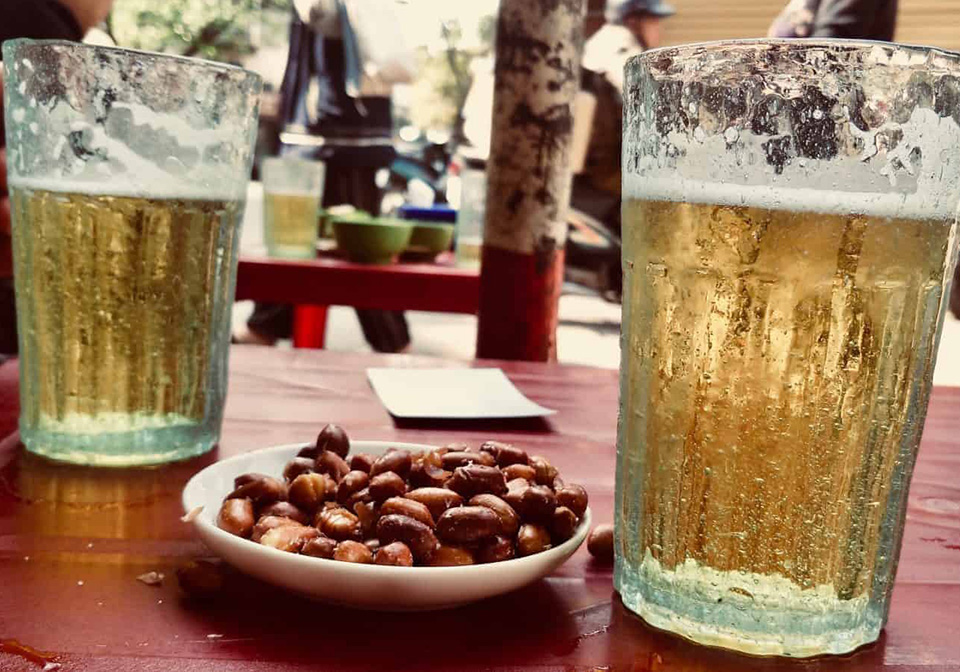 Vietnam draught beer. Photo: Indochinavoyages
The last but not least experience you need to try is to indulge yourself into the hectic vibes of the Beer Streets in big cities such Hanoi or Ho Chi Minh, and to taste the famous craft beer – "bia hoi", the fresh, unpasteurized beer made by the local.
4. Sugar Cane Juice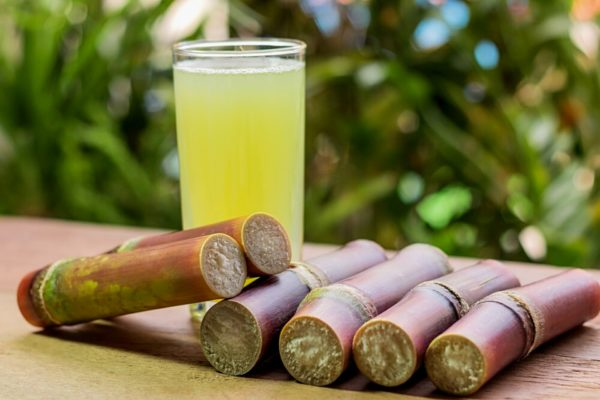 Sugar Cane Juice in Vietnam. Photo: Asiasomeday
Among Vietnam's diverse bounty of fruits and vegetables is the sturdy and refreshing sugarcane. And trust us, there's very few things as refreshing and fulfilling as a tall glass of nuoc mia. Surprisingly sweet, the juice contains no added sugar. But some sellers will squeeze in a dash of lime for a sour tang. You can choose to even have it with ice. If you're worried about the water used to make the ice, here's a handy tip – if the ice cubes have holes in them, they've been factory produced. These cubes are safe for consumption.
Delicious and cheap, you'll find carts across Vietnam selling the juice. The best way to identify them is by the stacks of sugarcane you'll see piled next to a metal juicer. These are usually hand cranked to crush the sugarcane, squeezing the juice out of them, according to Asiasomeday.
5. Rice Wine
In Vietnamese drinking culture, it will be a miss if not mentioning about rice wine. Rice wine is the liquor distilled from ferment rice. Rice wine in Vietnam can be classified into three main types:
Plain rice alcohol is known in Vietnamese as "ruou gao" in the North and "ruou de" in the South. The freshly harvested rice is cooked and mashed. Then the mixture of mashed rice, water and yeast is left in ceramic pots within several days to weeks to ferment. The resulting liquid can be used for immediate consumption.
Wine brewed in large ceramic jars called "ruou can" are made by hill tribe ethnic people in special occasions. Unlike plain rice alcohol, "ruou can" is not distilled but all ingredients (black sticky rice, honey, lemongrass, other natural flavorings) are put into a large ceramic jar and fermented for around several weeks. The final resultant will be consumed through long bamboo straws.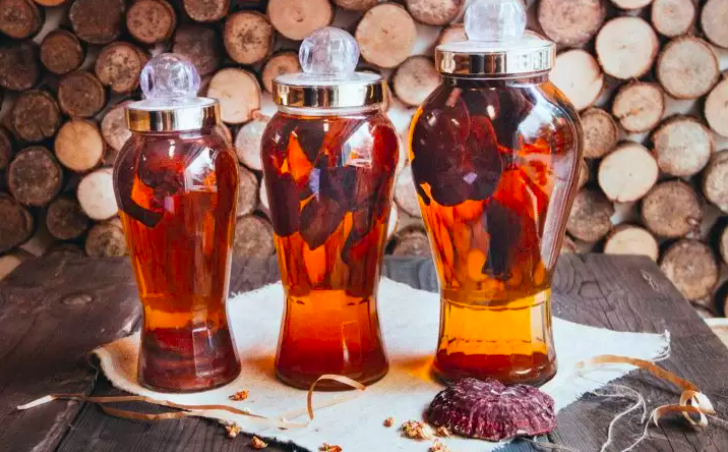 Vietnam herbal wine. Photo: Vietnamtravel
Herbal wine or medicine wine is distilled alcohol infused with medicinal herbs, plants and animals, known as "ruou thuoc". Locals have believed that this type of wine can help to cure a wide range of physical problems, cited Vietnamtravel.
For centuries, rice wine has become an integral part in local daily lives as well as traditional activities. In rural areas, men drink a little wine before going into the fields or in daily meals. In special occasions such as: New Year festival, funerals and weddings, rice wine also holds a significant position. Whether enjoyed during a festival or on a casual daily basis, being consumed as plain, combined with herbs, or even with snakes and other small animals, rice wine has been turned into the focal point of every party and become national alcohol drink.
6. Fresh Coconut
Coconut water may have just shown up on your grocery store shelves a few years ago, but it's been a popular drink in Vietnam for centuries. You won't see the packaged stuff, though: here, it's drunk straight out of the coconut—and this coconut water is grassier, sweeter, and more full-flavored than anything you'll find in a package—trying it is like drinking raw milk for the first time. Generally, the smaller coconuts are sweeter than the larger ones.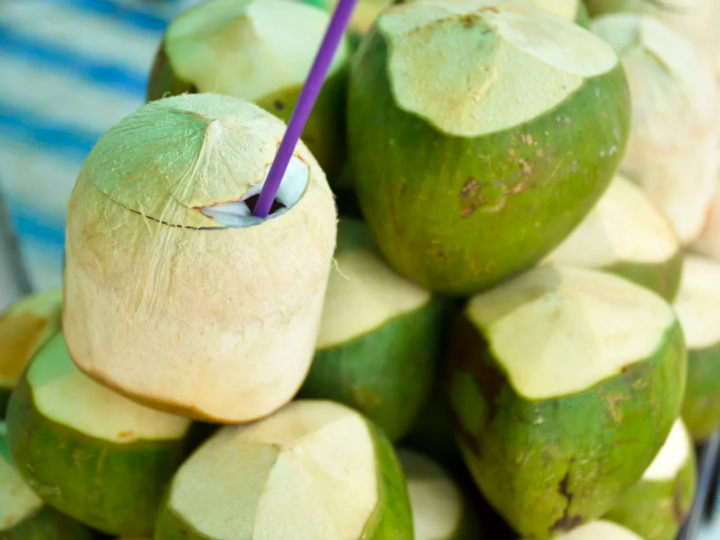 Fresh coconut. Photo: Viettravel
Whole coconuts are unwieldy to store, so vendors will chop off the outer green husk and keep the small white inner shell, cut into a shape that won't fall over when put on a flat surface. These white globes are usually kept on ice until you order one, then a giant machete is used to chop a hole in the top.
Coconuts are usually harvested when they're about seven weeks old—any earlier and the juice is gassy, any later and it tastes too salty. To judge the readiness of a coconut, the harvester will chop one open to inspect the flesh, which should be jelly-ish but not completely translucent. Hard white coconut flesh is a sign that the fruit is too old for drinking, cited seriouseats.
Locals will advise you not to drink coconut water after 5 p.m. if you want to sleep well, because they believe it has diuretic properties if you drink too much of it; before 5 p.m., however, it's the go-to drink for rehydrating.
7. Fruit Juice and Smoothie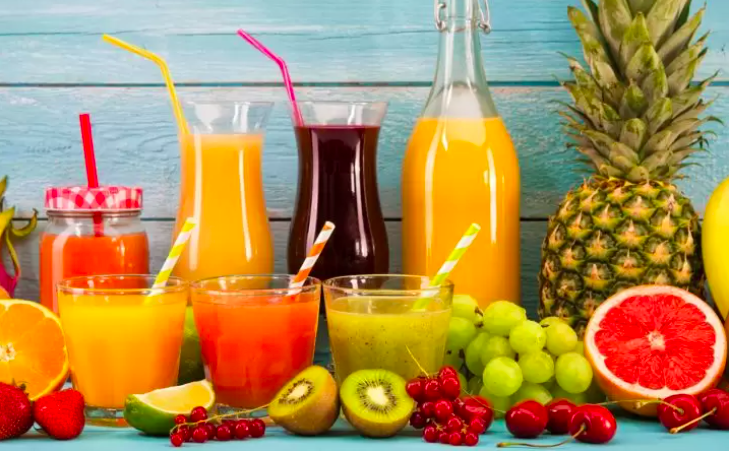 Fruit juice and smoothie. Photo: Viettravel
Vietnam is broadly known as the heaven of tropical fruits due to its geographical location and favorable tropical climate conditions. There is no reason why visiting Vietnam without trying a glass of cool juice or smoothie, which is made from local fresh fruits blended with crushed ice, condensed milk and/or sugar. This tasty and healthy drink is so common in Vietnam that juice stalls can be found on every street and alleyway or anywhere near schools, markets, and public parks. Street side juice stall's set-up is small, simple, but tidy, organized & efficient: one juicer, one blender, a press. In front of the stall is the display space of fresh seasonal fruits such as: mangoes, avocados, oranges, passion fruits, sapodilla, carrots, coconuts, apples, etc. The vendor will only slice the fruits once customers finish the drink order. By this way, the fruits are always kept fresh for longer.
Beside possible combinations of fruits and vegetables listed in drink menu, consumers can be creative to pick and choose which to combine in their juice or smoothie. Sellers typically add sugar and/or condensed milk into juices and smoothies because many Vietnamese like sweet flavor. Therefore, foreign consumers have to state it clearly when making order if they do not want to have sugar or condensed milk. One thing that tourists may be surprised is that most Vietnamese choose juices or smoothies based on the health giving properties, or the seasonal appropriateness. Therefore, don't hesitate to ask their advice if you find any difficulty in choosing any drink, according to Vietnamtravel.
Top 10 Best Dishes in Vietnam - Video

When talking Vietnamese cuisine abroad, people mention phở and bánh mì, however, the full spectrum of Vietnamese food is a symphony of delightfully textured, bright ...
Top 5 Must-Try Dishes in Nha Trang

Nha Trang, a bustling coastal city in Khanh Hoa province, Vietnam, attracts tourists not only for its beaches and diving sites but also diverse cuisine. ...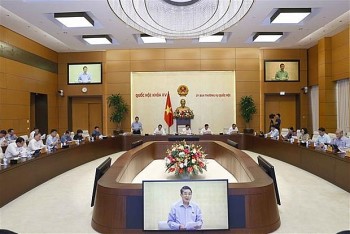 National
The National Assembly (NA) Standing Committee examined the draft revised Law on Protection of Consumer Rights on August 15 as part of its monthly session.