Top Five Specialty Rice Dishes in Vietnam
Com tam Sai Gon (Sai Gon-style steamed broken rice), Com ga Hoi An (Hoi An Chicken Rice) and Com hen Hue (Baby basket clams rice) are all wonderful rice dishes that diners should not miss
Com tam Sai Gon
If Hanoi is famous for its pho (noodle soup served with beef or chicken), or bun dau mam tom (tofu, shrimp sauce, and noodles), HCM City people is known for its broken rice, a popular delicacy.
It is not difficult to find a restaurant serving broken rice, from popular to luxury ones in the city. But gourmets prefer a sidewalk shop for the right taste of this dish, Vietnamnet reported.
The Saigonese take broken rice grains left over from the traditional drying and milling process to cook the dish. Traditionally, com tam is cooked in a ceramic or iron pot over a wood fire. However, people now use water-proof autoclaves to cook com tam. Broken rice grains are soaked in water for several hours and then put into the water-proof autoclave to cook.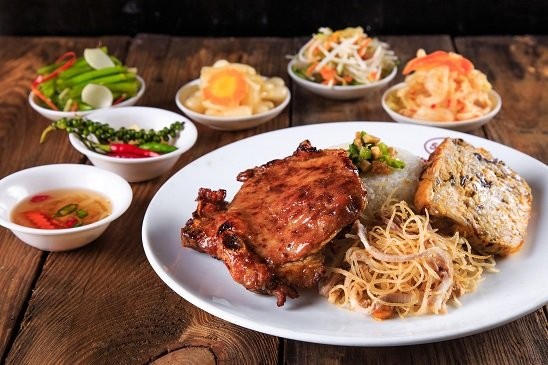 Photo: Cooky
As reported by Vietnam Pictorial, a plate of com tam consists of broken rice and suon nuong (marinated grilled pork chops), cha trung (a steamed pork and egg custard), crispy sliced onion, mint and spring onions. It is served with pickled vegetables or sliced cucumber and tomato and a dipping sauce mixed with chopped chili and garlic.
Suon nuong and cha trung decide the taste of com tam. Pork chops are marinated in honey, salt, fish sauce, oyster oil, pepper, sliced garlic, sesame oil and smashed fried onion and then grilled until their colors turns all brownish yellow. Cha trung is the steamed mixture of ground pork with vermicelli, wood ear, fried onion, and eggs.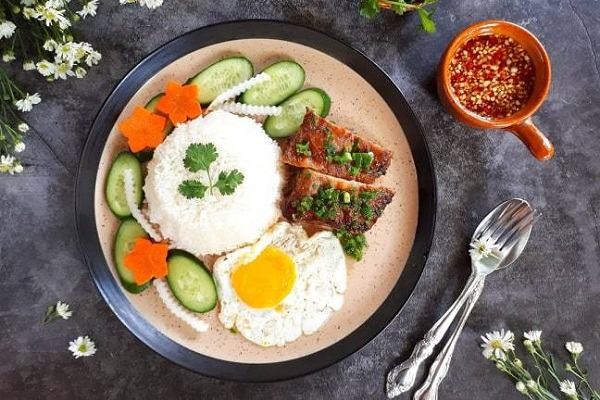 Photo: Cach Lam Bep
In the past, com tam was a common meal for poor farmers, workers and students. However, it is now a signature dish of Ho Chi Minh City with the name "Com tam Sai Gon" (Saigon-style broken rice).
Com tam Sai Gon (Sai Gon-style steamed broken rice), Com ga Hoi An (Hoi An Chicken Rice) and Com hen Hue (Baby basket clams rice) are all wonderful rice dishes that diners should not miss.
Com tam Long Xuyen
Com tam Long Xuyen, or Long Xuyen-style broken rice in An Giang province, is a version of com tam, which is not less delicious than Com tam Sai Gon.
The broken rice there is cooked from the rice half the size of a normal rice grain. All the ingredients on rice plates such as grilled ribs, pork skin and braised eggs are cut into small pieces.
If you have the opportunity to travel to An Giang and visit Long Xuyen, you should try this attractive specialty.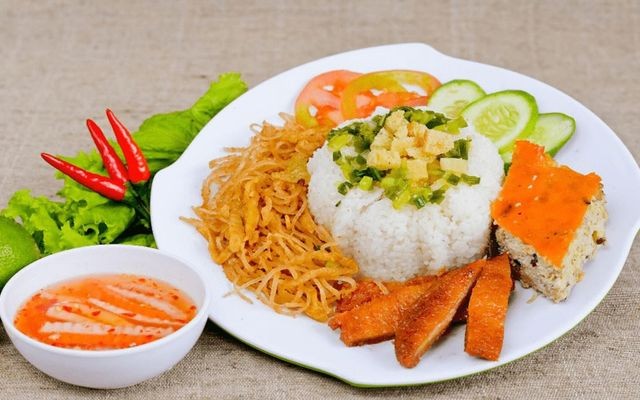 Photo: Foody
Com ga Hoi An
Com ga is a common dish, but it is a signature dish that all travelers to Hoi An want to enjoy.
It is one of the top specialties that you must-eat in Hoi An. To make this delicious dish, boiled chicken is cut into smaller slices, seasoned with spices such as salt & pepper, added with fresh herbs such as coriander, sliced mint leaves and onions and served with a small bowl of soup. The rice is often cooked with chicken broth, with a dash of fresh turmeric to give the dish a glossy yellow color, according to Indochina Charm Tours.
There are a lot of local Hoi An restaurants serving this dish, which can be namely Com Ga Ba Nga, Com Ga Ba Buoi, Com Ga Ba Ty, etc. A plate of chicken rice is often priced from 30,000 VND to 35,000 VND.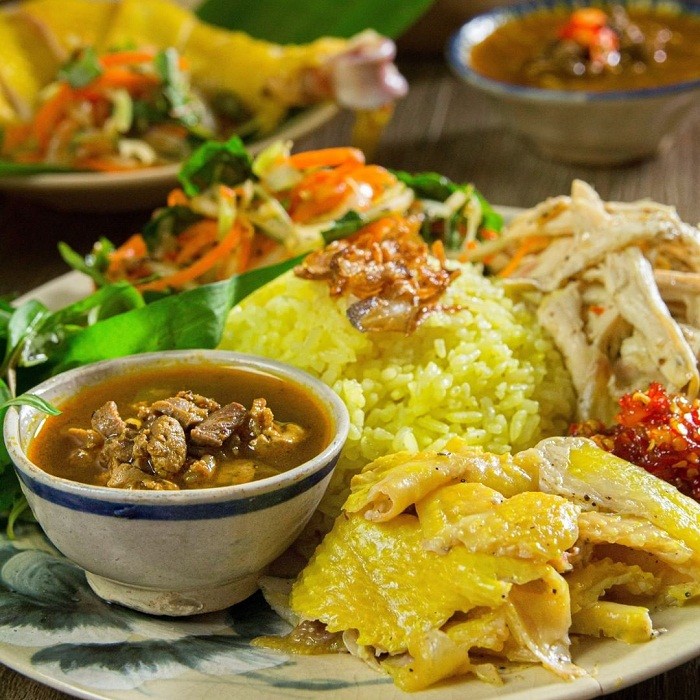 Photo: HRV.com
Hue clam rice
Referring to Hue cuisine, many people immediately think of clam rice, a must-try specialty for travelers to the ancient capital city. The main ingredients to make this Vietnamese rice specialty are rice and clams.
To make clam rice dish with the right taste of Hue, one needs to use the clams caught at Con Hen (Mussel Islet) and cooled white rice. Mix that rice with spiced stir-fried mussels, fried onions, star fruit, pork scratchings, roasted peanuts, fried pork skin, herbs, and chili. Com hen is eaten with clam boiled broth with Hue shrimp paste. One can use noodles instead of rice for this dish.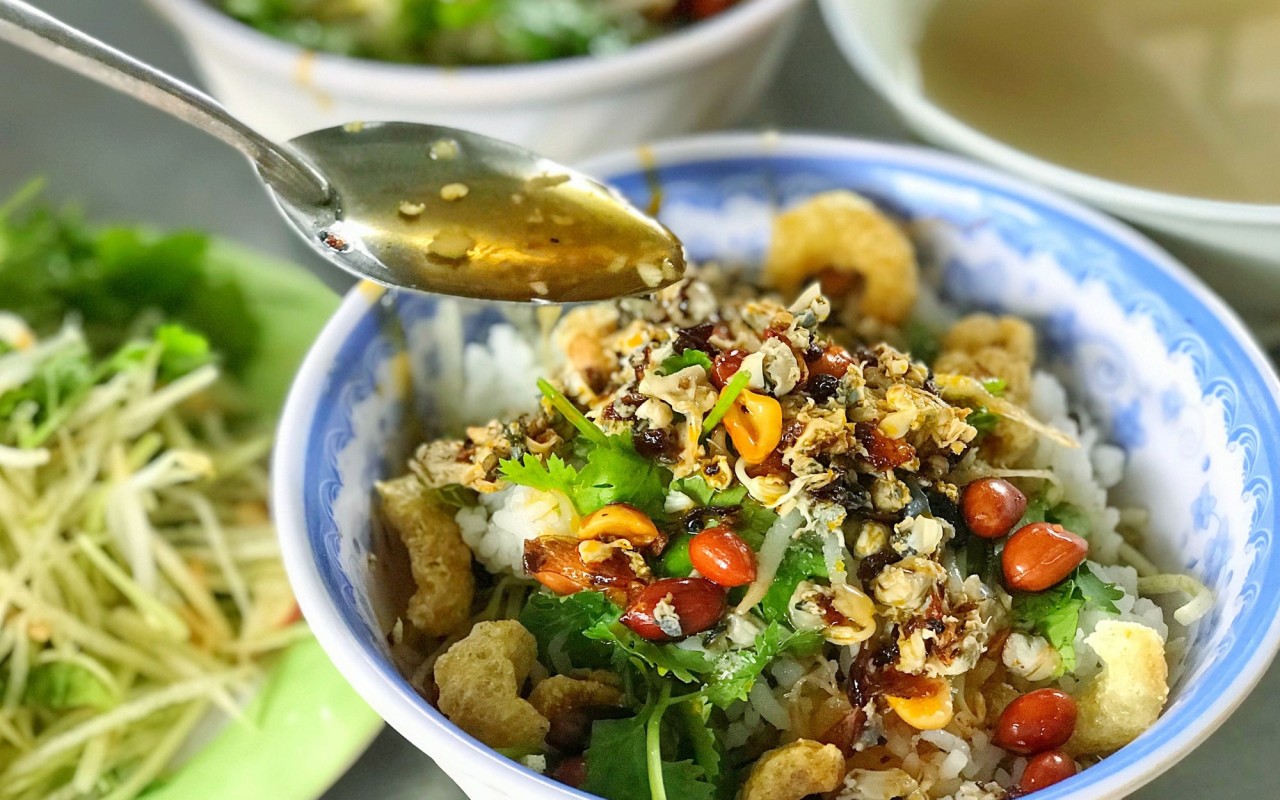 Photo: Vietnam Moi
Com chay Ninh Binh
Ninh Binh burned rice is a tasty dish of Ninh Binh land. While burned rice in other localities is eaten with salted shredded meat, com chay Ninh Binh is used with a sophisticated prepared sauce.
This sauce has goat meat, beef, or stir-fried kidney with onions, carrots and some other spices to create a spicy taste for the burnt rice. When eating, you can dip the rice into the sauce or sprinkle the sauce on the rice.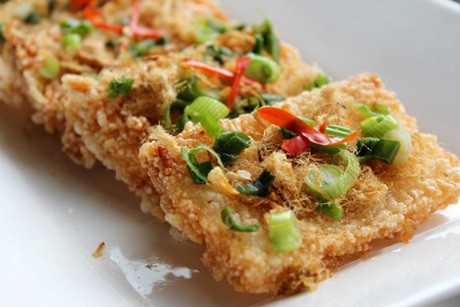 Photo: Dan Tri