Top Nine Quiet Self-Study Spaces in Ho Chi Minh City
Are you fed up with your familiar study corner? Do you want to find a new study space to get inspiration or simply to unwind after a long day at school? These 9 places below will take you on an adventure where your horizons are broadened.
The Coffee House
Opening in 2014, The Coffee House had more than 60 stores in Ho Chi Minh City and Hanoi in 3 years. This coffee shop has cozy decor in every corner, high-quality drinks, and dedicated staff, creating a cheerful atmosphere that you can share with your friends and family.
The menu is extensive with different drinks such as macchiato and smoothie and a variety of quality cakes for breakfast and lunch, accompanied by other services. Signature dishes include Orange Lemongrass Peach Tea, Milk Cafe, Matcha Macchiato, Black Tea Macchiato, Bac Xiu (White Coffee), Americano, Hazelnut, Latte, Mocha, Caramel Macchiato, Ice blended Caramel, Cappuccino, Mocha, Ice blended Chocolate, Ice blended Cookies, other teas, and fruit drinks. With smart design and engaging decor, The Coffee House is one of the incredibly relaxing cafes for everyone.
Address:
159 Pham Ngu Lao, District 1, Ho Chi Minh City
141 Nguyen Thai Binh, District 1, Ho Chi Minh City
47-49 Le Thi Rieng, District 1, Ho Chi Minh City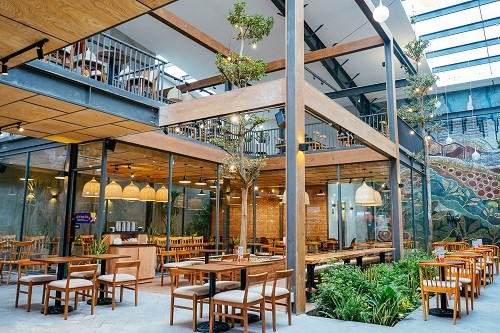 Photo: phongcachmoc.vn.
American Center Library
American Center Library is a familiar address for students who wish to improve their English. By applying for a library card, you can freely use all the services that the library offers to your satisfaction.
American Center Library has a lot of English books on a wide range of topics, including fiction, science fiction, economy, society, and study materials for TOEFL, SAT, and GMAT.
In particular, the library organizes interesting seminars, film screenings, and skills courses for students on a weekly basis.
Address: 8th floor, Diamond Plaza, 34 Le Duan, District 1, Ho Chi Minh City
Opening hours: 08:30 - 17:00
Photo: vn.usembassy.gov.
Idecaf Library
Idecaf Library, also known as the Idecaf Institute of Cultural Exchange with France, is a library for those who love France and its culture. The space here is well designed with private corners for reading and an adorable children's book room.
Interestingly, the library also offers a lot of great books and comics that even adults may find unputdownable. The space is both modern and cozy, with bookshelves evenly distributed in the reading room, organized by genre, ranging from romance, detective, and horror novels to memoirs and biographies of historical figures. Besides, the library offers newspapers, magazines, journals, music CDs, and French songs as well as an Internet access space for readers. You only need to sign up for a library card and pay a fee of around VND200,000 (approx. USD8.5) to use the library for one year.
(The price is for reference only and may change from time to time)
Address: 31 Thai Van Lung, Ben Nghe Ward, District 1, Ho Chi Minh City
Opening hours: 07:30 - 21:00
Photo: 2saigon.vn.
Farmers' Garden
Farmers' Garden is a cafe and restaurant model in the Organic Living style. The restaurant has a lot of green spaces with the main color being the green tones of trees and gray tones of tables and chairs. This conveys a sense of harmony and serenity, through which you can focus on your study, work, or chatting with friends.
Apart from tasty drinks such as coffee, juice, and milk tea, Farmers' Garden also serves Vietnamese, Thai, and European cuisine for breakfast, lunch and dinner. There is Acoustic music played on weekends. The restaurant offers confectionery for sale on the ground floor and the first floor, so you can have coffee upstairs and shop downstairs.
Farmers' Garden uses environmentally friendly items and minimizes plastic waste to protect the environment. Let's form good habits with Farmers' Garden every day!
Address: 2nd Floor, 486 Nguyen Thi Thap, Tan Quy Ward, District 7, Ho Chi Minh City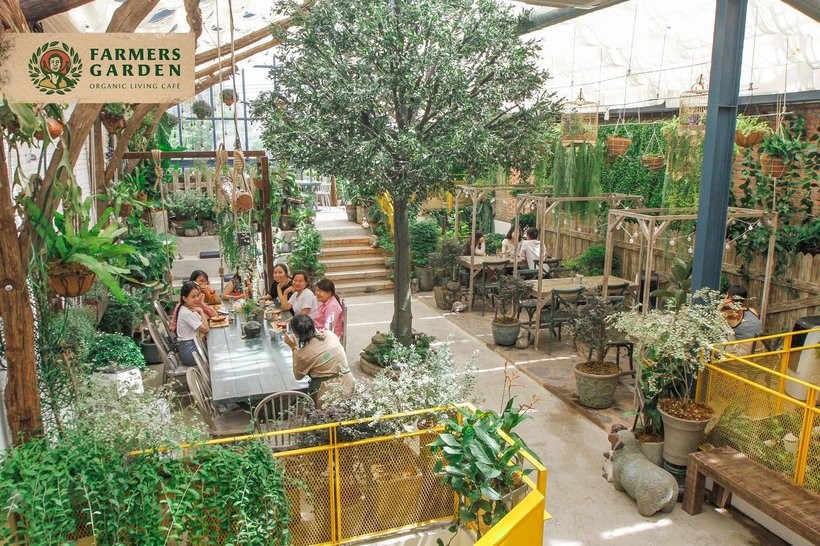 Photo: kenhhomestay.com.
Slowee Coffee & Book - Coffee for book lovers
If you love coffee and have a passion for reading, Slowee Cofee & Book is a place you cannot miss. This lovely, quiet, vintage coffee shop is filled with soft music, full of calm and relaxing melodies that could easily inspire readers. The shop has many floors and is divided into different areas.
The ground floor, which has loads of books, is the area for making and ordering drinks. The drinks here are pretty diverse, but not too special. Next to the ground floor is the mezzanine floor, which is arranged with antique sewing machine tables and a table lamp for those who would like to sit and ponder.
Address: 53 Loc Hung, Ward 6, Tan Binh District, Ho Chi Minh City
Opening hours: 08:00 - 22:00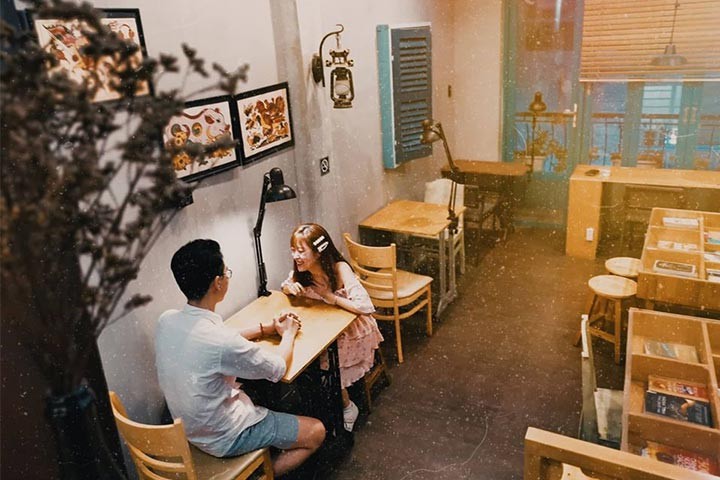 Photo: halotravel.vn.
Blank Bitexco
Previously, the shop was called Work Cafe, but it has now changed its name to Blank Bitexco despite still remaining at the same address. Blank Bitexco is located on the 2nd floor of Bitexco tower, boasting modern, sophisticated, open, and airy architecture. The skillful interlacing of colors and the harmonious interior layout of the restaurant bring pleasure to customers. Despite being crowded, Blank Bitexco is really quiet, and suitable for those who want to work and read books by themselves.
It would be ideal to immerse yourself in a cup of coffee and a book at Blank Bitexco without the distraction of your phone. Not only does this coffee shop offer a wealth of books but it also offers special coffee brewed in a way that helps fully extract the delicious flavor. The sweet, eye-catching cakes at this cafe could also melt your heart. Blank Bitexco is a perfect place if you crave a private place for intimate conversations.
Address: 2nd Floor - Bitexco Building, District 1, Ho Chi Minh City
Opening hours: 09:00 - 21:00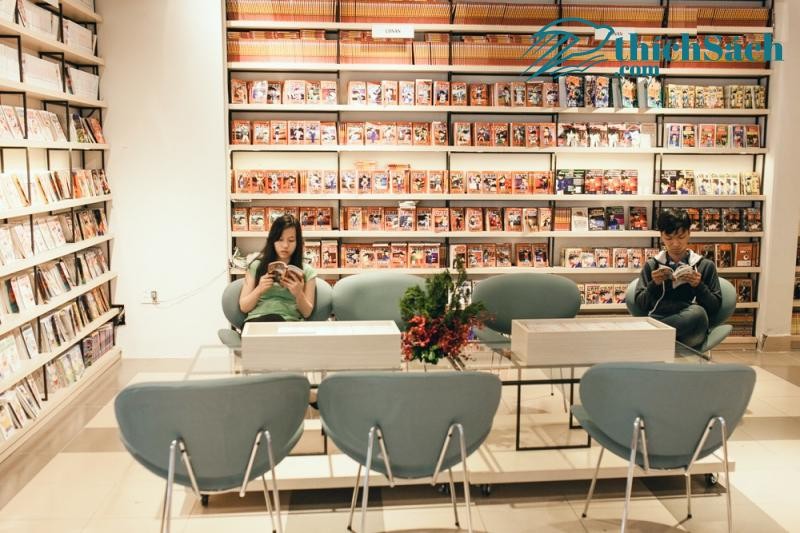 Photo: thichsach.com.
The Comma Coffee
The Comma Coffee is one of the most visited coffee shops by young people. The shop is decorated in a minimalist style, predominantly in black and white. The Comma Coffee provides a relaxed atmosphere for enjoying drinks and working without distraction.
Particularly, the shop has a lot of nice corners for photo taking, such as the sofa area, the bar, or the balcony corner in front of the shop. The drinks here are not really diverse, mainly coffees prepared using different techniques.
The Comma Coffee simply creates a comfortable, inviting, slow-living space with handpicked coffee. Like the comma - a gentle pause to ensure harmony in a sentence, The Comma Coffee is also a quiet place, telling you the story of fragrant coffee and seasonal drinks. Should one day you long for getting away from the hustle and bustle, feel free to stop by The Comma at the corner of the street named after a green flower.
Address: 21 Hoa Mai, Ward 2, Phu Nhuan District, Ho Chi Minh City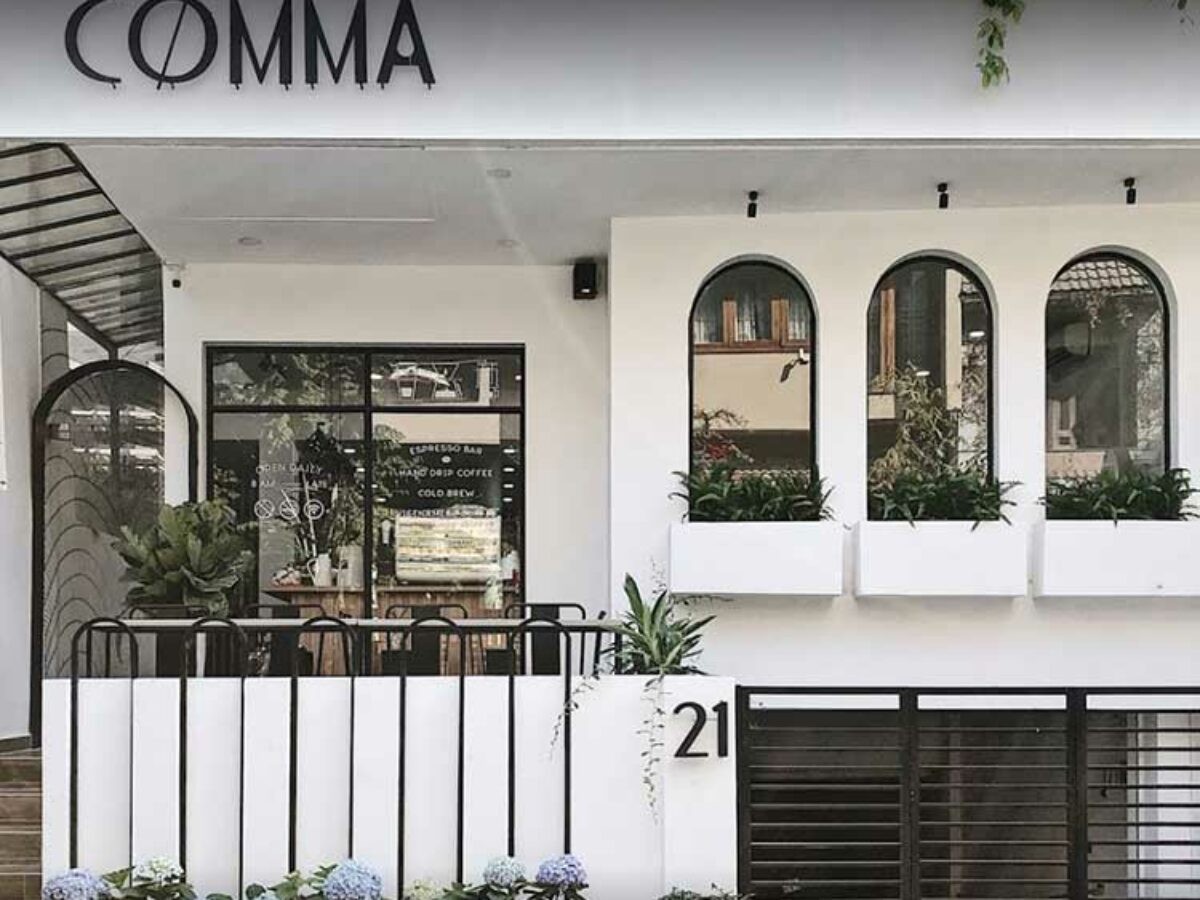 Photo: cuoituancuatui.com.
The Lib Coffee & Books
The Lib Coffee is located in District 2, but far away from the hustle and bustle of a prosperous place. Coming to this cafe, you will be immersed in a pleasant, nostalgic space with melodious music. The shop is decorated in a soothing vintage style, equipped with simple rustic tables and chairs, and fresh green pots. The highlight of the space is the wall-mounted bookshelves, each shelf is full of books.
Because this is originally a book cafe, the lighting is paid particular attention to by the owner. The shop has wide windows, both offering some light for reading, and making the space airier. Regarding drinks, the shop serves a variety of popular drinks such as blueberry soda, blueberry yogurt, smoothie, and ice-blended matcha. The drinks here are affordable and not too sweet.
Address: 21 Street 62, Binh Trung Dong Ward, District 2, Ho Chi Minh City
Opening hours: 06:30 - 22:00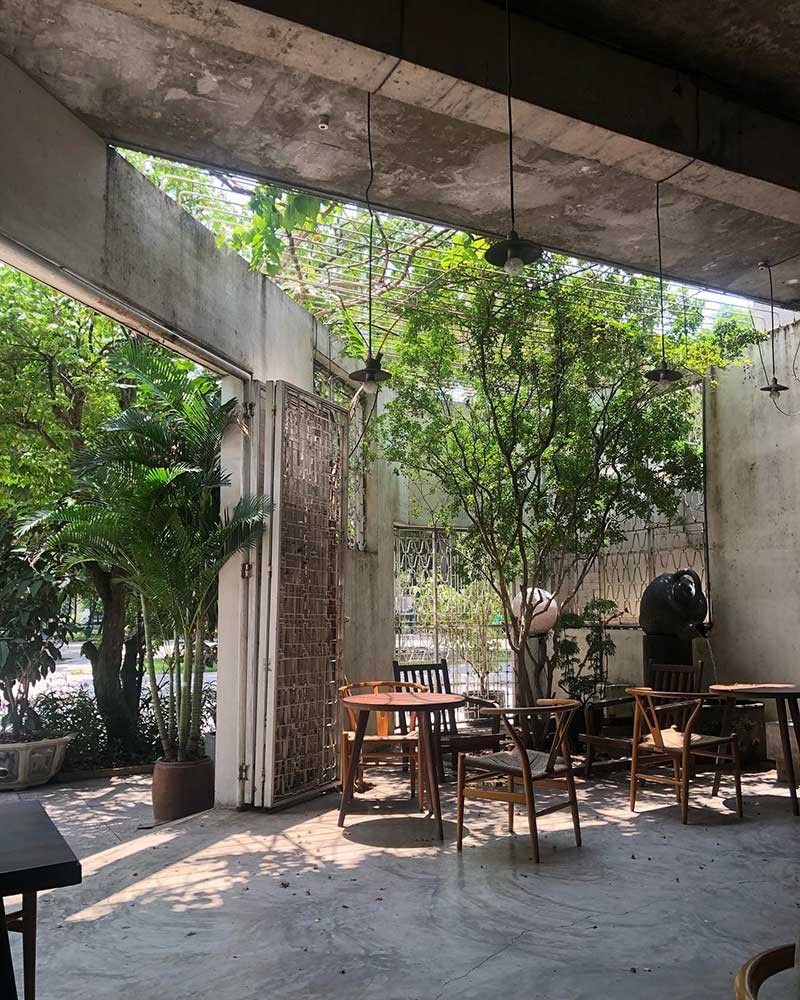 Photo: khongsolac.com.
Nha Nam Book N's Coffee
Nha Nam Book N' Coffee is among the book cafes with the most delightful and quiet spaces in Saigon. The shop is located at 24A D5 Street, Ward 25, Binh Thanh District, and is open from 7 am to 10 pm to satisfy the curiosity of bookworms.
At first impression, this book cafe stands out with its rather spacious facade and a distinctive and eye-catching appearance with transparent glass windows. The interior is even more inviting. Although the restaurant is large, the layout is harmonious to the smallest detail. The shop has many lovely corners for young people who are passionate about photography.
Address: 24A, D5 Street, Ward 25, Binh Thanh District, Ho Chi Minh City
Opening hours: 07:00 - 22:00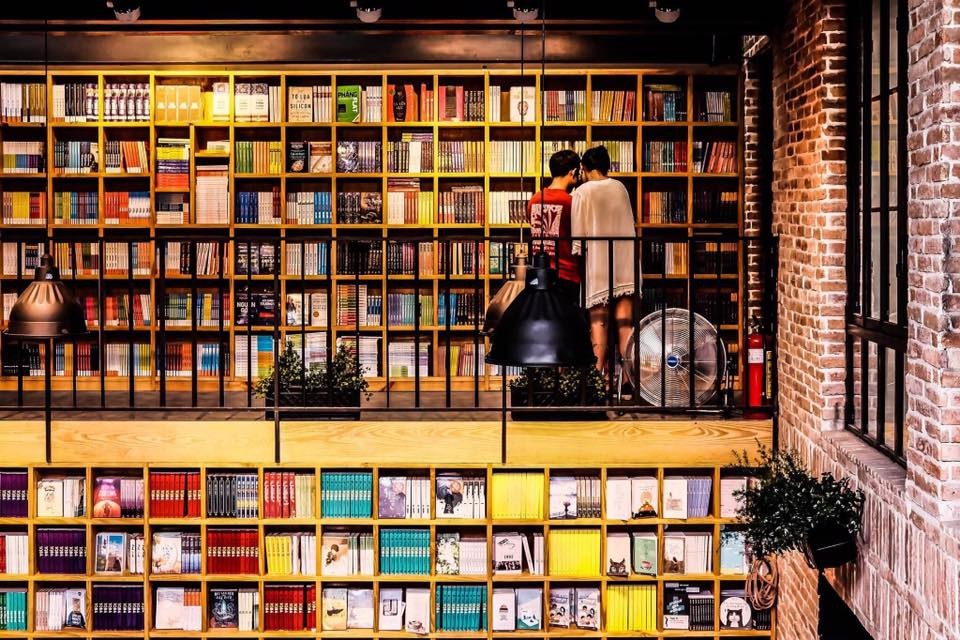 Photo: bloganchoi.com.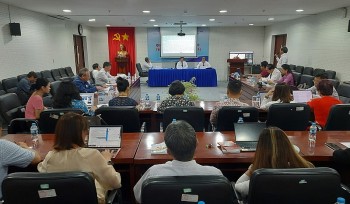 Friendship
The Vietnam - India Friendship Association's Ho Chi Minh City branch, the Ho Chi Minh City Union of Friendship Organizations (HUFO) and the Southern Institute of Social Sciences on March 21 held a scientific seminar themed "Vietnam - India relationship: tradition and present".