Tran Ngoc Bich: "Any individual in Tan Hiep Phat necessarily plays the role of a leader since 2020"
In an interview with Vietnambiz, Tran Ngoc Bich, Deputy CEO of Tan Hiep Phat Group, the largest beverage group in Vietnam shared her point of view to promote Tan Hiep Phat to enter a new phase, where every person must play the role of a leader to ensure the activeness and fast.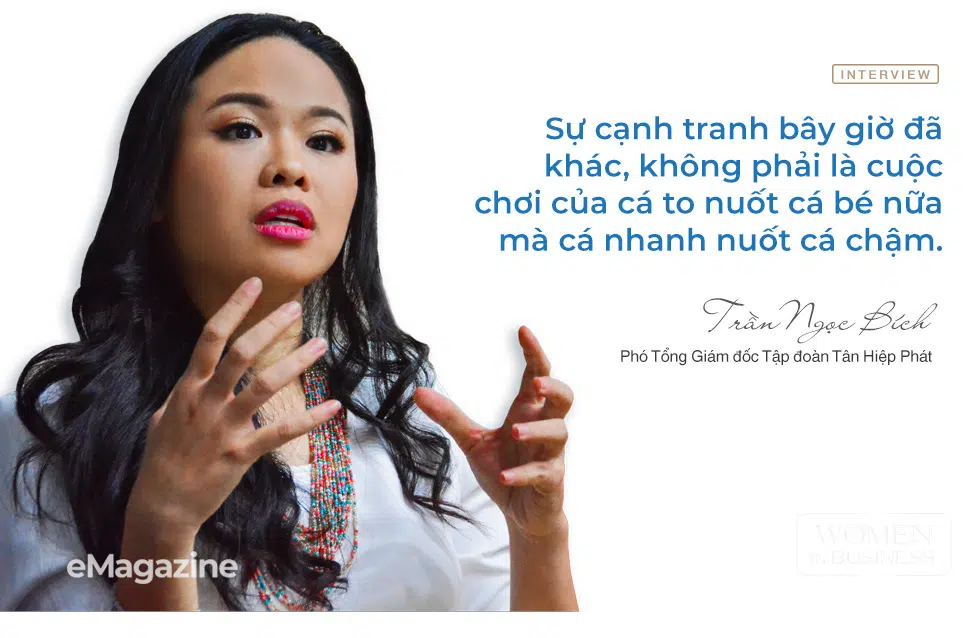 Tran Ngoc Bich, Deputy CEO of Tan Hiep Phat Beverage Group. Photo: Vietnambiz.
25 years ago, Tan Hiep Phat grew from a company with zero-capital, with no experience in the beverage industry, "boss" Tran Quy Thanh (Bich's father) with other "brothers" worked out, learned and developed the company to date. The whole company in the past was very simple, no one but only two people was graduated from universities.
"Boss" Thanh said that: "If our brothers did one, we have to do the remaining nine parts, when they did nine, we have to commit the one left". That means leaders are the ones who have to show responsibility to do utmost.
But from 2020 onwards, each person working at Tan Hiep Phat needs to play the role of a leader as the competition now is more different than in the past, it is not the story of big fish eating little fish but the fast eating the slow ones.
So the only way for the team to grow is that each person must be very fast, very active, able to direct customers to make decisions. Solving that problem will ensure THP to enter a new phase, creating the foundation for 100 years. That is also the reason why THP builds a training system for leadership development, supporting the brothers on new paths.
Graduating Finance Management from Manchester University in the United Kingdom, Tran Ngoc Bich is currently holding a position as CEO of Number One Ha Nam Ltd and Deputy CEO of Tan Hiep Phat Beverage Group.
She is honored to receive awards from the Ministry of Industry and Trade, Chairman of Ha Nam's people committee, Chairman of Binh Duong's people committee, Award from Vietnam Beer Alcohol Beverage Association, etc. for great contribution to business development and positive contribution to social and economic development.
The crisis makes a tip, governance sets the root
According to the reporter, Tan Hiep Phat has determined to innovate its administration and building the fundamental of branding. Bich shared that, when it comes to running a business, she often shares with other "brothers" (what she called her colleagues in an intimated way) that leadership must have two competencies: one is growing, understanding customers, giving solutions to customers; the second is the ability to overcome the crisis.
At that stage, the company did not prepare for the second factor, as it is in the period of time that the company is spending a lot of time adapting to the new needs of customers.
"Each crisis will help me to look back on the gaps, to find out the areas for improvement. That incident helps THP look back to share information in a timely manner, while also looking back to become more ready for crises.
Crisis is the tip, governance is the root. Even in Singapore, a very developed country in corporate governance, the issue of how to make the company clearer and more transparent is constantly being raised.
It's not that the Singapore company is without a crisis. But the difference is that if governance is not good, the crisis frequency is high, it can happen every 2-3 years, while in Singapore it can happen every 8-10 years.
The difference is in terms of time, but not without. Therefore, in the leadership development strategy and management capacity improvement, also includes improving the system to reduce the frequency of crises, not only 2-3 years from now, but 5-10 years before there is a breakdown, or even longer. That makes sustainability better.", Bich said.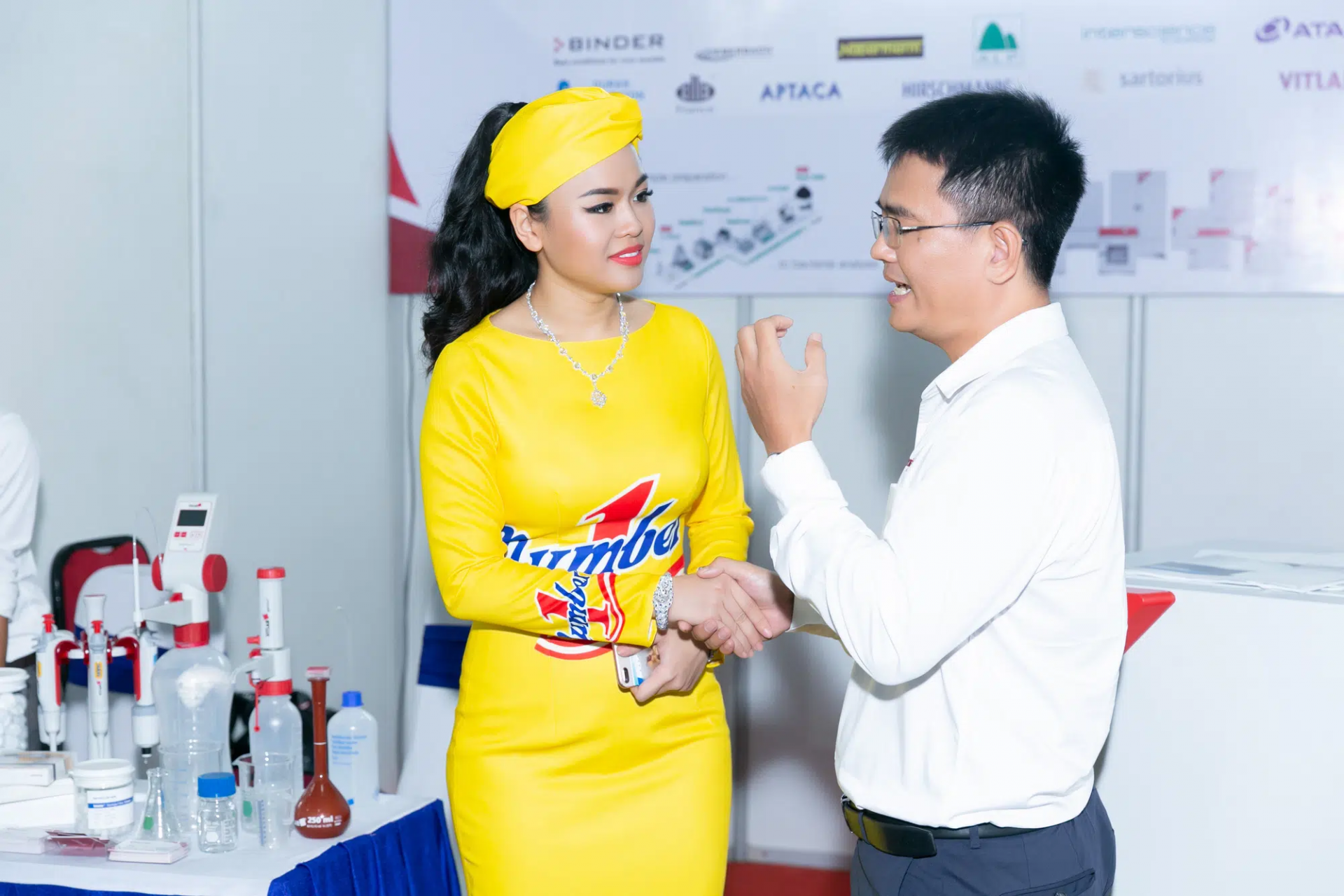 Photo: Vietnambiz.
Desire to create more values for people
When being asked about her plan in THP Group in the next five or ten years if she won't play the CEO role, Bich says the future is unpredictable as the organizational structure is not always fixed and 50% of jobs are forecasted to disappear in the next 10 years. However, she affirmed to serve in a position being able to provide values to other employees. She feels more motivated when creating some useful supports for the surrounding people.
For example, Bich used to work in human resource management many years ago when the column was something very new in THP. The position provided Bich with proper opportunities to create value for the surroundings.
Bich started working at THP as a secretary for CFO (Chief Financial Officer) and then she transferred to other positions such as accountant in the analysis department, secretary for the supply chain director, and project secretary among others. The starting point of choosing all the positions was from what Bich saw what she could contribute the most. Bich feels more motivated when seeing herself creating some usefulness for people around her. She loves any functions at Tan Hiep Phat when the value is created.
Talking about the most difficult time of Tan Hiep Phat, Bich shares that it came from the hot growth instead of the loss of money or the plunge of revenue. In a period of time, when the company grew rapidly, and every leader had to face a demand for growth, which is higher than his or her capacity. That was the moment, she saw the world darken again.
"The difficulty of a decision-maker and the brothers will be affected by their decisions. But not allowed to be afraid, the fact that I delay my decision also affecting me. Deciding whether or not, doing it or delaying it caused me really the biggest challenged during my time with THP.
"The challenges faced by a decision-maker are his employees will be affected by that decision. However, he is not allowed to be afraid. Decide or not, now or delay, it was the very biggest challenge when I attached to THP", Bich shared.
Founded in 1994, Tan Hiep Phat Beverage Group ("THP") is Vietnam's largest private wholly-owned FMCG (Fast-moving Consumer Goods) company. THP develops and supplies three of Vietnam's national brands including Dr Thanh Herbal Tea, Zero Degree Green Tea, Number 1 Energy Drink to all of Vietnam's 63 provinces, and to an additional 16 countries internationally. The wider beverage portfolio also includes sport drink, soya milk, purified water and many others. THP recently invested more than $250 million in Aseptic filling lines to increase the production of nature-based products such as Dr. Thanh Herbal Tea. People, from their consumers, business partners to employees, are always positioned at the heart of their business.