Two gorgerous daughters in Tan Hiep Phat family: 'Vanguard sealer' and 'human resoure management treasure'
Tan Hiep Phat Family (a Vietnam beverage leading group) has two famously gorgeous and talented daughters. The older sister –Ms Tran Uyen Phuong is given a role of vanguard sealer to develop markets and relationship both domestic and oversea, and the elusive little sister Ms Tran Ngoc Bich is assigned rear task silently with a valuable tool for human resource management and company culture building.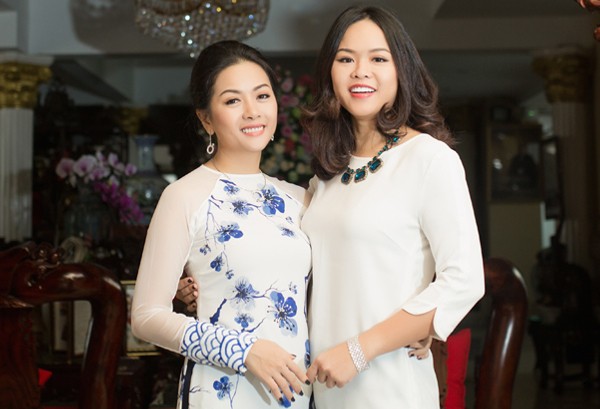 Tan Hiep Phat family: Ms Tran Uyen Phuong (left) and Ms Tran Ngoc Bich. Photo: Soha
A few years ago, many people surprised that the "second in command" of Tan Hiep Phat- Ms Tran Uyen Phuong began writing and selling her books while her business facing challenges.
However, they now comprehend the knowledge path she has chosen to reach the world in order to lift her business' wings taking off.
Among her books, "Completing with Giants" published by Forbes Books, together with her partripation in many national and international events, workshops…attaching her reputation to Tan Hiep Phat brand and inspiring both start –up community and consumers worldwide.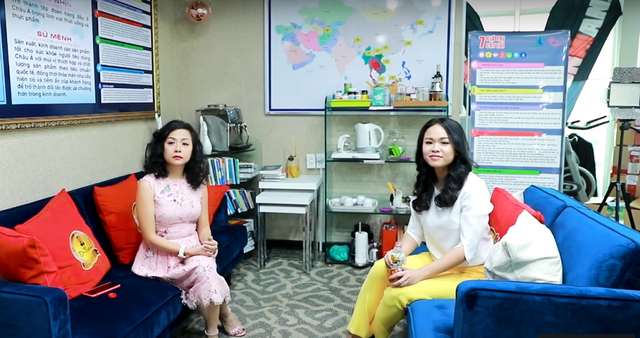 Tran Uyen Phuong and Tran Ngoc Bich
Phuong unstoppedly travels to many countries around the world and inspires entrepreunership and promotes organic and healthy beverage.
By utilizing knowledge to reach out the world and promoting organic, healthy beverage, Tran Uyen Phuong has been assisting to embed an attractive, believable and easily perceivable THP brand name inside the mind of consumers in many countries.
Tran Uyen Phuong – THP group "second in command" has chosen knowledge method reaching out the world, let the business take off
One of the top American marketing strategist Jack Trout wrote :" Brand competition is a battle in consumers' mind".
But how can Vietnamese brand names embed in the mind and thought of worldwide consumers should be positioned by businesses in different methods. And, Tan Hiep Phat group and Tran Uyen Phuong has positioned their unique strength to reach out the wider world with…knowledge tool.
Tran Uyen Phuong expressed her great ambition to THP brand: what we have done for last 25 years is consistent and we are ambituous to build up a Vietnamese hundred-year developed brand and THP brand makes it become true.
Working hard in silence to the billion –dollar company, Tran Ngoc Bich has created Tan Hiep Phat 100-year strenth with a valuable tool of human resouce management.
Bich said that people thought of a family company prefered intimate relationship and lack of clarity. But according to her, in fact, what called "mistake" was not in the family company but from leaders' points of view. Therefore, Bich is cultivating 2 types of staff in her business " Competent staff and less remarkable competence but positive attitude staff". To let her billion-dollar company reach out the world, Bich won't allow intimate relationship preference in work because that causes the company's unsustainable problem.
Ms Tran Ngoc Bich assists to create Tan Hiep Phat 100-year strength with a valuable tool of human resource management
Those who have worked with Ms Tran Ngoc Bich will probably realize that she always creates full of positive energy atmosphere whereever she appears. She is a little bit cold apprearance and serious in work but simple lifestyle and sincere character lady.
Mentioning to entrepreuner strong changes towards 2020, Bich expressed her thorough understanding of "leadership culture" moving steps. According to that, THP group in association with a big international partner DDI will research and develop the capacity for leadership.
Bich shared tips for both effective achievement and employee motivation: The leader has to communicate well to her employees. She has to be an model and create values to her employees.
Talking about last 25 years of THP, Bich said almost of company employees were at level of under high school 10 grade, only two of them were degree graduate that time. However, from 2020 on, anyone in THP shoud be a leader. The competition is turning to another state now, it is not the battle of big fish eating small fist, but fast fish winning slow fish. Therefore, the only way to make our team stronger is that induviduals must be do fast and dynamic, self-assess customers to make up his/her own mind.
"Only by succeeding in that targeted change, will THP ensure its new development, set it up 100-year developed basis. That's a reason THP has been creating leadership developed cuitivating system, to support employees joining new workforce", Bich said.
Sourse: Hai ái nữ gia đình Tân Hiệp Phát: "Ấn tiên phong" và "bảo bối" nhân sự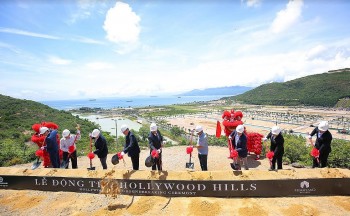 Economy
On October 2, at Hai Giang peninsula (Quy Nhon city, Binh Dinh), Hung Thinh Corporation held the groundbreaking ceremony of Hollywood Hills by YOO Inspired by Starck – a subdivision at MerryLand Quy Nhon. The event marks the first time that the world's No.1 ranked design and branded residence company YOO Inspired by Starck is officially present in Vietnam, with a collection of villas designed by creative director, Philippe Starck.