Trump SHOCKS media as saying he is taking hydroxychloroquine for COVID-19 prevention
U.s President Trump said during a meeting at the White House on Monday that he has started taking hydroxychloroquine, an anti-malaria drug that he has repeatedly touted as a potentially effective COVID-19 treatment, as a preventative for the coronavirus.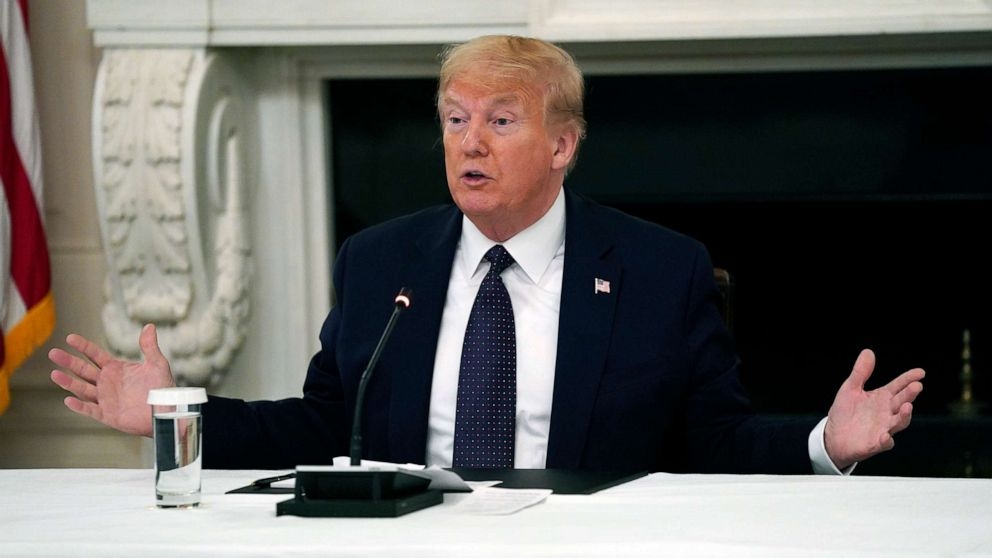 President Donald Trump speaks during a meeting with restaurant industry executives about the coronavirus response, in the State Dining Room of the White House, May 18, 2020.Evan Vucci/AP
Trump told reporters he has been taking the drug, hydroxychloroquine, and a zinc supplement daily "for about a week and a half now." Trump spent weeks pushing the drug as a potential cure or prophylaxis for COVID-19 against the cautionary advice of many of his administration's top medical professionals. The drug has the potential to cause significant side effects in some patients and has not been shown to combat the new coronavirus.
Trump said his doctor did not recommend the drug to him, but he requested it from the White House physician.
"I started taking it, because I think it's good," Trump said. "I've heard a lot of good stories."
Medical experts and media figures were quick to raise concerns about Trump's embrace of the drug, expressing alarm that it may encourage others to do the same despite potentially deadly side effects.
"If you are in a risky population here and you are taking this as a preventative treatment to ward off the virus ... and you are in this vulnerable population, it will kill you," said Fox News anchor Neil Cavuto.
Trump appeared to get a kick out of the media's reaction to his announcement on Monday, which came at a roundtable with restaurant industry executives.
"I was just waiting to see your eyes light up when I said this," he said.
Hydroxychloroquine has not been proven effective for coronavirus prevention
The Food and Drug Administration issued a warning last month that the unproven drug should only be taken in hospitals because of the risk of heart complications. There's no substantiated evidence that taking hydroxychloroquine prevents COVID-19 infections.
"Hydroxychloroquine and chloroquine have not been shown to be safe and effective for treating or preventing COVID-19," the FDA warned. Both can cause abnormal heart rhythms and a dangerously rapid heart rate, the statement said.
Hydroxychloroquine is FDA-approved to treat or prevent malaria as well as autoimmune conditions such as lupus and rheumatoid arthritis.
The president's decision to take hydroxychloroquine is controversial and potentially dangerous given that the drug's effectiveness in treating coronavirus remains unproven and there is no evidence that it works as a preventative measure.
The drug showed no benefit for patients in an analysis of those hospitalized in Veterans Health Administration medical centers. The study, released last month, found the two primary outcomes for COVID-19 patients treated with hydroxychloroquine were death and the need for mechanical ventilation.
"If I were the president's physician, I would strongly recommend against taking hydroxychloroquine as a 'preventive,'" tweeted Ashish Jha, director of the Harvard Global Health Institute. "No evidence of benefit Lots of evidence of harm."
"This is a medication that has serious side effects," tweeted Leana Wen, president of Planned Parenthood and former health commissioner for Baltimore. "I am very concerned about @realDonaldTrump continuing to model behavior that could harm many Americans."
Trump repeatedly touted hydroxychloroquine as a cure for Covid-19
The president spent weeks in March and April touting hydroxychloroquine as a potential panacea to the coronavirus, despite limited evidence to suggest it was effective in a clinical setting.
Trump repeatedly argued that patients had "nothing to lose" by taking the drug and even suggested they take it proactively.
The government eventually stockpiled 29 million pills to distribute to hospitals.
Trump has also touted remdesivir, an experimental antiviral drug developed by American biotech firm Gilead Sciences for Ebola, that was cleared by the FDA to treat patients with the coronavirus. Early data from a global study released last month found patients given remdesivir recovered faster and may be less likely to die, but another study found no clinical benefits to the drug.
The drug remdesivir has come up about 15 times in official White House remarks, sometimes from the president and sometimes from other health officials. Hydroxychloroquine, by contrast, has been raised about four times as often in those settings.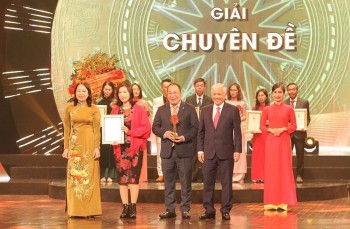 Overseas Vietnamese
VietnamTimes (Viet Nam Union of Friendship Organizations) is a reliable address for overseas Vietnamese to quickly and objectively update political, economic, cultural, and social news. The agency has created a helpful forum and connection between expatriates and the motherland.