Two Japanese honored for their great contribution to Vietnam – Japan friendship
Currently, Mr. Ichimura Yasuo is the Principal of Hanoi - Ichimura Japanese Language School. Since the establishment of the school in Hanoi in September 2008, Mr. Ichimura has wholeheartedly been dedicated to teaching Japanese to Vietnamese young people, with the aim of equipping them a tool to develop their careers in Vietnamese and Japanese enterprises.
Two inpiduals recently awarded Certificates of Merit from the Japanese Foreign Minister for their great contributions to Vietnam-Japan friendship are Japanese citizens living and working in Vietnam. They have quietly devoted their time and energy to fostering Japan-Vietnam friendship.
Japanese Ambassador Umeda Kunio presenting the Certificates of Merit from the Japanese Foreign Minister to Ms. Komatsu Miyuki and Mr. Ichimura Yasuo.
The awarding ceremony took place on August 29 at the private house of the Japanese Ambassador to Vietnam. Speaking at the ceremony, Japanese Ambassador in Vietnam Umeda Kunio congratulated Mr. Ichimura Yasuo and Ms. Komatsu Miyuki on the Certificates of Merit from the Japanese Foreign Minister.
He also highly appreciated the contributions of the two typical inpiduals to teaching Japanese in Vietnam as well as participating in cultural exchange and people-to-people diplomacy activities between the two countries.
Japanese Ambassador to Vietnam Umeda Kunio speaking at the event.
Meanwhile, Ms. Komatsu Miyuki is a language editor at the Voice of Vietnam (VOV). She has started teaching Japanese in Vietnam since 1992. Through her Japanese classes, she has had opportunity to meet relatives of some Japanese veterans in Vietnam and consolidated relations with them.
Ms. Komatsu played an active role in arranging Japanese veterans' families to meet with the Japanese Emperor and Empress during their Vietnam visit from February 28 to March 6.
The award ceremony at the private place of Japanese Ambassador Umeda was in a warm atmosphere and full of the spirit of Japan-Vietnamese friendship.
Vietnamese students of Mr. Ichimura and long-time friends of Ms. Komatsu in Vietnam presented flowers to them, wishing them good health to continue such good deeds in the coming time.
VNF/PSnews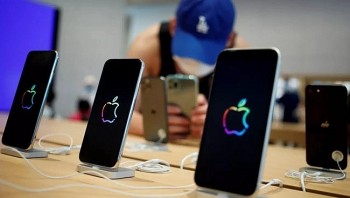 World
India exported iPhones worth $1 billion from May to September 2022, according to a Bloomberg report, but a closer look at the data shows the country is a long way from rivalling China's iPhone manufacturing chops