Two more field hospitals set up in Bac Ninh amid Covid-19 surge
Two field hospitals with 700 beds have been set up in Thuan Thanh District and Bac Ninh City, the current two biggest coronavirus hotspots in Bac Ninh Province.
The field hospital No.3 with 200 beds is located at the medical center of Thuan Thanh District and the field hospital No.4 with 500 beds at the Lung and Traditional Medicine Hospital, Vu Ninh Ward, Bac Ninh City, VnExpress reported.
Each hospital comprises three areas namely area for examining, classifying and monitoring patients; area for treating Covid-19 patients and area for treating Covid-19 patients with stable health conditions.
Earlier, Bac Ninh established two field hospitals at the medical centers of Gia Binh and Tien Du Districts.
All four hospitals have been managed by the Provincial Health Department.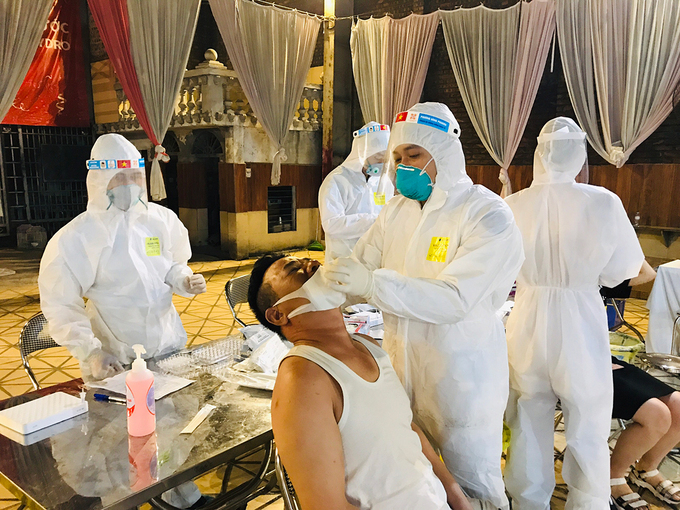 Medical workers at Bac Ninh Center for Disease Control take samples from F1, F2 cases in Luong Tai District and Tu Son Town for Covid-19 testing. Photo: Bac Ninh Health Department
Bac Ninh Party Secretary Dao Hong Lan said the province had focused the Covid-19 prevention and control in four areas including Mao Dien Commune (where the first outbreak was detected on May 5); industrial zones; quarantined and medical facilities; about 30.000 Bac Giang people working in Bac Ninh and 3.600 Bac Ninh people working in Bac Giang.
Bac Ninh has also adopted anti-pandemic measures at workers' place of residence, she said.
In addition, Bac Ninh has established 6,700 community Covid groups and 7,000 enterprise ones. The province now has more than 100 checkpoints to guarantee that local residents not to go out after 8 p.m. as well as to monitor people from other localities entering the city.
In the latest Covid-19 wave sweeping through the country on April 27, Bac Ninh has reported 654 community transmissions.
Health authorities Wednesday confirmed a 67-year-old woman in Bac Ninh has died of Covid-19. Her causes of death were pneumonia due to Covid-19 and heart failure with high blood pressure.
She was admitted to Thuan Thanh General Hospital in Bac Ninh on May 11 and tested positive with the novel coronavirus the next day. Her conditions started to worsen on Tuesday and was transferred to the National Hospital of Tropical Diseases in Hanoi for treatment.
She had stopped breathing and recovered three times since then but eventually succumbed Tuesday evening.
This the 10th death in the latest Covid-19 wave which began April 27, and the 45th death since the pandemic began.
Vietnam has recorded 3,051 local Covid-19 cases in 30 cities and provinces in the latest wave.