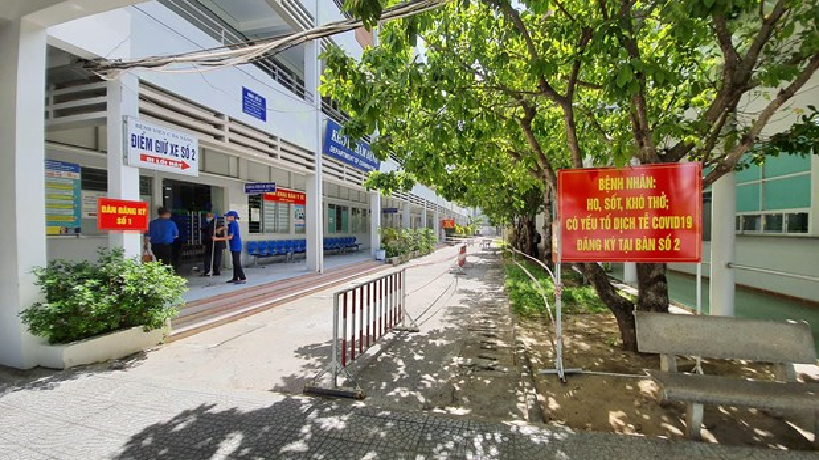 The quarantine area at Da Nang city's Hospital C, where Patient 416 visited to have check-up on July 20, before he was confirmed as a patient of COVID-19 on July 25 (Photo: VNA)
Vietnam has been back on high alert for COVID-19 after two cases of community transmission were confirmed in the central city of Da Nang over the past two days, ending the country's 99-day streak of no local infection.
Over the past time, Vietnam has imposed strict quarantine measures and carried out an aggressive and widespread testing programme during the pandemic combat, keeping the national tally at 418, with no fatalities.
Following the confirmation of "Patient 416," - a 57-year-old man in Da Nang who is Vietnam's first COVID-19 case of community transmission since April 16, Da Nang's authorities quarantined more than 50 people who had close contact with him.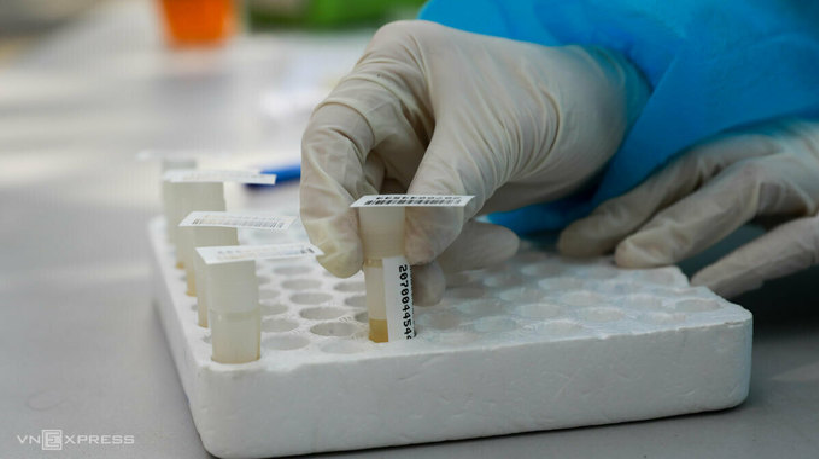 Samples for Covid-19 tests are collected by a medical worker in Vietnam. (Photo: VnExpress)
By July 23 night, the municipal disease control centre took samples from more than 100 people thought to have been in contact with the patient in the past days, including his family members, and all of them tested negative.
The Da Nang-based Hospital C where the man visited for check-up before he was confirmed positive for the coronavirus has also been locked down.
Da Nang is undertaking contact tracing and isolating potentially infected areas for quarantine purpose. The health ministry has established three special task forces to support the prevention and control of the COVID-19 outbreak in Da Nang.
Currently, more than 11,800 people who had close contact with COVID-19 patients or came from pandemic-hit areas are being quarantined nationwide.
The latest case, "Patient 418", is a 61-year-old man in Thanh Binh ward, Hai Chau district, who is being treated at the Da Nang General Hospital in the central city. He is in severe condition and needs ventilation support, the Health Ministry said.
It is unclear at the moment whether this case is linked to "Patient 416," a resident in Lien Chieu district.
"Patient 416" said he has not left Da Nang in recent months, but went to three healthcare facilities and attended a wedding in Hai Chau district from July 7 to July 20.
The man is on ventilators and connected with extracorporeal membrane oxygenation (ECMO) machine, which involves pumping blood out of the body and to a heart-lung machine that removes carbon dioxide and sends oxygen-filled blood back.
This is the third COVID-19 patient in Vietnam relying on ECMO. The other two are "Patient 19", a 64-year-old Vietnamese woman, and "Patient 91," a British pilot, both discharged after treatment, according to VnExpress.
International flights redirected, border control tightened
The cases come at a time when Vietnam was about to resume international commercial flights and as domestic tourism is surging.
Vietnam's ban on international commercial flights is still in place, but foreign experts and skilled workers have been able to enter provided they undergo mandatory quarantine.
After "Patient 416" was confirmed in Da Nang, the Ministry of Transport said flights bringing home overseas Vietnamese citizens and carrying foreign experts to the central city will be redirected to other locations.
Da Nang International Airport (Photo: VNA)
Prime Minister Nguyen Xuan Phuc on July 25 ordered tightened management of border gates from the north to the south to prevent illegal entry, according to VietnamPlus.
Addressing a meeting of the Government's permanent members in Hanoi, the PM asked the Ministry of National Defence to tighten the management of travel via border gates and border crossings so as to prevent illegal entry, and prevent virus transmission at concentrated quarantine sites.
This ministry was also asked to work with the ministries of health, public security, and foreign affairs to keep stringent in quarantining those entering Vietnam.
Besides, the Ministry of Public Security was demanded to investigate and strictly deal with the recently busted rings that had illegally brought people from other countries into Vietnam in Da Nang city and nearby Quang Nam province.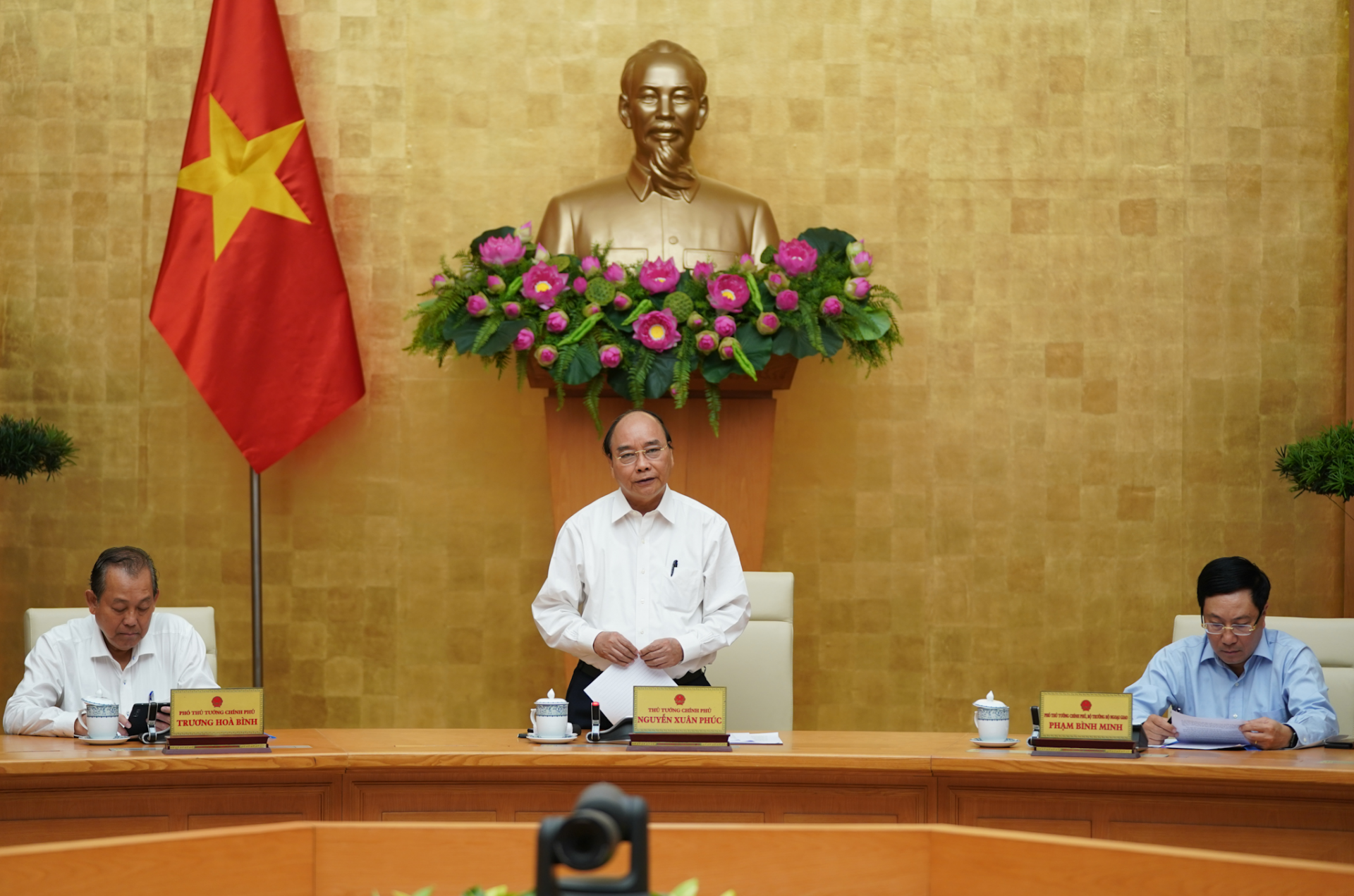 Prime Minister speaks at the meeting (Photo: VGP)
Regarding the case of Patient 416 in Da Nang, PM Phuc asked this central city to take adamant and timely actions, continue tracing and quarantining any people related to this patient, and clarify areas at risk of infection.
Meanwhile, the Ministry of Public Security was told to review all people with illegal entry in Da Nang and consider them suspect cases of COVID-19 to make appropriate moves./.
Rosy Huong