Two Vietnamese-born Basketball Stars to Play in the NBA
Jaylin Williams became the first Vietnamese-born player in history to be picked and play for the Oklahoma City Thunder in the NBA playoffs. Furthermore, another Vietnamese-born basketball sensation, Johnny Juzang, is not among the 58 players chosen in the NBA Draft, but he still has a chance to play in the league.
After being named in the NBA Draft 2022 (rookie selection day), Jaylin Williams became the first Vietnamese-born player in history to be selected and join the Oklahoma City Thunder team to compete in the NBA.
Jaylin Williams (left) and Johnny Juzang have many opportunities to play in the NBA. Photo: UCLA/NCAA
20-year-old center position player Jaylin Williams is 208 cm tall, 109 kg, and plays in the NBA. Jaylin is regarded by scouts as being an excellent defender who is prepared to compete strongly. Jaylin Williams played a total of 63 games for the University of Arkansas in NCAA Division 1 over the course of two seasons. He and his teammates took part in the NCAA March Madness, and after falling to Duke University with a score of 69-78, they advanced to the round of 8 strongest teams. Jaylin Williams is one step closer to realizing his NBA ambition after being the first player of Vietnamese descent to be chosen in the NBA Draft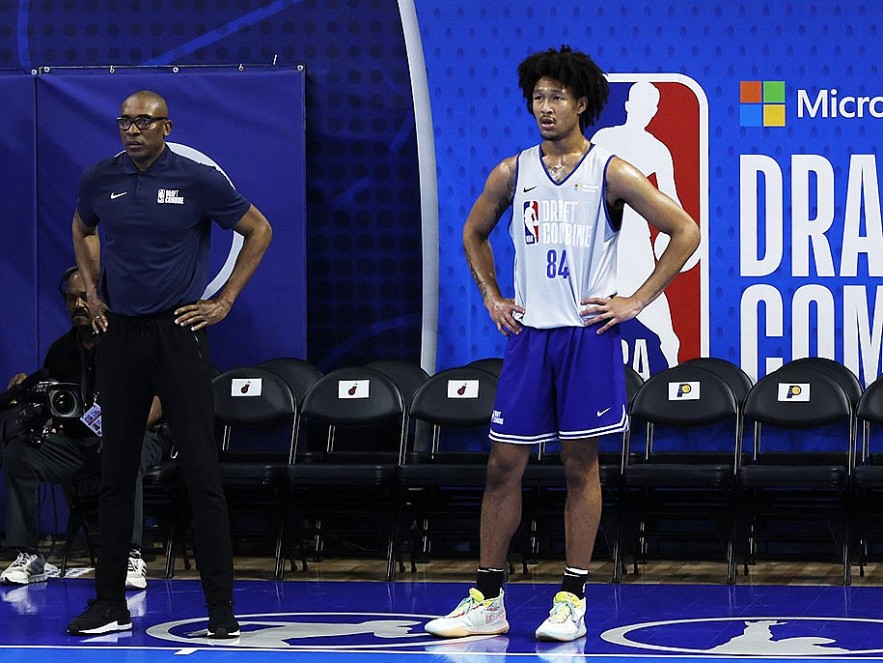 Jaylin Williams at the NBA Draft Combine 2022. Photo: Webthethao
He will quickly dock at the Oklahoma City Thunder and finish some relevant tasks. Jaylin is quite likely to feel what it's like to compete in the NBA Summer League, which will take place in July.
Jaylin Williams competed in the NCAA, the US collegiate level competition, during the 2021/22 season. For the Arkansas Razorbacks, he made 37 appearances, playing roughly 32 minutes per game while averaging 10.9 points and 9.8 rebounds. This accomplishment is excellent.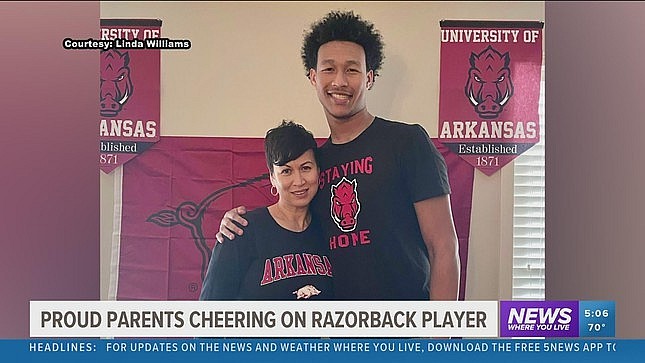 Williams has a Vietnamese mother. Photo: Arkansas News
This Vietnamese-born athlete should have plenty of opportunities to shine starting in the following season because his average team is weak and frequently prioritizes young guys like Thunder. He won't be able to sign a guaranteed contract because he was chosen in the second round and instead will face a lot more obstacles.
Vietnamese basketball continues to have excellent news after winning silver with twin sisters Truong Thao My and Truong Thao Vy in the 31st SEA Games. A significant effort was made to encourage the growth of this sport along the S-shaped stretch of land.
In Fort Smith, Arkansas, Jaylin Williams was born and raised. His parents are Michael and Linda Williams. Grandparents came to the country as children. Although nothing is known about Jaylin's parents, they have always been in favor of the sport that their son has chosen. Linda from Vietnam, in particular, is a basketball enthusiast.
Jaylin Williams
- Born: June 29, 2002, in Fort Smith, Arkansas, USA.
- Son of Michael and Linda Williams.
- Had three brothers – Mikey, Marquis and Montell Williams – and one sister – Synora Phillips
- Major: Recreation and Sports management.
In addition to Jaylin Williams, Johnny Juzang is another basketball standout from Vietnam who was not chosen among the 58 players in the NBA Draft but still has a chance to play in the league.
According to ESPN, it claims that Johnny Juzang was not selected with all 58 picks in the 2022 NBA Draft.
The former UCLA player, however, signed a 2-way contract with the Utah Jazz following the NBA draft, giving him the chance to play in the NBA for the 2022–2023 season.
A two-way contract enables athletes to compete in both the NBA and the G-League (an NBA subsidiary league) while earning money from both leagues. As a result, Johnny Juzang will play for the Salt Lake City Stars most of the time (the Utah Jazz team in the G-League). The 21-year-old athlete will get the chance to play for the Utah Jazz for a maximum of 45 days in the NBA if they perform well.
Johnny Juzang, who is 95 kg and 198 cm tall, was born in 2001. He performs best in the roles of a goal-scoring defender and a support striker. Before joining the Utah Jazz, he played for the UCLA team. Notably, Christian Juzang, who competed in basketball at the 31st SEA Games while sporting the VN jersey, is Johnny Juzang's younger brother.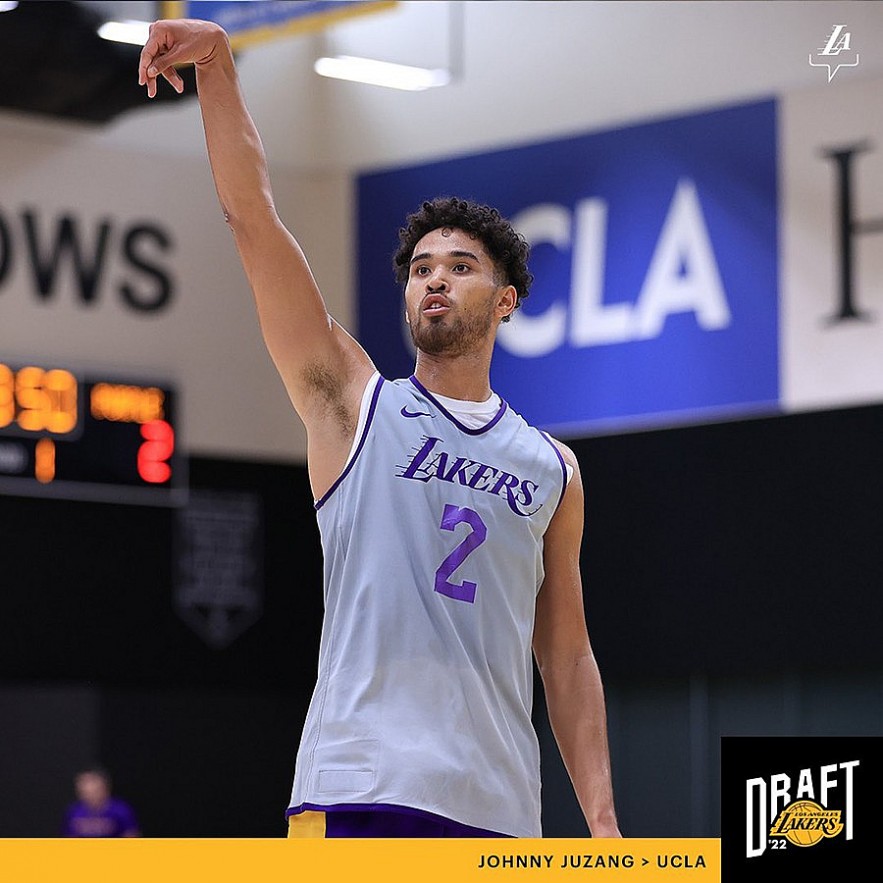 Juzang enjoys the opportunity to express himself as well as the coaches' counsel on how to improve during this time. Photo: UCLA
One of the seven NBA teams to invite Johnny Juzang to practice prior to the 2022 NBA Draft is the Utah Jazz, who have also consistently earned playoff tickets in previous seasons.
Johnny averaged 15.6 points per game with a set of 43.2 percent FG and 36 percent 3PT last year. Compared to the previous year, when Juzang excelled at March Madness 2021, this number is a little less spectacular.
Johnny, who was still sporting a UCLA t-shirt, became the team's top player by averaging 22.8 points per game on 50.9 percent field goals and 37.5 percent free throws. UCLA's achievement in making it to the fourth round of the most competitive teams was heavily influenced by Juzang's leadership and scoring prowess (Final Four).
Thanh Niên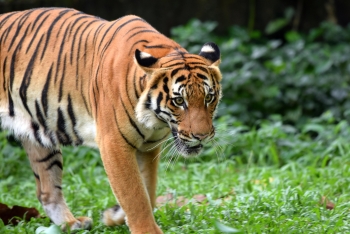 Economy
#ShopeeGivesBack, Shopee's long-term community initiative, has raised over RM48,000 from 1 May 2020 to 31 July 2022 for two Non-Governmental Organisations (NGOs) championing environmentally-conscious efforts in Malaysia.