Two Vietnam's Beaches Named Among World's Top 10
Nha Trang and Vung Tau of Vietnam have been named among top 10 global beaches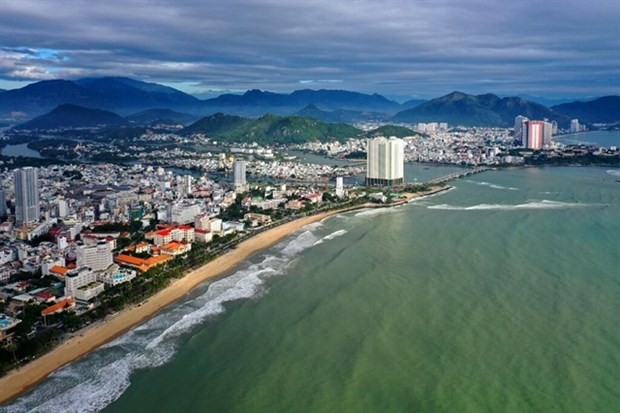 Nha Trang City in Khanh Hoa province is a famous tourist destination in Vietnam. Photo: VNA
A recent study conducted by UK luxury holiday company Destination2 has listed Nha Trang beach and Vung Tau beach in Vietnam among the top 10 most popular beaches worldwide, VOV reported Monday.
The travel company compiled a list of the most popular beaches on TikTok using their hashtags before ranking them based on the number of views.
Nha Trang beach, situated in the central coastal province of Khanh Hoa, ranked third with 64.6 million views, while Vung Tau beach in the southern province of Ba Ria-Vung Tau racked up 61.9 million views.
Bondi Beach of Australia topped the rankings with a whopping 445.8 million views, three times higher than Pattaya beach in Thailand which finished as runner-up with 128.5 million views.
This was followed by Waikiki Beach in the US with 43.7 million views, JBR Beach of Dubai with 30.3 million views, Kelingking Beach of Indonesia with 30 million views, and Santa Monica Beach of the US with 29 million views. Other sites making the list include Airlie Beach of Australia with 27.8 million views and Whitehaven Beach of Australia with 23.5 million views.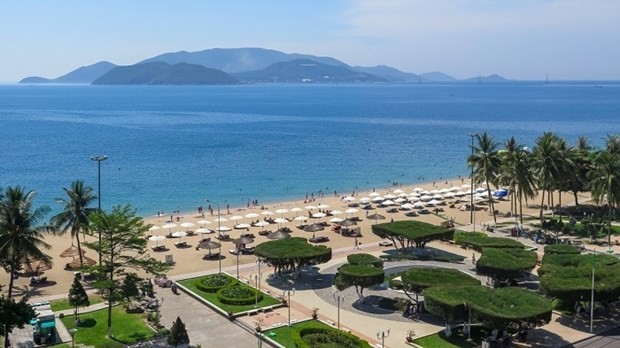 Nha Trang is renowned for being one of the top beach holiday destinations in Vietnam, where visitors are able to enjoy a range of activities such as boat cruises, hot air balloon rides over the scenic coast, and scuba diving. Photo: NDO
Nha Trang coastal city is the political, economic, cultural, sci-tech and tourism centre of Khanh Hoa province. With its long, white sand coast, Nha Trang has been listed one of the most beautiful bays in the world. The city, also known as "Pearl of the Far East", has become an attractive tourist destination for domestic and foreign tourists.
With a coastline of more than 380km and numerous bays, lagoons, islands and golden sandy beaches, Khanh Hoa has a lot of potential to develop sea-based tourism. The province is home to three bays, namely Van Phong, Nha Trang and Cam Ranh.
The Star, a leading Malaysian newspaper, has described Nha Trang as the "underrated pearl" of Vietnam. Stretching over 6km of powdery white sand, the crescent-shaped Nha Trang Beach overlooks one of the most beautiful bays in the world – Nha Trang Bay – and is easily accessible by foot from the bustling heart of the city, it said.
In a poll conducted in 2015 by TripAdvisor, Nha Trang was named among the leading 10 cities in the world as voted for by global travelers for being among the newly-emerging destinations in Asia.
The diverse marine ecosystem in Ba Ria-Vung Tau. Photo: Ngoc Son
To most local and foreign tourists, Vung Tau is one of the most interesting destinations and is much loved due to its extensive array of beaches. Tourists typically prefer sightseeing at Front Beach, known locally as Bai Truoc, and going swimming in Back Beach, also known as Bai Sau.
With a 300km long coast line and diverse terrains from rivers, mountains to sea and hot springs, along with many special national historical sites, Ba Ria – Vung Tau has favourable conditions to develop high-class leisure tourism combined with sight-seeing and sport tourism, according to VNA.
The province's location in the southeastern region, bordering many southern economic hubs such as Ho Chi Minh City, Dong Nai and Binh Thuan provinces, is also an advantage for Ba Ria – Vung Tau to attract both domestic and international visitors.
Over the recent past, Ba Ria – Vung Tau has invested in many high-class leisure tourism properties, which has helped the province attracted both domestic and international tourists. Some examples are Morito Beach Ho Tram, Ixora Ho Tram by Fusion, Hyatt Regency Ho Tram Resort & Spa, Binh Chau Hot Spring Resort, and Coastar Estates Ho Tram.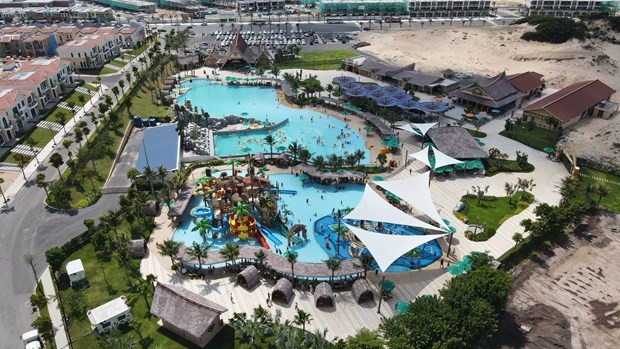 Tropicana Ho Tram (Xuyen Moc district), part of the Novaworld Ho Tram Tropicana project, offers many high-class services such as a 16ha water park, a 5,000 sq.m salt water pool, a playground for children, a kayaking route, a Kid Farm and a cuisine complex. Photo: Huynh Ngoc Son/VNA
Besides luxurious accommodations, local tourist and service firms have developed various entertainment, leisure, cuisine and health care services to create added value to visitors' vacation trips to Ba Ria – Vung Tau. For example, during the National Day holiday in September, a music gala called Let's Charm Fest was held at Charm Resort Ho Tram, and the Hamptons Plaza Ho Tram commercial-service street was inaugurated, offering international-standard services and the Hamptons Pier, the first pier in Vietnam and the longest in Asia.
Vung Tau currently counts more than 1,200 tourism accommodation establishments, including 14 luxury ones. Over the past two years, new types of accommodations have emerged, such as condotel, tourist villa and homestay. Each year, Vung Tau city serves about 6 million of visitors who come for sightseeing or leisure purposes.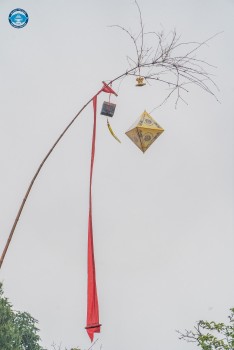 Viet's Home
In the past, the Neu pole (a tall bamboo pole with red garment strips used to ward off evil spirits during the lunar New Year) lowering ceremony at the royal palace of the Nguyen Dynasty was performed to mark the end of the New Year holiday and prepare to enter a new working year.