UK and Europe daily weather forecast latest, March 12: A breezy day with sunny spells and scattered showers, wintry over hills in the north
The UK is forecasted to have a breezy day with sunny spells and scattered showers, wintry over hills in the north with more prolonged showers arriving into the west towards evening. Meanwhile, windy weather sets to sweep northern Europe with gales and periods of rain, fair to the south.
UK's weather forecast
According to Sky News, Friday will be another day of sunshine and blustery showers, some heavy with hail and thunder. Some hill snow is likely too. It will be windy, but not as windy as on Thursday, while temperatures will be a degree or so lower.
Britain has been smashed with wet and windy conditions over the past 48 hours with gusts reaching 70mph in parts of the UK. Heavy showers are now on course to be accompanied by thunderstorms, with plummeting temperatures also increasing the threat of snow, Express reported.
Charts produced by Netweather.TV show some areas of the UK are set to be hit by snow showers from Thursday evening.
Snow risk maps reveal parts of Scotland, the north west of England and north Wales are at an increased threat of seeing wintry showers tomorrow evening. Central and western Scotland have turned bright red on snow risk charts, which indicates the threat level is above 80 percent.
Separate weather maps produced by WXCharts suggest snow depths could reach four inches (12cm) in western Scotland by the early hours of Friday morning.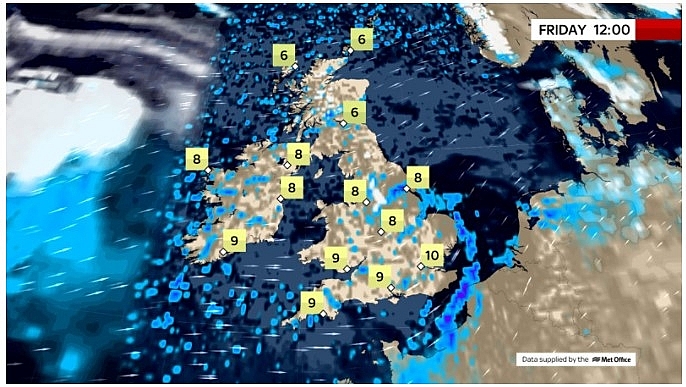 Photo: Sky News
By Friday evening and into the weekend, the cold-weather system is set to become more widespread with parts of central and southern Wales, and even the Midlands set to see some snow. Snow risk maps suggest the threat level ranges from 30-50 percent in those regions.
Going into Saturday, the cold-blast is on course to strengthen, as the colours on snow risk maps darken and cover larger areas of the country. Western areas, including the north west of Scotland, the north west of England and North Wales are on course to be the most affected.
But, the threat of snow could reach as far south as Devon, with the region turning a shade of green on the maps, which indicates a wintry threat of between 25-40 percent.
Temperatures will spiral with the increased threat of snow showers, with lows of -1C in the UK on Thursday night and into the early hours of Friday morning.
The Met Office has a yellow wind warning in place until tomorrow afternoon for the whole of England.
Strong gusts will see evening temperatures plummet and feel closer to -3C or -4C across northern areas of England and Scotland, as wind-chill maps turn ice-blue.
On Thursday, a band of rain will move over the UK with northern and western areas set to see the heaviest downpours. There will also be "isolated hail and thunderstorms" and "wintry" conditions in the north, according to BBC weather.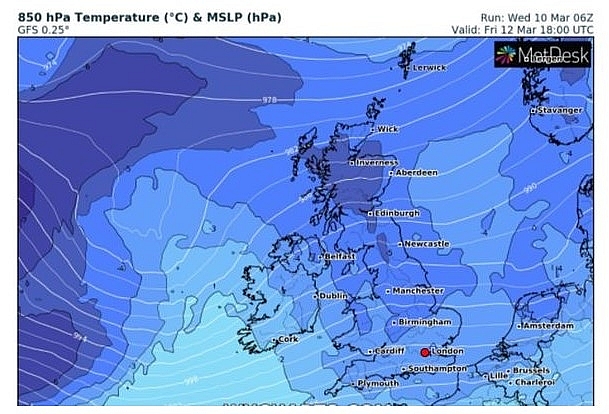 UK snow forecast: A deep-chill will engulf the UK (Image: WXCHARTS)
The BBC weather outlook says: "Thursday will be less wet with further showers rather than widespread rain, most of them in northern and western areas.
"Some will be wintry over high ground in the north, chiefly in Scotland, and in all areas there will be a risk of isolated hail and thunderstorms. Strong winds will continue into the morning but gradually ease through the afternoon and evening"
Netweather.tv forecaster Nick Finnis said: "Another blustery day on Friday, with sunny spells and showers blowing through most areas on a brisk westerly wind.
"Again, showers most frequent in the west, wintry over upland areas of the north and west."
The wet, windy and wintry conditions are set to remain into the weekend with an increased risk of hail and thunder in the northwest and snow in the north of England.
BBC weather outlook said: "Friday and Saturday will be similar, with blustery showers, mainly in the north and west, some of them heavy with a risk of hail and thunder, while northern high ground has further wintry showers."
"Southeast England will have fewer showers and more sunshine. Overnight there is a chance of more widespread rain for a while, and on Sunday another band of rain could pass through."
Mr Finnis added: "Little change through the weekend, low pressure close to the north with tight isobars across the UK, so still a brisk westerly wind driving scattered showers, with sunny spells in between, across all parts.
Temperatures dipping overnight, so a risk of localised frost in sheltered spots where skies clear overnight."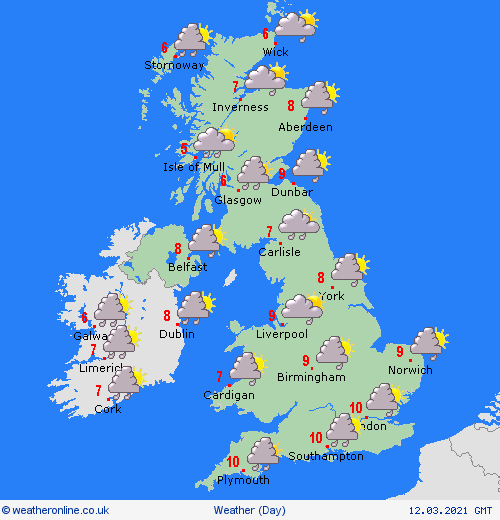 Photo: Weather Online
On March 12
According to Weather Online, the strong to gale force westerly flow remains through the whole of the UK and Ireland on Friday. An occluded front passes east in the morning bringing rain to Wales and southwest England, then through the rest of England late morning, before clearing east. This is followed by brighter weather with sunny spells and showers. The showers could be heavy again on western coasts and hills. Heavy showers throughout the day in northern and western Scotland with these being wintry over high ground. Further showers in Ireland, fewer in the east, although increased cloud brings rain to the west later. Highs at 7 to 10C.
A breezy day with sunny spells and scattered showers, wintry over hills in the north, with more prolonged showers arriving into the west towards evening, Met Office reported.
Outlook for Saturday to Monday
Sunny spells and heavy, blustery showers Saturday, hill snow in the north. Showers in places Sunday, some longer periods of rain later. Rain in the west, the east drier Monday.
Europe's weather forecast
Rain in the far northwest of Spain and northern Portugal today. The rest of Iberia will be dry with good spells of sunshine. The sun will remain over the Balearics as well as through most of Italy, although a few showers are likely in northwest Italy. Some showers in eastern reece but generally fair here. More unsettled in Turkey with rain, sleet and snow in the north and east, windy here as well.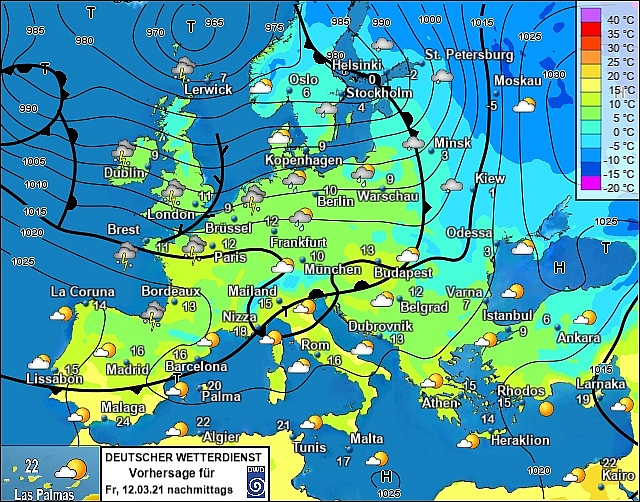 Photo: Stirimeteo
A band of rain moves south through central parts of France, some of the rain heavy. Windy and brighter in northern France and also across the far south too. Windy and unsettled for the Low Countries, frequent and heavy showers here. Windy for Germany with more showers, and heavier periods of rain to come for Poland. Hungary will have some rain later, and it will be turning wetter in Austria and Switzerland too.
Windy and bright with sunny spells and showers for Denmark. Gales, sleet and rain in Sweden. Windy but dry until evening for the Baltic States and Finland. Heavy showers and strong winds afecting Norway.
On March 12
According to Weather Online, a fine day to come across Spain and Portugal, plenty of sunshine and dry throughout. There will be more sunshine in the central parts of the Mediterranean including Corsica and Sardinia. Some rain in northern Italy but dry to the south. Turkey should be fair with more sunshine to come here.
Windy in the north of France with a risk of some heavy showers and outbreaks of rain, More scattered showers in central France and dry to the south.Wind and rain or showers in northern Germany, fair in more central and southern areas. Poland will be bright and breezy but it should be dry here. Hungary will be bright with some showers whilst rain affects Austria and Switzerland.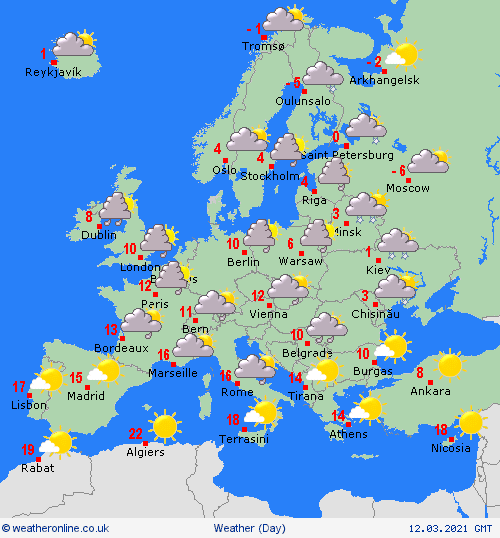 Photo: Weather Online
Windy in Denmark with some rain towards evening. Staying windy in the Baltic States as morning showery rain clears east. Showery periods of rain in Finland too, whilst central and northern Sweden stay dry. Norway will have some rain in the west and south but should be dry to the north.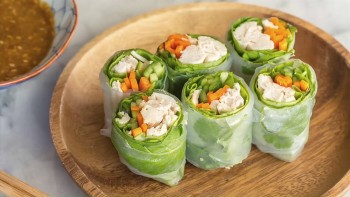 Travel
Rolls are a easy-to-make dish that is loved by many Vietnamese diners as well as Korean stars.